When I started crocheting, some of my favorite things to make were crochet flowers. They were quick, easy, and they gave me a chance to try different techniques in bite-sized patterns. If you're not seeing the image you came for, it might be because I've updated this post! This has been one of my favorite poets, but some of the patterns were no longer available. So I've updated it with even more free crochet flower patterns, new images, and better-written patterns that you're going to love!
P.S. All these patterns and images belong to their original owners (linked). I didn't create these; I just wanted to share their lovely work!
20 Free Patterns for Crochet Flowers
Small projects like these are great for using up scrap yarn! If you have a messy stash and need to sort and organize, here's a handy inventory printable I created to make it easier.
These patterns aren't in any kind of order, but they are all ones that I love and always come back to. Go ahead and click on the pictures or the titles to go to the patterns. Stay until the very end of this post to see how you can get a free ebook full of patterns and tutorials perfect for beginners. Now, onto the flowers!
6. Large flower applique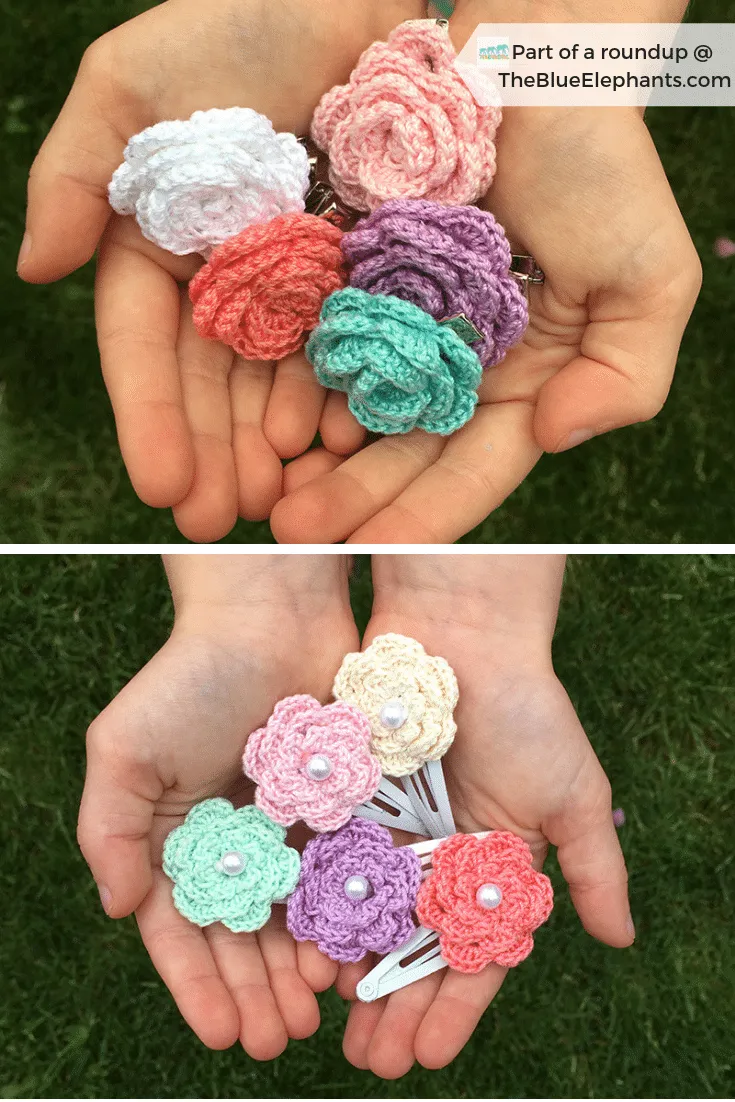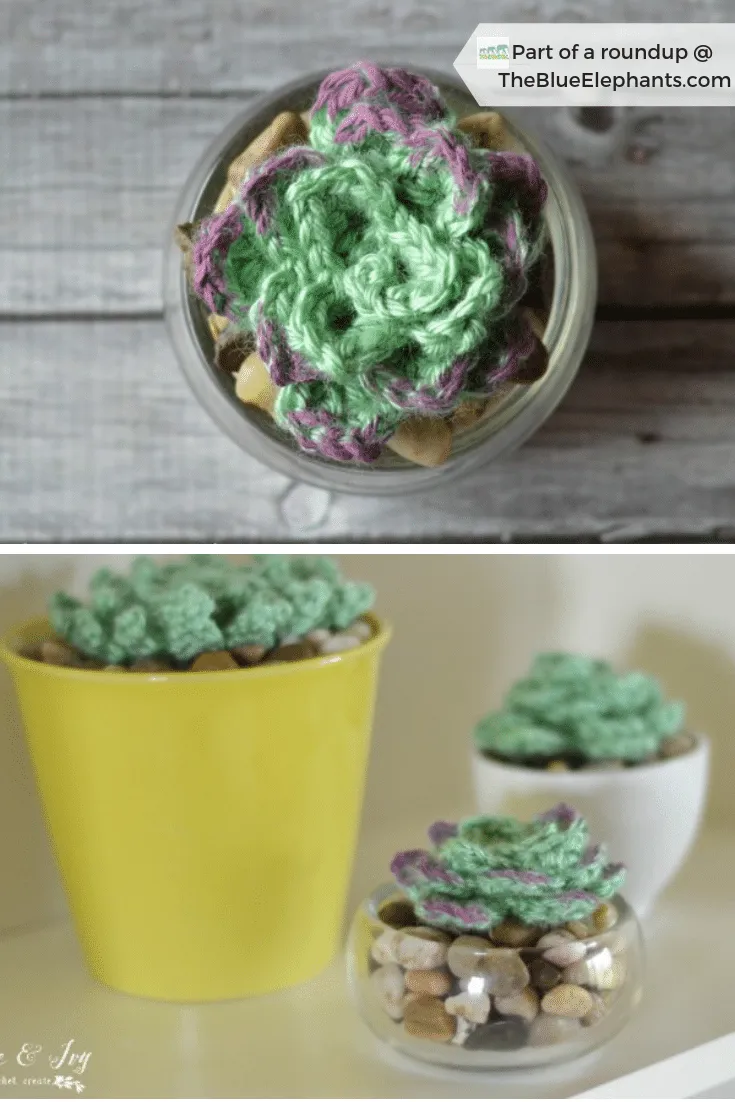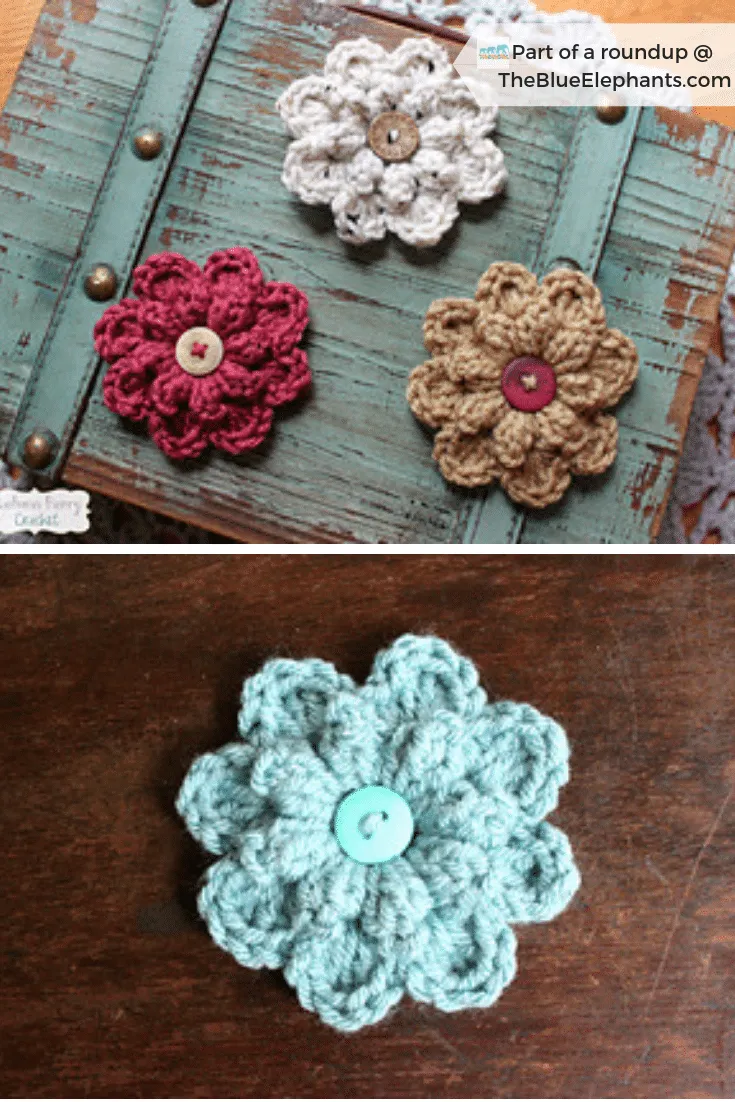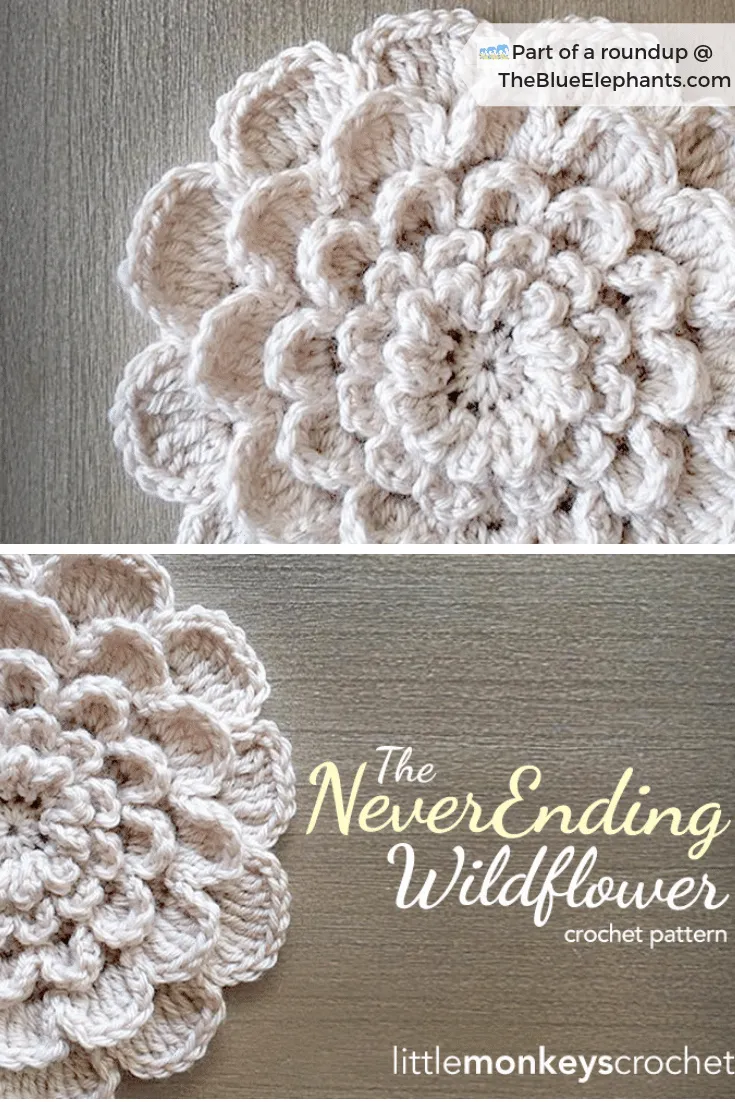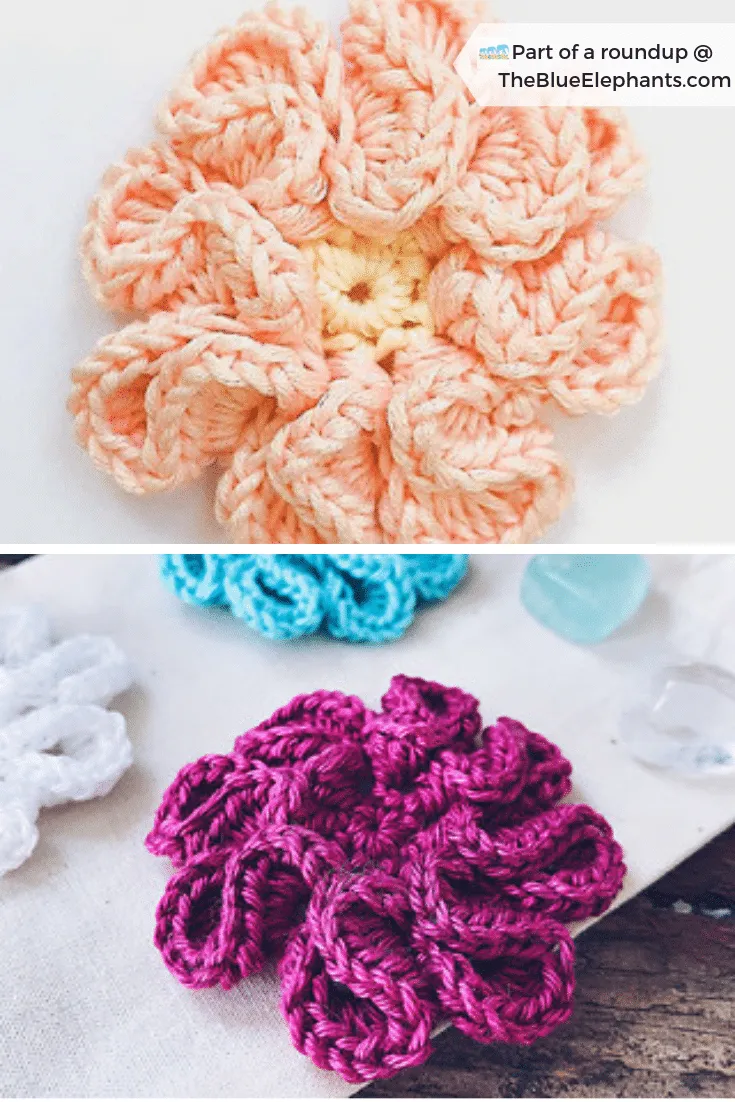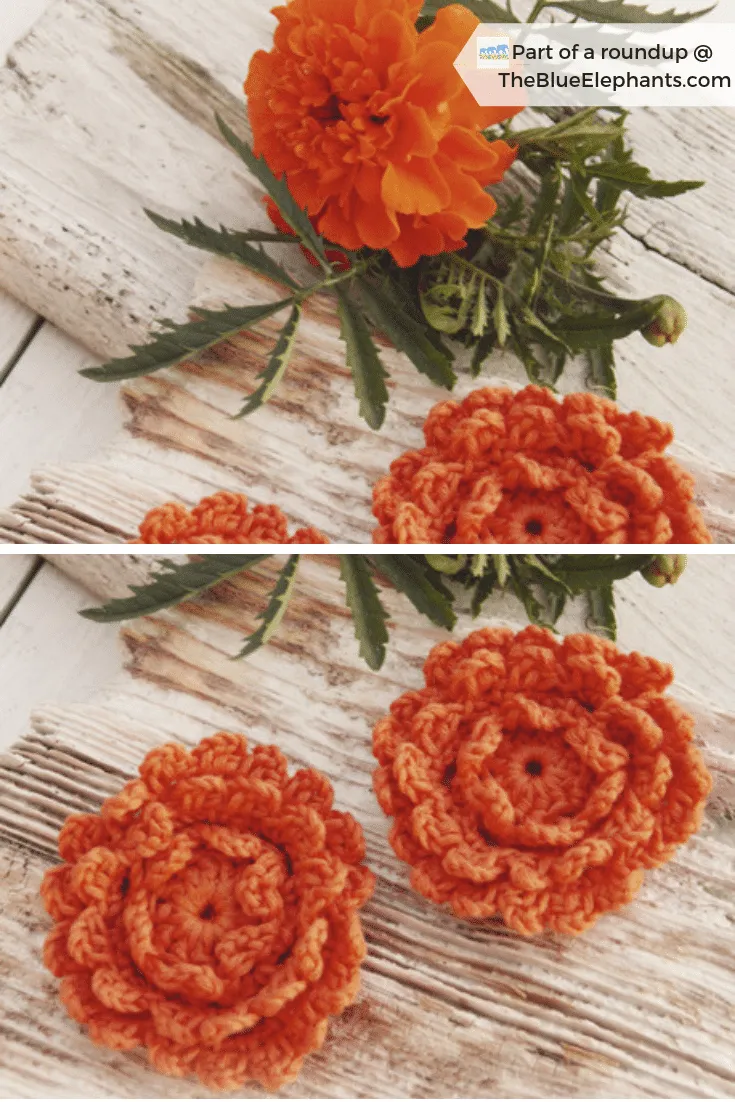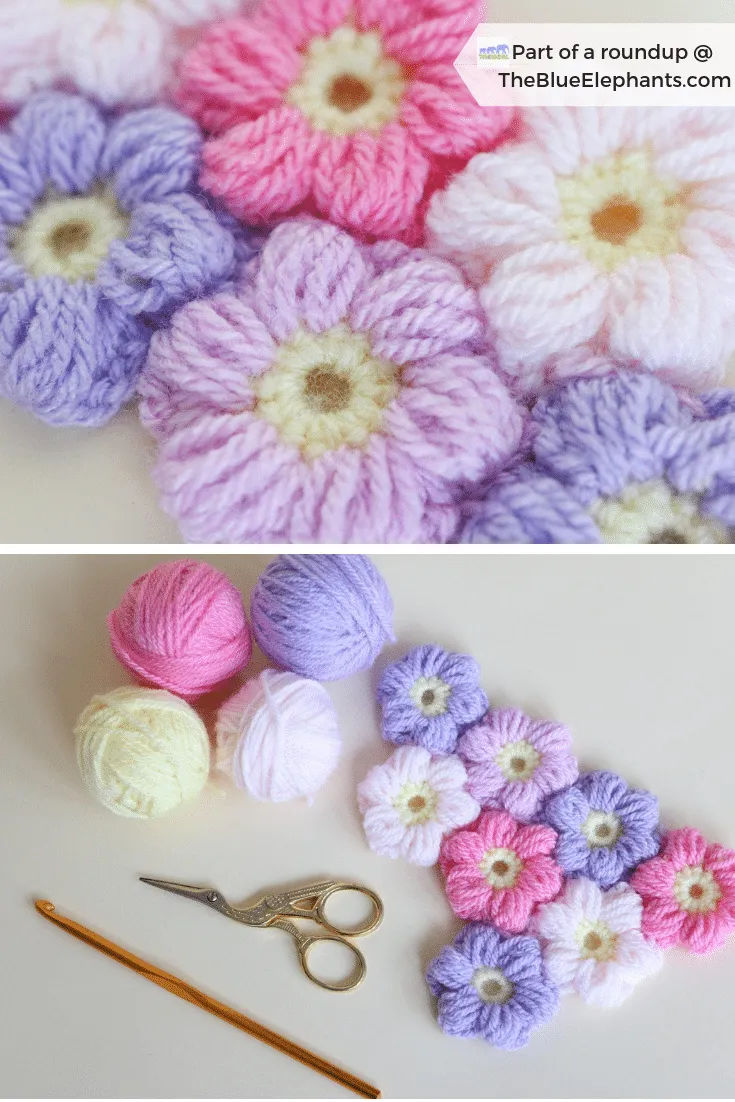 18. Simple Daisy
I love crocheting flowers and these are some of my favorite patterns, especially for beginners. Before you go, though, I want to share some tips with you. When you're just starting out, there are a few things I always like to recommend and one of them is to find simple patterns that you can complete in a day or two.
It's more difficult to stay motivated and encouraged when you start with big projects, so smaller ones like flowers or baby items make it so much easier to learn and get the "instant" gratification. And, as I said earlier, bite-sized patterns like this help you learn new techniques and skills without committing to something that'll eat up your time.

I put together an ebook to teach anyone how to crochet called The Beginner's Guide to Crochet. It's filled with tutorials, written instructions, and videos, to show you the basic steps you need to know. With 12 basic tutorials and 12 beginner-friendly patterns (also with video!), you'll have it down in no time. There are also some handy resources in the book too! You can get your free copy of it by clicking the image above.
Use the RIGHT tools!
The second thing I like to recommend is a set of really good crochet hooks. Now, this doesn't mean you have to shell out a ton of money to get top-of-the-line hooks, but it is important to work with quality tools. These are my favorite budget crochet hooks. I love the quality of them and they're so comfortable to use. Because I crochet so much, I eventually upgraded to a set of Clover Amour Hooks that are a bit more expensive, but totally worth it. Choose whichever set works with your budget!
To help you keep track of all your crochet hooks and the different sizing methods, I created a free printable cheat sheet! Click below to grab it.
I hope you enjoyed this roundup. If you did, please share it with others! And if you subscribe using the box below, you can get blog updates delivered to your inbox once a week with new free patterns, tips, and access to the subscriber-only resource library!
Thanks for reading, and I'll see you all soon 🙂
---
Visit my pattern shops on Ravelry, Craftsy, and Etsy to buy the printable PDFs of all my patterns. They're ad-free, comment-free and your support helps me run The Blue Elephants so I can continue publishing free patterns here.
My material lists sometimes include affiliate links (denoted with a *) for which I earn a small commission at no extra cost to you. I only link to products I personally use, love, and recommend. You can read more about this in my Disclosure.
I worked hard on this pattern, so please be respectful and do not sell or redistribute this pattern as your own. If you sell finished items made using this pattern, credit The Blue Elephants as the designer and link back to the blog post or the Etsy pattern link. For any other questions, read my Terms of Use or contact me.
---