One of the best things about crochet is learning all the different crochet stitches. Personally, I love texture when it comes to crochet. I want all things bobble and ribs. Using different stitches gives you a way to create an interesting piece even if you're only using one color and that's perfect for me. Recently, I took an online course all about creating different textured crochet stitches and I learned so much! Today, I wanted to share my Craftsy course review for "Fun & Fantastic Textured Crochet Stitches", taught by Beth Graham.
Disclosure: this post contains affiliate links, but all opinions are 100% my own
Craftsy Course Review
If you guys haven't already heard me talk about Craftsy before, you're going to love this website. It's an online shop for all the crafty things you could want, from knitting and crochet, to drawing, baking, cooking, and embroidery. You can buy all the materials there and there are hundred of course to choose from so there's something for everyone. I've been using Craftsy for years, but this is only the 2nd course I've taken, so let's talk a bit about that.
Instructor: Beth Graham
Overview:
This is a class all about how to go one step beyond the basics and add texture to crochet. The course has 7 sections, each covering a different type of crochet texture. It goes over ribbing, bobbles, clusters, puff stitches, post stitches, popcorns and finally puts it all together in a scarf pattern that makes all those textures work together. In the course, you get about 2 hours of instruction that you can watch whenever you like, worksheets and 2 different stitch patterns, plus the pattern for the scarf.
I'm reviewing this course based on the clarity of the lessons, the instructor's personality/manner, the finished results, the price and then my overall experience.
Clarity of the lessons
As I said before, each lesson was based on a specific topic. The first section went over the prep for working with textures, so it talked about stitch multiples and where to place the hook, and just how to approach the piece in general.
The rest of the lessons focused on type of stitches, and each had variations within that category so I learned a few stitches in each section. I think having each type of stitch in its own lesson category really made it clear and easy to master one thing before moving on to the next. It helped me focus on just bobbles before moving on to the next thing. I also really enjoyed how you get a nice, up close look at what Beth is doing so you can follow her movements easily. Plus, there were dishcloth patterns to practice your new stitches on afterwards so it made learning easy.
Instructor
I'm pretty picky about the tutorials and videos I like, since I don't have the patience to try and figure out what's going on in unclear videos. Beth Graham was an incredible instructor and she was super fun and happy which made watching the lessons fun too. Her manner of speaking and showing you what she's doing was really clear and she took the time to explain everything. She didn't gloss over anything assuming you already know it, so this would be great for beginners too. I really loved how laid back she was, too. Crocheting is supposed to be fun, not stressful. Beth repeatedly reminds you of that and says the at the end of the day, it's just some sticks and string. I completely agree and I love how she talked about everything so warmly.
The Finished Result
Next up in my Craftsy course review is the actual finished project. I took this course during an event where I had access to the full video courses but not the actual written pattern for the Playful Textures Scarf so I didn't get to make that. However, I did use her instructions to create samples of the different stitches.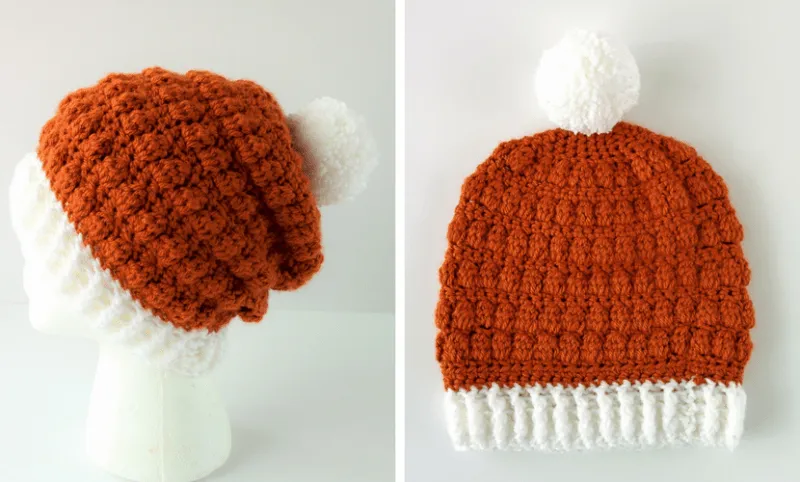 I love how they turned out, especially the bobbles. I even used the bobble techniques afterwards when I made my Pumpkin Spice Beanie Pattern. If you look at the course projects, you can see the full Playful Textures Scarf and see how others' turned out. I think they're beautiful and I would get the pattern just to play around with that scarf.
Price
The regular price is $40, but it's on sale all the time, especially during the Craftsy Course Sale events when all course are 50% off. So it's really more like $20.
For that price, I think this course is absolutely worth it. You have lifetime access to it and all the class materials so it's not just a one time class. You can come back to it whenever you like and refresh your memory. For $20-$30, I would get this course again, and I would recommend it to anyone who wants to learn different crochet textures. However, if you see it for the full $40, I would say to favorite it and wait until the price drops a little.
And that's it for my Crafty course review of the "Fun & Fantastic Textured Crochet Stitches" class! I've broke down my rating at the end of this post for you.
But.. here's how you can get any course (up to a $70 value) for free!
Before I go, I want to tell you about something amazing I get to be part of this month. The folks at Ultimate Bundles have put together their first ever crafts bundle, and I'm one of the collaborators featured!
The Handmade With Love Super Bundle is a collection of over 200+ patterns, course, ebooks and more for all your crafting needs. It has stuff for knitting, crocheting, embroidery, sewing, appliques, cross stitching, quilting and creating other decorative handmade goods.
The entire thing is worth over $1,100, but you can get it for only $29.97!!
This bundle goes on sale November 27, and if you get it in the first 4 days, you can also get a FREE Crafty course. Any course of your choice, valuing up to $70. Also, for the next 10 days (until the launch) you can enter their amazing giveaway where they give out prized every day! Check out this page for more details on that.
You guys, this is an amazing amazing offer. I know many of you already like more than one craft or want to pick up another, but you aren't quite sure where to start. With this Handmade with Love Super Bundle, you get the best patterns, tutorials, and collections from so many incredible and talented makers for less than $30. The best part is, once you get the bundle, you can use your free Craftsy course to learn the basics of whatever new skill you want, and you already have a set of patterns to work with.
PLUS, as a BONUS, when you use my link to buy the bundle (this one here), I'll send you a FREE copy of my Beginner's Guide to Crochet. Just email me at [email protected] with the subject Ultimate Freebie and a picture of your receipt!
P.S. I'd love to do more like this Craftsy course review. Let me know if you have any you want to see!
See you soon 🙂