Happy New Year, everyone!
I did a lot of big things with the blog in 2017, but I think I held myself back in some ways too. When I released my beloved ecourse The Beginner's Guide to Crochet, I only left it free for a limited time because I thought that's what you're supposed to do. But I loved having it free and giving everyone a chance to get it, so this year, it's going to be free for good. I started my Etsy shop! And then made it so hard for myself by only sharing what I thought others liked, not what I LOVED. So, I'll try to do better with that too. But no matter what I did, you guys had my back and supported me, gave me input and bought my products (thank you!); and it's high time I did something for you. Let's start 2018 with an epic crafty giveaway!
Epic Crafty Giveaway Prizes
#1 Handmade with Love Super Bundle ($29.97)
At the end of November, Ultimate Bundles launched it's very first Handmade with Love Super Bundle and that beast contained over 200 pattern, courses, and projects for all makers for a short window of 8 days. I got 2 copies of the bundle and I'll be giving one of them away to you guys, minus the bonuses since it's after the sale.
There's a giant list of what's included in the bundle on a post I did then, but basically, it's a VAULT of resources, patterns, guides and more for all kinds of crafty things from crochet and knitting, to sewing and embroidery. Imagine that 50 of your favorite bloggers, crafters, Instagrammers and crocheters pooled together their best digital products into one bundle.
You can read more about the bundle here.
#2 KnitPicks Options Interchangeable Rainbow Wood Circular Knitting Needle Set ($55.66) + Case ($19.99)
I'm also giving away a set of gorgeous wood knitting needles from KnitPicks.com. I adore this company and I have some of these myself in the nickel set and a few other tips. They are perfect for a beginner knitter and those more advanced because you can do everything with them. And they come in a really snazzy and super useful silver case so all your tools stay organized.
#3 Two Skein of Yarn Bee Twirl-Tastic Yarn in Gray Multi ($15.98)
#4 Giant Acrylic Yarn (250g) in Dark Grey ($6)
#5 One Knit & Crochet Project Planner in color of your choice ($7.50)
I designed this to make life easier for knitters and crocheters. This planner has 23 pages of resources, sizing guides, pages to help you keep track of your inventory, ideas, inspiration and custom orders.
It include pages for all the things listed below:
Planning and designing your own patterns
Keeping track of WIPs and your customizations to purchased patterns
Organizing your yarn stash
Sorting your tools, crochet hook and knitting needles by size and type
Sizing hats and blanket for everyone
Pages full of crochet and knitting abbreviations, plus space to add your own
Areas to keep track of your ideas, inspirations, and custom orders
Divider pages to split the planner into sections: Knitting Patterns, Crochet Patterns, Supplies, Design Process and Resources
How's that for an epic crafty giveaway!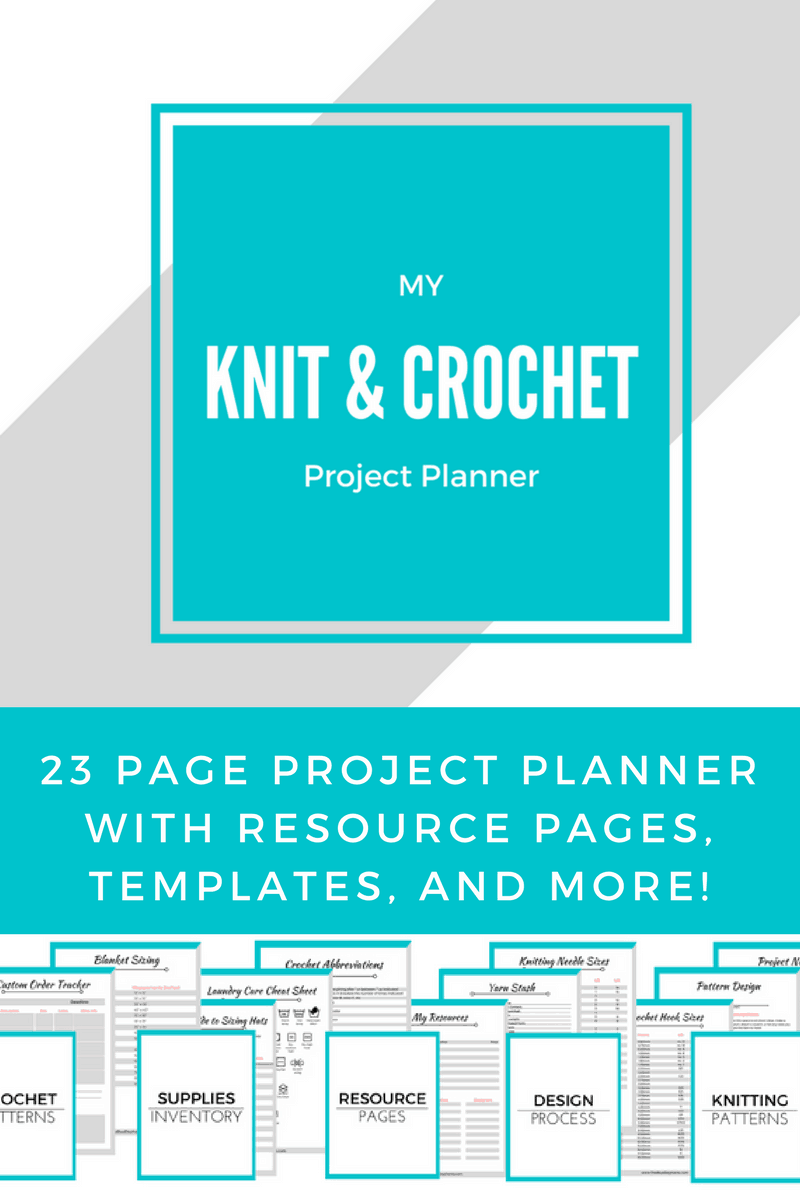 Terms & Conditions
Sweepstakes starts January 1, 2018 at 12:00 AM CST and runs through January 13th, 2018 at 12:00 AM CST. Open internationally, except where prohibited by law. Entrants must be 18 or older to enter. The number of eligible entries received determine the odds of winning. Winner will be selected at random and be notified by email. Winner will have 48 hours to respond before a new winner is selected. Please note that the products were provided by the giveaway host, except the knitting needle set and case which was donated by KnitPicks. The products offered for the sweepstakes are free of charge, no purchase necessary. Facebook, Twitter, and Instagram are in no way associated with this sweepstakes. By entering this sweepstakes and providing your information, you are providing your information to the giveaway host only, Shehla Ahmed. I do not share or sell information and will use any information only for the purpose of contacting the winner. Those who have provided their emails and opted in to the mailing lists will be added on to the email list.
Void where prohibited by law.
How to Enter!
To enter, you must be over the age of 18. No purchase necessary. The giveaway is open internationally! Just use the widget below to enter and be sure to read the terms and conditions. The Epic Crafty Giveaway starts on January 1, 2018 at 12:00AM CST and ends on January 13, 2018 at 12:00AM CST. After the giveaway, I will email the winner to send over the prizes!
Thank you for entering and good luck!