Crochet blankets are the best thing in the world. Not only are they super cozy and soft, they can be made in so many different styles and for different occasions. No matter what finished look you're going for, it's important to get sizing right. If someone asks for a twin size blanket, you want to give them the exact measurements and not worry about it being too big or too small. You wouldn't want to use more yarn than you actually need! Or what if you wanted to make a baby blanket? Are you going to make a crib sized blanket or a lovey? I've created a guide to crochet blanket sizes for anyone who's ever wondered just how big to make their blanket!
Figuring out Crochet Blanket Sizes
When I started making blanket, I sort of just created a long chain and when I was happy with that, I started my rows. I worked until the felt like the blanket was tall enough and then I bound off. Super quick and simple. But that was a completely unreliable way of working. I had no idea how big the blanket was going to be, so I usually needed to get more yarn midway. I could also never tell people what size to expect of their finished blanket until I actually made, and that didn't look very professional.
Related: Crochet Hexagon Baby Blanket Pattern
So I looked around at some charts for crochet blanket sizes, and they were helpful for a while. Most of them only referred to baby blankets and things like stroller sizes and loveys though. I needed something to give me information on all crochet blanket sizes in a way that was easy to digest and refer back to over time.
In my crochet blanket sizing guide, I've included measurements for 16 different types of blankets. I just have this printed out and included with my other resources for whenever I need it. When a customer asks me to make them a blanket, I can give them an exact size and give them a price calculated from how much yarn I actually need for it. No more undercharging because I gave them a price that didn't take into account the extra yarn I had to buy!
Related: Bright Stars Bobble Blanket Pattern
You guys can pick this guide for crochet blanket sizes for free. Just click the image below to go to the download page and once you enter your email, I'll have it sent over! Also, when you sign up, you'll also get access to the resource library with more freebies and guides.
Get the Printable Planner for more resources!
I have even more resources and printables designed specifically for crafters included in My Knit & Crochet Project Planner. I love having planners and guides to track my work, and I use them all the time for running this blog. So why not use one to get organized with my knitting and crochet? In this planners, I've put together 23 different resource pages to help you do everything from organizing your purchased patterns and resources to designing your own patterns, and even keep track of custom orders!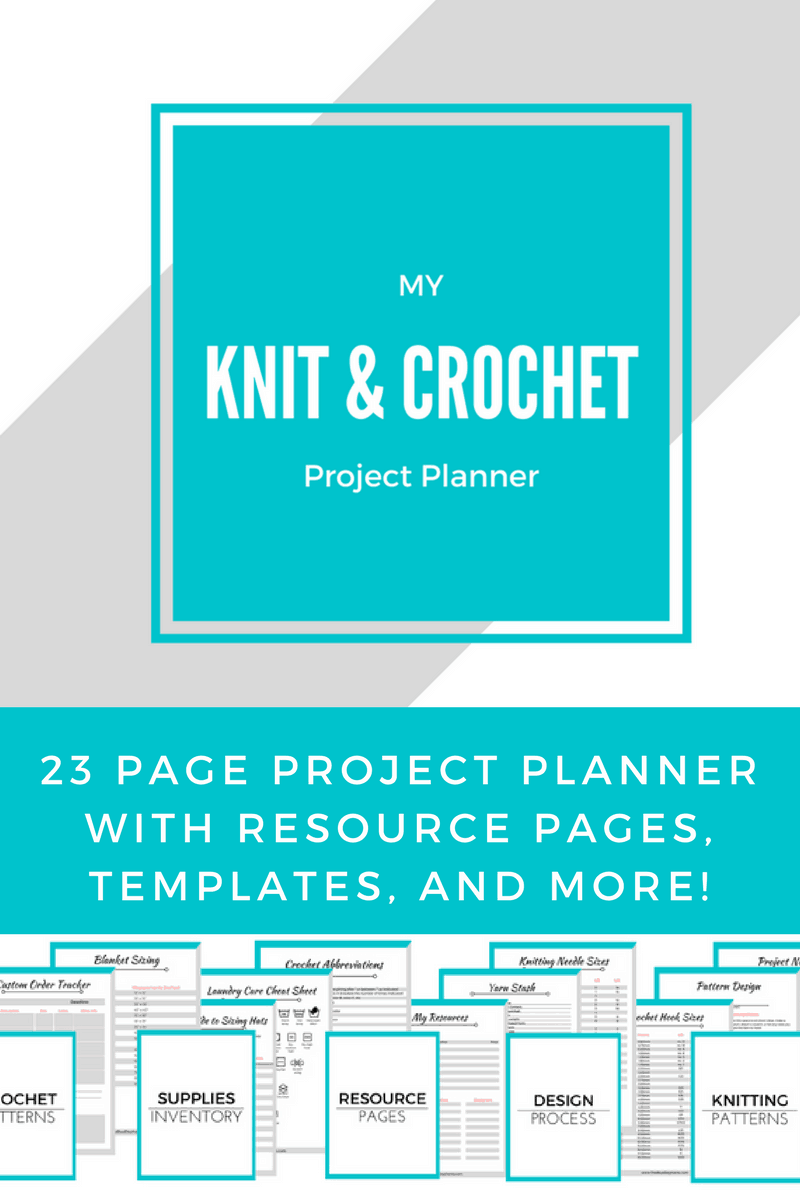 The planner comes as a printable PDF and includes pages on everything you need:
*Planning and designing your own patterns
*Keeping track of WIPs and your customizations to purchased patterns
*Organizing your yarn stash
*Sorting your tools, crochet hook and knitting needles by size and type
*Sizing hats and blanket for everyone
*Pages full of crochet and knitting abbreviations, plus space to add your own
*Areas to keep track of your ideas, inspirations, and custom orders
*Divider pages to split the planner into sections: Knitting Patterns, Crochet Patterns, Supplies, Design Process and Resources
Pick up your copy in my Etsy shop and choose from any of the 5 colors available!
That's all for today! Thank you all so much for reading and supporting my blog. Whether you just read the articles, sign up for the newsletter or make any purchases from my shop, thank you! I really appreciate it and can't wait to create more awesome content for you.
See you soon 🙂