Hello, friends! I have something really exciting to share with you today so let's get right to the point, shall we? Some of your favorite makers and I have come together to create a treasure vault of yarn resources, patterns, and more for absolutely FREE and you are going to love it!
If you love freebies, this is just the thing for you. The Yarn Lovers Treasure Vault has 30 free resources and patterns from a great group of designers that get the struggle. They know how frustrating it is not knowing how much yarn you need, how how to size hats. They know all the secrets of taking care of a handmade closet, and they have wonderful patterns to include in yours! These wonderful ladies are sharing their knowledge so you can sit back and enjoy playing with yarn without worrying about any of that.
There are so many things included in the vault and you can grab them HERE. Just sign up on the page to get access to the vault and you can pick and choose whichever freebies you want to get, or get them all! It's entirely up to you.
Everything You Need to Know About Yarn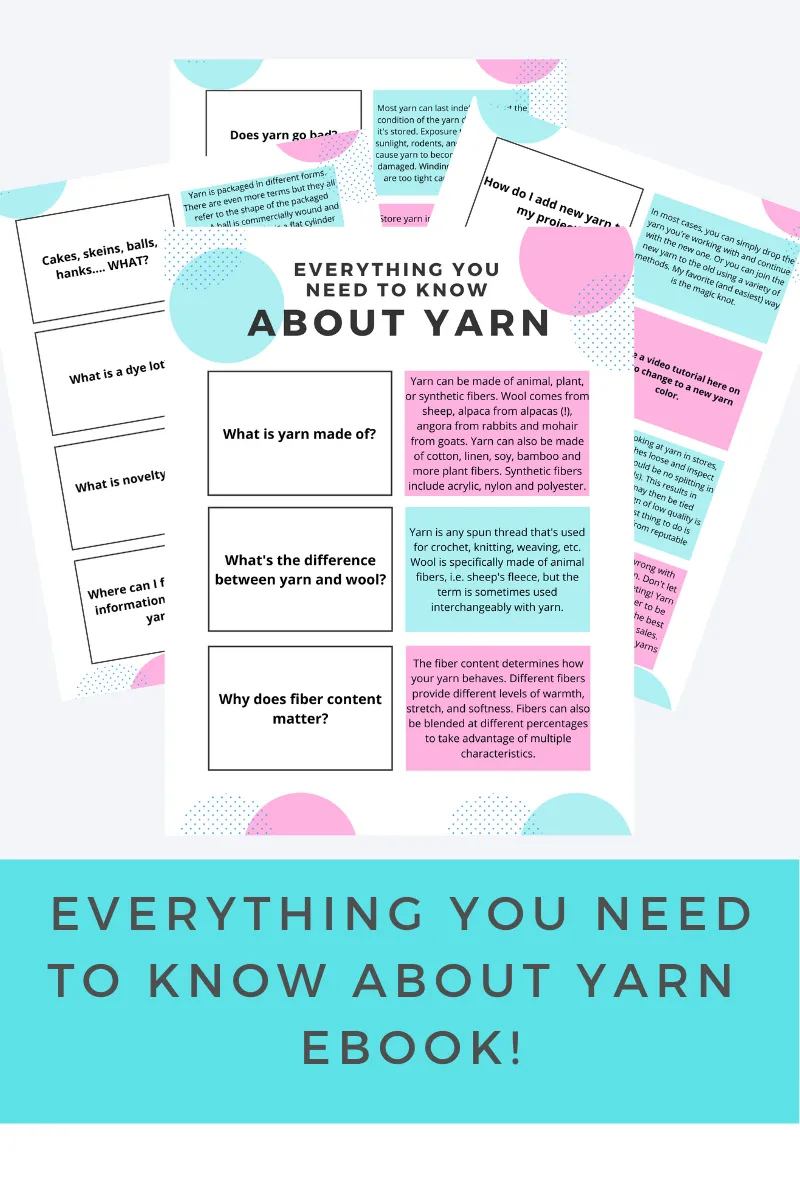 One of the free yarn resources included in the vault is my very own ebook with everything you need to know about yarn! Catchy title, I know 🙂
This ebook answers all the questions you've had about yarn in one handy little guide. Curious about yarn dye lots and fiber content? Maybe you need help understanding how to store yarn or choose yarn, or change between different colors of yarn. All these things are answered in the ebook!
I've answered the top 15 questions I get asked about yarn and answered them for you here, but there are bonus resources within it too! Not only do you get the short answers in the guide, but I also share where to get longer more in-depth information if you want it. Plus, I've included my Yarn Care Cheat Sheet AND Yarn Weight Guide too! It really is everything you need to know about yarn. Just head on over to the vault and scroll down to it to grab your copy!
Resources
How to Calculate How Much Yarn You'll Need Workbook
Color Work Cheatsheet
Knitting, Crochet, and Tunisian Crochet Cheat Sheets
The Ultimate Guide to Crocheting Garments
Everything You Need to Know About Yarn Ebook
Organize & Plan Your Crochet Projects Like a Pro Video Training
Hat Size Checker
Crochet Journal
How Do I Knit Mosaic Colorwork Ebook
Dora's Ultimate Crochet Hat Sizing Guide
Handmade Closet Guide
How to Care for Your Hand Dyed Yarn
Patterns
Octavia the Octopus Chalk Bag (crochet)
Twinkle Tank (crochet)
Oversized Clutch (crochet)
Sunday Market bag (crochet)
The Kelsi Headband (crochet)
Simple Hat Pattern (knitting)
Cozy Twist Ear Warmer (crochet)
Starlight Baby Bonnet (crochet)
Wayfarer Woven Tote Bag (crochet)
Rooster Pot Holder (crochet)
Simple Crochet Sweater Pattern (crochet)
Caterpillar Stuffie (crochet)
Beach Cover Up (crochet)
Spring Capelet (crochet)
Vintage Lines Cowl (crochet)
Gradient Scarf (crochet)
Lunar Lace Tunic (crochet)
Zigzag Baby Blanket (crochet)
That's all for today, but I hope you love this new resource as much as I do! It's an incredible help and there are so many beautiful patterns that I can't wait to try myself. Head on over to the vault here to sign up and get access to all 30 of these free resources or just pick and choose the ones you want. It's all free and we can't wait to see what you make first!
See you soon 🙂