Knitting and crochet can be confusing. There are so many crochet abbreviations and knitting symbols, and sizes and gauges and materials to keep track of that it can get complicated. But it doesn't have to be that way! Knitting and crochet can be easy and streamlined with the Make it Happen Planners: a set of guides and resources for makers. I came out with these in 2019 in the blue colorway. Now, I've expanded the line with even MORE cheat sheets, guides, and trackers in a new colorway to help you take all those ideas and make it happen!
Make It Happen: Knitting & Crochet Resources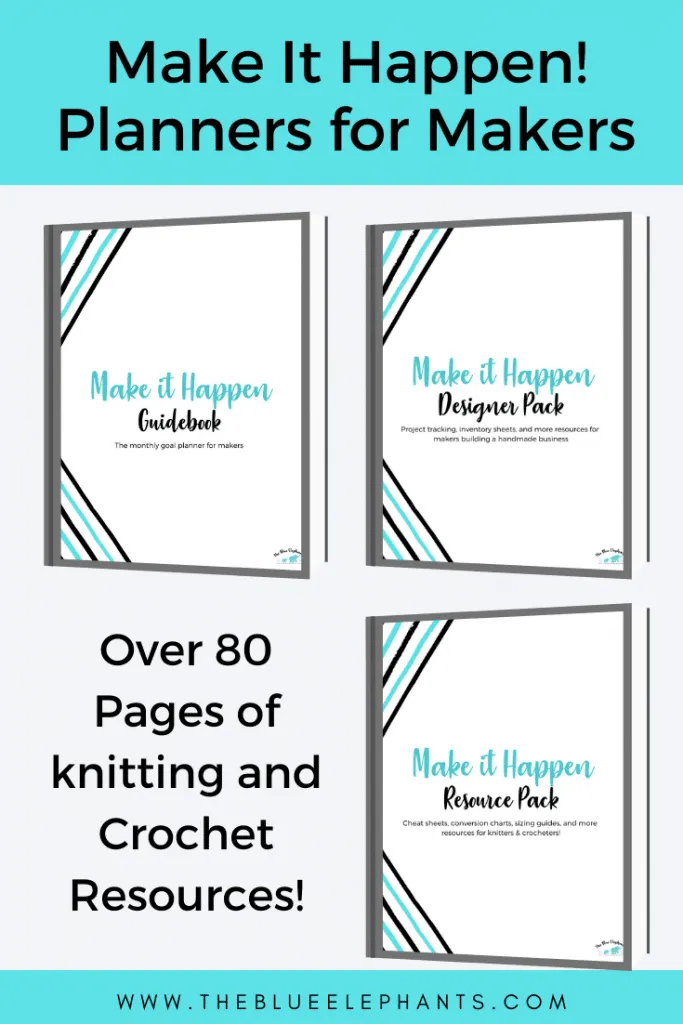 Why do I need a planner for playing with yarn?
Tell me honestly, how many projects do you have on the go right now? Do you remember all the hooks you're using for each? Or what about which yarn you started with? Do you know how big that hat should really be in order to fit? There are so many little things to remember with crochet that it helps to have all that information readily available. Plus, the less time you spend searching for the right hook or wondering if a USA 6 hook is the same as a UK 6 (it's not), the more time you have to actually make something.
Maybe you like to write your own patterns or make changes to the patterns you bought. How do you keep track of those changes so you can recreate it later? Did you have a great idea that you bought yarn for and now you can't remember the idea? Do you need help organizing your stash?
I love using planners to grow my blog but there just wasn't a great option for knitting and crochet planners. Sure, you can get a couple of pages here and a few trackers there, but I needed something more comprehensive and uniform.
So, I created 3 planners with 80 pages of knitting and crochet resources between them. These are perfect for all skill levels, and come as a clean, cohesive design that you can print out at home or fill out on your computer!
First up is the monthly planner for makers! I'm super excited about this one because I just learned how much better I am at LIFE when I can plan things out and see them as items to check out and accomplish. It keeps me organized and whether I'm planning patterns for the blog, or working on my own projects, it's easier to actually get it done when I can write it down and plan.