I spent most of the last summer taking part in every craft fair I could sign up for, and one of my absolute best-selling items was my crochet jellyfish! These things sold like hotcakes and even when people ended up purchasing other toys and things, it was the stack of jellyfish that drew them in. Since I won't be doing any shows this summer, I'm sharing my crochet jellyfish pattern so you can make your very own Jenni the Jellyfish plushie!
This crochet jellyfish pattern is a great beginner amigurumi project. It's made all in one piece, so there's no seaming anything together, and it's made up of super simple stitches and shapes. As I mentioned, these were a great craft fair item. Not only did they work up quickly but it didn't cost much to make. I could make about 3 jellyfish with one skein of yarn, plus some safety eyes and stuffing. In the end, it came up to about $0.20 each to make so they were pure profit!
The full free pattern is written out below. For those who'd prefer to print the pattern and take it with you for on-the-go and to markup as you go, you can buy the inexpensive printable PDF from my Etsy and Ravelry shops. The PDF is formatted without ads or comments, so it's easy to read.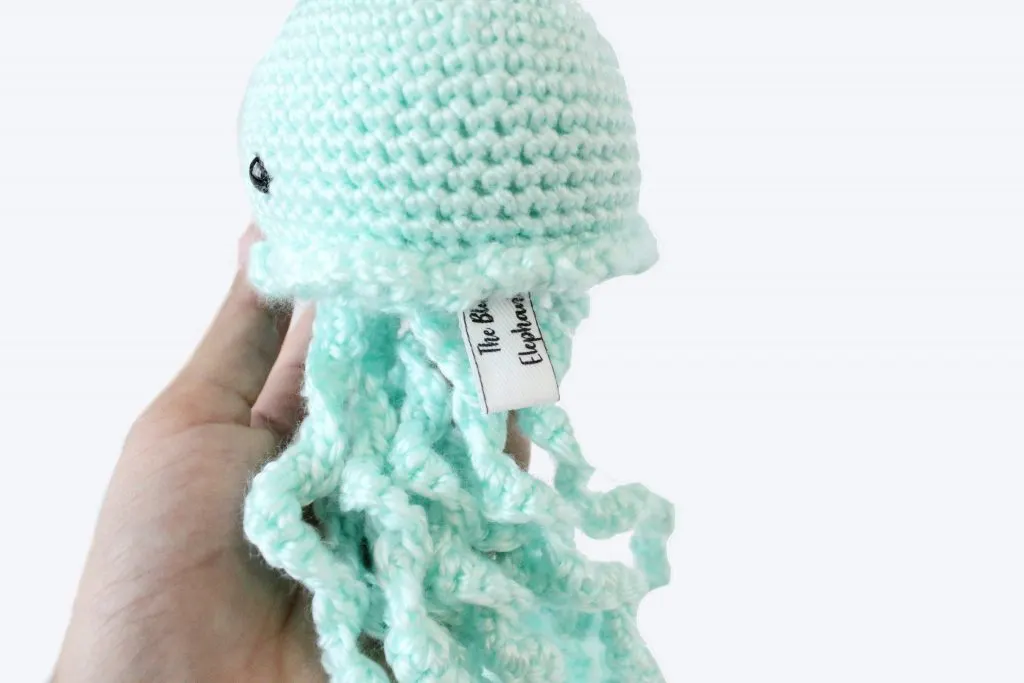 Materials:
#4 worsted weight yarn – I used Yarn Bee Soft Secret in Pale Aqua
Abbreviations:
Pattern Notes:
Skill level: Beginner
Sizing: 3.5″ tall for the head, the tentacles are up to you
Gauge: 6S x 5R per inch
Jenni the Jellyfish: Free Crochet Jellyfish Pattern
Head
Round 1: Create a magic loop and work 6 SC into in. Pull the loop closed and use a stitch marker to mark the first space. You'll be working in continuous rounds for the entire pattern.
Round 2: Inc in each space by working 2 SC into each (12).
Round 3: *SC, inc* around (18).
Round 4: *SC 2, inc* around (24).
Round 5: *SC 3, inc* around (30).
Round 6: *SC 4, inc* around (36).
Round 7: *SC 5, inc* around (42).
Round 8: *SC 6, inc* around (48).
Rounds 9-18: SC around for 10 rounds.
Insert the eyes on the 6th round from the last increase round and about 6 stitches apart. You can play around with the placement, but once you're happy with it, secure the backings. Start to add in the stuffing now. I used Fairfield's Polyfil stuffing for this and for all my plushies.
Round 19: Working in FLO, HDC 3 into each stitch around.
Round 20: Working into the BLO of round 18, *SC 6, dec* around (42).
Round 21: *SC 5, dec* around (36).
Round 22: *SC 4, dec* around (30).
Round 23: *SC 3, dec* around (24).
Round 24: *SC 2, dec* around (18). Finish adding stuffing.
Round 25: *SC, dec* around (12).
Round 26: Decrease around (6). Slip stitch across the hole to close it.
Tentacles
Chain 26, turn and SC along the chain back to the base of the head. Slip stitch to another space and repeat 9 times. It helps to work in a spiral away from the center of the body to keep the tentacles neat.
After you work the last tentacle, slip stitch to the base, trim the yarn and weave in the end to finish.
And you're done!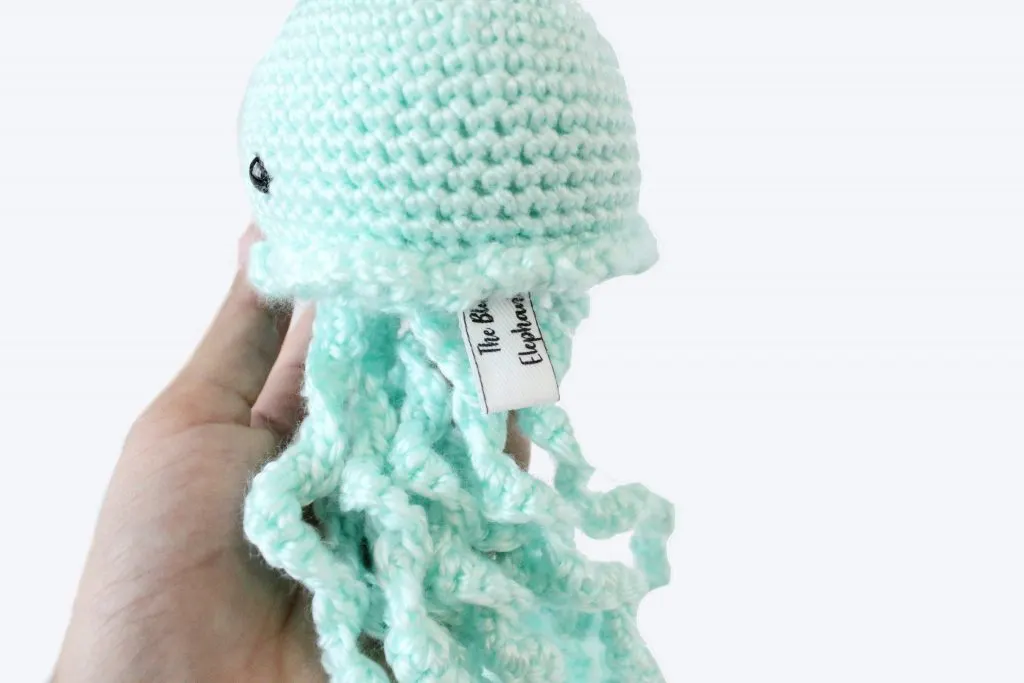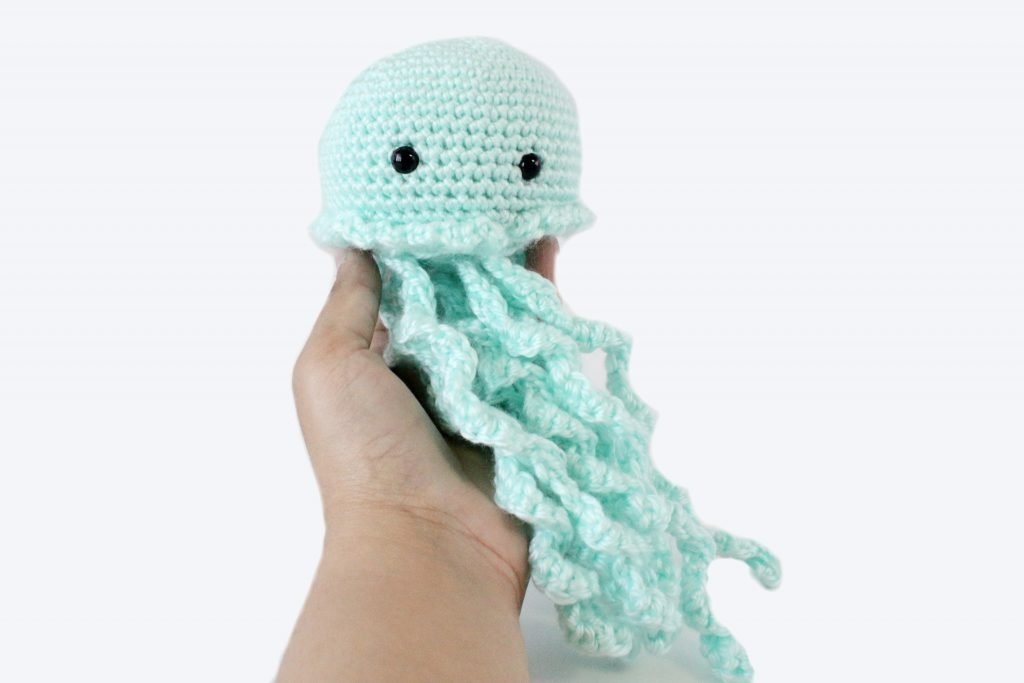 I loved making this crochet jellyfish and I hope you do too! This pattern works up really fast and because it's all in one piece, you don't need to worry about seaming or having extra tools. I would bring the yarn, stuffing, and eyes with me to craft fairs and just whip a few up during slow times or when I was running low!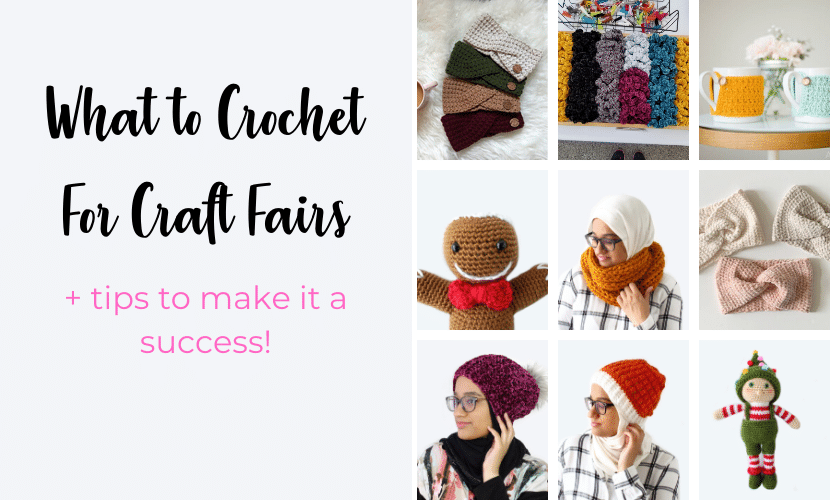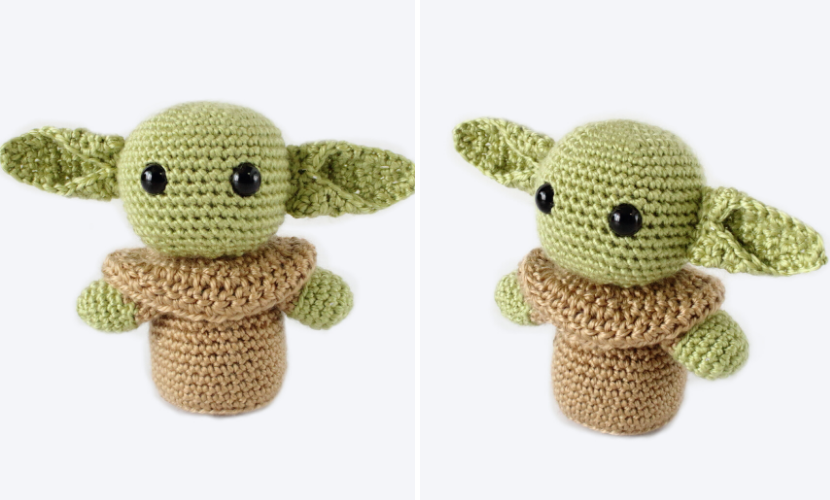 Check out the post above for more ideas on what to crochet for craft fairs. The baby yodas were another one of my bestsellers, and I couldn't make enough of them! No matter how many more I made, as soon as they were on the table, they sold!
And if you haven't already, be sure to signup for the newsletter using the box below! You'll get free patterns, tutorials and so much more delivered right to your inbox, and it's completely free. Thanks so much for hanging out with me today!
See you soon 🙂
---
Visit my pattern shops on Ravelry, Craftsy, and Etsy to buy the printable PDFs of all my patterns. They're ad-free, comment-free and your support helps me run The Blue Elephants so I can continue publishing free patterns here.
My material lists sometimes include affiliate links (denoted with a *) for which I earn a small commission at no extra cost to you. I only link to products I personally use, love, and recommend. You can read more about this in my Disclosure.
I worked hard on this pattern, so please be respectful and do not sell or redistribute this pattern as your own. If you sell finished items made using this pattern, credit The Blue Elephants as the designer and link back to the blog post or the Etsy pattern link. For any other questions, read my Terms of Use or contact me.