Let's get down to basics for a second ab talk about yarn fiber content. We use yarn all the time, but for the most part, I use acrylic yarns. It's what I like to use and it works well for the projects I enjoy making, but there are so many other kinds of yarn out there. It's a topic that I hadn't thought about too much before but I want to take a closer look at it today. So let's talk about yarn!
Since I recently moved to LA, I've been looking into other things I could make in the garment category. I won't be making as many beanies as I did in Chicago, but I still want to wear my makes. That means I need to find yarns that would be lighter and more breathable than the acrylic I was using. In my searches for summer patterns, cotton and linen came up a lot. But what about the other yarn fiber content? What are they good for? And what properties can I find with them?
What Types of Yarn Are There?
We can make yarn out of either animal, plant, or synthetic fibers – or a combination of these. The different fibers give the yarn different qualities. And that helps to determine what you would use that type of yarn for. Here's a quick breakdown of some of the fibers and the properties they have.
Animal yarn fiber:
Yarn made of animal fibers is also sometimes referred to as protein yarns. Not all animal fiber yarns are the same, but they are generally more breathable than synthetic yarns and more insulating than plant-based yarns.
So for example, cashmere is known for being super soft, light, and warm. It's made up of really fine, long fibers that give it those qualities even though mohair (which is also from goats) is better known for being strong, having a nice sheen, and even being somewhat moisture wicking. Silk, on the other hand, is known for its strength, shine, and drape – not so much for its warmth.
Plant yarn fiber:
cotton – great for firm fabrics when worked tightly, absorbent, washable, and lightweight
linen – absorbent, silky, an give fabric really nice drape
hemp – a strong fiber (think ropes and sails), breathable, hypoallergenic, soft
bamboo – super soft yarn, smooth, and has antibacterial properties
banana (yes, from the bark of banana trees!) – warm, glossy and strong, made of thicker fibres
raffia – lightweight, water repellent, and quick drying, strong
viscone – made from wood pulp
jute
corn
pine
soy
As you can see, yarn can be made of a lot of different plant-based materials and the characteristics of the plant carries into the production of the yarn. You can think of the clothes you have in your closet to see how different plant-based materials would behave, and an easy example is cotton and linen. These are materials we are very familiar with as fabric, and they're great for summer projects too!
Synthetic yarn fiber:
acrylic, nylon, polyester, and spandex are all from petroleum based products and make for lightweight warm yarn, that is both strong and dries pretty quickly
lyocel (rayon) – made of repurposed wood pulp, soft, lightweight and absorbent. It's similar to cotton but btter at wicking moisture and 50% more absorbent
metallic fibers
Most man-made or synthetic yarns are cheaper than natural fibers and can vary in quality a little more. These are the ones I used most for things like toys and blankets (acrylic) because it is cheaper but can be very good quality and offer a lot of the same properties as natural fibers. However, because they're mass-produced and use resources like petroleum-based products, they aren't the best for the environment which is why some would prefer to use natural fibers instead.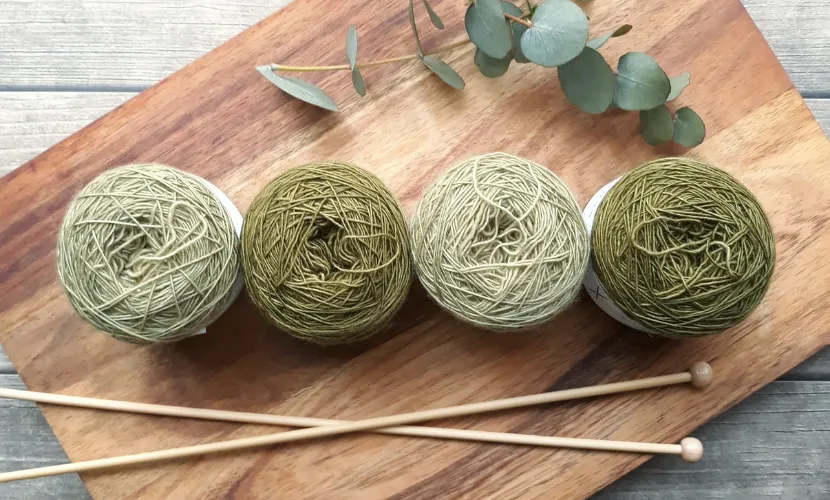 Yarn fiber blends are used to take the best of different individual fibers into a super yarn!
And if that's not enough variety already, you can even combine fibers to make a yarn that takes the best qualities of different materials. An acrylic-wool blend, for example, would have all the warmth and breathability of wool and the machine-washable quality and sheen of acrylic. It would also be cheaper than 100% wool because acrylic is cheaper to produce. Similarly, silk blends would take advantage of the shine of silk to any other fiber and make it more luxurious.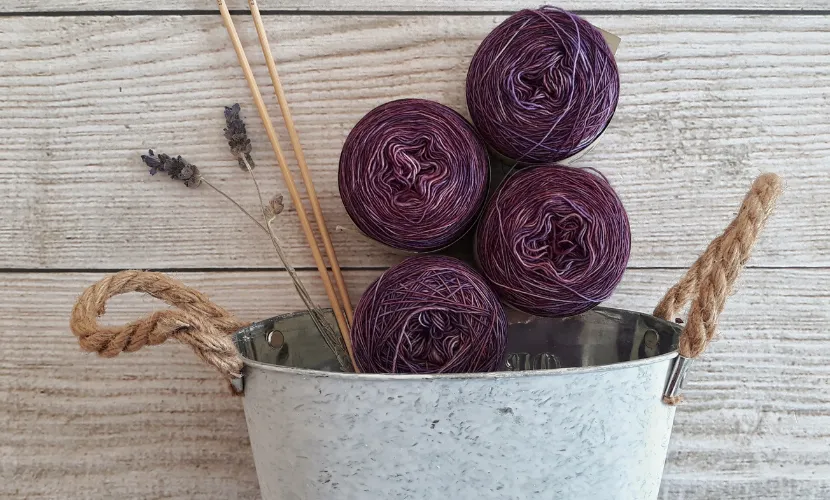 So, what to do with all this information about different yarn fibers?
That was a lot of information about a topic I didn't think too much about before, but I learned a ton in researching for this post and I hope you did too. But what do we do now? How does this affect your actual knitting and crocheting? Also, how can you find out what the fiber content is? That information (and a lot more) is actually on the yarn label so it's good to learn how to read them. I have a guide about that here 🙂
Next time you're looking for that perfect yarn for your next project. whether you're shopping in stores or online, you'll have a better idea of how your finished item will behave. You probably won't want to make a light summer beach hat entirely out of cashmere or alpaca; instead, something like hemp or raffia would be a better choice. Looking into all this has inspired me to use more of a variety of yarn and just play around with what I can do with them.
As you probably noticed, I've linked to some great yarns above for the categories I talked about. I also have another post here all about how to buy yarn online that goes more into the things you should look at while shopping.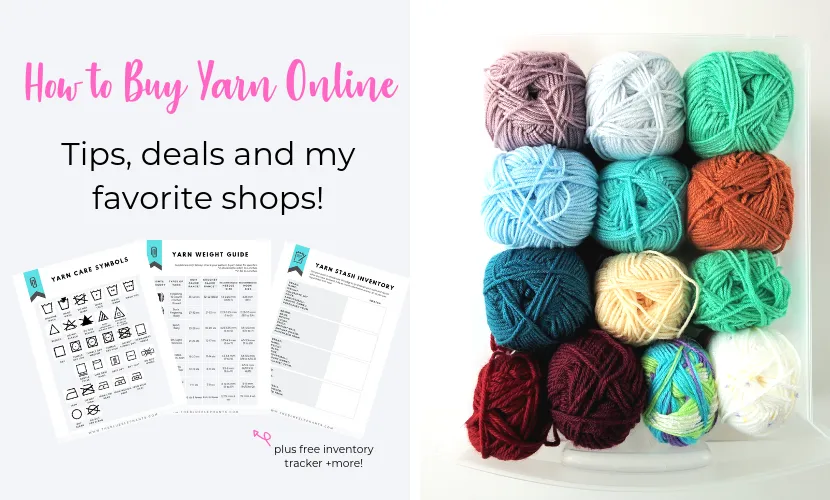 I'll be keeping track of my yarn and the materials I like with my Yarn Inventory guide that you can find above as a freebie or as part of the Make it Happen Resource Pack! It's s full of guides, resources, cheat sheets, and more to help you make sense of all things knitting, crochet, and yarn – including a laundry guide for washing your special yarns and a hook/needle guide so you know what sizes would work best. Grab the Resource Pack over in my shop or on Etsy to make life easier for you and to help support me 🙂
So what's your favorite yarn?
Well, I'm off to see what new things I can make with more plant-based yarn, but I'd love to hear what your favorite yarn is! Whether it's a brand or a specific line, or just a material you like working with. Thank you so much for reading and learning with me. If you liked this post and want to get more posts like it delivered right to your inbox every week, don't forget to sign up for the newsletter. Just use the box below to sign up with your name and email and you're good to go!
See you soon 🙂
---
Visit my pattern shops on Ravelry, Craftsy, and Etsy to buy the printable PDFs of all my patterns. They're ad-free, comment-free and your support helps me run The Blue Elephants so I can continue publishing free patterns here.
My material lists sometimes include affiliate links (denoted with a *) for which I earn a small commission at no extra cost to you. I only link to products I personally use, love, and recommend. You can read more about this in my Disclosure.
I worked hard on this pattern, so please be respectful and do not sell or redistribute this pattern as your own. If you sell finished items made using this pattern, credit The Blue Elephants as the designer and link back to the blog post or the Etsy pattern link. For any other questions, read my Terms of Use or contact me.
---