Warning
: exif_imagetype(https://www.theblueelephants.com/wp-content/uploads/2015/11/Rameez-Nursery.-Chevron-1024x576.jpg): Failed to open stream: HTTP request failed! HTTP/1.1 404 Not Found in
/home/customer/www/theblueelephants.com/public_html/wp-includes/functions.php
on line
3310
Warning
: file_get_contents(https://www.theblueelephants.com/wp-content/uploads/2015/11/Rameez-Nursery.-Chevron-1024x576.jpg): Failed to open stream: HTTP request failed! HTTP/1.1 404 Not Found in
/home/customer/www/theblueelephants.com/public_html/wp-includes/functions.php
on line
3332
Warning
: Trying to access array offset on value of type bool in
/home/customer/www/theblueelephants.com/public_html/wp-content/themes/mediavine-trellis/inc/classes/class-images.php
on line
1514
Warning
: exif_imagetype(https://www.theblueelephants.com/wp-content/uploads/2015/11/Rameez-baby-blanket-knitting-pattern.png): Failed to open stream: HTTP request failed! HTTP/1.1 404 Not Found in
/home/customer/www/theblueelephants.com/public_html/wp-includes/functions.php
on line
3310
Warning
: file_get_contents(https://www.theblueelephants.com/wp-content/uploads/2015/11/Rameez-baby-blanket-knitting-pattern.png): Failed to open stream: HTTP request failed! HTTP/1.1 404 Not Found in
/home/customer/www/theblueelephants.com/public_html/wp-includes/functions.php
on line
3332
Warning
: Trying to access array offset on value of type bool in
/home/customer/www/theblueelephants.com/public_html/wp-content/themes/mediavine-trellis/inc/classes/class-images.php
on line
1514
Coming up with new and fun color combinations for baby blankets can seem intimidating, but it's really a lot of fun! While pinks and blues and white will always be the classic baby blanket color options, there are so many pretty yarn colors out there to play with and create something unique. In this post, I'll show you 15 baby blanket color schemes that I put together, and teach you how to come up with your own!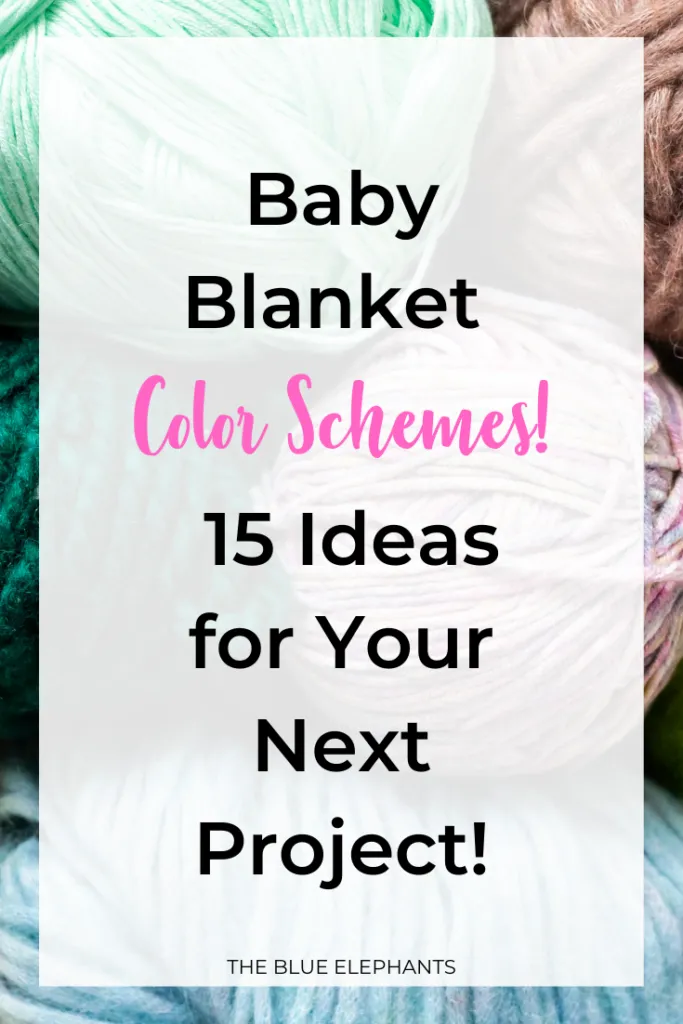 How many colors should you use?
First, let's talk about how many colors you should pick for your baby blanket. This number is totally up to you so don't worry about it too much but there are a few things to keep in mind.
What pattern are you using?
If your pattern uses a very textured stitch or there's a lot of detail you want to highlight, like something made with filet crochet, less is more when it comes to choosing a baby blanket color scheme. Using just one color will let your design stand out more and make the blanket feel more classy and elegant. You can even use two colors, one for the main body and one for a border, for example, to bring a little more color in but keep the focus on the stitches and texture of the blanket.
You can use as many colors as you want, but the additional colors and a very detailed pattern can something get muddled and feel like there's too much going on. Even if you choose a single colored blanket, it doesn't have to be the basic pink, blue, white, or gray though! We'll talk about a couple of options you can try instead later in the post.
What does the baby's room look like? Who's using it?
Another thing to think about is who the blanket is for. Since we usually make baby blankets as gifts, it's always good to keep the recipient and their style in mind too. We want to make them something they will use and love and cherish, but if they are people who like bright and bold colors, and you give them a taupe blanket, it may not fit with their aesthetic.
If you don't know what they like, feel free to be creative and choose colors that you think go well. But if you do know a bit about them and their space, the care you take to make it THEIRS will show and be appreciated!
How to choose baby blanket color schemes
There are a few different ways you can choose colors that go well together and they are all very simple. I like using a combination of these to come up with the baby blanket color schemes for my projects until I find a group of colors that I love!
Option 1. Use white or gray as your base
This may sound boring or obvious, but it is the easiest way to build a color palette. White and gray are awesome neutrals that will go with any other color you choose and they create a soft, dreamy, innocent look to your blanket which is perfect for babies! Pair these with any other color you like and you have an instant color scheme. Check out some of these examples below.
Option 2. Pick any theme and choose colors that fit it
When you choose a theme, there are certain colors that probably come to mind and those just go together really well. Take "Spring" as an example. When I think of Spring, I think of sunny blue skies, greens, and pale yellows. That's how I came up with the Dina Baby Blanket below. For my Candy Shop blanket, I used the theme of candy – specifically Starbursts and their soft pastel colors. This gave me an idea and I could add the other colors (purple and green) that matched that theme but aren't actual colors for the candy.
Option 3. Look up color inspo on Pinterest
Pinterest is the designer's favorite tool, and for good reason. When you look up color combos or color schemes, you'll find a ton of different ideas that people have already put together and categorize them by themes or color families. This makes it super easy to narrow in on what you like and what you want to avoid for your project.
Keep in mind that you don't have to look for just crochet or yarn colors either! Look at paint colors, photographs, nursery decor ideas, and other people's projects for something that inspires you. I love these images where you pull colors from a photo and they all work together in a way I wouldn't have thought of.
Option 4. Ask the Recipient!
Unless the finished item is meant to be a surprise, you can just ask the recipient what colors they'd like! This is super helpful when I do custom orders because the buyer already knows what they want and they know how the final product will be and that they'll love. But it works for gifts too and it makes it easier on everyone. Maybe the family is making the nursery up a certain way and they want a blanket to match it. Or maybe you have a few ideas and can't decide; ask them to pick their favorite!
Some of my favorite baby blanket color schemes came from the recipients themselves. My colors for the Lego Blanket were actually the little boy's favorite Lego colors. And the Khadija Blanket colors were ones the buyer chose herself.
Option 5. Just play around with it!
Lastly, my favorite option is to just play around with it and see what you like. Most of the color schemes I come up with are a result of me just clicking through yarn colors and putting them next to each to each other to see how they look. I have a screenshot attached of how I do this, and this kind of image is also what I send to customers, family, and friends when I ask their opinion.
This is easy to do online but you can also do it in person. Just grab the colors you like and hold them together to see if you like them or if something seems too light or dark or the wrong tone or whatever. This way you get a little preview of the blanket!
Fun fact: The colors below are actually my brand colors, but they'd make a cute blanket right?!
Baby Blanket Color Schemes to Try!
In this section, I put together a few different color schemes I would use with 3, 4, or 5 colors of yarn. These are just my preferences and ones I chose using mostly the WeCrochet Brava Worsted line, but you can do this with any yarn you like. I left all the colors and yarn lines I used down below so you can find them!
3-color Baby Blanket Color Schemes
BONUS TIP: If you find a multicolored yarn you really like, you already have a built-in color scheme! I use up to 2 colors to accent the multi and break up and colorful sections with solid colors. In the last two images above, I just chose solids that went well with the multicolored yarns.
The first one is a Brava Speckle yarn with a white base and bright, bold colors, so I picked the Canary and Red Brava Worsted to go with it. For the second, I loved the colors in this Dishie Multi yarn but toned it down a little by pairing it with the neutrals in the yarn instead of the brighter colors.
4-color Baby Blanket Color Schemes
For these combinations, I went with mostly bold colors since that's what I like, but you can do the same thing with different tones. You can see that the last one is very vibrant, but the one above it is more of a pale theme, and the very first combination has a worn, desert muted tone to it.
5-color Baby Blanket Color Schemes
This last batch was fun to put together and although I wasn't going for any theme, in particular, I did try to include some things. For example, monotones are a great option! The gray theme in the second to last combination here is great when you want to use more colors and this line had a great selection of grays to choose from. But you can also do it with fewer colors like the teal option in the 4 color set.
Another thing I looked at when making these combinations is what the color descriptions suggest for pair colors. On WeCrochet, most of the colors have a little blurb that describes the colors and what might be good with is. Orange, in the last color scheme, was described as a good pairing with browns, greens, and reds – and I think it works!
What's your favorite baby blanket color scheme?
I hope you guys liked the colors I put together and learned a bit about how to find the right colors for your next baby blanket pattern! Let me know in the comments what colors you love pairing together! I'd love to try ones I hadn't thought of before or ones that are different from my usual aesthetic.
Want to grab a quick cheat sheet of this post so you can take it yarn shopping with you? Grab it below for free!
If you liked this post, be sure to subscribe to the newsletter to get new patterns, posts, and more delivered right to your inbox every week. Just use the box below to sign up with your name and email and you're good to go!
See you soon!
---
Visit my pattern shops on Ravelry, Craftsy, and Etsy to buy the printable PDFs of all my patterns. They're ad-free, comment-free and your support helps me run The Blue Elephants so I can continue publishing free patterns here.
My material lists sometimes include affiliate links (denoted with a *) for which I earn a small commission at no extra cost to you. I only link to products I personally use, love, and recommend. You can read more about this in my Disclosure.
I worked hard on this pattern, so please be respectful and do not sell or redistribute this pattern as your own. If you sell finished items made using this pattern, credit The Blue Elephants as the designer and link back to the blog post or the Etsy pattern link. For any other questions, read my Terms of Use or contact me.
---