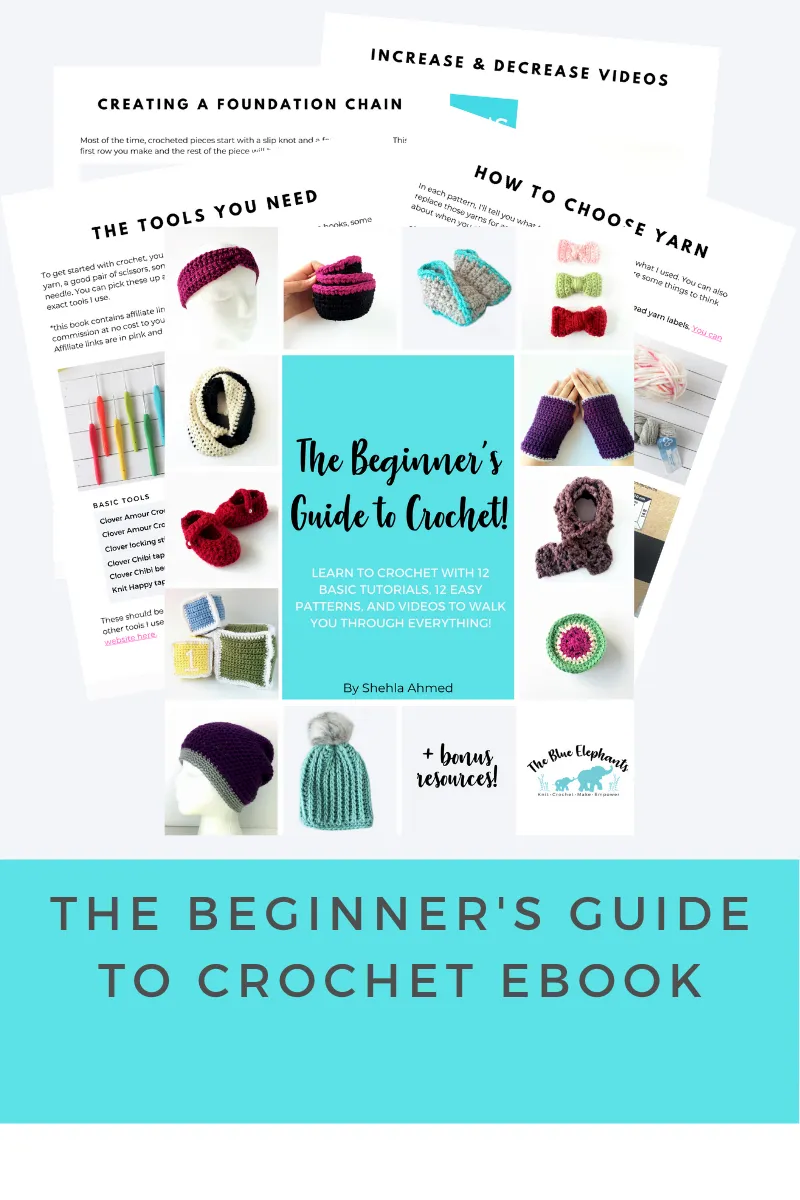 The Beginner's Guide to Crochet Ebook!
Want to learn how to *finally* crochet?
Looking for beginner friendly patterns and tutorials?
If you've ever looked at something crocheted and thought, "I wish I could make that!" but just didn't know where to start, this is the ebook for you. Or maybe you learned the basics from your mother, grandmother or family friend, but you need a little refresher.
Whatever the case, "The Beginner's Guide to Crochet" is a full course to teach crochet for beginners from the very basics to skills and techniques that grow with you. And it's FREE!

So what's in the ebook?
A Getting Started Section

The Tools You Need – this section covers the basic tools you need to get started with, and none of the extras you won't need just yet
A guide on How to Choose Yarn and Read the Labels so you can start off informed and ready!
Abbreviations Cheat Sheet to help you keep track of all the terms
A Hat Sizing Chart for perfectly sized beanies every time!
Two full pages of tips to help you through it all!
A Tutorials Section
Each lesson includes a written description of what to do, pictures showing you each step, how it should look AND a video tutorial that you can follow along with! So no matter what you're learning style is, this ebook has you covered.
Creating the Foundation Chain
How to Single Crochet
Half Double Crochet
Double Crochet
How to Slip Stitch
Basic Increases
Basic Decreases
How to Magic Loop + Make Circles
Binding Off and Weaving in Ends
How to Change Colors
How to Join Pieces Together (Invisible Join)
Join Pieces (Whip stitch Join)
A Tutorials Section
To help you practice your new skills and learn how to read patterns at the same time, there are also 12 patterns that are simple, fun, and perfect crochet for beginners to make quickly and easily. Each pattern has pictures of the finished project, step by step photos and a video to show you how to make it! Plus, there's a variety of things to make so you can see what you enjoy crocheting the most.
Watermelon coasters
Simple bows
Earwarmer/headband
Mini stacking baskets
Mary Jane baby booties
Kimono baby booties
Baby blocks
Cookies & cream infinity scarf
Basic beanies
Chunky mesh scarf
Simple wristwarmers
Chunky ribbed beanie
Want more Maker resources? Check out the Make It Happen Planners!