Today's pattern is super quick and easy, and it's perfect for a last-minute baby shower gift. A couple of months ago, my cousin had a baby girl and I wanted to give her something but I didn't have the time I usually take for a baby blanket. I wanted to make something soft and squishy that the baby would snuggle with and something that my cousin could easily wash and take care of. So I decided to go with a C2C Heart Blanket using a super thick yarn and a big hook, and I'm so in love with the results!
The best thing about working in C2C is that once you learn how to do it, you can make anything just by changing the colors and creating a picture out of the blocks. For this C2C Heart Blanket, I used a 22×22 grid to make a big red heart on a white background. I have a full tutorial on how to work C2C so if you need a bit more detail and a video tutorial, check out the post below.
I used Bernat's Blanket yarn to make this C2C heart blanket and my big 12.00mm crochet hook so it worked up very quickly. You can also switch out the yarn and the hook if you want to use something else, but keep in mind it will change the finished size of the blanket.
The full free pattern is written out below. For those who'd prefer to print the pattern and take it with you for on-the-go and to markup as you go, you can buy the inexpensive printable PDF from my Etsy and Ravelry shops. The PDF is formatted without ads or comments, so it's easy to read.
Materials:
Abbreviations:

Pattern Notes:
Skill level: Beginner
Sizing: 35 x 35 inches
Gauge: 1.5S x 1.5R per inch
C2C Heart Blanket Pattern
Start with white yarn and the larger hook. First, I'll explain how to work the increasing rows, then the decreasing rows and then the color sequence for this pattern. If you already understand how to work a C2C pattern, you can skip to the color sequence, but keep in mind I'm using HDC stitches instead of the typical DC here.
Increasing
Row 1: Chain 4. YO and HDC into the 2nd space from the hook and each space after. You'll have 3 HDCs for your first block. Some people prefer to use DC stitches for C2C patterns, but I like how the HDC works with this yarn better. It makes the overall blanket less holey. That's the first block done and it makes up that first corner.
Row 2: Rotate the piece so you have your hook at the bottom right again. Every row starts in this position so you'll always come back to the bottom right. Chain 4, and HDC 3 starting from the 2nd space from the hook. This is the first block of this row. Slip stitch to the chain space of the last row. This brings the two blocks together and connects them. Chain 1, and work 3 HDC into the top of the block. That's block 2 of row 2.
For each of the next increasing rows, you'll simply repeat row 2 across following the color sequence laid out below. Once you're halfway done with the C2C heart blanket pattern, we'll switch to the decreasing rows.
Decreasing
Turn the work so you're at the bottom right corner. Slip stitch 3 times into each of the next 3 spaces. Because you didn't chain 4 and work the HDCs, you didn't add another block and instead, you flattened that side.
Now, it's business as usual. Ch 1, HDC 3 into the nxt block, slip st to the top of the next. Repeat this until the end of the row. Then, rotate the work to start the next row the same way, by flattening the side instead of creating a new block. Repeating rows 1 and 2 here will decrease each row by one block until you only have 1 block left.
Chart and Pattern
Okay now that you know how to C2C, let's get into how to actually create the heart pattern for this blanket!
Row 1-12: Use white for all the blocks.
Row 13: 2W,9R, 2W
Row 14: 1W, 11R, 2W
Row 15: 3W, 11R, 1W
Row 16: 1W, 12R, 3W
Row 17: 4W, 12R, 1W
Row 18: 1W, 13R, 4W
Row 19: 5W, 12R, 2W
Row 20: 2W, 13R, 5W
Row 21: 6W, 12R, 3W
Row 22: 3W, 13R, 6W
Begin Decrease Rows
Row 23: 6W, 12R, 3W
Row 24: 2W, 13R, 5W
Row 25: 5W, 12R, 2W
Row 26: 2W, 12R, 4W
Row 27: 4W, 11R, 2W
Row 28: 2W, 11R, 3W
Row 29: 3W, 8R, 4W
Row 30: 4W, 8R, 2W
Row 31: 2W, 8R, 3W
Row 32: 3W, 7R, 2W
Row 33: 1W, 8R, 2W
Row 34: 2W, 7R, 1W
Row 35: 1W, 6R, 2W
Row 36: 2W, 5R, 1W
Row 37: 1W, 4R, 2W
Rows 38-43: All white. after you finish the last block, bind off and weave in the end.
Border
You can finish your C2C Heart blanket here if you want or even just add big pom poms or tassels to the corners to finish it off, but I decided to go with a crab stitch border. It creates a kind of cord look that I liked and it's super easy to do.
Using a 10.00mm crochet hook and the red yarn, make a slip knot and pull it through the last stitch on one side. We'll be working from left to right so you're working backward but don't worry, it's not as confusing as you'd think.
Then, chain 1, then insert your hook into the PREVIOUS space (moving to the right) and SC normally. Continue to SC down the row. At the corner, work 2 SC into the corner space, turn and continue crab stitching down the next side. When you've gone all the way around, bind off and weave in the end. Here's a video so you see how it looks:
And you're done with the C2C heart blanekt!
Finish up by weaving in any loose ends and trimming the excess yarn. I love how this blanket turned out and it was really fun to make something so quick and easy. I love working in C2C, but it does take a lot of time if you use medium-weight yarn so I never really did too many projects using it before.
But with this Bernat blanket yarn, it was done in about a day and made an awesome gift. Another one of my cousins made the outfit shown in the picture below and we coordinated the set to match.
Once you get into working patterns in C2C, you kind of just want to use it all the time! It's a fun and easy way to work up a blanket, but you can really get creative and make other things too. I have a few other blanket ideas down below if you want to try them out, along with another super quick, thick blanket pattern!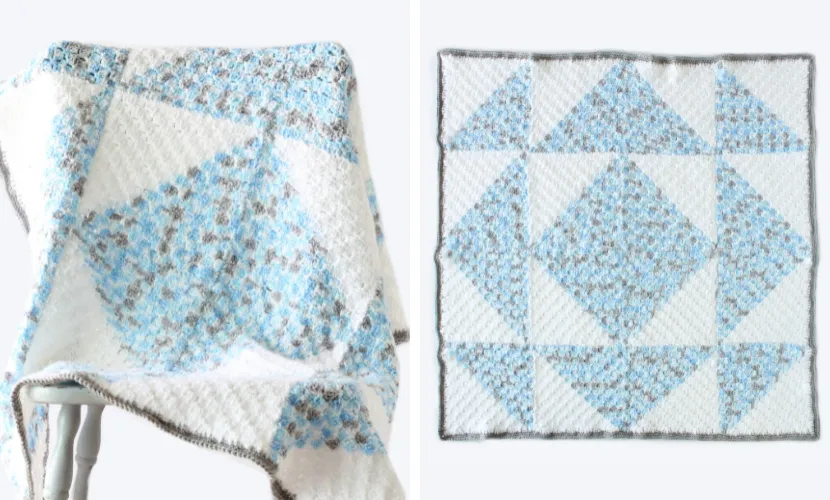 Thanks so much for reading! If you liked this, don't forget to sign up for the newsletter so you can get new patterns, tutorials, and more delivered right to your inbox every week! It's totally free and all you need to do is fill out the box below.
See you soon 🙂
---
Visit my pattern shops on Ravelry, Craftsy, and Etsy to buy the printable PDFs of all my patterns. They're ad-free, comment-free and your support helps me run The Blue Elephants so I can continue publishing free patterns here.
My material lists sometimes include affiliate links (denoted with a *) for which I earn a small commission at no extra cost to you. I only link to products I personally use, love, and recommend. You can read more about this in my Disclosure.
I worked hard on this pattern, so please be respectful and do not sell or redistribute this pattern as your own. If you sell finished items made using this pattern, credit The Blue Elephants as the designer and link back to the blog post or the Etsy pattern link. For any other questions, read my Terms of Use or contact me.
---