I am always really cold. No matter what the temperature actually is, I'll be cold. While it's a little weird to be wearing cozy things in the summer, I love having these few months in winter to really wrap myself in all the warmest things. Over the last couple of weeks, I've been making a ton of scarves and I'm obsessed with this one. This is the Claire Infinity Scarf. It's a super quick and easy crochet scarf pattern that's perfect for markets and gifts. It took me less than an hour to make and I think it's a great beginner project.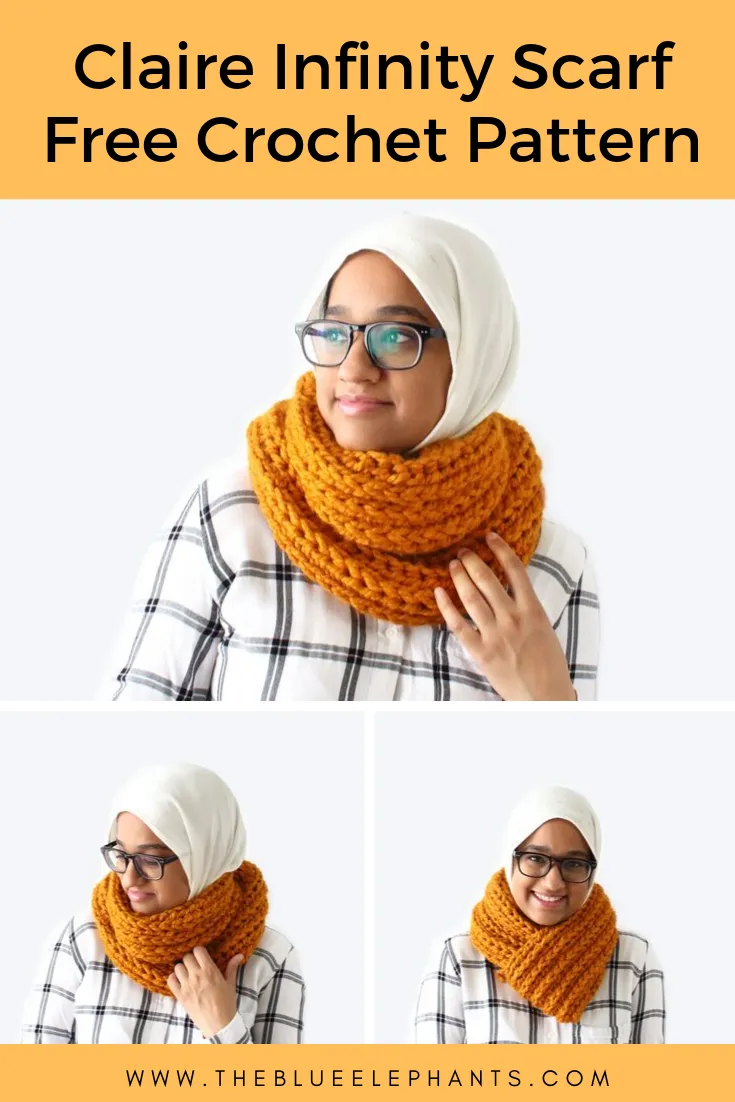 For this scarf, I used Lion Brand Wool-Ease Thick and Quick. It's the perfect yarn for this because it's thick but your hook slides smoothly through it. It's not so woolly as to be rough, and it's easy to wash and care for since it's 80% acrylic and 20 wool. I make a couple of these for craft fairs, and they work up so easily! I used two skeins per scarf or one of the big 12 oz ones to make 2.
I did use Hometown USA for a few of these scarves and they turned out great too; they feel slightly different without the wool, but I had some on hand and it was great. Hometown USA is also a little cheaper than the Wool-Ease. Either way, those two yarns are perfect for this easy crochet scarf pattern.
The Claire Infinity scarf is something I just sort of whipped up for my craft fair. It's simple and I figured a lot of people would want something warm and cozy as they browsed the booths outside in October. It's long enough to wrap around twice for the looped infinity scarf, or you can fold it in half and feed one end through the other. You can easily have this tucked in your coat and pull the front up to cover your mouth and nose on really cold days too, which will be super handy for Chicago winters!
The full free pattern is written out below. For those who'd prefer to print the pattern and take it with you for on-the-go and to markup as you go, you can buy the inexpensive printable PDF from my Etsy and Ravelry shops. The PDF is formatted without ads or comments, so it's easy to read.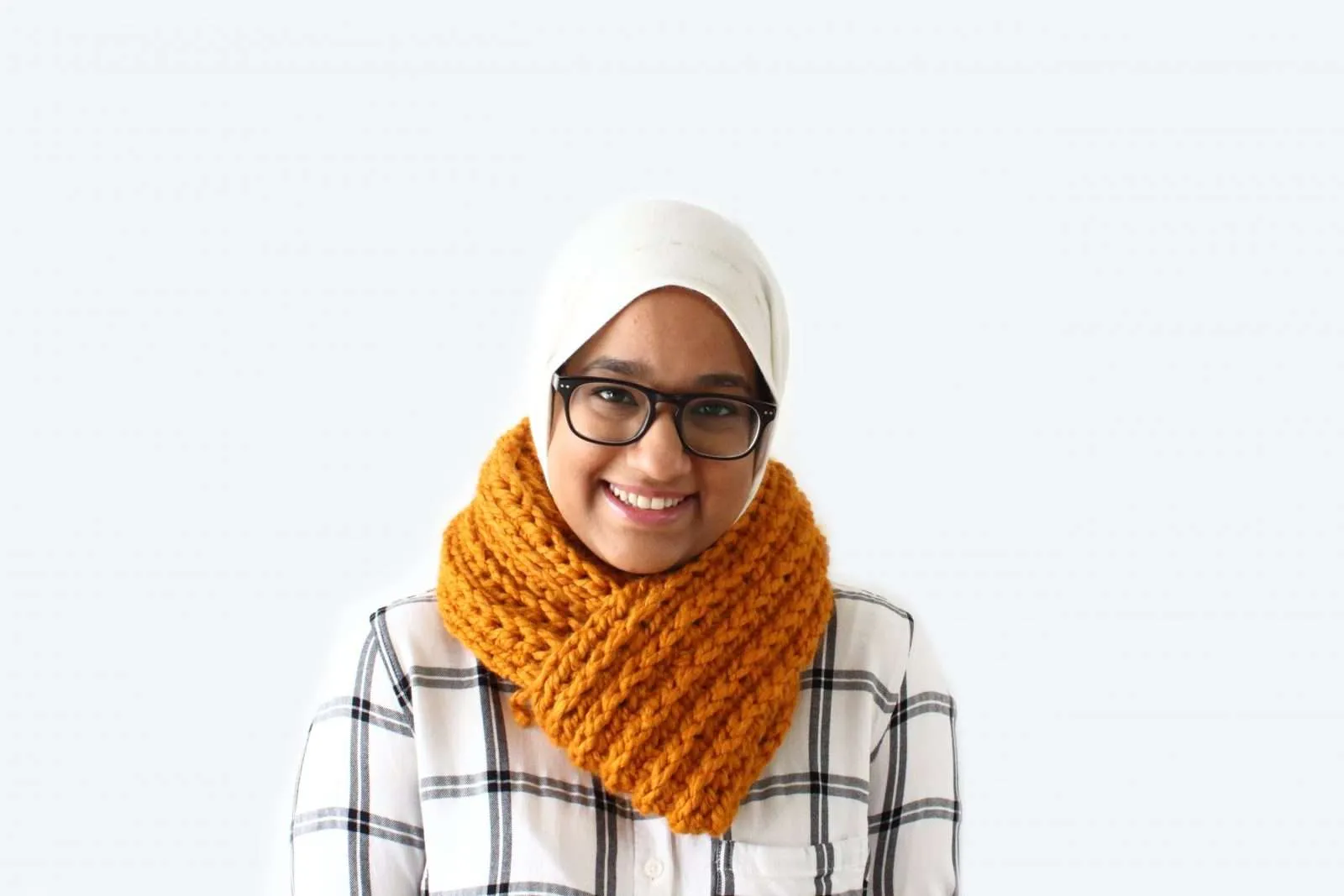 Materials:
#6 super bulky yarn – I used 2 skeins of Wool-Ease Thick and Quick
Pattern Notes:
Skill level: Beginner
Sizing: 63″ x 6″
Gauge: 2S x 2R per inch
Claire Infinity Scarf: Easy Crochet Scarf Pattern
Round 1: Make a slip knot and chain 96. Be careful not to twist the chain, and slip stitch the back bump of the first chain to form a loop.
Round 2: Working into the back bumps, HDC around.
Round 3: Slip stitch around.
Round 4: HDC into each slip st of the previous round. The sl sts will be facing you and as you HDC into them, they'll move to the other side of the work to create the ribbed look.
Rounds 5-12: Repeat rounds 3 and 4 until you have 5 stripes of "ribbing" from the slip stitch rows. You can work more rows to make the scarf wider if you want. At the end of your last row, SC into the last space and then BO.
Trim the yarn and use your tapestry needle to weave in the ends and finish your Claire scarf! Like I said, super quick and easy!
I love how this scarf turned out and it was really nice to work on an easy crochet scarf pattern as a break from the more involved items I've been working on. For this fair, I also made a lot of crochet gingerbread men and elves. They were both simple projects, but they had lots of parts and needed to be seamed together. So the scarf was a nice break while also getting things done.
I hope you like this pattern and if you make one, share your pictures on Instagram and tag me. You can also subscribe to the newsletter down below. I'll send you free patterns, tutorials, and tips right to your inbox every week, along with any yarny deals I find. That's all for today!
See you soon 🙂
---
Visit my pattern shops on Ravelry, Craftsy, and Etsy to buy the printable PDFs of all my patterns. They're ad-free, comment-free and your support helps me run The Blue Elephants so I can continue publishing free patterns here.
My material lists sometimes include affiliate links (denoted with a *) for which I earn a small commission at no extra cost to you. I only link to products I personally use, love, and recommend. You can read more about this in my Disclosure.
I worked hard on this pattern, so please be respectful and do not sell or redistribute this pattern as your own. If you sell finished items made using this pattern, credit The Blue Elephants as the designer and link back to the blog post or the Etsy pattern link. For any other questions, read my Terms of Use or contact me.
---