This year, I have really thrown myself into craft fairs. At first, I was a little intimidated by the idea of selling in person and in a format I was unfamiliar with. But, my first craft fair was so much fun and profitable enough that I signed up for more! One of the most important things I've learned is that your craft fair display matters. It's the most important thing to think about aside from the actual products you plan to sell. There are so many ways you can arrange your booth, but today I want to share a couple of tips on how to create a craft fair display that actually drives sales.
Why is the display so important?
So, why take the time and money you could be spending on creating more of that amazing product you know people are going to buy and put it towards the display?
For my first fair, I didn't spend much on display at all. I borrowed a tent from my cousin, I had tables already, and I used plastic tablecloths from the Dollar Tree. I also found a couple of bins from around the house to use in my display. Overall, I probably only spent about $20 on display – on doll stands mainly.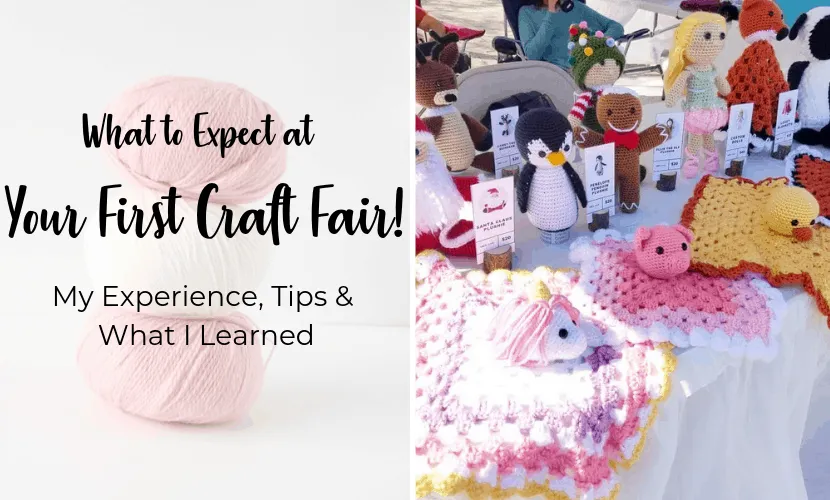 And it was okay. My products sold and my booth looked alright, but it really could have been so much better. I had no branding aside from a printout of my logo and nothing seemed professional. My products were laid flat on the tables so nothing really stood out.
A good display should draw customers in.
Imagine shopping at a craft fair. You're walking down the street, glancing left and right as you pass by the booths, talking to your friends and just taking it all in. You don't stop at every single booth, but you might take a second to look as you walk by. Every now and then, something catches your eye and you go in for a better look.
As a vendor, you want to stop that shopper and draw them in towards your booth.
You want them to see your products as they walk by and think, "I need that!" or "Hold on, what's that?!" You're fighting for attention with all the other booths there, so your craft fair display has to attract your ideal customer even when they aren't really paying attention to every vendor.
Your craft fair display is how you present yourself and your brand.
Once you get the customers to come to your booth, your display also says a lot about who you are and what your brand is about. A display of plastic tablecloths, mismatched colors, and visible clutter looks amateurish and unprofessional. Whereas a display that's put together well with a theme and high-quality materials looks more established and reliable. It shows that you can put more money into the display and frills because your business is doing well. And people trust a business that looks like it's doing well.
The items and props you use in your craft fair display can help you create a mood that helps you sell. For my booth, I wanted to create a place that was fun, happy, and whimsical. I sold toys and baby items mostly so I wanted kids and parents of young kids to come to see my booth as a place they could find special toys. Because I didn't want them to worry about their kids touching things or breaking anything, I filled my booth with things that felt like a playroom or toy shop. I created the environment I wanted them to imagine my items being used in.
Okay, displays are important. Here are my top craft fair display tips!
Here are some of the tips I've learned to create a craft fair display that draws people in and drives sales. Keep in mind that you can always adjust your displays and what you use to suit your budget. It's okay to get less expensive equipment if you're just starting out or not sure if craft fairs are your thing.
Tip #1 – Keep it Clean
No one likes to see a messy space. be sure to keep any of your personal belongings out of sight from the customers. Using floor-length table cloths gives you the option of hiding all your bins and extras under the tables.
Your table should also be neat and orderly. If you cram the table full of your items, it looks cluttered and people don't really want to dig through your stuff to find what they want. Display some of each item, and keep the rest stored away until you sell some and need to restock.
Use a white tent and white tablecloths to help the space look bright and clean, and it makes the colors pop.
Tip #2 – Create varying levels
This is a tip I saw a lot while prepping my own craft fair display. Use bins, racks, shelves and other things to create different levels in your display. Not only does this give you more room to show off your work without cluttering a flat table, but it also helps move the customer's eye around the booth so they see everything you have to offer.
People gravitate towards what's at eye level, so use that space for your bestsellers or things you want to feature. You can add items that are more fragile at a higher level. Place display items on a shelf and additional stock on a shelf lower down. If you want kids to look around and touch things, like toys, place them where they can reach.
Think about what you want to emphasize and what makes sense with your items.
Tip #3 – Use large or attention-grabbing items upfront
Get customers to stop in their tracks and come towards YOU with something that stands out and makes your booth pop. Maybe it's a mannequin wearing something or a large print on an easel. I used my giant giraffe on a chair right in front of my booth and kids would see it from farther away and bring their parents! The giraffe caught their attention and once they saw my work, they would look around at the other item.
Tip #4 – Have price tags on everything
Most people would rather walk away than ask how much something costs. It's uncomfortable for them and it can be uncomfortable for you to tell them the price and see a reaction. Take that pressure off by having price tags on everything. It shouldn't be the first thing the customer sees, but they shouldn't have to look for it either. I like to have my price tag attached to the item but on the back or turned over. That way, they know it's there but it's not right in their face.
You can also use signs to have your prices displayed. People will look at your items and then look over at the sign for the price if they're interested.
Tip # 5 – Think about how the customers will move through your booth.
As you set up your craft fair display, keep in mind which direction the traffic is moving. You should also create clear pathways for people to walk through your display. Hopefully, you brought in lots of people with your amazing display. Now, there needs to be space for them to look at your items and move to checkout seamlessly. Keep open areas as "aisles" in your booth and move people through and out to make room for the next group.
Tip # 6 – Be critical about your display
Once you have your craft fair display set up in the way that you want, take a minute to look at your booth critically. Step away from the booth and look at it from a distance. Squint at it, and see what draws your eye. Sometimes, you can get caught up in the close-up display and everything looks great but being able to stand back and look at the whole thing can help you find things that aren't working. You can (and should) also have someone whose opinion you trust look at the booth and tell you what they think.
For example, I love using my display head to model hats. I thought she looked good on the table. My friend, however, thought it drew the eye in a negative way and didn't compliment my other items. So much of my display was cute, soft toy store vibes and the head was creepy, apparently. So I made other hat displays using yarn that matched a basket I was using. And it looked so much better! The same friend helped me realize that my bin idea for displaying the toys wasn't working and I should just have them propped on stands instead.
Tip# 7 – Be flexible
Although it's super important to practice and plan out your display, don't worry too much about sticking to it perfectly. Things happen at events, maybe you're spot isn't great or something blocks your booth from view. Maybe the wind is really strong on one side and you have to rearrange your lighter items. Don't stress out, instead try to improvise and make the best of it.
In the end, craft fairs should be fun as well as profitable so don't forget to enjoy the event too! The more prepared you are ahead of time, the less stress there is on the actual event day. So to help you guys get ready and plan your products and events, I've created a guidebook. You can read all about it and how I used it to plan for my 3 shows this season by clicking the image below!
Thanks so much for reading! I hope this post helped get you excited about your shows and gave you some helpful tips. If you're interested in getting more posts like this as well as patterns, tips and tutorials delivered right to your inbox every week, subscribe to the newsletter! It's completely free and it only takes a second. Just fill your name and email in the box below and you're set!
See you soon 🙂
---
Visit my pattern shops on Ravelry, Craftsy, and Etsy to buy the printable PDFs of all my patterns. They're ad-free, comment-free and your support helps me run The Blue Elephants so I can continue publishing free patterns here.
My material lists sometimes include affiliate links (denoted with a *) for which I earn a small commission at no extra cost to you. I only link to products I personally use, love, and recommend. You can read more about this in my Disclosure.
I worked hard on this pattern, so please be respectful and do not sell or redistribute this pattern as your own. If you sell finished items made using this pattern, credit The Blue Elephants as the designer and link back to the blog post or the Etsy pattern link. For any other questions, read my Terms of Use or contact me.
---