If you're here, I'm assuming you are ready to dive right in and get started crocheting and you know what? You're already killing it just by showing up. Learning a new skill or craft takes time and practice, but if you show up and you do the work, you can do anything. Today's the first lesson so we'll be covering how you start off a crochet piece by creating the foundation using the chain stitch. This is the first row of your crochet and it's where your piece builds up from. And it's really simple to do, so let's get started!
What You'll Need:
a crochet hook in any size – I'm using a very big hook here so you can see what I'm doing. It's an 8.00mm hook.
yarn – any yarn will do just fine. I like to use a thicker, smooth yarn so that it's easy to see where to put the hook. You can just go to your craft store and pick up any worsted or bulky weight yarn. You can learn more about reading yarn labels here. I also have a few free resources you can download by clicking the images below!
Creating the Slip Knot
Before we can work the chain stitch, the first thing we need to do is get the yarn on the hook. We'll do this by creating the first knot: a slip knot. I have the pictured instructions below and a video under that to help you through it.
Start by crossing one end of the yarn over itself in a ribbon shape. Then reach through a loop, grab the yarn and pull it through. This is the slip knot. If you pull the working yarn (the end coming from the ball), the loop gets smaller, while pulling on the loop makes it bigger.
Chain Stitch Tutorial
Insert your hook into the loop and make the loop fit snugly (not tightly) around it. Hold the hook in one hand and the working yarn over the index finger of the other. Use your index finger to wrap the yarn over (YO) the top of the hook.
Rotate the hook slightly so the yarn is secure under the curve, and pull the hook and yarn through your slip knot. This is your chain 1.
Continue wrapping the yarn over the hook and pulling it through the loop already on your hook until you have a chain that's as long as you need it. The more you practice, the more even your chain will be.
The chain looks a lot like a braid, and each chain space is a sideways V. Usually, you'll be working your next rows into the center of the V, but sometimes you'll be asked to work into the bump at the back. I explain this more in the video at the top of this post.
And that is your foundation chain stitch! Your pattern will tell you how many chains to make and you can count them you counting how many Vs you have. Don't worry if the chain is uneven and bumpy at this point; it takes some practice to get it even. As you work, you'll learn the most comfortable and easiest way for you to hold the hook and the yarn. It may be different than how I hold it and that's fine!
Work a chain of 20 or 30, rip it open (take the hook out and just tug the working yarn to undo the stitches) and start over. Keep practicing and you'll get the hang of it.
The Beginner's Guide to Crochet Free Ebook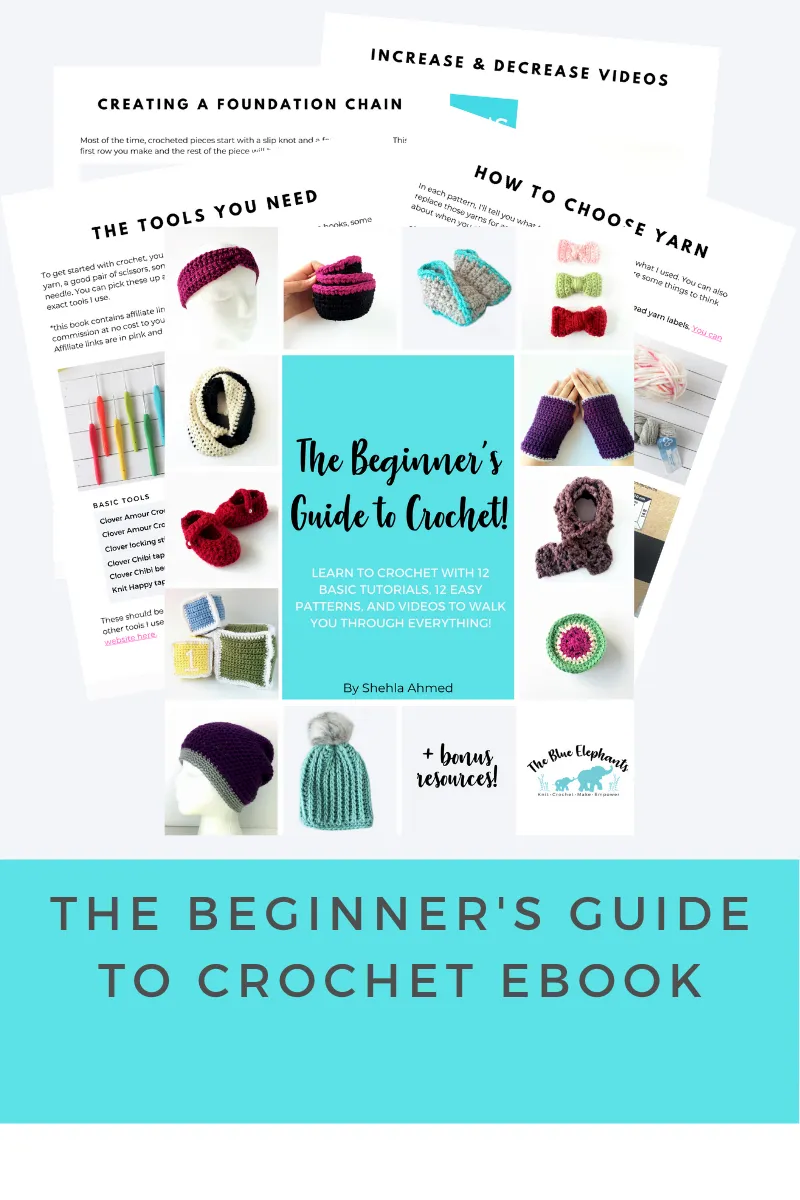 If you watched the video (you should!), you heard me mention that this is part of my ebook all about teaching you how to crochet.
is a 63-page ebook FULL of information to teach you everything you need to know about starting crochet. I cover everything for materials, tips, and getting started with the basic stitches to how to create all those things you see in the cover. You can make every single one of those items following the lessons in this book.
Here's what you get:
12 beginner lessons, just like this one, to teach you different stitches and how to finish your work, change colors, make increases, decreases, and circles.
12 fun and beautiful patterns that are designed with a beginner in mind. You'll learn to make everything from simple bows and headbands to beanies, wristwarmers, 3D blocks, and even baby booties.
24 video tutorials to guide you through each lesson and pattern so you can follow along and make with me.
Resource pages full of extra information like how to choose yarn, size hats, abbreviations used, and a list of my favorite tools that you're going to LOVE.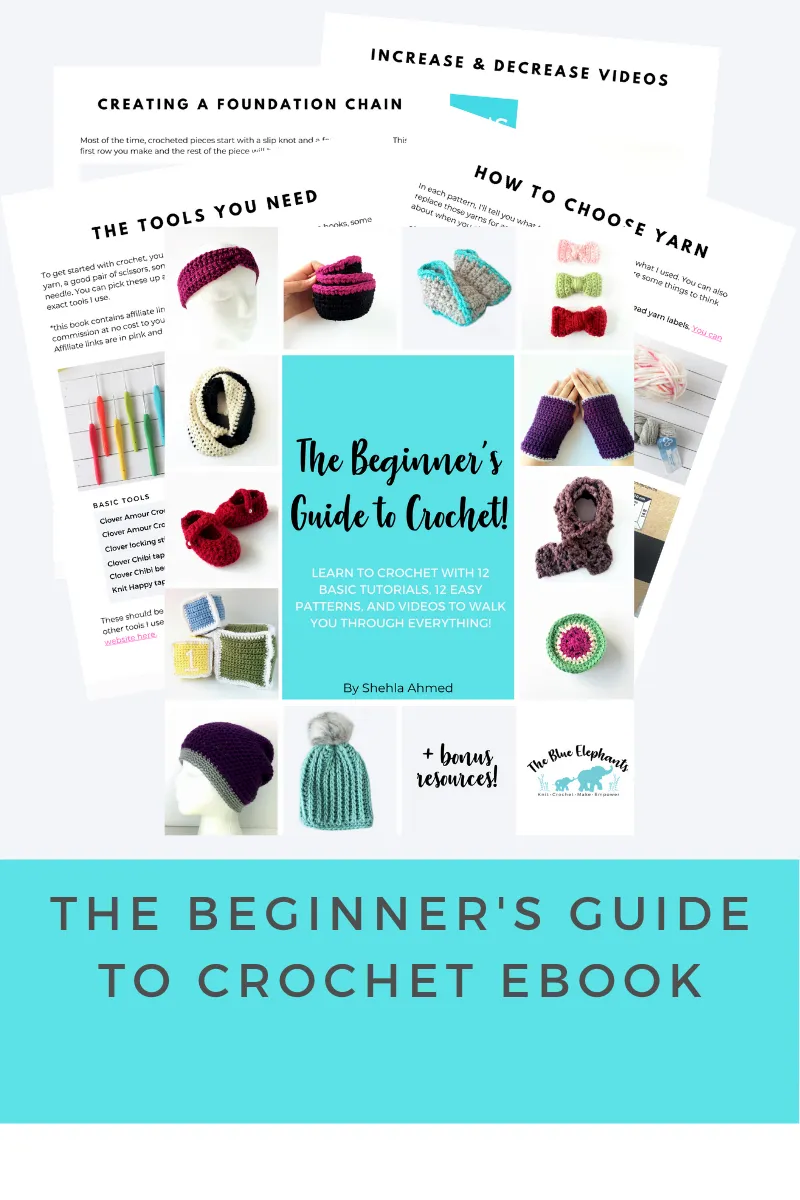 Just click the image above to grab your copy for free!
I can't wait to see how you get on with crochet. It's been the most rewarding thing I've learned to do and there's so much more to share. I'd love to see your chain stitch progress and to see how you're doing, so please, comment below and tell me why you want to learn crochet! You can also join the free Facebook group of knitters and crocheters of all skill levels and get help, advice, and tips from the lovely bunch there. Don't forget to subscribe down below to get the weekly newsletter with more free tutorials, patterns, and freebies delivered right to your inbox every week!
I'll see you soon!
---
Visit my pattern shops on Ravelry, Craftsy, and Etsy to buy the printable PDFs of all my patterns. They're ad-free, comment-free and your support helps me run The Blue Elephants so I can continue publishing free patterns here.
My material lists sometimes include affiliate links (denoted with a *) for which I earn a small commission at no extra cost to you. I only link to products I personally use, love, and recommend. You can read more about this in my Disclosure.
I worked hard on this pattern, so please be respectful and do not sell or redistribute this pattern as your own. If you sell finished items made using this pattern, credit The Blue Elephants as the designer and link back to the blog post or the Etsy pattern link. For any other questions, read my Terms of Use or contact me.
---