So far in this series, we've covered how to create a foundation chain to start your crochet and how to work a basic single crochet. Now, to finish that swatch off, we need to secure the ends of the yarn so it doesn't come undone. In this lesson, we're going to cover how to bind off a crocheted piece and neatly weave in ends. It's super simple and used on pretty much anything you crochet so you'll have plenty of opportunities to practice!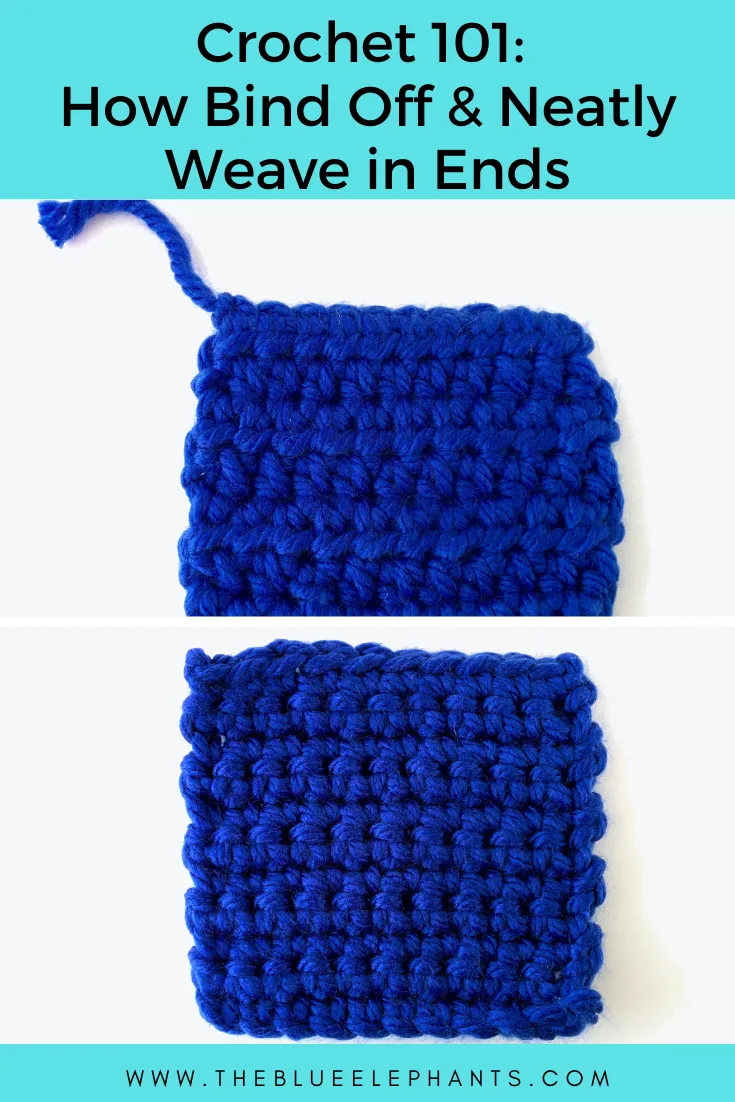 More Crochet 101:
This Lesson: How to Bind off Crochet & Neatly Weave in Ends
How to Work Double Crochet Stitches (with Video)
Working Basic Crochet Decreases
Working Basic Crochet Increases
Crochet Magic Loop Tutorial + How to Crochet Circles
Get all the lessons and 12 free patterns in a free ebook by clicking the image below!

How to Bind Off Tutorial
When you're finished crocheting your piece, you need to secure the ends with a very simple bind off that keeps the last stitch you made in place. Take a look at the pictured instructions below to see it again, step-by-step.
Note: You can bind off at any point in the work, it doesn't have to be at the beginning or end of a row. But for this, I'm fastening off after 9 rows of SC.
1. Work up until the end of the row (or wherever you need to BO). After working your last stitch, chain 1.
2. Pull the loop out larger than you normally would, so that it doesn't unravel accidentally. Remove the hook.
3. Cut your working yarn, and pull on the loop. Bring the tail out and give it a little tug to tighten it.
The sample above is actually half double crochet, not single crochet, but I didn't have another picture!
And you're all done!
That's how you bind off a crocheted piece! Now all you need to do is weave in the ends of yarn that stick out so you have nice, neat edges. To do that, just use your crochet hook or a tapestry needle to bring the tail yarn in and out through the spaces in the piece. This tucks the tail away so you don't see it and it doesn't get in the way. You can see how I did it in the video.
Once you're done, the edge should be clean and neat like the swatch below.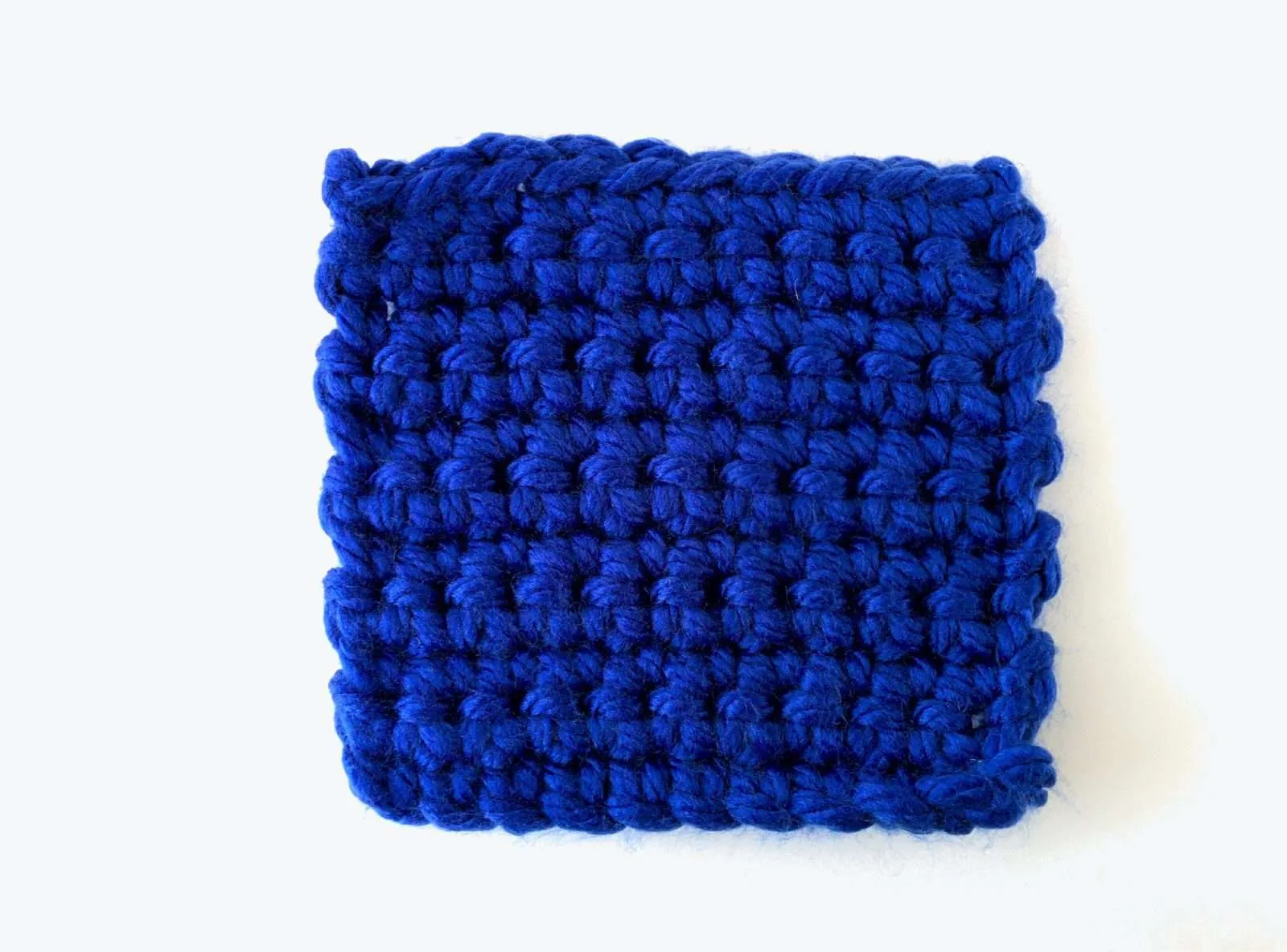 Thanks so much for reading, everyone! Keep practicing and I'll be back with another tutorial soon 🙂
If you want to crochet at your own pace and get more tutorials, tips, and patterns all in one place, check out The Beginner's Guide to Crochet!
It's an ebook with all my the first 12 lessons (complete with pictures and video just like this post), more tips on choosing the right materials and tools, along with 12 beginner-friendly patterns (also with video). Just click the image below to grab it!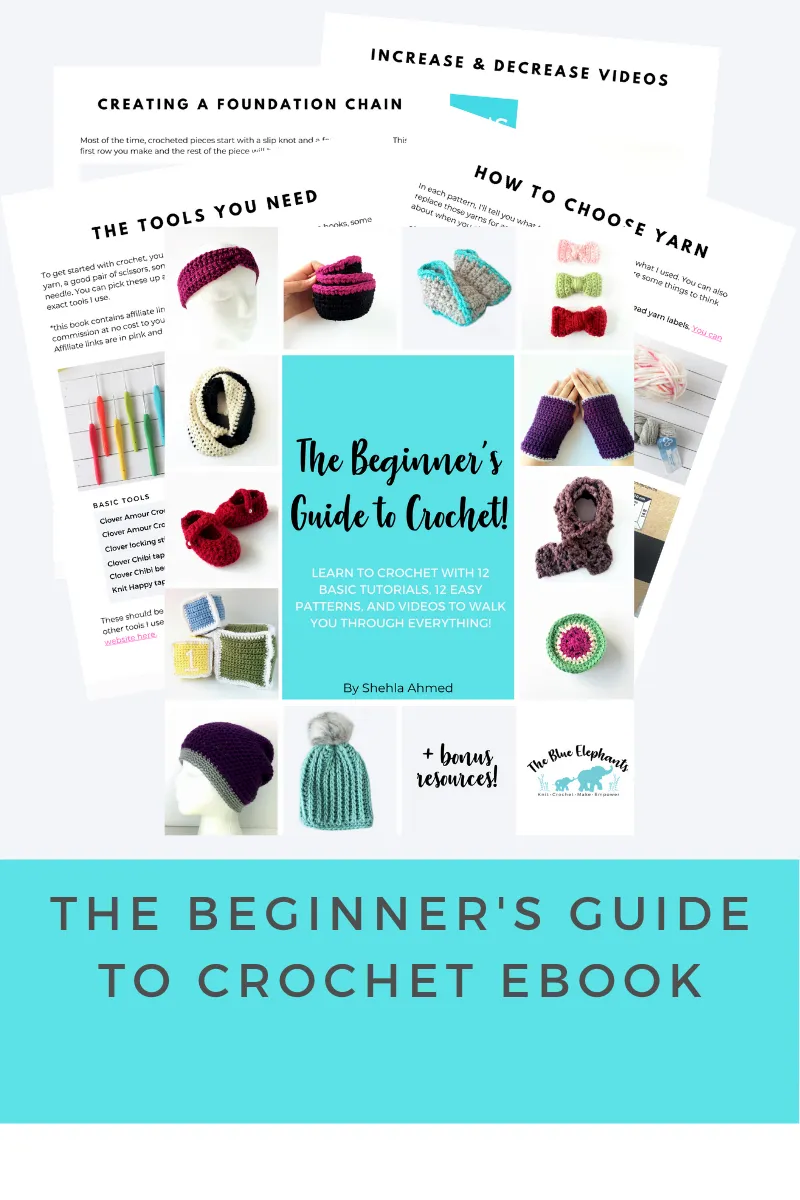 If you want to get updates when new posts, patterns, and tutorials go live on the blog, use the box below to subscribe to the weekly newsletter! You'll also get access to freebies in the resource library. If you want more support and to share your progress with others, join the free Facebook group for knitters & crocheters and introduce yourself!
See you soon 🙂
---
Visit my pattern shops on Ravelry, Craftsy, and Etsy to buy the printable PDFs of all my patterns. They're ad-free, comment-free and your support helps me run The Blue Elephants so I can continue publishing free patterns here.
My material lists sometimes include affiliate links (denoted with a *) for which I earn a small commission at no extra cost to you. I only link to products I personally use, love, and recommend. You can read more about this in my Disclosure.
I worked hard on this pattern, so please be respectful and do not sell or redistribute this pattern as your own. If you sell finished items made using this pattern, credit The Blue Elephants as the designer and link back to the blog post or the Etsy pattern link. For any other questions, read my Terms of Use or contact me.
---