It's beanie season and while I've shared a few beanie patterns, I wanted to talk about crochet hat sizes. The first several crochet hats I made looked perfect but never actually fit the person I would make it for. I made one of my friends a hat and needed to redo it three times before I got the fit right. It was annoying and frustrating and I just knew there had to be a better way.
Now, I make hats all the time. I make beanies for myself, and you've seen me in all of them since I take all my pictures wearing them, I make beanies in different sizes for craft fairs, and I make hats for friends, family, and even custom orders. And they fit perfectly the first time, every time! And today, I'll share with you my secret to crochet hat sizes and a freebie to help you make hats that fit!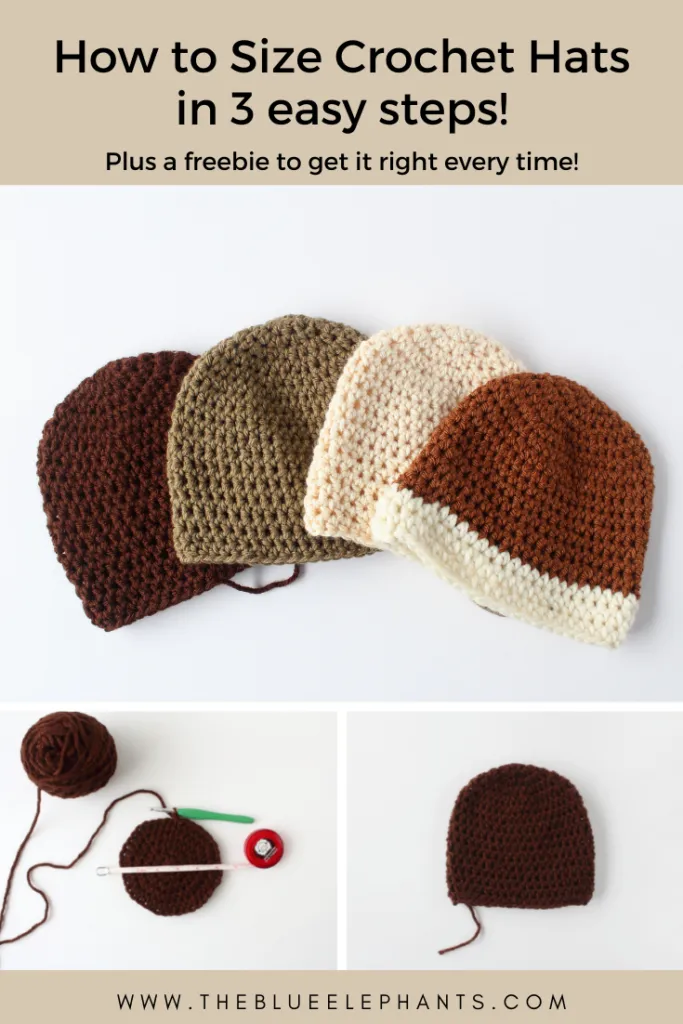 How to Crochet Hat Sizes in 3 Easy Steps
Quick note: I'm talking about crochet throughout this post but all of the tips here apply to knitting too! It's really just about getting the right measurements but feel free to use this with any knit or crochet design you like!
A hat has three parts: the ribbing (or bottom edge), the body, and the crown. You can start and finish your beanies in any way you like, but they will always have these three parts, so this is what we look at when sizing hats. I'll show you how to make a hat from the top-down or bottom-up, and make it fit every time.
What You'll Need: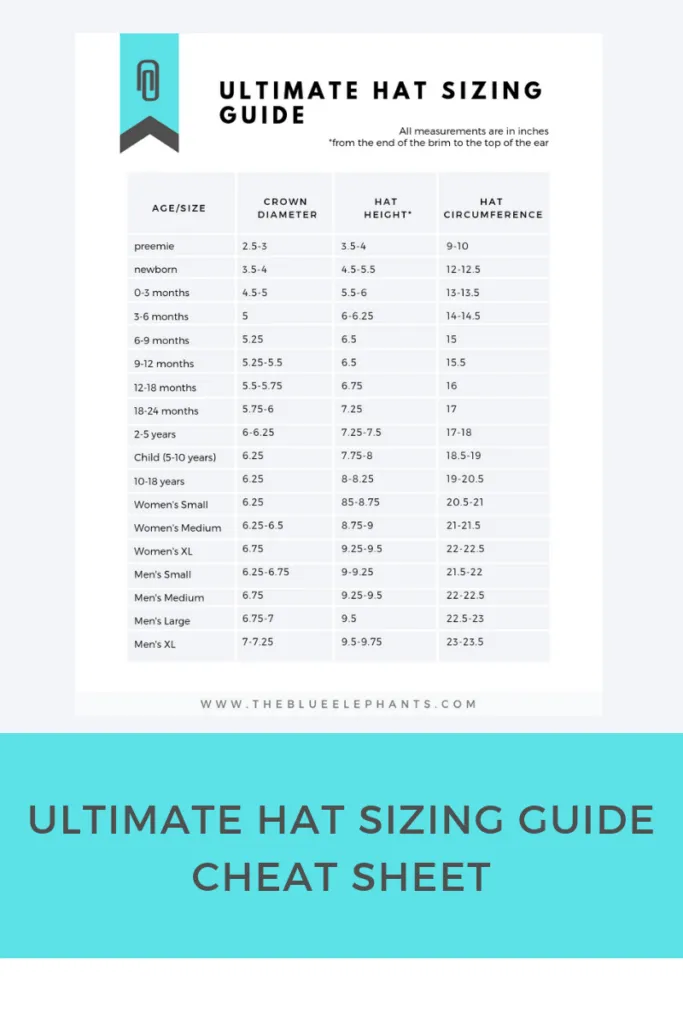 The Ultimate Guide to Sizing Hats is my free printable that gives you all the measurements you need to crochet hat sizes for anyone. It's available for free in the resource library and you can also get it in the Make It Happen: Resource Pack, but I'll talk more about that later.
From the Bottom Up
STEP #1: Hat Circumference
When you make a hat from the bottom up, you start by creating the ribbing or the bottom edge. This part needs to be able to fit the head at its widest while still being snug. This is the Hat Circumference. It's the measurement that goes all the way around the head, from the back of the neck to just below the ears and across the temples.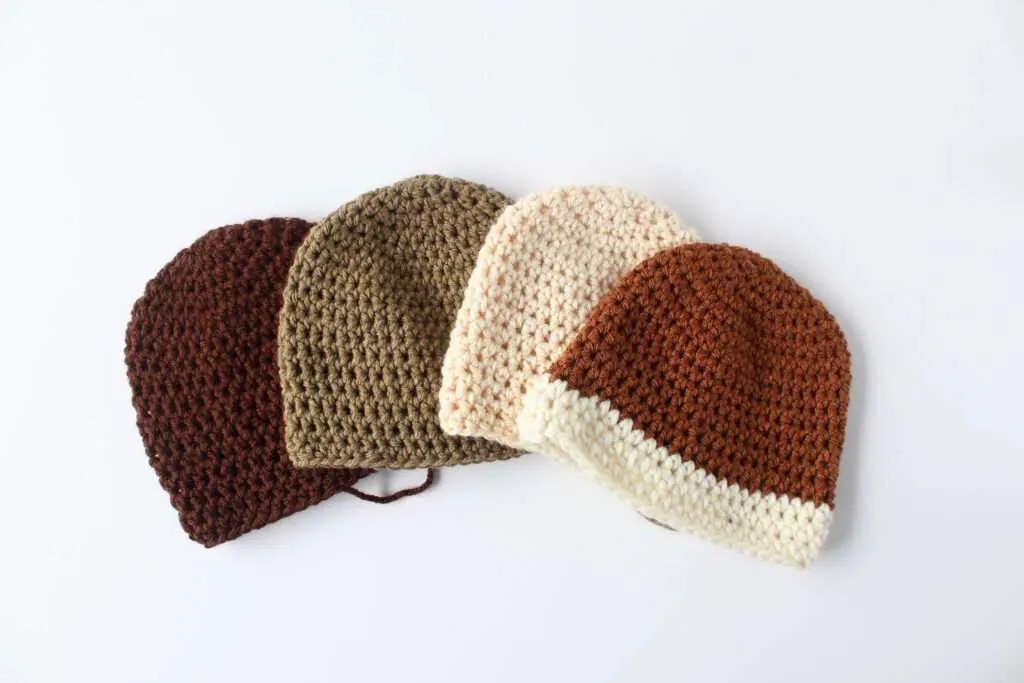 For a women's small hat, this measurement is about 20.5-21 inches around.
If you're making a hat for yourself, you can always measure your own head to see if that measurement works, or you can use the Ultimate Guide to Sizing Hats to get pretty close when you're making a hat for anyone else. So start by creating a chain or casting on enough stitches to meet that measurement. Then, you can join to work in the round or continue working back and forth. This is the base of your bottom-up hat.
You're looking at the fully stretched measure here; if you work a ribbed beanie that pulls in and stretches, the chain and first row should be equal to the circumference measurement. Then, your beanie will have a bit of stretch for taking on and off, but the finished size will be the 20.5-21 inches you started with.
Similarly, if you're working a beanie with no ribbing, that starting row should still be the measurement you get here. There won't be too much stretch and pulling inwards so it has to be the right size from the beginning. My Tempest Beanie pattern was done this way!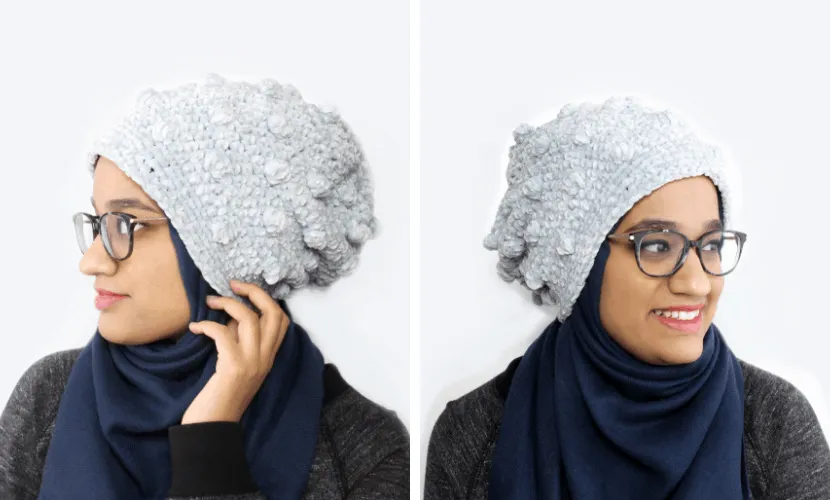 STEP #2: Hat Height
After you've established the hat circumference, it's time to work on the body of the hat. This is the height of the ribbing and the body of the actual hat. It's everything except the very crown. This measurement is from the bottom edge to just a little past the ears.
I always used to mess up here, because this is taller than you expect it to be, even when you measure it on your own head. There needs to be space enough for the hat to curve around the dome shape of your head as you start decreasing, so you need to give it room to do that.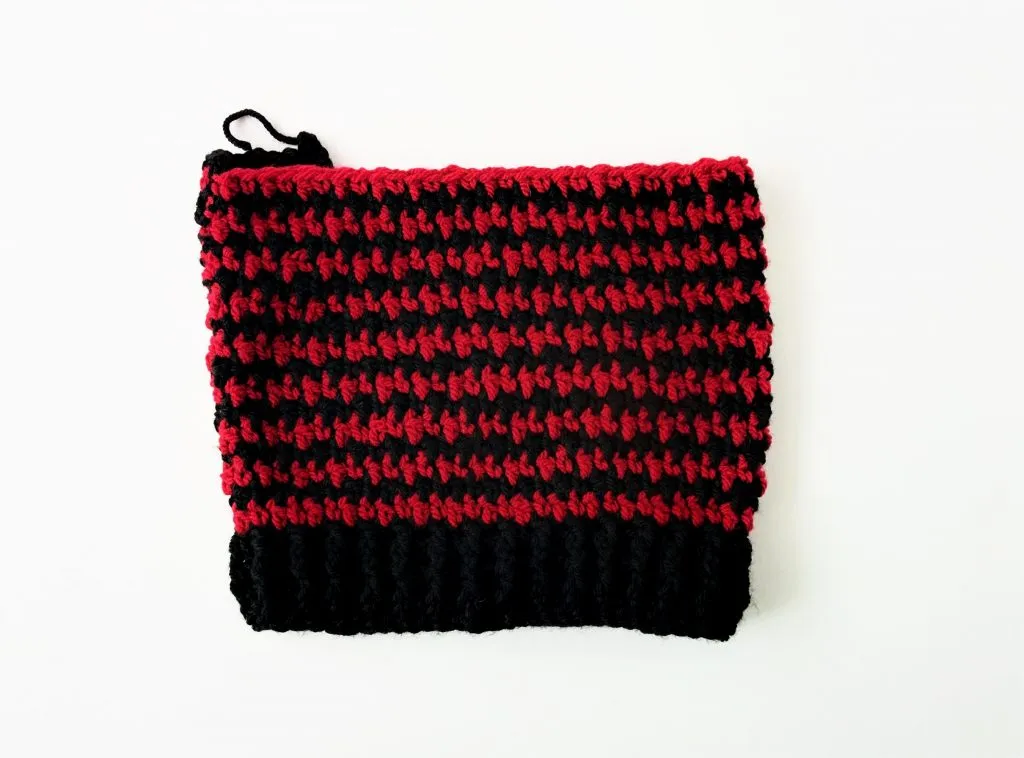 When I simply measure from where I like my hats to start to the top of my ear, I get about 4 inches, but I need at least 8.5 inches for a women's small beanie. So to make your hat sizes work, be sure to get at least the height listed on the cheat sheet.
Make your ribbing as tall as you like and then start working the body of the hat without increasing or decreasing until you reach that hat height. Here are some examples below.
It took me a couple of tries to realize you need space to work all the way up to the crown. And, as you can tell in my picture above, this way to figure out hat sizes works even if you don't join to work in the round. All of these are hats from my blog and you can click them to go to the individual patterns.
How Slouchy do you want it?
The hat height is what makes a beanie slouchy or not. So although there is a minimum hat height, the taller you make it past that measurement, the slouchier the beanie will be. Basically, you make extra fabric that just gets bundled up and hangs a bit looser. You can make a slouchy beanie fit a bit snugger by doing the opposite as well; just work the hat height to the minimum at least, but not as much as the pattern calls for to make the beanie not slouch!
STEP #3: The Crown
Next up is the crown of your beanie. If you're working from the bottom up, you're done measuring for your crochet hat sizes. The crown is the very top of the hat where it closes in to make the dome. Once you've reached the hat height, you can start decreasing. All the rounds you work from here until the end will give you the right diameter for the crown. You don't really need to measure this if you're working from the bottom up.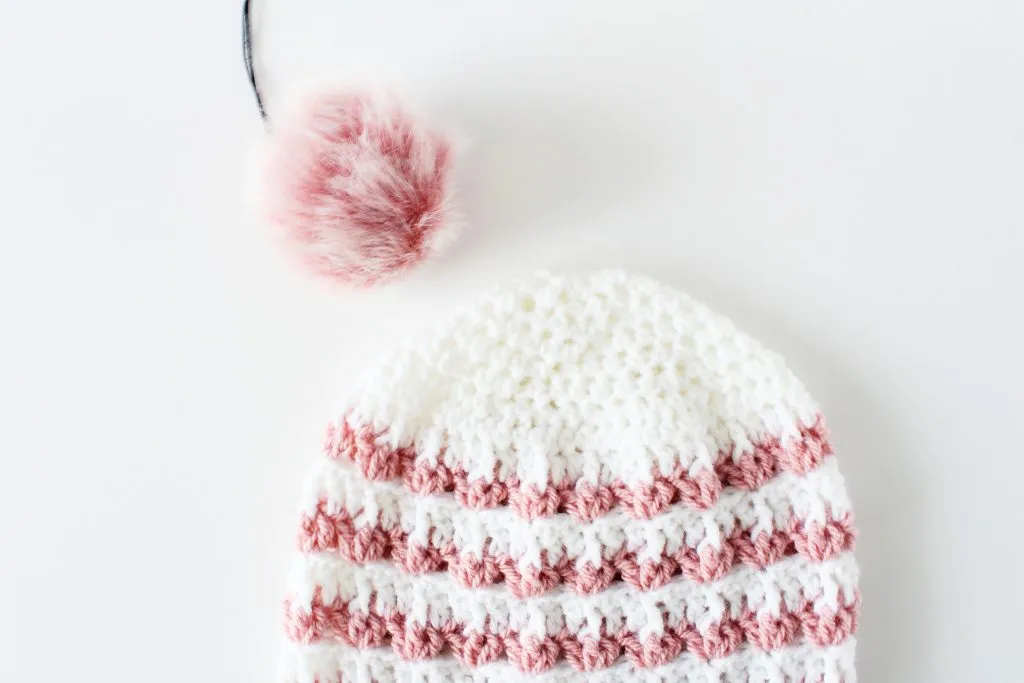 When you decrease evenly in the round, you'll get the right crown diameter for your hat. You can check that number afterward if you need to. If you decrease 5 or 6 stitches in each round for the next 5 or 6 rounds, you should have a circle-shaped crown. Or, you can decrease fewer stitches over more rounds to get a pointy crown. This is great for elf hats or something you want to extend a bit farther. When you're done decreasing, just bind off and you're done!
How to Work Hat Sizes from the TOP Down
Okay, so we talked about how to figure out hat sizes worked from the bottom up, but what if you want to start at the top and work down? It's just as easy! This is what I love about the Ultimate Guide to Sizing Hats; no matter where you start, the measurements help you get it right every time, for every style.
Step #1
With top-down hats, you start from the crown by creating a circle. You want to increase until your circle meets the measurement for the crown diameter. For this, I'm making a hat for a child 9-12 months old. So, according to my cheat sheet, I need to have a crown diameter of 5.25 inches.
Step #2
Now place a marker at your last increase round. From here, you can work your pattern to the appropriate hat height. Remember how we talked about this being the body of the hat + ribbing? It's the same as if you were working bottom-up; just continue working evenly until you have the right height from where you marked the last increase round.
For a child's hat, I would work until 6.5 inches. I could work that all the way down and skip the ribbing as I did with the hat below, or I can work for 4.5 inches and leave 2 inches for ribbing. It's up to you how you want to get to that height.
Step #3
Lastly, you have the hat circumference. When you worked from the bottom up, you didn't have to worry about the crown diameter because it already works out to the right size. Similarly, when you work from the top down, you don't have to worry about the circumference. You already made the hat as wide as it was meant to be when you made the crown.
You can double-check to make sure though. For a child's hat, it should be 15.5 inches around. Bind off and you're done! Now you can make hat sizes perfectly no matter how you start!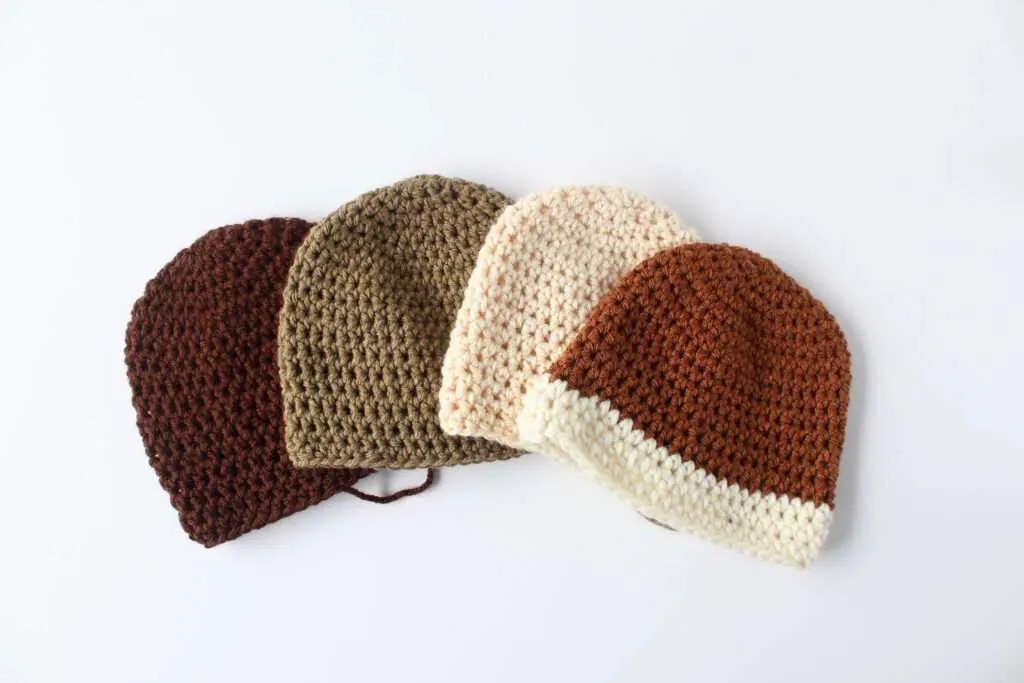 Making Hat Variations
Now you know how to make the classic beanie and how to perfectly size hats that fit snugly. To make things more interesting, though, let's look at a few ways you can use these measurements to create variation.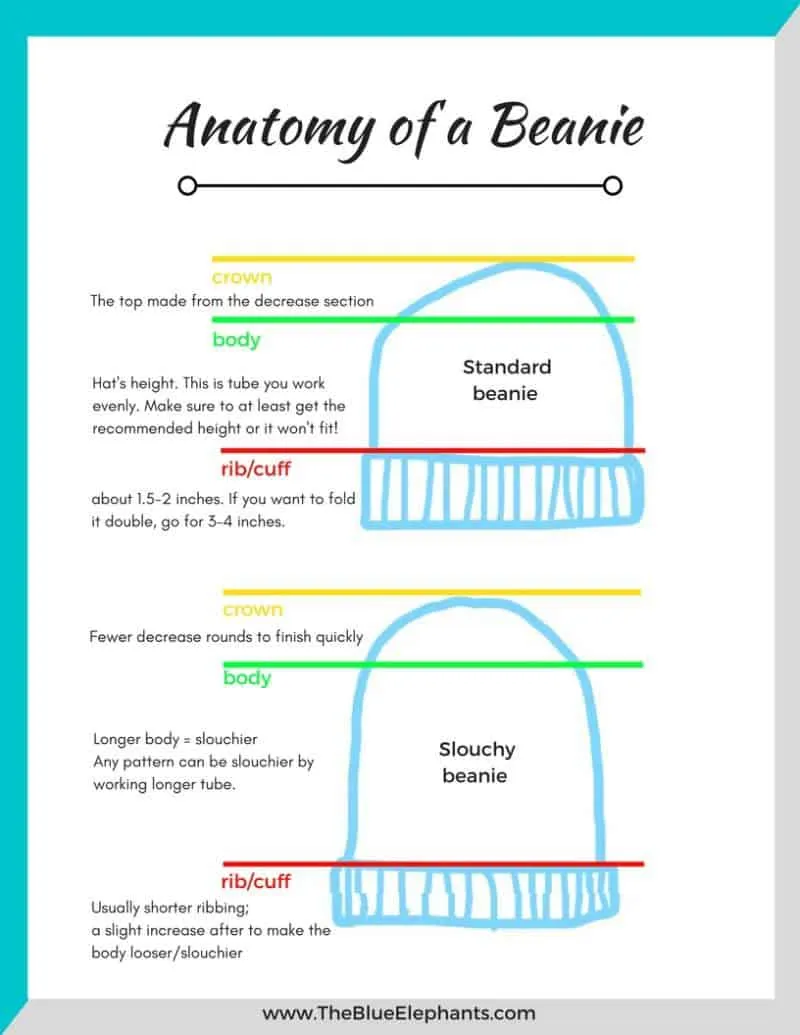 Slouchy Beanies: If you wanted to make your beanies slouchier, add another inch or inch and a half to the hat height. This will give it a little more room past your head for the beanie to slouch.
Pointed Hats: After working the body of the hat, add rows in between the crown decrease rounds or decrease in smaller increments. This will add more length to the crown and decrease more slowly so you end up with a point. This would be great for Santa hats, elf hats, or other character costumes.
Berets/Tams: These types of hats have a wider body than the ribbing. Work the ribbing at the normal hat circumference, then increase a row or two before working evenly for the rest of the hat height. This will allow the hat to spill over the ribbing and create that beret look. I have this Afghani Hat pattern that's similar to that style here.
Side to Side hats: If you want to make a hat in a long rectangle that's sewn closed, start with a chain/cast on the total hat height plus 1/2 the crown measurement. Then work back and forth until you reach the right circumference and sew the ends closed. There's less shaping here but this formula should get you a beanie that fits great!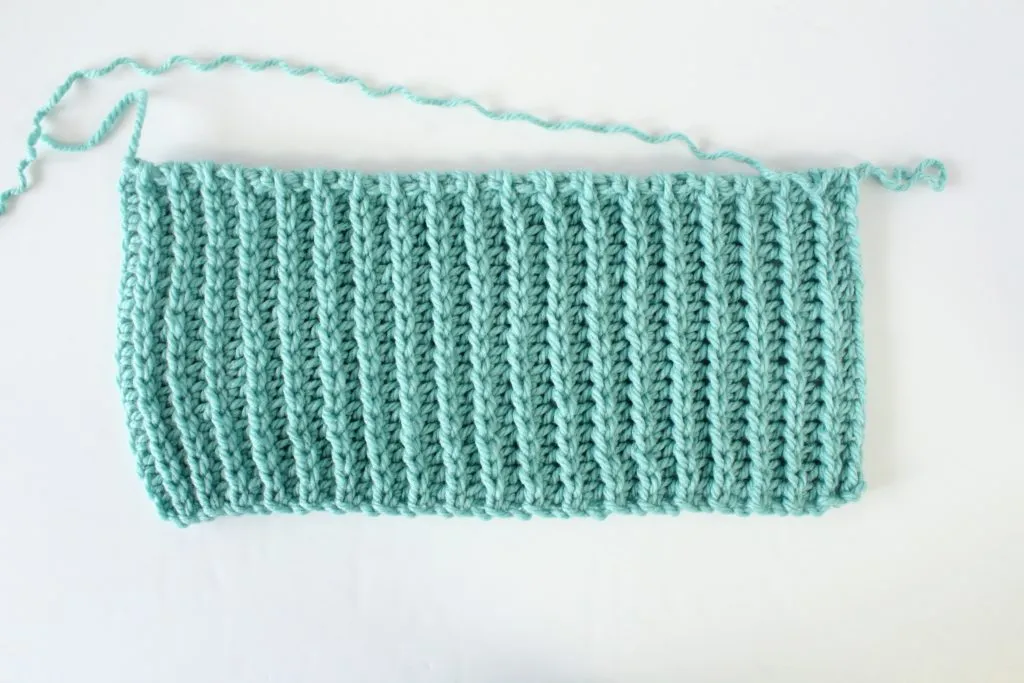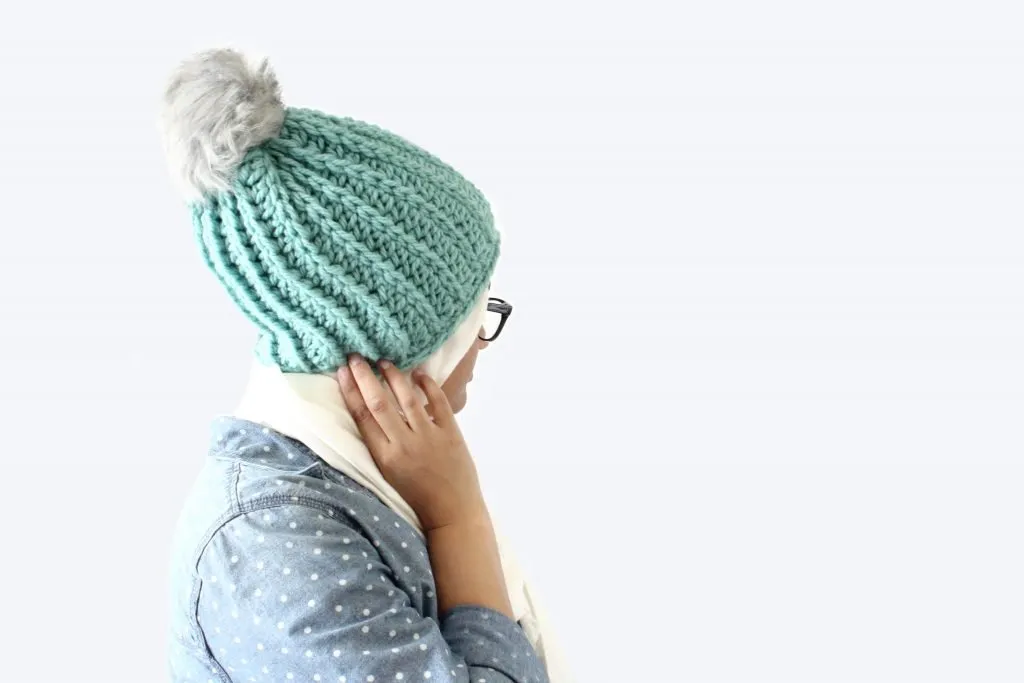 The Ultimate Guide to Sizing Hats
Wow! That was a lot of information on how to crochet hat sizes, wasn't it? It's so easy to talk about and explain now that I've finally figured it out. I never have to second guess myself or wonder if the hat will fit the recipient. And now that I got it, I'm so glad I can share the Ultimate Guide to help you guys out too!
img src="https://www.theblueelephants.com/wp-content/uploads/2018/09/RL.-Hat-sizing-guide-cheat-sheet.png"
The Ultimate Guide to Sizing Hats has the measurements for 18 sizes ranging from preemies to men's XL. I've pulled from sources all over the internet, found the average sizes people use, and added sizes I've tried and used repeatedly. I've compiled all that into a free printable that you can pick up in the resource library. Just hit the button below to grab your copy!
Make It Happen: Resource Pack
At the beginning of this post, I mentioned a planner and that is the Make it Happen Resource Pack! It's s full of guides, resources, cheat sheets, and more to help you make sense of all things knitting, crochet, and yarn – not only does it include a copy of this hat sizing guide, it also has a laundry guide for washing your special yarns and a hook/needle guide so you know what sizes would work best, blanket sizing guides, and so many more resources! Grab the Resource Pack over in my shop to make life easier for you and to help support me 🙂
Need even more resources? I've got you covered!
The Make it Happen: Resource Pack is actually one of three resources I designed for makers. While the resource pack is full of guides, cheat sheets, and printables for all fiber artists, there is also the Designer Pack and the Guidebook!
The Designer Pack is geared a little bit more towards those that want to create their own patterns, track income and expense for craft businesses, plan out custom orders, figure out pricing, plan out your next product line and yes, even write your own patterns! Take a look at all the information in the shop here.
The Guidebook is perfect for the planners out there that like to set goals and break down their schedule into manageable chunks. This planner includes monthly and weekly planning pages, bucket lists, and more. I love using this to plan out my craft fair seasons and get everything organized so I know where my time is going and how much I can actually get done! Check it out below 🙂
I know that was a long post, but there was a ton of information I wanted to share. Beanies are some of my favorite things to make now, and I don't think they should be hard to do. I hope this post helped you out and that you tackle the next beanie you make with confidence!
Thanks so much for reading and hanging out with me today. If you haven't already, be sure to subscribe to the newsletter by just entering your name and email in the box below. It's free and you'll get updates about new posts, patterns, tutorials, and more!
I'll see you soon 🙂
---
Visit my pattern shops on Ravelry, Craftsy, and Etsy to buy the printable PDFs of all my patterns. They're ad-free, comment-free and your support helps me run The Blue Elephants so I can continue publishing free patterns here.
My material lists sometimes include affiliate links (denoted with a *) for which I earn a small commission at no extra cost to you. I only link to products I personally use, love, and recommend. You can read more about this in my Disclosure.
I worked hard on this pattern, so please be respectful and do not sell or redistribute this pattern as your own. If you sell finished items made using this pattern, credit The Blue Elephants as the designer and link back to the blog post or the Etsy pattern link. For any other questions, read my Terms of Use or contact me.
---