Last summer, I was making a ton of blankets after opening my Etsy shop up for custom orders. I treated each blanket like a blog post and took notes and pictures along the way so I could share them with you once I had more time. Today, I'm sharing one of my absolute favorite designs.
This is a free baby blanket knitting pattern that is really easy and it's made up entirely of knits and purls. There are no fancy stitches involved, but the beautiful embossed diamond pattern makes it feel so much more intricate than it is.
This Dina Blanket is a showstopping baby blanket that's perfect for when you want to keep it gender-neutral but still have something bright and happy. I hope you enjoy it!
This blanket was actually made as a gift to my sister's friend Dina when we found out she was expecting a baby. My sister wanted to give her something special and handmade, so she asked me to make a blanket.
It was really fun coming up with this design with my sister; we went through my big book of stitches and picked out one we both liked. Then we headed to the store to pick out the exact colors and get some matching fleece. Although I run most of my project ideas by my sister, it was nice to actually design something together like this.
We didn't know if Dina was expecting a boy or a girl, so we decided to keep this simple and bright.
The diamond design on this baby blanket knitting pattern is clean and classic, but I think the colors make it. They're bright and happy and make me think of meadows.
The soft green and the sky blue are perfect colors for any baby blanket, and the vibrant yellow and deep navy give them a little more dimension. As always, I finished this blanket with a fleece lining on the back and a silver satin ribbon just to make it a little fancier.
The full free pattern is written out below. For those who'd prefer to print the pattern and take it with you for on-the-go and to markup as you go, you can buy the inexpensive printable PDF from my Etsy and Ravelry shops. The PDF is formatted without ads or comments, so it's easy to read.
Materials:
Abbreviations:
CO – cast on
k – knit
p – purl
BO – bind off
RS – right side
WS – wrong side
Pattern Notes:
Skill level: beginner/intermediate
Sizing: 30 x 34 inches
Gauge: 5S x 5R per inch

Dina Blanket: Free Baby Blanket Knitting Pattern
Before we get started, remember to pay attention to your stitches. You should always be doing that anyway, but especially so with this blanket. It is a super easy knit baby blanket pattern, but because the embossed diamonds are made up of the purl stitches, they need to line up. Count your stitches and always check to make sure there isn't a stray purl here or there to throw off the design.
Using your first color, cast on 145 stitches (or any multiple of 8+1). My 30″ blanket pattern repeated 18 times so 8 x 18 + 1 = 145.
Row 1: Purl 1, *knit 7, purl 1* and repeat everything between the **s to the end of the row (RS).
Row 2: K2, P5, *K3, P5* repeat from * to * until the last 2 stitches, then K2.
Row 3: K1, *P2, K3, P2, K1* to the end.
Row 4: P2, K2, P1, K2, *P3, K2, P1, K2* until the last 2 stitches, then P2.
Row 5: K3, P3, *K5, P3* until the last 3, then K3.
Row 6: P4, K1, *P7, K1*, P4.
This was the first triangle. Now, we're going to work the bottom of the next diamond so it makes an X.
Row 7: K3, P3, *K5, P3* until the last 3, then K3.
Row 8: P2, K2, P1, K2, *P3, K2, P1, K2* until the last 2 stitches, then P2.
Row 9: K1, *P2, K3, P2, K1* to the end.
Row 10: K2, P5, *K3, P5* repeat from * to * until the last 2 stitches, then K2.
Repeat rows 1-10 until your blanket is the height that you want it at. These 10 rows make up the whole blanket, plus a few color changes are thrown in!
Color Changes
I changed colors after every 5 repeats of this pattern, ending on row 10. When you work the next row (row 1), the color transition will be smoother. If you change on another row, you'll be able to see the other color peeking through. If you change on row 1, you can hide the little bit of color in the X of the diamonds. That might sound a little confusing, but you'll see what I mean when you get there.
Helpful tip:
If you're having trouble following the pattern and remembering which line you were on, get the PDF or copy down the steps onto a separate sheet of paper. Then, use a post-it to cover up everything except the line you're working on. Move the post-it as you go so you can work one line at a time.
I worked 5 repeats of the diamond stitch pattern using each of my 5 colors until my blanket was 34″ tall. You can always work more rows or fewer rows if you like. Once you're happy with the size of the blanket, bind off all 145 stitches.
Weave in the ends and trim the excess yarn to finish this super easy knit baby blanket pattern. Now, block your blanket so the diamond pattern is set and even as a can be. If you need help with blocking knits, I have a full tutorial on that here. When it's dry and ready, we can attach the fleece and satin binding!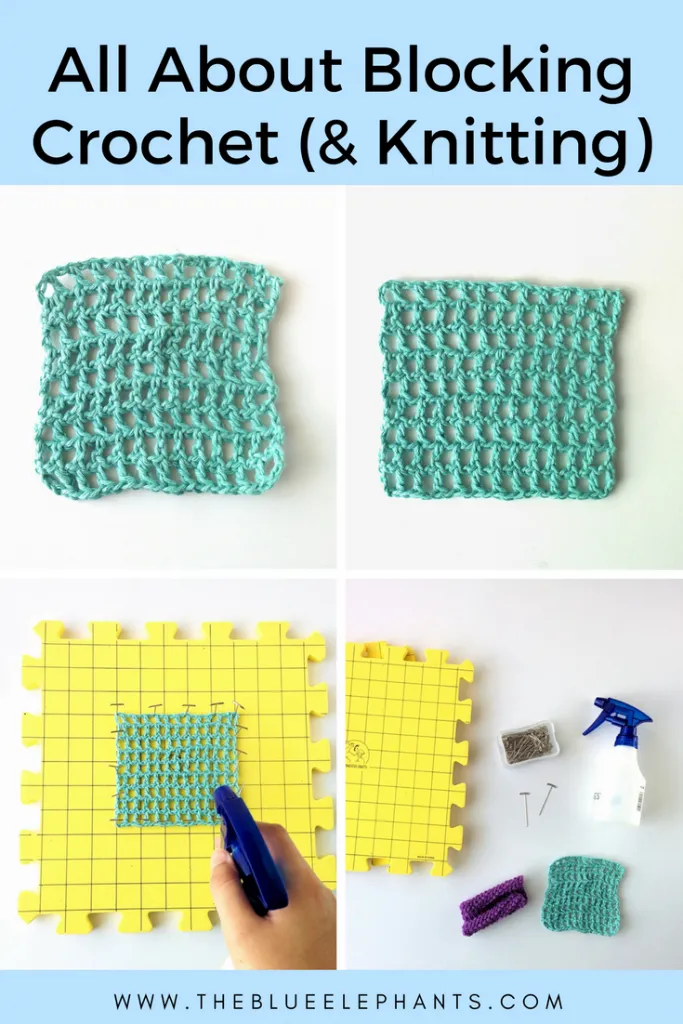 Fleece Lining:
Finally, I like to finish all my blankets with a fleece lining and some kind of border. For this, I cut the fleece to measure the finished (and blocked) blanket. Then, I pinned my satin blanket binding to the fleece and used a sewing machine to attach the satin all the way around.
With the fleece + satin as one piece, I pinned the whole thing to my finished blanket with the right sides out. The edge of the satin binding should be inside the blanket now. Then I slowly fed it through the sewing machine to secure the edge of the blanket to where the satin met the fleece. I sewed all the way around and then finished it off, trimming any excess thread.
Thanks so much for reading everyone! I really enjoyed the baby blanket knitting pattern and I hope you did too. If you don't knit, there's a similar pattern for a crochet blanket pattern that I love too! It's the Bright Stars Blanket and like this pattern, this blanket uses one stitch pattern throughout and a few color changes to make it pop!
Before you go, subscribe to the newsletter below to get new free patterns and tips in your inbox every week! Just fill in the box below to sign up.
See you soon 🙂
---
Visit my pattern shops on Ravelry, Craftsy, and Etsy to buy the printable PDFs of all my patterns. They're ad-free, comment-free and your support helps me run The Blue Elephants so I can continue publishing free patterns here.
My material lists sometimes include affiliate links (denoted with a *) for which I earn a small commission at no extra cost to you. I only link to products I personally use, love, and recommend. You can read more about this in my Disclosure.
I worked hard on this pattern, so please be respectful and do not sell or redistribute this pattern as your own. If you sell finished items made using this pattern, credit The Blue Elephants as the designer and link back to the blog post or the Etsy pattern link. For any other questions, read my Terms of Use or contact me.
---