Last year, I was struggling to get my head around making any kind of crochet cardigan or sweater. For some reason, I couldn't get the shape to look right no matter how much I tried. Then I came across the pattern for this crochet cardigan by Nicole Wang and it was perfect! When I originally purchased this pattern, it was part of a kit that's no longer available, but the pattern and yarn can still be found separately, so I've updated the post to reflect that and share some more crochet cardigan kits!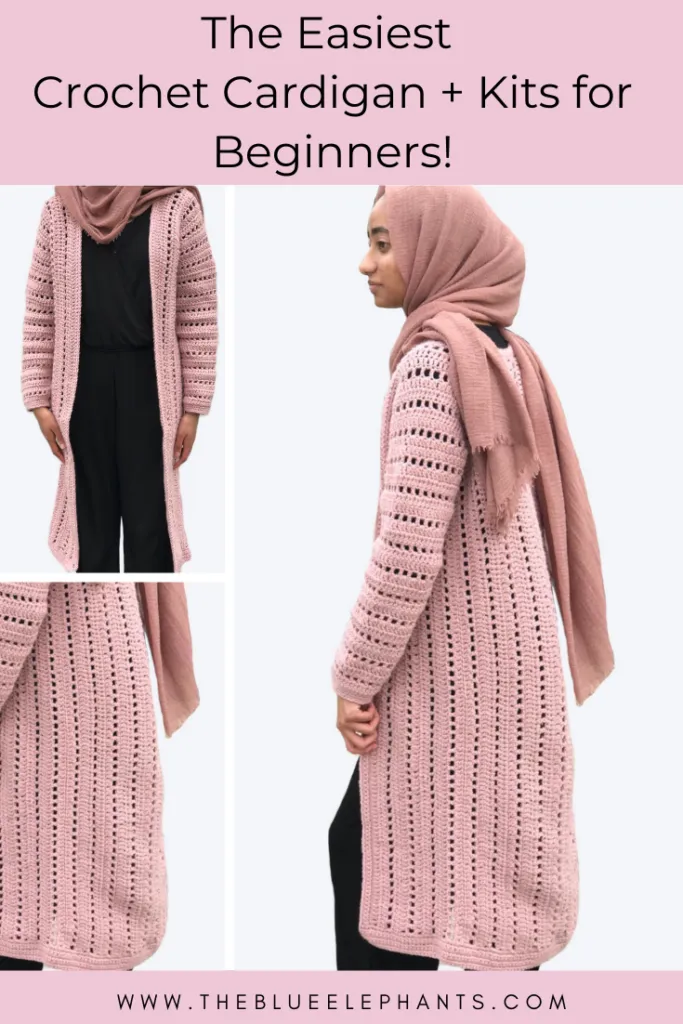 The pattern is available in 4 sizes:
Sizes: 1 (2, 3, 4)
Finished Bust: 40 (46, 52, 58)", meant to fit with a few inches of positive ease
Finished Length: 27 (27 ½, 28, 28 ½)"
The yarn they send is Sprightly Arcylic, an exclusive Bluprint brand, and it's wonderful. I've used it a bunch for other projects too. It comes with more than enough yarn to finish the product and when you order, Bluprint guarantees to match the dye lot with a single order so they're all the same. I chose the color Pale Pink, in size 1, and I received 7 skeins of the yarn. I loved this pattern so much, I actually purchased 7 more skeins in Crimson to make another one!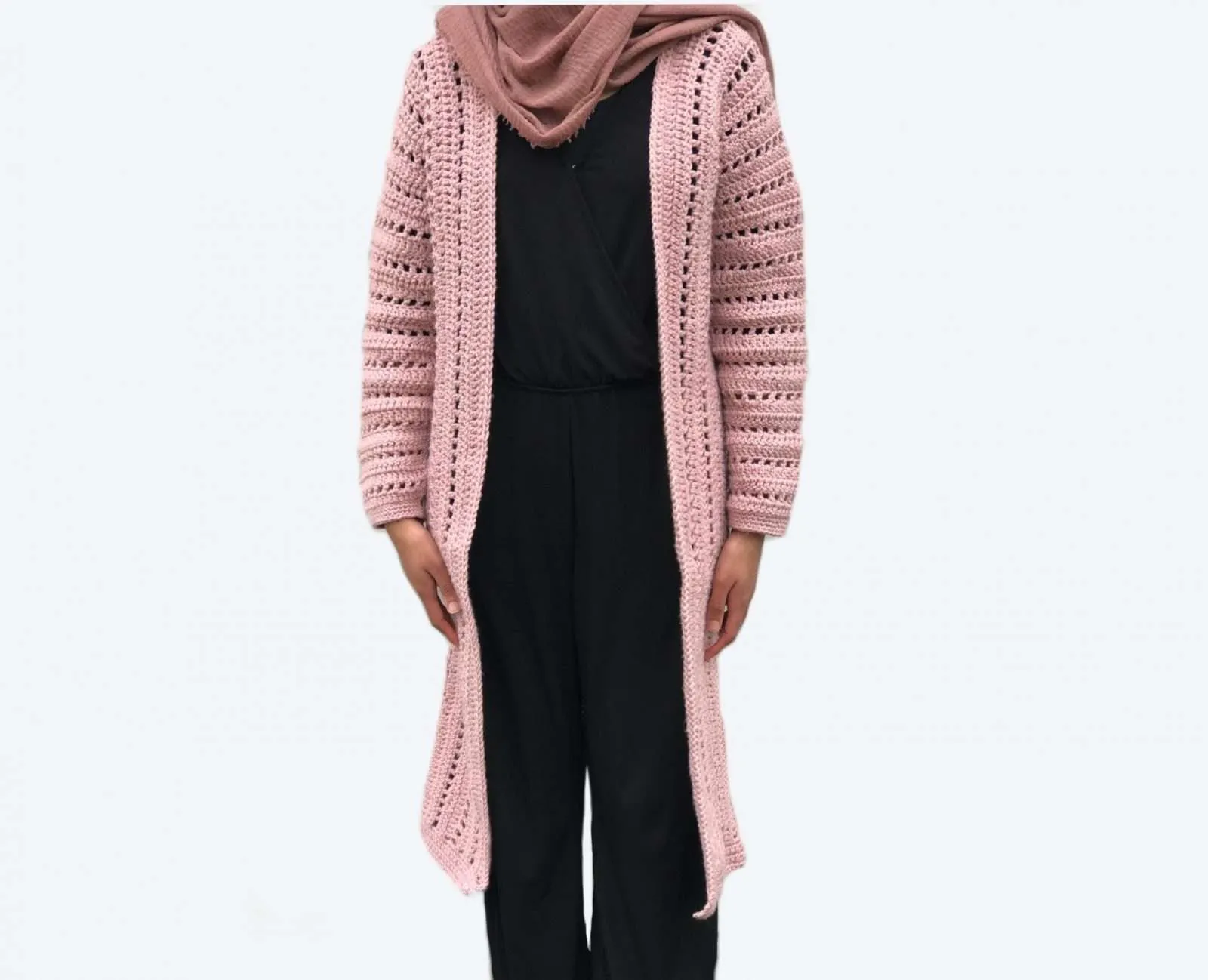 Sprightly yarn can still be found in some places (like on WEBS Yarn) but it is in limited supply. I don't think it's being produced anymore, but any yarn of similar weight should be good for this pattern. I have a list of all my favorite yarns to use – I would make this again in something like Knit Picks Brava Yarn.
Sporty One-Piece Crochet Cardigan Pattern Review
I chose this crochet cardigan because it was the simplest one I could find. The cardigan itself is made in one piece and worked flat. The other patterns I've used involved so much shaping (around the arms, the neck, and sides), which is what usually messed me up. It does have some shaping along the arms to make it fit around the shoulders, but it was minimal and easy to follow.
The pattern also used very basic stitches. The only new one I needed to know for this was how to foundation double crochet which I just looked up a video for. They also give you an option for working those sections without the FDC but it's worth learning. It's actually one of my favorite stitches now and I use it all the time for perfect stretchy ribbing on beanies!
Because you're creating the same design across the whole cardigan, it's easy to memorize and keep working without referring to the pattern every second. You do want to keep track of increase rows so they end up in the right places. I would just tally in the margins to see what row I was on.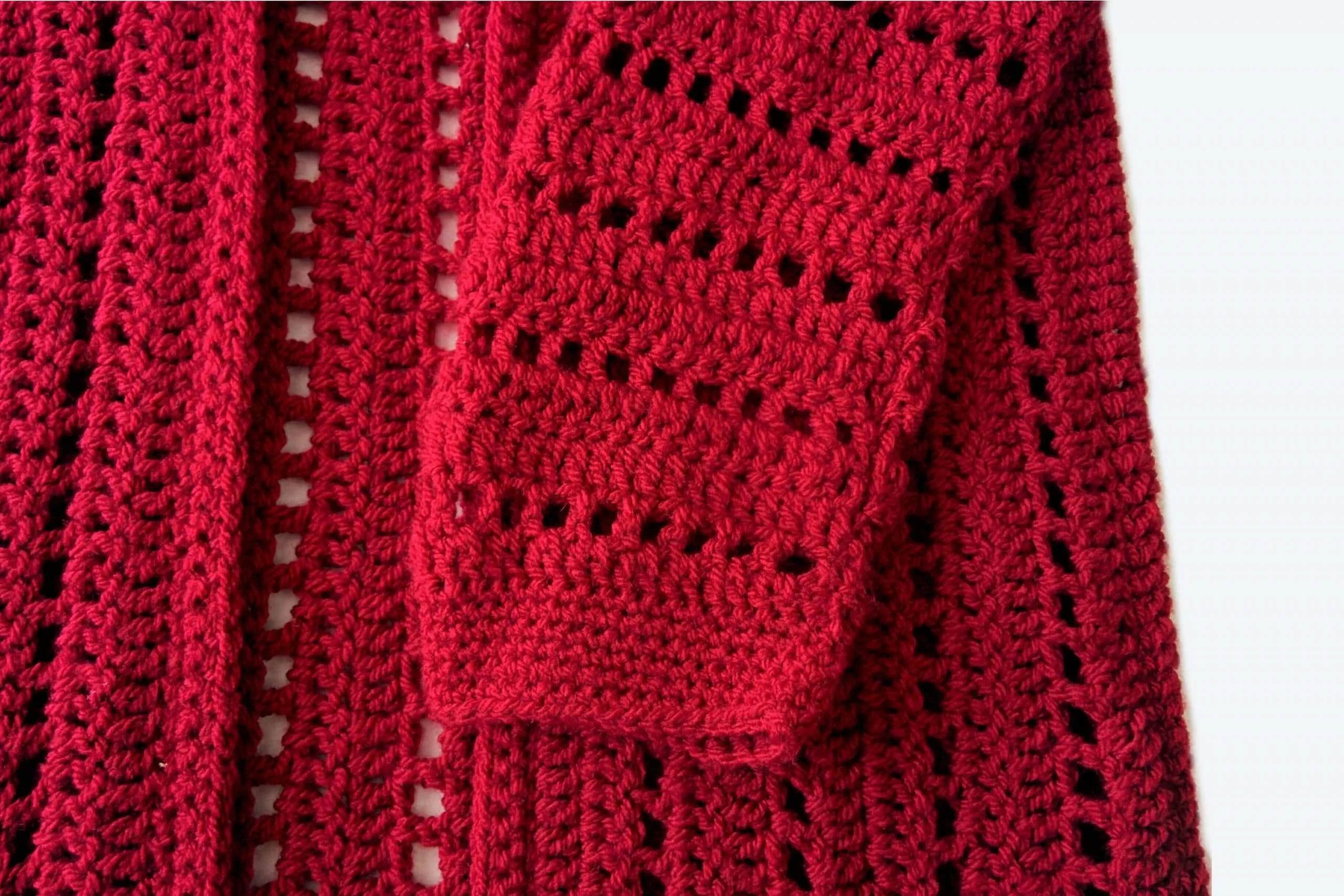 Sizing:
Sizing was the only thing I had some trouble with. I'm pretty small and even with regular clothes, I have a hard time finding things to fit. So even though I had the smallest size kit (size 1), it was still way too big once I started. I did see that in the reviews on Bluprint, so if you're a size medium or large, go one size down.
For a small, though, I switched to a much smaller hook than asked for. The pattern called for 6.00mm and 5.00mm hooks, so I used 4.00mm and 3.50mm ones instead. I had to work a little more loosely than I usually would to keep the drape but it worked out perfectly.
Also, I extended the sleeves and body on the second one I made for my cousin. She just wanted it a little longer and the pattern tells you how to do that. It was a super easy modification, but you may need an extra ball or two of yarn if you plan to do the same.
Overall: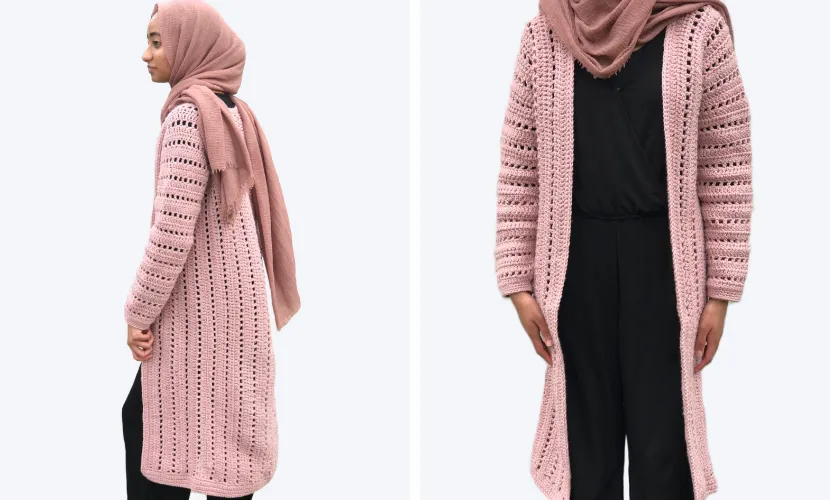 I love this crochet cardigan and I am super proud of myself because I finished it. Total, I only spent 4 days working on it!
Every other pattern I looked at either wasn't something I would wear or it seemed too complicated for me to be able to recreate. This seemed doable. In fact, I wore this around my house when I finished and my brother actually thought I bought it ready-made!
This crochet pattern was perfect for a beginner like me and I can't wait to wear this throughout Fall. It doesn't really look like it is with the open stitch, but the acrylic yarn is warm and cozy. I can easily see myself making another version of this in linen or cotton yarn for the summer.
If you're interested in yarn fiber content and all the different uses and properties of different yarns, check out this post. It's all about fiber content and it's a great help in deciding what to make your next project out of!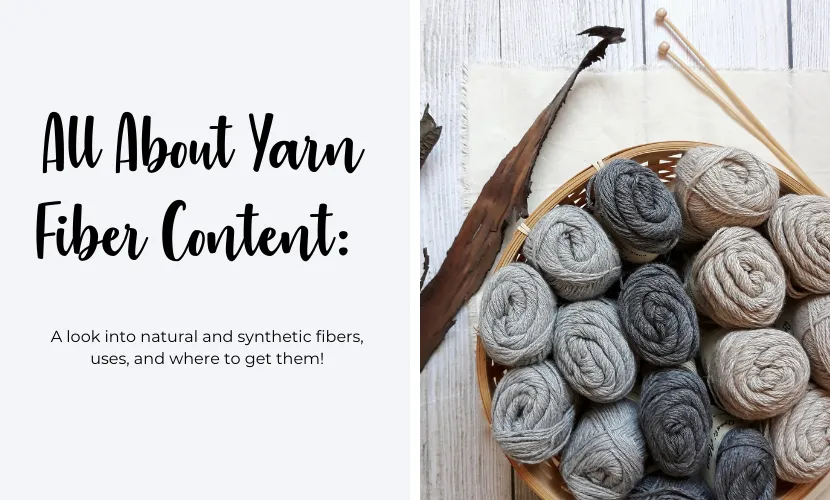 Other Crochet Cardigan Kits for Beginners
Since making this crochet cardigan, I've been on a roll! I love making sweaters and cardigans now and I even shared a post of over 20 free crochet sweater patterns that I think you'll enjoy. But I think kits are the way to go if you really want to recreate something exactly as you saw it. There are so many more crochet kits available now than there used to be and a lot of them are designed by bloggers!
Related: 20 Free Crochet Sweater Patterns
Want to try out a crochet cardigan kit? I've put together some of my favorite kits down below so you can have all the pieces you need for a cozy make!
Crochet kits are my favorite and I included them as one of the things in my Gift Guide for Makers, so take a look around and you might find the perfect knitting or crochet kit for someone on your list! I hope you enjoyed this post and it gave you some encouragement to go try something new and give it your best shot.
If you want to get more free patterns, tips, and information on sales for yarny things, sign up for my newsletter below. Just fill out your name and email and you'll also get access to all the freebies and guides in my resource library!
See you soon 🙂
---
Visit my pattern shops on Ravelry, Craftsy, and Etsy to buy the printable PDFs of all my patterns. They're ad-free, comment-free and your support helps me run The Blue Elephants so I can continue publishing free patterns here.
My material lists sometimes include affiliate links (denoted with a *) for which I earn a small commission at no extra cost to you. I only link to products I personally use, love, and recommend. You can read more about this in my Disclosure.
I worked hard on this pattern, so please be respectful and do not sell or redistribute this pattern as your own. If you sell finished items made using this pattern, credit The Blue Elephants as the designer and link back to the blog post or the Etsy pattern link. For any other questions, read my Terms of Use or contact me.
---