Over the course of December and the first couple weeks of January, JOANN Fabrics was having its yearly giant yarn sale, the Yarnormous Sale. And I got sucked into it. I love seeing what other people have in their stash so I thought it'd be fun to do a yarn haul! I ended up buying a lot of yarn and I just wanted to share what I picked up and what I plan to do with it. We have a lot to share here today and let's just hop into it!
I shared a video of this haul over on Youtube, so you can watch it or read the post below, whichever you prefer! I'll be sharing more videos over on Youtube though, so if you like this, please subscribe to the channel. It helps so much!
Watch the Yarn Haul Below!
The Yarnormous Sale
I went online in December when JOANN Fabric's yarn sale first started to pick up a couple of things that I needed, and yarn for a couple of ideas that I had, but I got a little bit carried away and I bought more than I meant to.
Then in January, I happened to be on the site again and I saw that the still sale was still going on. Soo… I picked up a few more things!
Now I have a lot of yarn and I wanted to show you guys what I picked up over the sale and what I plan to do with it. You can get all of these yarns online on the JOANN website, in their stores, or in the brand stores. I've included some links to help you shop!
The first yarn I want to show you guys today is one that I've been thinking of picking up for a while but I only just got the chance to grab some.
I make mostly plushies, and a lot of them have the same base color for the skin tone. I normally use the Hobby Lobby brand Yarn Bee Soft Secret in the color Biscuit, which is the only color that I usually found available.
I wanted more color variety, though, so I picked up the Lion Brand Skein Tones yarn. The current yarn that I use in my plushies has a slight sheen to it that I really like and it glides through your fingers and it works up really well. So whatever I switch to would have to feel the same as the rest of the toy.
I picked up a few different colors: I got one each in the colors Almond, Cedarwood, Truffle, Nutmeg, and Hazelnut. There are actually a lot more colors if you're looking for something else but these were the ones I started with.
They look gorgeous and I think they'll make a really nice line of plushies that I'm planning. I just want to see how they work up but I think these might be the new ones that I switched to. This is a #4 weight yarn and it's a 100-gram ball of yarn.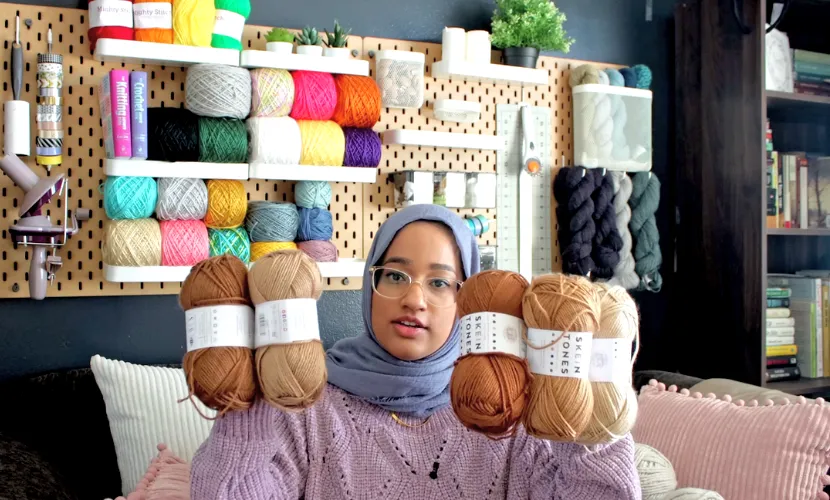 The next thing that I picked up was kind of an impulse buy because I saw this in my recommendations and they just looked so soft and cozy I thought it would be nice to try something with them.
I bought a couple of skeins of Lion Brand's Naptime yarn in the color pale gray. This is just a soft simple color. It's actually classified as #4 like medium worsted weight yarn but it is much thinner than that. It's actually more of a DK yarn or a lighter sport-weight yarn.
It's a velvety nice, smooth texture and I just thought something simple with a nice stitch might be really good with this. Something like a baby blanket would show off the little ridges and bumps in this yarn a little bit more, even with just one solid color.
This is a #4 weight yarn and a 100-gram ball. It's the Lion Brand Naptime in the color pale gray and I bought three of these.
For this next yarn, I picked up a yarn that I actually already worked with. I really loved it and I used it recently for a blanket that I just finished.
I loved working with it; it was super smooth and just glided through my fingers and over my hook, and it made the most beautiful texture. I loved it so much, I picked up more of it: this yarn is the Bernat Forever Fleece and it is a #6 Super bulky weight yarn. This is a 280-gram ball of yarn.
This is four or five strands of yarn all twisted together and then brushed out so you have this really nice brushed fleece texture. It's a bit heavier than other yarns, which is perfect for baby blankets because I like making those a little bit more weighted in general. Sometimes I make the blanket as I normally would and then line it with fleece so that it's more of a weighted comforting blanket and with this yarn, I don't have to do that.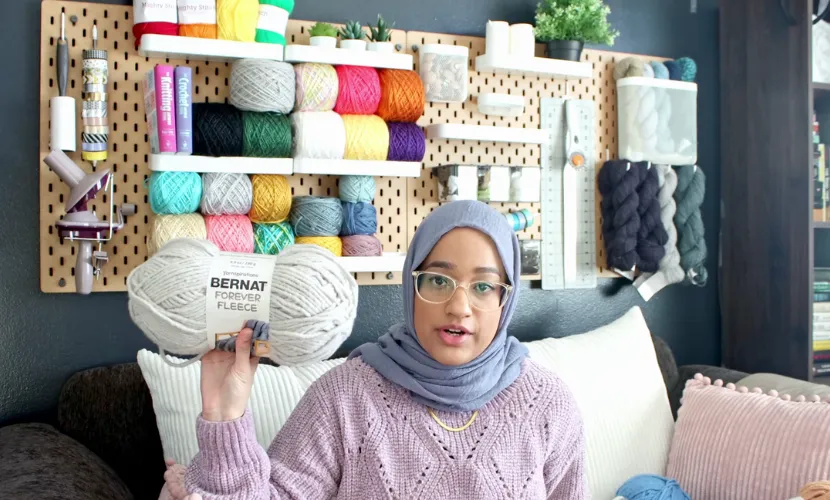 It's just it was just a dream to work with. I cannot say enough good things about this yarn so I picked up two in the color Balsam as well as two in Ballpoint Blue. I also picked up one in this orangey brown color which is called Bergamot. I was thinking that these three colors together would make a really nice blanket or a throw; something a little more modern.
This yarn also has very good stitch definition so whatever you make with it, your stitches will really be defined and show up really nicely which is something that I loved about working with this yarn the first time around.
A lot of these yarns I picked out with baby blankets in mind because I kind of want to get back to my roots and make baby blankets. Those are always fun for me and I've been finding some yarn that I really like.
This next batch is called Bernat Bundle Up and this also has a really nice texture to it. I'm not sure what you would call it but it also has that same fleecy brushed-out, worn, lived-in kind of texture as the Forever Fleece except this is in a much thinner weight. This is a medium #4 weight yarn, it's a 140 gram ball, but it feels more like a DK or sport weight yarn. It's super thin and I think this will make a really nice baby blanket.
Some of these I think would also make really cute sweaters but for most of them, I'm defaulting to baby blankets. So if you have any other ideas or something you think would be nice, let me know in the comments and I'll try to think of something else I can make with these!
I picked up two balls in the color Dove which is a gorgeous gray, I also picked up two balls in that color red wagon. This is more of a bright pink, not really hot pink, but I still think they're gorgeous. I also picked up one in Violet and one in Duckling. I just love how these colors look together and I think that would make a really cute baby blanket.
Next up I have a yarn that I wasn't really sure about at first. I kind of picked it up because I was curious and I just wanted to see how the colorway would work up. I haven't worked with yarn like this so I was just interested.
This is Lion Brands Ice Cream Roving Divagation. I'm not really sure what that means but this is a true roving yarn it's very loosely twisted, but it's twisted with such gorgeous colors. It starts with a bubble gum pink and a slightly warm blush pink after, it's mixed with white, some greens, and beige. I just thought it was really cool and I wanted to see how it would turn out!
I picked up five balls of this so I think it'll make a pretty big cozy blanket and I'm excited to see how this one works up. I haven't worked with roving too much so I'm not sure if it'll be better to knit with or better to crochet with. This is a #4 medium weight yarn and it is a 200-gram ball.
Last but not least, the last batch of yarn that I got is a fan favorite.
It's always a staple and I love working with these yarns. I picked up a bunch of Bernat baby blanket yarn. So I love working with Bernat baby blanket because it just makes the best blankets and you can make a lot of other things too. You can make plushies and like big toys with it, you can make home decor with it, and you can make a lot of fun things.
They had this Bernat baby blanket Sparkle yarn which I didn't know about and this yarn has tinsel woven throughout it. It's really soft though, you can't feel it at all. I thought the tinsel might be a little bit scratchy in some places but it's super fine and it gives just enough glitter, just enough Sparkle, to look nice but you cannot feel it. Which I think is perfect especially if it's for a baby.
I know that I use these a lot, especially for last-minute gifts or commissions that want a bigger blanket but have a lower budget. These work up really fast and they work up really big with less material than any of the other Yarns I've shown, so these are really nice to have on hand.
These are all #6 Super bulky weight yarn and 300 gram balls. I picked up two in MoonlightSparkle, three in SunshineSparkle, two in Seaside Sparkle, two in hot pink sparkle and four in rose glow Sparkle
That is everything that I picked up at the JOANN Yarnormous sale!
I had a really fun time shopping and looking for all the fun new Yarns and new projects and planning out a bunch of Baby blankets I'll release throughout the year.
Thank you guys for hanging out with me today for this yarn haul! Right now I am trying to grow my Youtube channel so If you want to see more fun videos and yarny content, please subscribe to the channel here! It helps me out a ton and you'll get fun content.
See you soon 🙂
---
Visit my pattern shops on Ravelry, Craftsy, and Etsy to buy the printable PDFs of all my patterns. They're ad-free, comment-free and your support helps me run The Blue Elephants so I can continue publishing free patterns here.
My material lists sometimes include affiliate links (denoted with a *) for which I earn a small commission at no extra cost to you. I only link to products I personally use, love, and recommend. You can read more about this in my Disclosure.
I worked hard on this pattern, so please be respectful and do not sell or redistribute this pattern as your own. If you sell finished items made using this pattern, credit The Blue Elephants as the designer and link back to the blog post or the Etsy pattern link. For any other questions, read my Terms of Use or contact me.
---