Is there anything better than snuggling up in a blanket that falls just right? My sisters and I have a bunch of fuzzy fleece blankets that are just perfect for that, and all of them were given to us by one aunt. This aunt has always been just a big part of my life. She's always there for us, and I wanted to do something for her. I came up with this free crochet blanket pattern as a gift for her and to show her that we appreciate her. Here is the Fireworks Throw crochet blanket pattern!
Going into this blanket, I knew the yarn choice had to be something she can throw in the wash as often as she wanted without worry about damage. It also had to be thick and warm and super soft! I went with Sprightly Acrylic yarn for this blanket. It's a really high-quality acrylic that feels nice against the skin and comes in a ton of colors.
I made my blanket pretty big at 60 x 72 inches. You can easily make yours smaller if you want by starting with fewer repeats and working fewer rows. I have a handy cheat sheet with measurements for all different blanket sizes available for free down below.

Speaking of the stitch, this is the Harlequin stitch. It does sound a little complicated when you first start, but it's a quick pattern to pick up and memorize. I've written the pattern out for you below so it should be easy to follow, just read carefully and practice!
The full free pattern is written out below. For those who'd prefer to print the pattern and take it with you for on-the-go and to markup as you go, you can buy the inexpensive printable PDF from my Etsy and Ravelry shops. The PDF is formatted without ads or comments, so it's easy to read.
Materials:
#6 Super Bulky yarn in 2 colors – I used 9 balls Sprightly Acrylic in Burgandy and 8 in Suede
scissors
Abbreviations:
ch – chain
SC – single crochet
DC – double crochet
DC#tog – DC # of stitches together as one
sl – slip stitch

Pattern Notes:
Skill level: Intermediate
Sizing: 60 x 72 inches
Gauge: 2 sts/ inch x 1 row/inch
The Fireworks Throw: Free Crochet Blanket Pattern
Row 1: With color A, chain 137 ( or another multiple of 8 +1).
Row 2: Insert your hook into the 5th space from the hook and [DC 3, ch 1, DC 3] into the space. Skip 3 spaces, SC into the next. *Skip 3 spaces, [DC 3, ch 1, DC 3] in next, skip 3, SC into the next*. Repeat everything in the *s until the end of the row.
Switch to Color B. Carry your yarn up the sides so you don't have to weave in as many ends!
Row 3: Ch 3, turn. Skip the first SC and DC3tog over the next 3 spaces. *Ch 7, skip the ch 1, DC6tog over the next 6 DC (skipping the SC). Repeat from * until the last 3 spaces, DC3tog, and DC 1 into the top of the last chain.
Row 4: Ch 3, turn. Work 3 DC into the hole between the DC3tog and the DC from the row below. *SC around the chain 1 from below (trapping the chain 7), [DC 3, chain 1, DC 3] in the center of the DC6tog. Repeat from * until the last DC3tog. Work 3 DC into the space, DC 1 into the top of the chain.
Switch to Color A.
Row 5: Chain 3, turn. Skip the first DC, *DC6tog over the next 6 DC, chain 7, skip the chain 1, repeat from * until the end. Chain 3, SC into the top of the turning chain.
Row 6: Chain 1, turn. Skip the first SC and the chain 3. *[DC 3, chain 1, DC 3] into the center of the DC6tog, SC into chain 1 space (trapping chain 7), repeat until the end of the row. SC into the top of the turning chain.
Switch to Color B.
Repeat rows 3-6 until the blanket reaches the height you want it to be. I continued until I had used up all but half of the skein of Burgandy and my blanket was 71 inches long.
For the border
For this free crochet blanket pattern, I planned on doing a wide border using a moss stitch or something else flat. But once I finished, it didn't seem like it needed it anymore. I settled on working 2 rounds of SC around the entire blanket, working into the sides of the stitches, and working 3 SC into each corner. It made a nice, clean edge and it hid the color changes on the sides.
If you used a different method than the magic knot to change colors, this border would also hide the ends and weave some tails in for you.
And you're done!
I love how my Fireworks Throw turned out and it reminds me of how excited my aunt and uncle always are when they see us. They always treat a visit with us as a big event and are totally in the moment. I think that's something really special and I hope my aunt sees that we love her when she sees her blanket.
If you liked this, you may also like some of the posts below! I love making cozy blanket patterns so I have a few different patterns below for you to check out, both knit and crochet! I also have a post all about how to customize blanket sizes and resize patterns to suit your needs so be sure to give that a read too.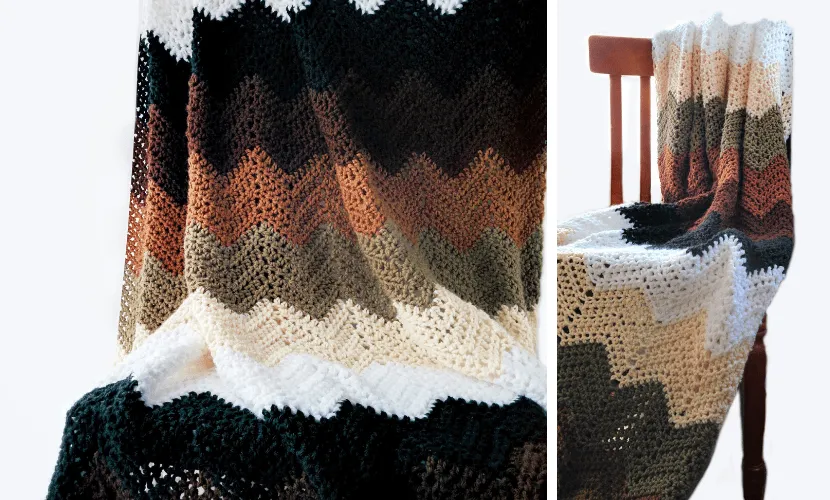 Thanks so much for hanging out with me today! I hope you liked this post and if you did, please consider subscribing to the newsletter. It's completely free and you'll get access to the resource library with freebies and new patterns, tips, and posts in your inbox every week. Plus, it helps me run this blog and give you more free patterns. And I have some great ones coming up!
See you soon 🙂
---
Visit my pattern shops on Ravelry, Craftsy, and Etsy to buy the printable PDFs of all my patterns. They're ad-free, comment-free and your support helps me run The Blue Elephants so I can continue publishing free patterns here.
My material lists sometimes include affiliate links (denoted with a *) for which I earn a small commission at no extra cost to you. I only link to products I personally use, love, and recommend. You can read more about this in my Disclosure.
I worked hard on this pattern, so please be respectful and do not sell or redistribute this pattern as your own. If you sell finished items made using this pattern, credit The Blue Elephants as the designer and link back to the blog post or the Etsy pattern link. For any other questions, read my Terms of Use or contact me.
---