This week, I have a fun and colorful crochet blanket pattern to share with you. I used a crochet Lego blanket pattern to make my little nephew his dream blanket and I'm so happy to finally show you how it turned out. This is an awesome pattern if you prefer to work in smaller blocks and join those pieces together for a finished blanket, which I sometimes find easier than working with a lot of stitches at once. This is also a GREAT stash buster project that you can use to work through all the bits of yarn you have leftover.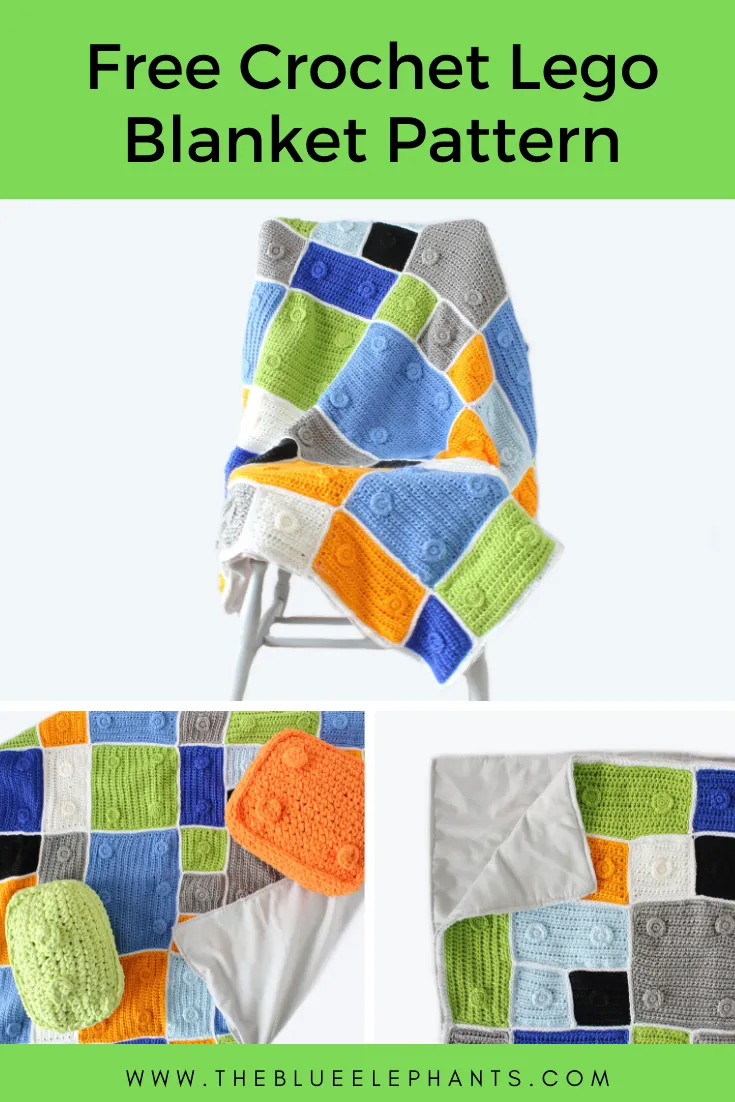 This crochet Lego Blanket pattern is from Red Heart and it's available for free on Yarnspirations. You can also grab the kit and get all of the yarn you need for this blanket along with the downloadable pattern too if you want to use the pattern as is.
My nephew actually sent me a picture of his favorite Lego pieces and asked that I use those colors for his blanket and since I already had a lot of colors of Caron Simply Soft on hand, this turned out to be a great stash buster for me. If you don't have any specific color preferences in mind, you can easily use up whatever you have and get a really fun and colorful blanket out of this pattern.
I also changed the placement of the colors on the original blanket pattern. Because I was using 3 shades of blue, I wanted the colors to be spaced out a bit more and I had to change how many blocks of each size I made and where I positioned it. All of the blocks were made with the same basic pattern as in the original. The original pattern does come with a chart and how many of each size and color to make, but I'm including my customizations here too in case you'd like to copy that! Down below you'll see all the details of this crochet Lego Blanket pattern.
Materials:
#4 worsted weight yarn – I used Caron Simply Soft in Royal Blue, Cobalt Blue, and Sky Blue, White, Black, Pistachio, and Yarn Bee Soft Secret in Fog and Hot Orange.
flannel lining (optional)
Abbreviations:

Pattern Notes:
My Customized Chart
Lego Pillows Pattern
I didn't have a pattern for the throw pillows I made to go along with this crochet Lego blanket pattern, but it was easy to make up as I went.
Using Bernat Blanket yarn and a 12.00mm crochet hook, I created a chain that was as long as I wanted the pillow's width to be. Then I worked enough rows of SC to make the rectangle the height I wanted. Bind off and make a second rectangle the same way. Then, chain 4 with a new piece of yarn and SC enough rows that the strip can go all the way around the rectangle you made. Finally, use a slip stitch to join one rectangle to either side of the strip to make the pillow. Add stuffing before you reach the end and BO.
For the dots, HDC 8 stitches in a magic loop and bind off.
Finishing Touches
Once I had the crocheted part of the blanket done, I gave it a good blocking. This helps to set the shapes and get the blanket to lay flat. Then I added a fleece lining to finish it off. Place the fleece and the blanket on the ground with the wrong sides together and pinned around the edge to keep them together. Then I used my sewing machine and wide zigzag stitch to sew the two pieces together. It was quick and easy and the zigzag stitch keeps the blanket from getting tight along the sewn edge.
And that is all!
I hope you enjoyed this type of post where I walk through an existing pattern that I used. I love trying out other patterns but I don't often share how they went so if that's something you're interested in, please let me know in the comments! You can also subscribe to the newsletter using the box below to get free patterns, tutorials, and freebies in your inbox every week. Thanks so much for reading!
See you soon 🙂
---
Visit my pattern shops on Ravelry, Craftsy, and Etsy to buy the printable PDFs of all my patterns. They're ad-free, comment-free and your support helps me run The Blue Elephants so I can continue publishing free patterns here.
My material lists sometimes include affiliate links (denoted with a *) for which I earn a small commission at no extra cost to you. I only link to products I personally use, love, and recommend. You can read more about this in my Disclosure.
I worked hard on this pattern, so please be respectful and do not sell or redistribute this pattern as your own. If you sell finished items made using this pattern, credit The Blue Elephants as the designer and link back to the blog post or the Etsy pattern link. For any other questions, read my Terms of Use or contact me.
---