Warning
: exif_imagetype(https://www.theblueelephants.com/wp-content/uploads/2019/11/2019-Gift-guide-for-makers-1.png): Failed to open stream: HTTP request failed! HTTP/1.1 404 Not Found in
/home/customer/www/theblueelephants.com/public_html/wp-includes/functions.php
on line
3310
Warning
: file_get_contents(https://www.theblueelephants.com/wp-content/uploads/2019/11/2019-Gift-guide-for-makers-1.png): Failed to open stream: HTTP request failed! HTTP/1.1 404 Not Found in
/home/customer/www/theblueelephants.com/public_html/wp-includes/functions.php
on line
3332
Warning
: Trying to access array offset on value of type bool in
/home/customer/www/theblueelephants.com/public_html/wp-content/themes/mediavine-trellis/inc/classes/class-images.php
on line
1514
Warning
: exif_imagetype(https://www.theblueelephants.com/wp-content/uploads/2019/11/2019-Gift-guide-for-makers-e1637175770898-723x1024.png): Failed to open stream: HTTP request failed! HTTP/1.1 404 Not Found in
/home/customer/www/theblueelephants.com/public_html/wp-includes/functions.php
on line
3310
Warning
: file_get_contents(https://www.theblueelephants.com/wp-content/uploads/2019/11/2019-Gift-guide-for-makers-e1637175770898-723x1024.png): Failed to open stream: HTTP request failed! HTTP/1.1 404 Not Found in
/home/customer/www/theblueelephants.com/public_html/wp-includes/functions.php
on line
3332
Warning
: Trying to access array offset on value of type bool in
/home/customer/www/theblueelephants.com/public_html/wp-content/themes/mediavine-trellis/inc/classes/class-images.php
on line
1514
Warning
: exif_imagetype(https://www.theblueelephants.com/wp-content/uploads/2019/11/Screenshot-138-e1572899121424.png): Failed to open stream: HTTP request failed! HTTP/1.1 404 Not Found in
/home/customer/www/theblueelephants.com/public_html/wp-includes/functions.php
on line
3310
Warning
: file_get_contents(https://www.theblueelephants.com/wp-content/uploads/2019/11/Screenshot-138-e1572899121424.png): Failed to open stream: HTTP request failed! HTTP/1.1 404 Not Found in
/home/customer/www/theblueelephants.com/public_html/wp-includes/functions.php
on line
3332
Warning
: Trying to access array offset on value of type bool in
/home/customer/www/theblueelephants.com/public_html/wp-content/themes/mediavine-trellis/inc/classes/class-images.php
on line
1514
I'm always curious about other crocheters, knitters, and makers keep in their stashes. With the holidays coming up, I thought now would be a great time to share a look into some of my favorite tools, accessories, and other gift ideas to help you find the perfect gift for a maker in your life. You may even see a couple of things to add to your own wishlist! Here is my Makers Gift Guide, complete with gift ideas for crocheters, knitters, and anyone who wants to make something.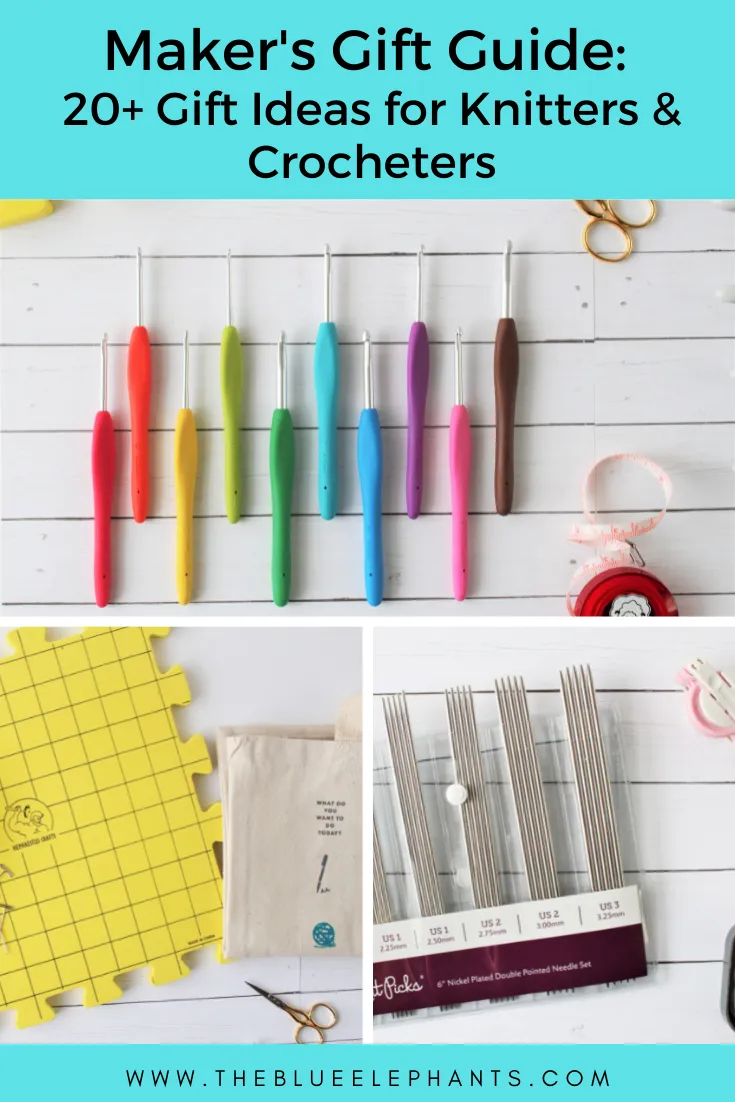 Makers Gift Guide: 20+ Gift Ideas For Crocheters & Knitters
I started crocheting with a mix of Boye and Susan Bates hooks. They were great, but as I started to crochet a lot more, I needed to upgrade. The Amour hooks by Clover are amazing – they're super comfortable and the rubber handles don't slip or tear as other brands do. They have a few different sets. The standard sizes come in one set of aluminum hooks and the larger plastic hooks come in another. There's also a set of steel hooks for very fine work done with thread.
These Knit Picks needles are the absolute best and they last forever. These were my first knitting needles (14 years ago!) and they covered everything – I had different needle sizes, different cables lengths, I could work flat, in the round, whatever I wanted. The nickel-plated ones are my favorite, and there are some gorgeous wood options too. In the pictures below, I have them in a case that Knit Picks also sells, and some double-pointed needles I love too.
4. Tote Bags
A tote bag is a great way to carry around your WIPs and keep all the yarn for each project separate. It's also a fun way to show off your style and your craftiness. You can get tote bags from a bunch of different places so there are always ways to customize them to what you like or what your recipient likes. You can get custom designs printed on your tote from shops on Etsy, or get a ready-made one from Knit Picks. They're really nice and have such cute designs in all different sizes.
5. Custom Wooden or Leather Tags
If you sell your finished pieces, or you know someone who does, consider getting them custom tags to add to their work. This is one of my favorite things in this gift guide because it's a really simple and special way to show that you support them. It gives finished pieces a little more of a professional look and they're a fun way to advertise yourself. You can get these in a bunch of different styles and sizes from shops on Etsy. I had some gifted to me a few years ago and I loved them.
A tape measure is a must in any maker's toolkit, and this one is my favorite. It's smooth and durable, and it does what it needs to. This tape measure has outlived so many other cheap ones that get stuck or break, so I always recommend getting this one.
Are you noticing a trend with the Clover products? I'm a huge fan of Clover and they really do make the best tools for crafters. These stitch markers are used in every project and they're great. They open and close really easily, they're thin and small enough that they don't leave a gap in your work and they come in great colors. These are in a little container with some split ring markers from Knit Picks.
If you make hats, a pom pom maker is amazing to have, particularly these ones. You can my pom poms by hand, but using these pom makers is super easy and you get consistent poms. I also find these a lot easier to use than some of the others I've tried. They're also built really well and I'm never worried about the plastic breaking or getting scratched like with a cheaper option I had before.
Like the pom-pom maker, Clover also has a great tool for making tassels. The jumbo one is the best because you can make good-sized tassels with it and it's super easy to use. I was so happy to have this when I made my Twisted Cables Blankets and had to make 56 tassels!
There's nothing more annoying than a half-used skein of yarn that's falling apart, so I love having my ball winder on hand. I use this to wrap all of my yarn into nice stackable cakes when I'm done with a project so my stash stays neat and organized. It's also great for when you unwind a hank of yarn into a usable cake. This is a good size ball winder and much nicer looking than others out there, and it's built well too. I've had mine for years and even wrote a tutorial on how to use it!
If you use a lot of yarn that comes in a skein, get yourself a yarn swift so you can undo the hank and use it. My favorite is this Amish yarn swift. It's completely collapsible and you can take it apart to store it in its box, and reassemble it in seconds when you need it. It hardly takes up any space at all, doesn't need to be secured to a table and it spins silently! Love, love, love!
Some things need to be blocked to get the best results, and these are my favorite blocking mats to use for that. Blocking an item helps smooth it out and get everything into the right shape, so it's definitely worth taking the time to do for garments and anything that needs a precise shape. Blocking also really helps with stitch definition. These mats are thick, waterproof, and the grid lines help me make sure my pieces are even.
13. A Cute Notebook
I always have a notebook around specifically for writing down patterns and design ideas. A thick, hardcover, spiral-bound notebook is my favorite and it's even better if it has a fun design on it. My current notebook is this one from The Paper Studio, from Hobby Lobby. You can even get a notebook that's personalized or has dotted or grid paper inside – whatever suits you best. For me, a lined notebook is the most convenient to write down my patterns in.
I learned pretty early on that a pair of scissors last better and longer if they're used only with what they're meant for. Don't use your yarn scissors to cut paper and don't ever use them to cut hair! I have a separate pair of scissors for different things and one of my favorites is these pretty little scissors. I keep it on hand to trim yarn and they're always super sharp.
If you're into knitting and crocheting professionally, you'll have heard how important it is to step up your photography game. You can do a lot with a simple camera or smartphone, but a DSLR camera can take you far beyond that. For professional, high-quality results, you should invest in professional, high-quality supplies and this camera is my favorite. It does everything you need it to and isn't overwhelming with features most beginners won't need. All of the pictures on my blog are taken with this camera.
16. Luxurious yarn
You can never have too much yarn! Why not get someone a skein of that gorgeous merino wool that they wouldn't buy themselves, but would love to work with? I was gifted some Manos Del Uruguay yarn and I used it to make my Athena Gloves. You can also pick up a box of yarns curated into a value pack from Knit Picks. These come in different colors, yarns, and sets to suit your needs and they're so affordable!
I love books and the four above are my favorites. Stitch dictionaries like the Stitch Bibles are really helpful if you design your own patterns and want to learn some fun and interesting stitches. And the other two books are pattern collections that are just incredible. I'm not good at designing garments, but making baby clothes is one of my favorite things. These two books are full of amazing patterns, very clear and simple instructions and they are just a dream to work from. The One Skein Wonder is part of a collection and they have a One Skein book for all kinds of topics so just choose what you like to make!
Next up is the Addi Express knitting machine I bought one of these for myself a few months ago and it's amazing! I initially bought it to help me make more items for craft fairs and make them faster than I would be able to knit them traditionally. However, I've been using it for a lot more than that too. The kingsize machine is perfect for making beanies, ear warmers, and even blankets in no time at all, but it's also versatile enough to make more things with. It takes a little practice and experimenting, but this machine is the perfect gift for someone that finds traditional knitting hard on their hands or needs the speed and ease of the machine to boost the number of items they can make for sale or donations.
Gift Guide for Makers: Leveling Up!
So far, most of the gifts in this gift guide were all tools and accessories that I love and recommend. Another great idea for crochet and knitting gifts, whether it's for yourself or a friend, is a project or something hands-on. The next few things on the gift guide are all the fun things that I am so happy I tried out.
22. Pattern Kits!
Is there something you struggle with making? Something you want to learn but you don't really want to get all the materials for it? A pattern kit is a wonderful option – you can get them for any top and they come with everything you need at a lower price. I tried a crochet cardigan kit last year and it was amazing! I finally made a sweater I was proud of and it was less expensive than buying the yarn and pattern separately. It would make a great gift to have everything arrive in a handy little box.
There are a few places you can get pattern kits – my favorites are from Lion Brand Yarn, Knit Picks, and some individual sellers on Etsy also have some.
There are a few places you can get pattern kits – my favorites are from Craftsy, Knit Picks, Lion Brand and some individual sellers/bloggers on Etsy also have some.
If you're a knit/crochet entrepreneur or you know someone that is, get this course! It's been the biggest game-changer for my business and if you want to see results with your Etsy shop, this will help. I've been in the Masterclass since last November and it's really helped me redefine my brand, fix my shop, and make more money. Because even though the course is pretty expensive, it helps you make all that money back and sets you up to continue growing. I could talk about this for ages, and I did! So if you want to know more, head over to my last post to read my full review of the course and exactly how it's affected my blog and business!
This item on the gift guide is actually a set, but you can also pick and choose which one you want. These are the Make it Happen planners, a set of resources, printable cheat sheets, and guides that I designed to make sense of all the little things you have to remember when it comes to knitting and crochet.
There's the Resource pack with 23 pages of printable resources that we actually need and use. This planner includes to-do lists, checklists, and more to help you organize your crochet supplies. For everyone that's ever had trouble figuring out knit or crochet blanket sizes, how to make a hat fit, or making sense of knitting and crochet abbreviations, conversions, and materials, this Resource Pack has everything you need.
Then there's the Designer Pack which is the perfect tool to help you start or streamline your knitting and crochet business. Whether you're taking orders on a small scale for family and friends, or opening your own shop, this pack has resources neatly laid out for you in a 28-page ebook.
Last but not least is the Guidebook. The guidebook is the monthly planner for makers! Set goals for the year, mark the important days in the year at a glance calendar, and make it happen this year! This resource is a printable guide to help you get the big things done by breaking them into smaller goals and planning out what you need along with motivational quotes to help you through the year.
25. Yarn Subscription Boxes
A great way to try new yarn is to sign up for a yarn subscription box. Not only is it fun to get yarn in the mail, but you can also get other special items too! The KnitCrate membership is great because they send you 1-2 skeins of premium, exclusive yarn, a knitting pattern, and a crochet pattern designed for that yarn, and promo codes and coupons to use on their shop and their partner shops!
You can choose the color vibes and different membership plans so it suits you or the one you're gifting it to. Each box is $25/month, and there's an option to prepay for 3 months if you want to try it out or get it as a gift for someone else!
26. Support!
And last but not least, this is for all the family and friends that want to help out your budding entrepreneur, but aren't quite sure how. Running a business takes time and money and sometimes your maker friends need help! They may not ask for it, and they may refuse it if you offer, but a little bit of support goes a long way.
One way to show your support is to spread the word! Whether you tell people in person and direct them to your friend's shop/blog or you spread the word by taking out some ads for them, everything helps. A friend of mine recently took out some ads for me and it was an incredibly kind way to show that they supported my work and brought me traffic and sales that helped my bottom line.
Another way to support them is to show up to events! I had 3 craft fairs this year and having friends and family come out to see it is a huge gesture of support. Even if they don't buy anything, showing that you value their work goes a long way and it's nice to have someone just show up for you.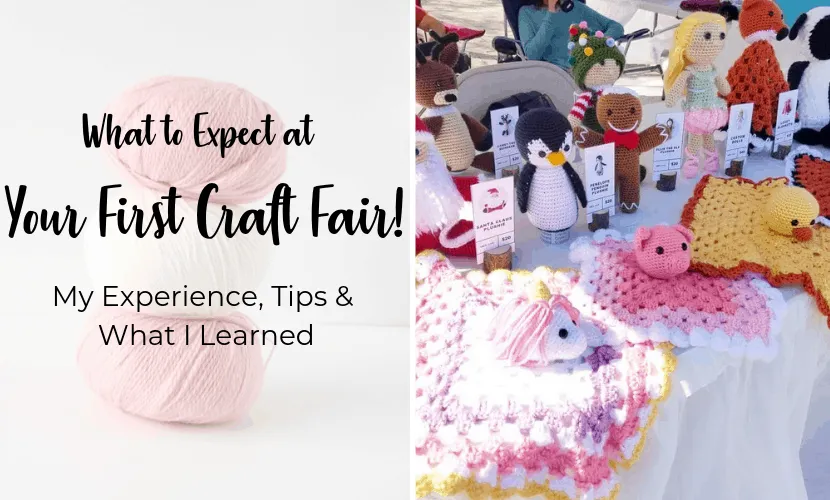 Thank you guys so much for reading this gift guide! I hope you found the perfect gift for someone crafty in your life and maybe added a few things to your own wishlist. What are some other crochet or knitting gift ideas you've received in the past? Let me know in the comments below and if you want more posts like this right in your inbox every week (along with freebies and patterns), sign up for the newsletter below!
See you soon 🙂
---
Visit my pattern shops on Ravelry, Craftsy, and Etsy to buy the printable PDFs of all my patterns. They're ad-free, comment-free and your support helps me run The Blue Elephants so I can continue publishing free patterns here.
My material lists sometimes include affiliate links (denoted with a *) for which I earn a small commission at no extra cost to you. I only link to products I personally use, love, and recommend. You can read more about this in my Disclosure.
I worked hard on this pattern, so please be respectful and do not sell or redistribute this pattern as your own. If you sell finished items made using this pattern, credit The Blue Elephants as the designer and link back to the blog post or the Etsy pattern link. For any other questions, read my Terms of Use or contact me.
---