When you first learn to crochet, it's all about getting your yarn to look vaguely like something else. You get caught up in making scarves and beanies, and really just enjoy the process of creating something. But sometimes we can pick up some bad habits that prevent us from doing the best work we can. So this year, let's work on not just making more stuff, but on creating pieces of higher quality and becoming learning to crochet better! I've put together a list of 10 good habits to build that will help you get better at your craft and hopefully make your crocheting easier too!
10 Habits to Make You Crochet Better!
Before we get into the list, keep in mind that it's a lot easier to change one habit at a time than to change all 10 things at once. Try to create a goal each month to incorporate a new habit into your crocheting so that over time, each of those habits becomes second nature. You can keep track of your goals, whether it's creating these new habits or any other crochet goals you have, in the new Make it Happen Guidebook! I'll tell you more about that in a bit, but let's get onto the habits for better crochet!
1. Count your stitches
This is a super simple one that might seem obvious, but it's really important! Get into the habit of counting your stitches. It makes it so much easier to keep your project straight, even, and correct. If you have trouble with your squares getting a little wonky or the edges of the work not being even, it's most likely because of inconsistent stitch counts. Mark the first and last stitch with stitch makers if you don't want to count every stitch as you go, but counting your stitches really helps to create more even and consistent work.
2. Make Gauge Swatches
When you're working on a project where size and fit matter, like garments or blankets, take the time to make a gauge swatch. It takes 10 minutes, but it will help you get the sizing right from the beginning. Instead of having to frog a project halfway through because it doesn't fit, you can work on your project confidently, knowing that your gauge is correct.
A gauge swatch is basically just a square worked up in the pattern using the hook and yarn you intend to use for the finished project. You make a square about 4 inches on all sides and then count how many stitches and rows you have in an inch or 4 inches (whatever the pattern specifies). If you end up with more stitches or rows per inch, you may need to move up a hook size. If you get too few, move down a hook size. Adjusting this now with the gauge swatch saves you so much time and trouble when it comes to making the finished piece!
3. Read Patterns all the way through!
Another great habit to build is to read any new pattern all the way through before you begin. It'll help you get an idea of how the pattern comes together and if there's anything you don't understand. You can look up those techniques beforehand and practice them. You can also take the time to highlight any sizing instructions or different terms that you need to know. By working through the pattern before you pick up your hook and yarn, it will make it so much easier to follow the pattern and make a great piece.
If you don't know how to read patterns, there's no better time than now to learn! It's pretty simple once you know the terms and being able to read patterns really opens up a world of new things you can make. I have a guide on how to read crochet patterns here, along with some freebies to help you get started!
4. Read the Yarn Labels
There is so much information on a yarn label and sometimes even a free pattern! If you've ever been confused about how to treat a specific yarn or what hook you should use with it, this one is for you. Yarn labels have all that information and more. You can check the color names and dye lots, care instructions and so much more. Reading yarn labels is a topic on its own and I wrote a post detailing everything you can find on a yarn label and what to do with that information. You can read it here.
5. Stop using bad yarn
While we're on the topic of yarn… let's talk about yarn quality. The quickest and most visible way to have better crochet is to use better quality yarn. Now, this doesn't mean you need to spend a ton on fancy yarn. But if you look at the feel and quality of the yarn as well as the price, your finished items will look nicer.
Take these two yarns for example. Red Heart Super Saver is an affordable yarn that most beginners start with. And Yarn Bee's Soft Secret is my favorite yarn for amigurumi and blankets. While there are uses for it, Red Heart yarn is not soft; it's scratchy and rough when most of the time you want something soft. Yarn Bee's yarn is incredibly soft and smooth which makes it easier to crochet with and it has a pretty sheen. Both are $4.50 at regular price and Yarn Bee has 40 yards more per skein.
Look at these two penguins – one is Yarn Bee yarn and the other is Red Heart. Both are made with the Penelope the Penguin Pattern. Price aside, Yarn Bee is the better choice here. Next time you shop for yarn, think about the feel of it and how it'll be washed. How will it be used? Choosing the higher-quality yarn will give you better quality results.
6. Learn to properly weave in ends!
Weaving in ends is probably the least interesting part of crochet, but take the time to do it right. To avoid having your ends stick out of a project, make sure to cut a long tail and weave it in well so it stays put. I like to weave my ends in one direction first, going both through and under the stitches, then turn and weave in another direction. By working the tail end in a few different directions, you make it far less likely that it'll work itself loose and show through the work. When you're done, snip the excess yarn as close to the fabric as you can without cutting the project.
7. Use invisible decreases and bind offs
This little trick is the BEST thing I've learned and it works with everything, but especially amigurumi. To make an invisible decrease, insert your hook under the front loop only of the next two spaces you want to decrease, yarn over and pull through BOTH loops, then yarn over and finish the SC. This makes a much less bulky stitch than a regular decrease and it disappears entirely.
Similarly, use an invisible bind off to finish your project neatly too. I show how to do this when you're binding off in the round, but it works anywhere.
8. Use Magic Circles instead of Joined Chains
This one is pretty self-explanatory, but it's a game-changer. Anytime you come across instructions to start a closed circle with a couple of chains slip stitched together to form a ring, use a magic circle instead for a cleaner look. Magic circles give you a nice tight center that doesn't let any stuffing out (perfect for amigurumi) and it's easier to do than making a ring with chains. You can check out my tutorial here.
9. Blocking
Take the time to block your finished pieces! Not everything needs it, like beanies or amigurumi, but a good blocking can help garments, blankets, and other items look more finished. You can use it to flatten out curvy edges or get slightly wonky pieces to the right shape, or you can use it to define your stitches and open up mesh or lace pieces. I have a whole guide on what blocking is and different ways to go about it in the post below.
10. Try new things
And finally, the best way to become a better crocheter is to try new things! Learn new skills and techniques, try something you've been intimidated by, and you'll get better at crochet. New skills may be tricky at first, but so was crocheting in general and you figured that out. So practice, learn, and ask for advice when you need it. You'll be well on your way to becoming a better crocheter in no time!
Make It Happen Planner Set
At the beginning of this post I mentioned the Make It Happen: Guidebook for Makers. It's a monthly goal planner that's perfect for makers who need the space to figure out how they'll get things done in time.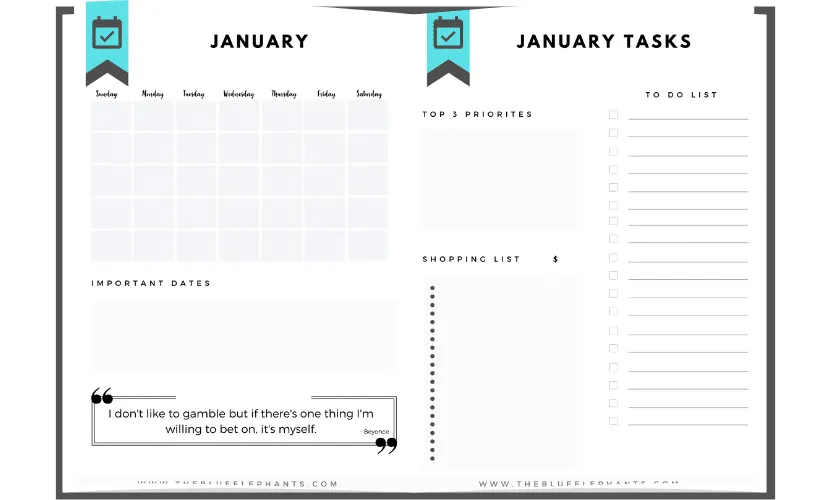 This year's guidebook includes pages to help you set up smart goals that you can achieve, monthly and weekly planner pages to keep track of all the things you need to make and do, year at a glance pages, and review pages to see how it all went. You can grab your copy over in my shop here along with more in the Make it Happen Planner Set!
There's also the Resource Pack and the Designer Pack, two additional ebooks that are filled with cheat sheets, sizing guides, trackers, and so much more to help you make crocheting and knitting as fun and simple as possible. Not only can these help you manage your time, but you'll also become a better crocheter by getting the sizing right, pricing fairly if you sell your work, and generally spending less time worrying about the little things. Instead, you can spend more time crocheting, and that's always a win!
Let me know in the comments below what your goals are for 2021. What's one thing you want to learn this year?
Thanks so much for reading! If you liked this post, be sure to subscribe to the newsletter down below and you'll get new patterns, tutorials, and tips delivered right to your inbox every week. That's all for now.
See you soon 🙂
---
Visit my pattern shops on Ravelry, Craftsy, and Etsy to buy the printable PDFs of all my patterns. They're ad-free, comment-free and your support helps me run The Blue Elephants so I can continue publishing free patterns here.
My material lists sometimes include affiliate links (denoted with a *) for which I earn a small commission at no extra cost to you. I only link to products I personally use, love, and recommend. You can read more about this in my Disclosure.
I worked hard on this pattern, so please be respectful and do not sell or redistribute this pattern as your own. If you sell finished items made using this pattern, credit The Blue Elephants as the designer and link back to the blog post or the Etsy pattern link. For any other questions, read my Terms of Use or contact me.
---