This week, I wanted to share a pattern for a crochet beanie that was perfect for Fall and an easy unisex pattern. Some of my other free crochet beanie patterns are pretty feminine so for this one, I wanted a design that works for men too. I chose a houndstooth pattern in red and black for something that's a little more subtle and wearable than my Pumpkin Spice Beanie. So, let's get right into the free crochet beanie pattern!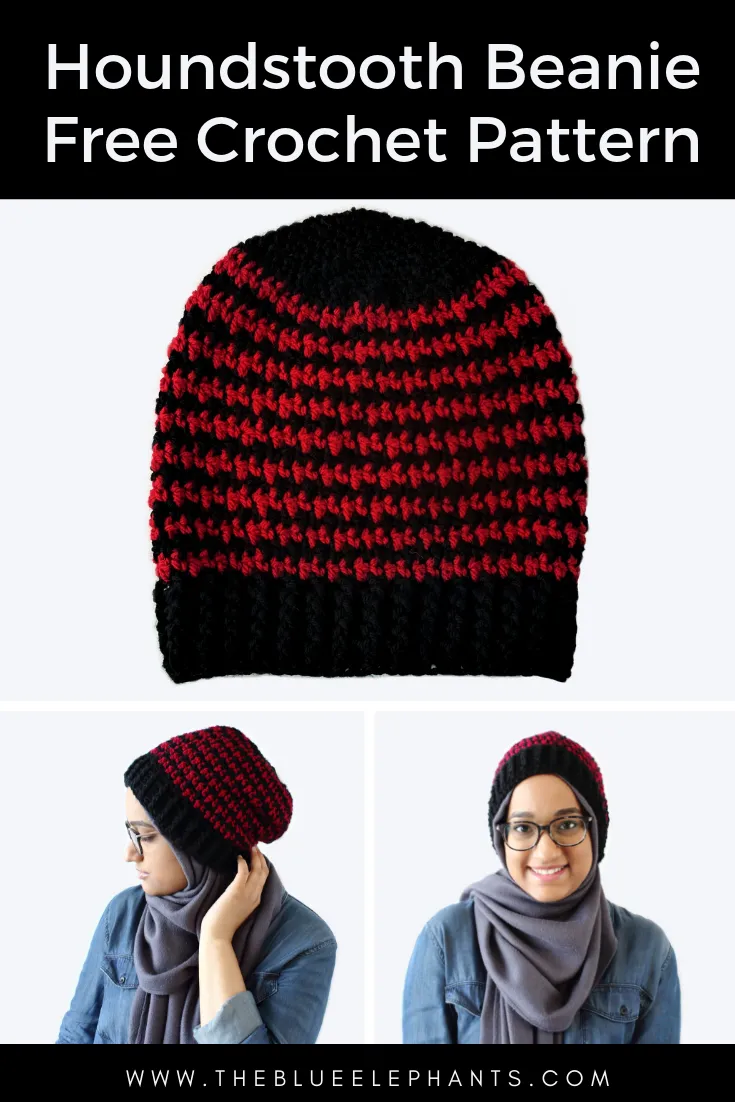 Houndstooth is interesting; it's warm and mysterious like a cabin in the woods. It feels comforting somehow and reminds me of Sherlock Holmes. It's not quite checked, but it has the same duotone look without being as serious as the straight lines of checked designs. This crochet houndstooth beanie is super simple to do and only uses single and double crochets, so it's a great beginner project. It's usually done in black and white, but I switched out the white for red to make it a little less harsh and add some color.
This was meant to be a men's beanie pattern, but I love the way it looks on me too. It's so easy to wear and I think it suits everyone. I've made a few of them now and I'm excited to take some along to a craft fair I'm participating in this October. Last time, I had quite a few guys come to my booth to look at hats, but they were all women's. Hopefully, I'll do a little better bringing some of these along for the guys!
The full free pattern is written out below. For those who'd prefer to print the pattern and take it with you for on-the-go and to markup as you go, you can buy the inexpensive printable PDF from my Etsy and Ravelry shops. The PDF is formatted without ads or comments, so it's easy to read.
Materials:
Abbreviations:
ch – chain
FDC – foundation DC
FPDC – front post DC
BPDC – back post DC
SC – single crochet
DC – double crochet
sl – slip stitch

Pattern Notes:
Skill level: Beginner
Sizing: Small (21″) – additional sizing in the PDF
Gauge: 4S x 3R per inch
Houndstooth Free Crochet Beanie Pattern
Round 1: Using the black yarn, work 60 FDC. Basically, chain 4, YO and insert the hook into the first chain, pull up a loop to make a chain, then YO and finish the DC as normal. For each FDC after, YO and insert your hook into the chain made with the previous stitch.
Round 2: Chain 2, *FPDC, BPDC* around. Then slip stitch to the top of the chain 2 to finish the round.
Rounds 3-6: Repeat round 2 for another 4 rounds. This creates the ribbing of the houndstooth beanie.
Body
For the body of this free crochet beanie pattern, I alternated between rows of red and black, carrying the unused color up the side of the hat. This cut down on having to weave in the ends and I didn't have to worry about any of those joins ever coming apart.
Round 7: Using black yarn, chain 1. *SC 1, DC 1*and repeat around the hat. At the end of the round slip stitch to the chain 1.
Round 8: Using red yarn, chain 2. *DC 1, SC 1* and repeat around the hat. At the end of the round slip stitch to the chain 2.
Rounds 9-25: Continue alternating between round 7 and 8 until the beanie is 8.25 inches tall and you end on a black round (60). This creates the pattern for the houndstooth beanie.
Cut the red yarn and use only the black to finish the top of the hat in continuous rounds now.
Round 26: DC 1, *SC, DC2tog* all the way around. You should have 40 stitches now.
Round 27: *SC 6, decrease* around. (35)
Round 28: *SC 5, decrease* around. (30)
Round 29: *SC 4, decrease* around. (25)
Round 30: *SC 3, decrease* around. (20)
Round 31: *SC 2, decrease* around. (15)
Round 32: *SC 1, decrease* around. (10)
Round 33: Decrease around and then bind off (5). Trim the yarn and thread the tail through a tapestry needle. Run the needle through the front loops of the remaining stitches and pull to close the top. Secure the yarn, weave in the ends and trim any excess yarn.
And that's it! I hope you enjoyed this pattern and if you made it, tag me (@_theblueelephants) on Instagram so I can see it! You can check out some of my other free crochet beanie patterns here, as well as my knit ones. I'll be creating lots more this Fall so be sure to subscribe by entering your name and email in the box below to get free patterns, tips, and resources delivered right to your inbox!
See you soon 🙂
---
Visit my pattern shops on Ravelry, Craftsy, and Etsy to buy the printable PDFs of all my patterns. They're ad-free, comment-free and your support helps me run The Blue Elephants so I can continue publishing free patterns here.
My material lists sometimes include affiliate links (denoted with a *) for which I earn a small commission at no extra cost to you. I only link to products I personally use, love, and recommend. You can read more about this in my Disclosure.
I worked hard on this pattern, so please be respectful and do not sell or redistribute this pattern as your own. If you sell finished items made using this pattern, credit The Blue Elephants as the designer and link back to the blog post or the Etsy pattern link. For any other questions, read my Terms of Use or contact me.
---