C2C crochet is a different technique of crocheting where you work in diagonal rows instead of the regular horizontal rows. This style of crochet really took off a few years ago and it's still really popular, especially for crocheting blankets. With C2C you can work graphgans and images into your blankets easily and customize them with anything you like. I have a few C2C patterns available already, but today, I want to share with you a simple C2C crochet tutorial. So let's get started!
If you didn't already know, C2C stands for "corner to corner". That's because these patterns don't work back and forth along a horizontal or even vertical axis. Instead, you are working diagonally. You start at one corner and extend each row until you get to the width that you want. Then, you start decreasing until you get to the opposite corner. For this C2C crochet tutorial, I'll be working on a small sample square of 14 by 14 blocks. This is just one of the blocks for a blanket pattern I have coming up soon so stay tuned for that by subscribing to the newsletter here or at the bottom of this post.
Abbreviations:
ch – chain
DC – double crochet
sl – slip stitch

How to C2C Crochet: Tutorial with Video
For this sample, I'm using a DK weight yarn in Bernat Baby Coordinates and a 5.00mm crochet hook. You can work this pattern with any hook and yarn size you want though.
1. First, make a slip knot and chain 5.
2. YO and double crochet into the 3rd space from the hook and each space after. You'll have 3 DCs and a chain 2.
That's the first block done and it makes up that first corner.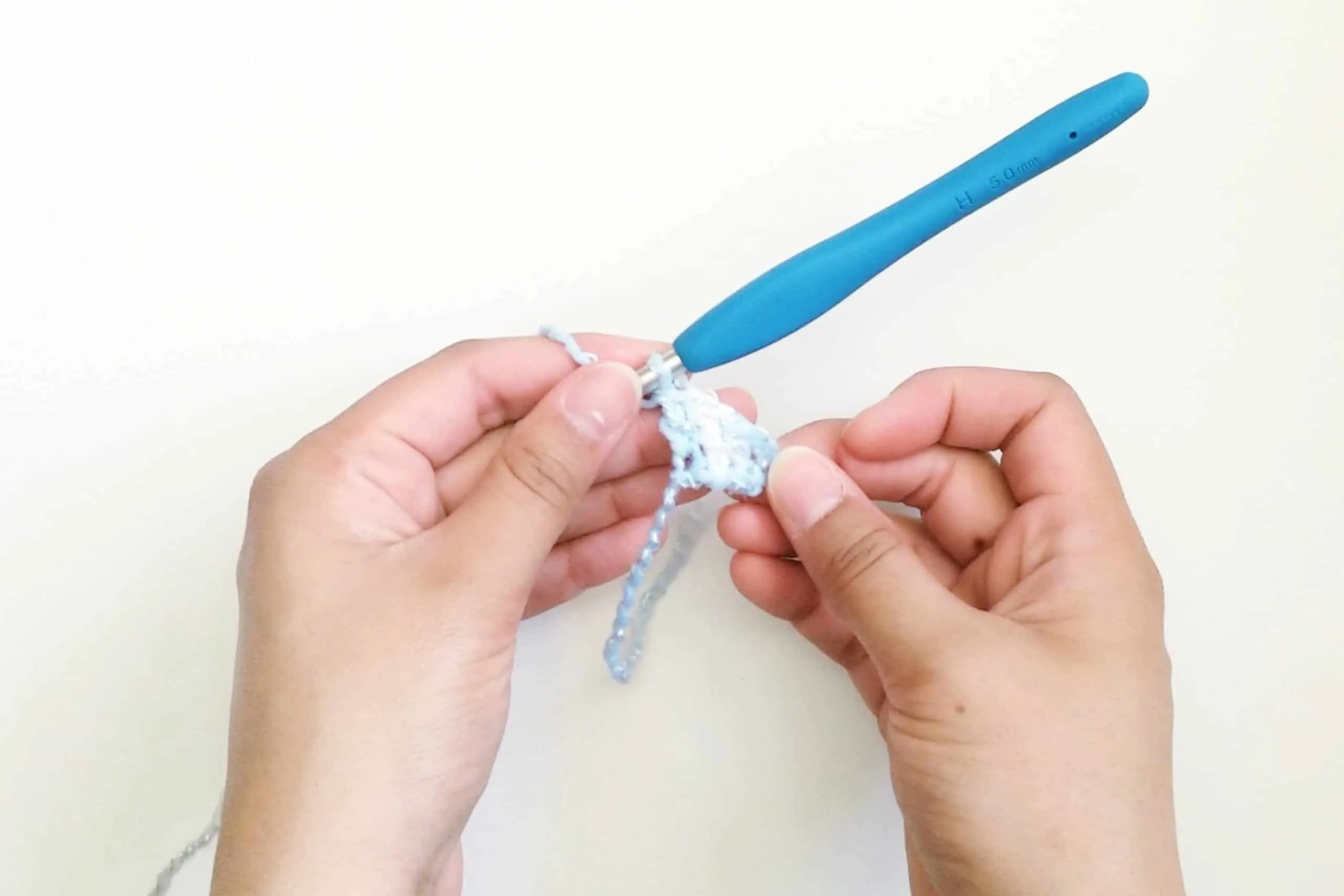 How to Increase
Next, we're going to learn how to increase for each of the next rows. Working in C2C is really just as simple as learning how to see the rows as a series of blocks rather than individual stitches.
3. Chain 5 to start the next row and DC 3 starting from the 3rd space from the hook. This is the first block of the second row.
4. With the two blocks stacked on top of each other, rotate the bottom one so that the ch 2 space lines up with where your hook is now. Slip stitch to the chain 2 space of the last row. This brings the two blocks together. Then chain 2 and work 3 DC into the chain 2 space to form the next block.
See how you increased the row by 1 block? The first row had just the 1 block and the second row has 2 blocks.
For row 3 and each increasing row after, you're going to do the same thing.
Chain 5, and DC 3 starting from the 3rd space from the hook. Rotate the work and sl st to the top of the ch 2 space of the last block.
*Ch 2, DC3 into the chain 2 space, slip st to the top of the next block*. Repeat from * to * until the end of the row.
Rotate the work to start the next row the same way.
The chain 5 at the start of each row increases each row by one block. You can continue this way until your project is as wide as you like, then you can start decreasing. For this square, I worked for 14 rows, then switched to the white yarn for decreasing.
How to Decrease
To decrease in C2C, you don't really decrease; you just stop increasing.
1. Slip stitch 3 times into each of the next 3 spaces. Because you didn't chain 5 and work the DCs, you didn't add another block. Instead, you flattened that side to create the top edge of the piece.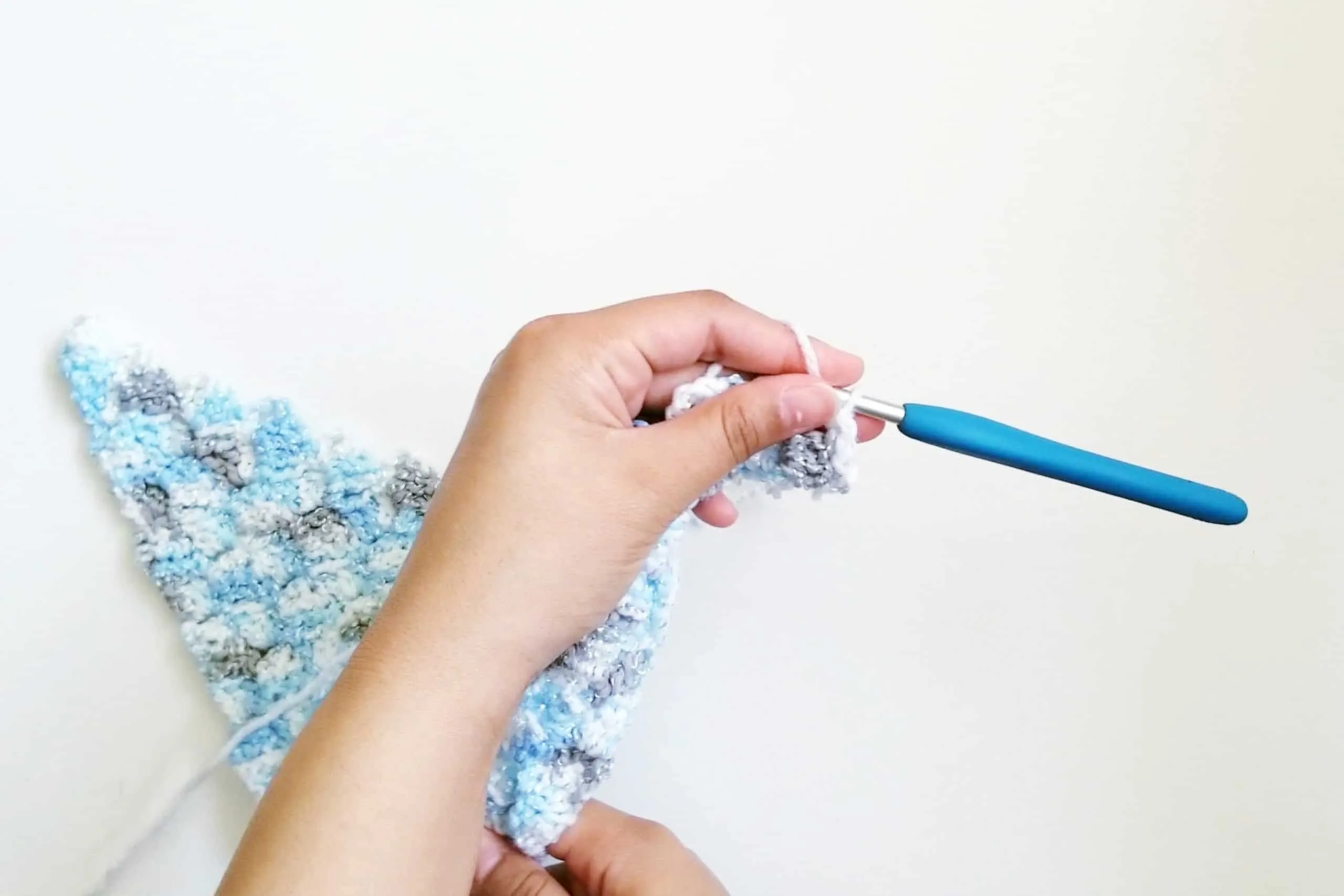 2. Now, it's business as usual. Work the rest of the row the same way you've been working this entire time. But instead of working the last block, your row ends when you slip stitch to the top of the last block.
Then, turn the work and repeat rows 1 and 2 to decrease each row by one block until you only have 1 block left.
See how easy that is? Once you know how to make the blocks, it's just a matter of building the blocks up and making the blanket wider. When it's wide enough, you stop adding and just continue with one block less in each row until you have the finished square. Then bind off as usual and you're done!
Watch the video below!
How to Read C2C Patterns
Crochet patterns usually write out the full steps and the stitches you need to work for each row. With C2C patterns, though, that's not the case. Some designers will include the instructions on how to the first few blocks, but since the pattern is pretty much always the same, you'll have color charts instead.
This is basically just like drawing something in graph paper and giving each color a full block. The charts tell you when you change color and how many blocks of color A should be in one row, then how many blocks of color B, etc.
Take a look at this graph below.
You're starting at the bottom left corner and working up to the top left. You could work on a C2C chart from any corner, but this is the easiest way for me.
The first 12 rows are all works in white, so no trouble there. Row 13 has some color involved though so it would be written as something like this:
Row 13: 2W, 9R, 2W – each letter represents the color to use and the total number of blocks equals the row number. It helps to have a ruler and cross off rows as you work through the chart so you don't get mixed up.
And that's all there is to this C2C crochet tutorial! Give this little heart sample a try and let me know how you get on with it. Be sure to also watch the video if you need helping seeing how the blocks turn and join to each other. It may sound confusing but it's very easy once you actually pick it up and start working. You can also check out some of my other C2C blanket patterns down below. The one I'm working on in the video will be up soon too!
Thanks so much for reading! If this C2C crochet tutorial helped, please share it on Pinterest so others can see it too. And if you enjoy learning new crochet techniques, stitches, and patterns as much as I do, be sure to subscribe down below to get the weekly newsletter. It's totally free and you'll get new patterns, tutorials, and more sent right to your inbox every week!
See you soon 🙂
---
Visit my pattern shops on Ravelry, Craftsy, and Etsy to buy the printable PDFs of all my patterns. They're ad-free, comment-free and your support helps me run The Blue Elephants so I can continue publishing free patterns here.
My material lists sometimes include affiliate links (denoted with a *) for which I earn a small commission at no extra cost to you. I only link to products I personally use, love, and recommend. You can read more about this in my Disclosure.
I worked hard on this pattern, so please be respectful and do not sell or redistribute this pattern as your own. If you sell finished items made using this pattern, credit The Blue Elephants as the designer and link back to the blog post or the Etsy pattern link. For any other questions, read my Terms of Use or contact me.
---