One of the questions I get asked most often is about crochet blanket sizes. Usually, someone wants to resize one of my baby blanket patterns into a larger throw, and sometimes it's the other way around. Other times, people just need to know the measurements of different types of blankets. I get these questions all the time, so today I'll be explaining how to customize any pattern to be the right knit or crochet blanket sizes.
For this tutorial, I'll be using the Blanket Sizing Guide linked below. Just click the image below to download it for free. This guide is part of a large set of resources called the Make it Happen Resource pack. If you want to check out the rest of the resources included in it, you can get all the information at the end of this post, or purchase the planners here.

Standard Crochet Blanket Sizes
Let's start by taking a look at some of the standard crochet blanket sizes. There are a lot of different sizes you can make your blankets, and when I came up with my sizing guide, I put together a list of the most common sizes recommended.
You might see variations in other patterns and lists, but in general, they only vary about an inch or so depending on the designers. There are 17 sizes included in the cheat sheet, from tiny loveys to king-sized throws. I usually stick to making my blankets in either a receiving size for babies or as small throws.
Simple Blankets
If you're starting from scratch and creating your own pattern, all you need to do to make your blanket the size you need to get the right length and width. Regardless of the hook size and yarn you're using, start by creating a chain that is slightly shorter than your desired blanket width.
This is my Oasis Blanket Pattern, and it uses simple, even stitches to get the right length and width I needed.
So, if you take a look at the chart, a stroller blanket should be 30 inches wide. Create your chain to 29 inches (because it will stretch a little and it gives you room for a border). If you're working in a simple stitch, all you need to do now is work as many rows as it takes to get to the right length, which is 36 inches in this case.
Working with Repeats & Stitch Patterns
When you work with patterns that involve a stitch repeat, there's a little more math involved but once you know how to do it, it's easy. For example, my Summer Waves Blanket uses a multiple of 12 + 3 to start with. I made that blanket as a receiving blanket of 40″ x 40″ using a foundation chain of 159.
In order to resize that crochet blanket pattern to a large throw 52″ wide, use this formula:
Original chain/original width = sts/inch (round to the nearest whole number).
159/40″ = 3.9, rounded to 4 sts/inch – if you have a good pattern, this is already in the gauge but it always helps to check!
sts/inch x desired width = new chain (approximate).
4 sts/inch x 52″ = 208 chains.
Now we just need to adjust the new chain number so that it works with our stitch pattern. Since we know that the repeat is a multiple of 12 + 3, we need our chain to be divisible by 12. This will tell us how many repeats we need for a 52″ blanket.
approx chain/12 = 208/12 = 17.3 repeats
We can round 17.3 down to 17 repeats of the pattern and get our new chain like this:
# sts per repeat x # of repeats + sts added to foundation = new starting chain
12 x 17 + 3 = 207 stitches
And that's how you customize the width of your blanket! Now all you do is start working the pattern and continue until the blanket reaches the right length, which is 60″ in this case.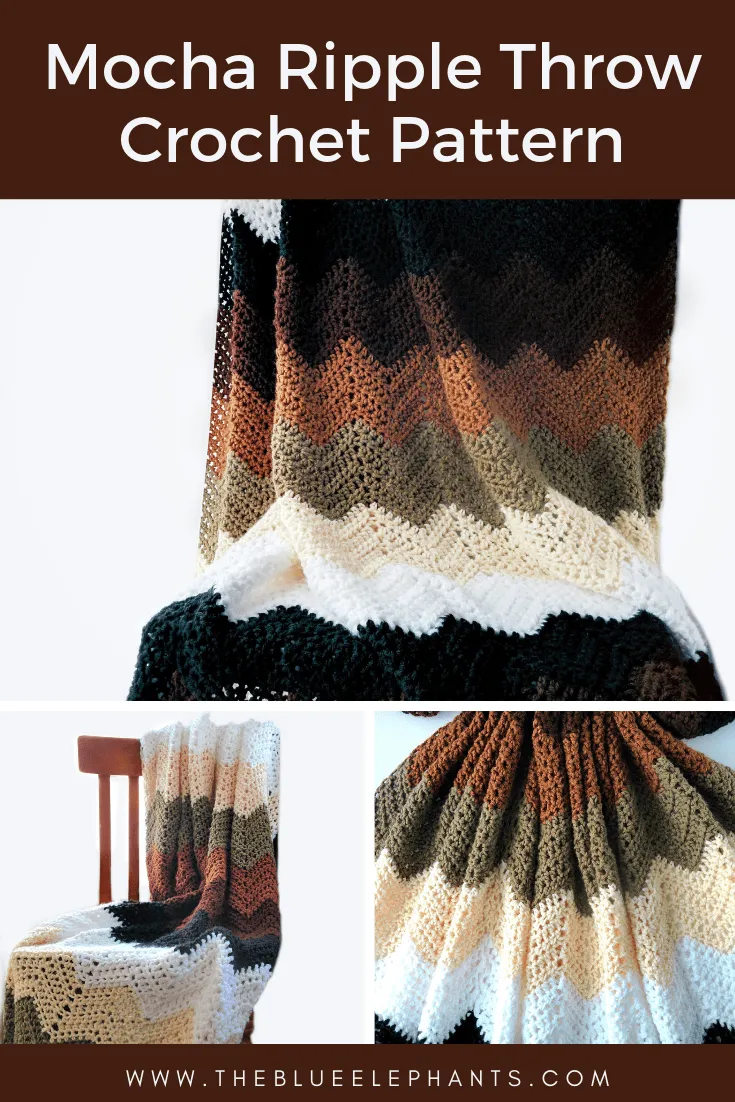 Working with Shapes
Another way to resize crochet blanket patterns involves blankets that are made up of different shapes seamed together. For example, my Hudson Blanket is made up of hexagons that are all joined together after each is worked separately. The simplest way to resize these kinds of blanket patterns is to start by making one section first.
My pattern uses hexagons, so I would make one hexagon first and measure it to see how wide it is. Mine came to 5.5 inches across. If I wanted to make this blanket in a large throw of 52″ by 60″, the next step is to decide how many hexagons you need to fill that space.
You can round down to make 60″ easily divisible, and you'll get 12 hexagons for the height. And divide 52″ by 5 to get 10 hexagons per row. Then it's just a matter of finding the area:
# of hexagons per row x # of hexagons for height = total hexagons needed
12 x 10 = 120 hexagons total
Now, the only thing about this pattern is that hexagons are an odd shape, so you won't get straight edges all around. If you want to keep that honeycomb edge, you can continue working as is. But to get the edges on two sides straight, you'll need to make some half hexagons too and that will change your total hexagon count.
To deal with that, I suggest making 110 hexagons, then laying them all out and deciding how many half hexagons you need to finish the blanket. If you went ahead and made all 120, then added the halves, you would end up with a bigger blanket than you planned for.
Working with Squares
Customizing crochet blanket sizes for patterns that use simpler shapes like granny squares is similar to the way we did the hexagons, only easier.
Make the first square and measure it just like with the hexagons. Then divide your desired height and width by that number, rounding to the nearest whole numbers, to get the number of square per row and the number of rows you need.
Multiply the two numbers to get the total number of square you need to make. Unfortunately, I don't have an example to show you at this moment, but whenever I make a granny square blanket, I'll be sure to add it to this post for a more thorough look at how to resize it.
Grab the Blanket Sizing Guide
I hope this helped you understand how to customize blanket sizes to suit your needs. This method works for any size you want to make. Just replace the sizes I used with yours and you should be able to work out the math from there. All of this also applies to knit blanket patterns as well. Once you figure out the number of stitches you need per inch, it's easy to size up or down and then just adjust for the number of stitches you need in the repeats.
If you haven't already, don't forget to grab the Blanket Sizing Guide below to get all 17 standard blanket sizes in a handy little PDF. It's totally free, but if you would like even more resources like it, check out the Make It Happen Resource Pack.

These are a set of three planners I've worked up to make knitting and crocheting easier and more organized. Each pack focuses on a different idea, and they're all meant to work together so you can spend less time fussing and trying to make sense of things and more time actually enjoying your craft.
The first is the Guidebook, a monthly planner for crafters where you can set your goals and plan your projects while keeping track of anything you may need to get things done. It also includes quotes to keep you motivated!
The second is the Resource Pack, which the Blanket Sizing Guide is part of. It's 23 pages of resources, cheat sheets, abbreviations, conversion, size guides and more to take the guesswork out of your crochet and knitting. I packed in everything I've learned in the last 10 years into this resource pack so you don't have to go searching for it. Trust me, it's the last resource you'll ever need.
The last is the Designer Pack, a workbook for aspiring designers and shop owners to help you figure out your brand, your inventory, manage orders, incomes, and expenses all in one place. In its 28 pages, it has everything from tracking your projects, jotting down your ideas, and figuring out how to price your items. These are the tools I use daily to run my business and I hope it helps you run yours
All three packs are available over on in my shop! They follow the same layout and format so all your pages match and look consistent with their clean design. Go ahead and check them out here.
If you enjoyed this post on customizing crochet blanket sizes, please share it, it helps a ton! You can also get all my latest posts delivered right to your inbox every week when you sign up for the newsletter. You'll get free patterns, tips, and freebies only available to subscribers, along with full access to my resource library. It's completely free, just fill out the box below and you're done!
See you soon 🙂
---
Visit my pattern shops on Ravelry, Craftsy, and Etsy to buy the printable PDFs of all my patterns. They're ad-free, comment-free and your support helps me run The Blue Elephants so I can continue publishing free patterns here.
My material lists sometimes include affiliate links (denoted with a *) for which I earn a small commission at no extra cost to you. I only link to products I personally use, love, and recommend. You can read more about this in my Disclosure.
I worked hard on this pattern, so please be respectful and do not sell or redistribute this pattern as your own. If you sell finished items made using this pattern, credit The Blue Elephants as the designer and link back to the blog post or the Etsy pattern link. For any other questions, read my Terms of Use or contact me.
---