It's craft fair season! I've always loved the thought of craft fairs, but this year, I got the bug and participated in my first one! It was a spring fair just to get my feet wet but I learned so much in that experience that I signed up for 2 more this Fall. As I prep for my own fair, I thought it might be helpful to share my process with you and walk you through some tips and tricks I've found. If you're new to craft fairs and feeling a little stressed out, I hope this helps you get organized. And if you've been doing fairs for a while, maybe you'll find something new here or you can share your tips in the comments!
How to Prepare for a Craft Fair
Break out those calendars because we are going to get the next few months planned and ready to go! I'll be using my Make it Happen Guidebook in this post. It's a craft planner and calendar that I designed specifically for makers so it's perfect for this. You can grab a copy here, or just follow along in your regular planner.
Mark the date of the event
Once you're accepted to a craft fair, the first thing you want to do is mark the date and place it in your calendar and on your phone. You'll be working towards this date so be sure you don't double book yourself or forget!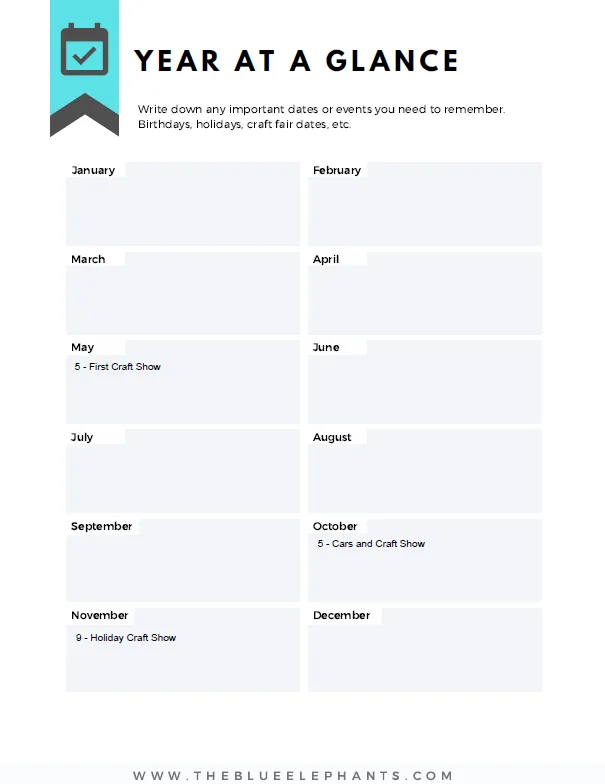 Work Backwards
With your end date set, it's easier to work backward to plan out what you need and how much time you have to make it all come together. My fairs are in October and November. I won't have much time between the two fairs to prep the second batch of items, so I set my end date in October. That's when I need to have enough for both fairs ready. This gives me about 2 months to prep for my craft fair.
1 week before
With only a few days in October before the fair, I'll focus on the final details in the last few days. I set my goals to be more administrative tasks like checking that my display is good, deciding on who I'll bring with me, and making sure I have everything. This hopefully gives me a little bit of a rest before the big day!
1 month before
Then going back to September, I plan to make the bulk of my products. Specifically, the ones I know I can do a bit quicker. By the end of September, I want to be done creating inventory. Once my products are made, I can move on to tagging and pricing everything so I don't have to worry about it just before the event.
I also want to promote promote promote so I can get as many interested buyers to come to the show. This is where I'll be sharing to social media, family, friends, and just getting the word out.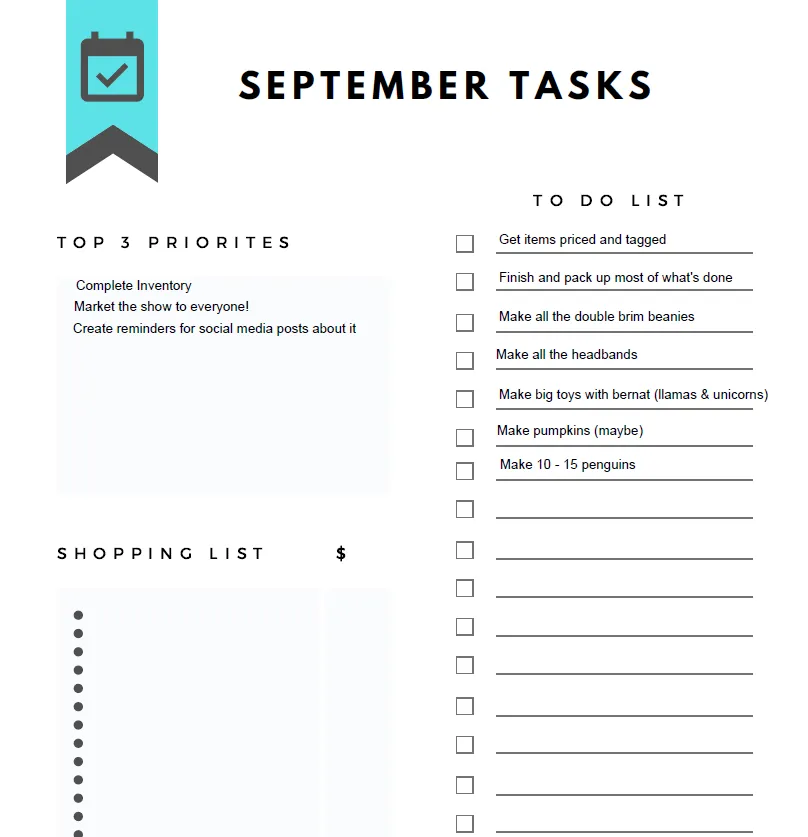 2 months before
In August, I decided to focus on all the things that will take longer to get done. Start early with these things so you have a little room just in case. Mainly, this means ordering supplies and deciding on what I'll bring to the show. I knew I'll be making my plushies and they take a little more time than other projects, so I planned to get the main ones done first. I also placed orders for things I would need like yarn, tags, a banner, and any displays I knew I had to get.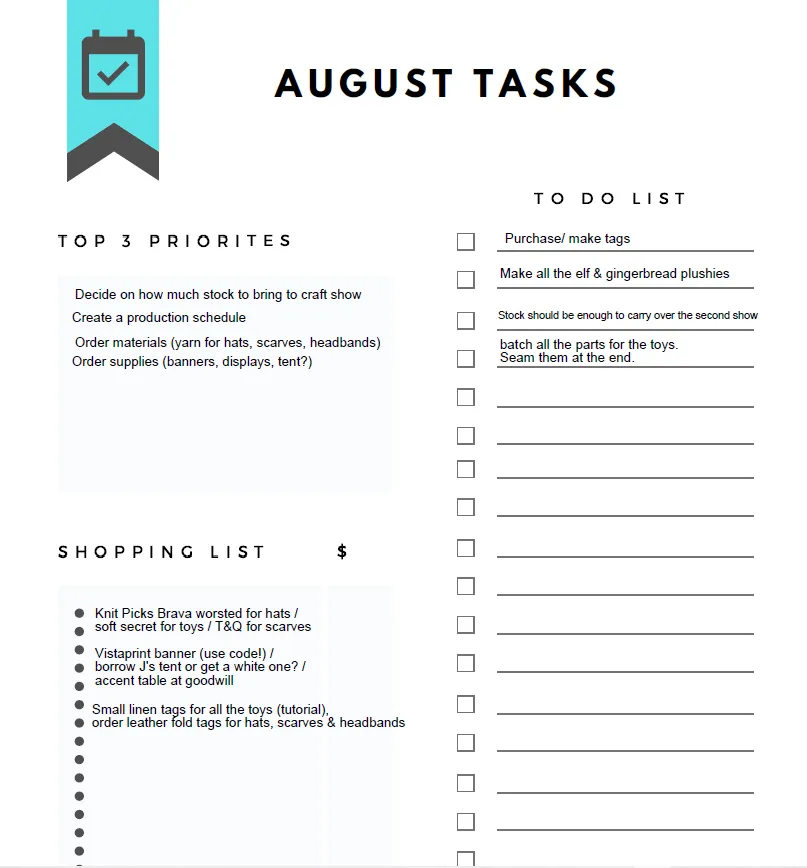 Getting Specific
Once I had a good idea of how I planned to get everything done in time, I could think about the details for each month and really hone in on getting things checked off that list. My August goal was to get all the elves and gingerbread toys made. With that in mind, I started working on them with the colors I already had – knowing that I need to make a certain amount helped me stay in check make what I needed, and move on to the next thing. Otherwise, I would just keep making as many as I could and end up with 100 elves and nothing else!
Create a shopping list. If you need to order yarn, think about the colors you need and what will go together best and place that order. I planned to do my beanies in September (or after I finished the toys) so I wanted to have the yarn delivered and ready to go when I was. I chose the colors, then placed the order.
Also, test out a few things you aren't sure about. I played with making my own linen tags (which I'll have a tutorial for soon), and a beanie I had in mind. This way, I could be sure I wanted to move ahead with the idea and everything looked good.
Prepping for a Craft Fair: Tips and Tricks
Now that we have everything planned and organized, it's time to actually start getting things done and checking them off our lists! Here I have a few tips and tricks that I picked up that have really helped me out. They've made my production faster and taken off a lot of the stress of being new to the craft fair scene. I hope they do the same for you!
Batch process everything you can!
Working in batches makes everything go by so much faster. With all the toys I needed to make, I found it too stressful to do one at a time. It felt like I wasn't getting anywhere and I had to keep checking the pattern to make sure the counts were right. Then I started batching my tasks.
I made all the arms first. Then all the legs. Then the bodies. By making all the like parts together, my brain was already familiar with the pattern and I could whip them out in no time. It was repetitive and I got more done that way without feeling overwhelmed. Then I seamed everything together at the end and I have all my elves done.
You can see in my planner that I wrote to do all the like items at once. When I finished, I could focus on the next thing and close the book on the first.
Do Your Research
I can assume you already do this since you're reading this post, but it's important. Take the time to seek information and learn what others have done, what worked, and what didn't. These are resources that are available to help you, so take advantage of that!
I've been looking up as much information as I could get my hands on for successful craft fairs. Between looking at booth displays on Pinterest, devouring Taylor Lynn and Olivia Hayward's market day vlogs and these tips from Friedia, I feel like I have a really good idea of what to expect and how I want everything to be.
Check Thrift Stores for Display Items
By far the hardest part of the whole craft fair game (to me) is figuring out displays and how much to pay for them, and knowing what's good but won't be too expensive or heavy, etc. I've been popping into the local Goodwill every time I pass by just to check for some of the bigger things I want but don't want to spend a lot on.
I needed an inkjet printer to make my labels, and I found one there for $5 with 2 cartridges of ink. I also found a professional dress form that I wanted to display scarves on for only $15! I'm still on the hunt for the right round table, but I've seen a lot of nice ones for around $4-5.
Ask for help
Save yourself the frustration of doing everything yourself and ask for help. Even if you're the only one that can knit or crochet all the things that need to be made, you can ask your family and friends to take on some of the other tasks. I have my sister cut out tags for me, my mom is also hunting for that table I need, and my cousin is lending me his tent. I also know I'll have my niece there on the day of the fair to help me set up and talk to customers like at my first show.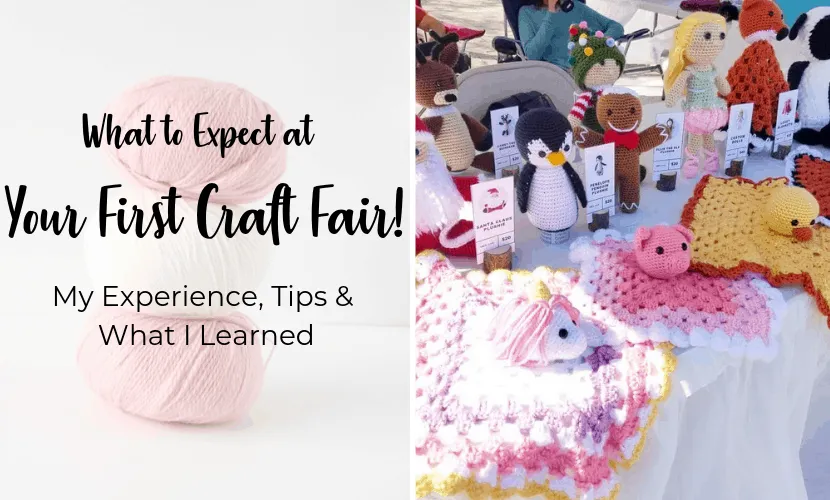 Craft fairs are exciting and it's so much better to have other people share in that excitement and take some of the stress off you so you can enjoy it. I still have tons to do but since I made this plan, I can breathe and I'm confident about getting it all done.
Make it Happen Guidebook
Like I said earlier, I used my Make it Happen guidebook to organize my time and ideas. It's part of a set of 3 planners I designed for knitters and crocheters (makers, in general), and they include everything you need to streamline your creativity. There's the Resource pack with all kinds of trackers, sizing guides, supply sheet, yarn, and hook/needle inventory, and more. There's also the Designer Pack with everything for creating a brand identity, taking custom orders, figuring out your pricing, and so much more.
I made these based on the things I actually use every day to run my business and I know they'll help you with yours. You can grab yours below!
Have you participated in a craft fair?
If you've been at the craft fair game awhile, share your tips below! Or let me know about your brand and what you sell. I'd love for us to all connect and learn more about craft fairs. You can also sign up for free using the box below and you'll get free patterns, updates, and tips delivered right to your inbox every week! That"s all for today.
See you soon 🙂
---
Visit my pattern shops on Ravelry, Craftsy, and Etsy to buy the printable PDFs of all my patterns. They're ad-free, comment-free and your support helps me run The Blue Elephants so I can continue publishing free patterns here.
My material lists sometimes include affiliate links (denoted with a *) for which I earn a small commission at no extra cost to you. I only link to products I personally use, love, and recommend. You can read more about this in my Disclosure.
I worked hard on this pattern, so please be respectful and do not sell or redistribute this pattern as your own. If you sell finished items made using this pattern, credit The Blue Elephants as the designer and link back to the blog post or the Etsy pattern link. For any other questions, read my Terms of Use or contact me.
---