Do you guys pause to read yarn labels when you're shopping or do you just feel it and pick a color? At first, I would find a yarn that was the right color and medium weight, and that worked for a long time. But as I branched out and started to learn more about how to make my crochet better, being able to read yarn labels really made a difference.
Today, I wanted to go over all that information hiding on the label and give you a couple of resources that should help with your knitting and crochet!
How to Read Yarn Labels
Go ahead and grab any ball of yarn you have. Some of the information may be arranged differently on labels from different brands, but they will all have the same information and use the same symbols.
1. Brand/Yarn Name
The first big text you see is usually the brand name or the name of that specific yarn. It's easy to spot and there's nothing tricky about it. This one is made by Big Twist yarns, and it's their Baby line.
2. Yarn Weight
Somewhere on the label, there's a block of little symbols. Sometimes, these three images won't be on the label, but the information will be written out. They're meant to tell you about the size of the yarn and what size needles/hooks the company recommends you use.
The first one is a picture of a ball of yarn and a number on the label. This symbol shows the yarn weight. It can be anywhere from 0-7 and it just tells you how thick the yarn is. The one I'm using is a #4, so it's a medium-weight yarn.
There are can be a few different types of yarn under each weight category. Here's a quick breakdown of the yarn weights:
0: This is laceweight, and it's really just a fine crochet thread.
1: This is superfine yarn, and it includes fingering weight, sock yarns, and some baby yarns.
2: Slightly thicker than #1, but still fine. Yarns in this category are sport weight and baby yarn.
3: Next is a lightweight yarn. These are DK yarns good for double knitting (hence the name) and light worsted yarns.
4: Medium weight is the most common and the one I used for most projects. This category includes afghan, worsted, and Aran yarns.
5: This is bulky yarn. It's also called chunky yarn.
6: Super bulky! This can also include roving, which is the wool that hasn't been spun so it's still fluffy and untwisted.
7: Lastly, there's jumbo yarn. This is the chunkiest of yarn and even thicker roving. It's the stuff usually used for extreme knitting/crochet and arm knitting.
To help you keep track of it all, I've put together a little cheat sheet for you below.
3. Gauge
The next two boxes are for determining the gauge of your knitting or crocheting with that yarn. It's an estimate, but it's a good way to see whether you need to work more tightly or more loosely for projects that need an exact gauge. Usually, you should follow the gauge and hook/needle size recommendations of your pattern, but this is a good reference point.
The image in the middle tells you whether it's referring to the knitting or crochet, and what hook or needle size is used. On one side, it'll say the measurement of the gauge square; here it's a 4 x 4-inch square, or 10 x 10 cm. On the bottom, where my finger is, you'll see the number of stitches you'll need to get a square the same size as the sample. Here, it's 18 stitches in knitting and 13 in crochet. On the other side, it shows how many rows make up the 4 inches; so, 24 rows for knitting, and 14 rows for crochet.
The hook/needle sizes for the swatch are in the box.
Both swatches used a 5.00mm hook or needles. Sometimes, this will be different and written out with the hook letter or needle number, as well as the measurement in mm.
If you know this information, and you know that you knit with the same gauge (or you do a sample), you can figure out how many stitches you need for anything. For example, if my gauge is the same as the sample, and I need to make a scarf that's 28 inches wide, I can do some simple math to figure out how many stitches to start with.
If I was knitting, 18 stitches x 7 (to get 28 inches) gives me 128 stitches to cast on.
For crochet, 13 stitches x 7 gives you 91 stitches in your foundation chain.
You can just start casting on or creating your chain without figuring out how many stitches you need, but it's usually easier to get it right the first time and know approximately how many you'll need than to go by trial and error. It saves you time and you won't have to frog anything.
This is a tool a use a lot when I need to figure out how to customize blanket sizes. If I come across a pattern that's written for a baby blanket, but I want to make it a queen-sized one, I can use the gauge to adjust the blanket to the size I want. I talk more about how I do that, along with examples, in this post.
4. Yarn Amount
This next bit is probably the most important reason to read yarn labels. This little section here tells you how much yarn is actually in one ball/skein/hank. The information is always given in a few forms so no matter how you measure your yarn, there's something for you. This particular ball of yarn is 2.8 oz / 80 grams / 147 yards / or 134 meters.
If you were working on something that needed 400 yards of this yarn, you can easily figure out how many balls to get. Just divide 400 by 147 yards and you get 2.72. Now you know that you'll need 3 balls of this yarn to finish your project. Get it all in one trip to the store and you won't have to stop midway!
There's a little bit of math involved in crochet and knitting, but it's all simple!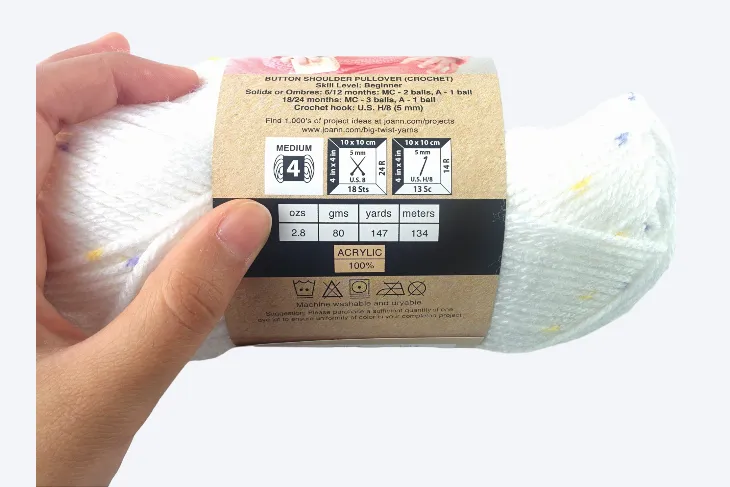 This section also has information about the fiber content of the yarn. This one is 100% acrylic, but you'll also see yarn with a mixture of fibers. The material is going to tell you how this yarn wears, how warm it'll be, what you can do with it, and how to take care of it, which we'll get into next. If you want to learn more about yarn fiber content and how to use it in your crochet, check out the post below!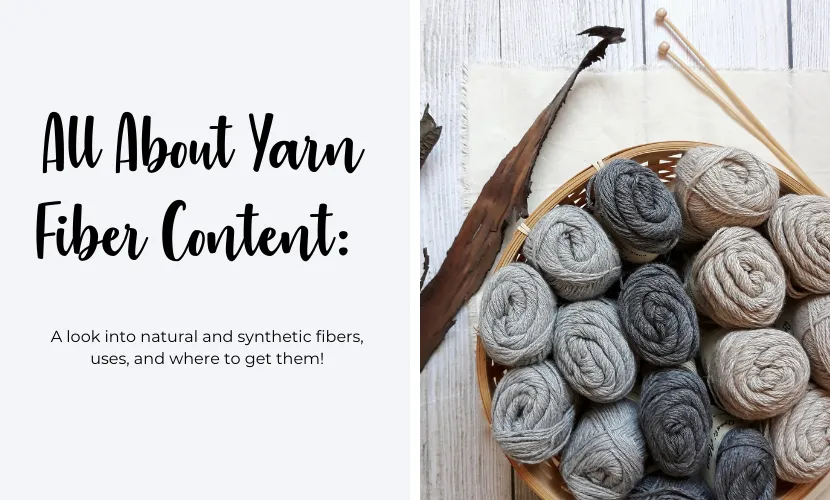 5. Laundry Symbols + Care Instructions
When I'm deciding what yarn to get, this is a helpful reason to read yarn labels. These symbols are the same as the ones you see in your clothing and they tell you how you should care for the yarn/finished item when you're washing and drying it.
This company also writes out that it's machine washable and dryable, but sometimes there are only laundry symbols. The first one means to machine wash at medium heat and with the permanent press on. The triangle with an X through it means not to use bleach. The third symbol is to tumble dry on low heat with a gentle cycle. The next image means not to iron anything made from this and the circle with an X through it means not to dry clean it.
I don't just have this information at the top of my head. I had to learn those laundry symbols and reference a little cheat sheet. I made it into a printable for you guys to download. Just click the image to get it!
For me, this section was incredibly useful when I started selling blankets and making items as gifts. I never want to give someone a gorgeous blanket that's a nightmare to wash and take care of, so I always look for machine washable and dryable yarn that still looks beautiful. Especially if I'm making baby items or clothing that's going to need washing often. And I include a note that briefly tells the customer how to wash the item. If you want more guides and cheat sheets like this, take a look at my Make It Happen Resources for Makers!
6. Color and Dye Lot Numbers
You may have noticed that little suggestion on the label to buy as much yarn as you need from one dye lot. This is where you find that information. Somewhere around the barcode, there's a little bit of info on the color number, color name, and the dye lot number. This is the color "Twinkle Little Star", and if I ran out of this while I was using it, I could easily just pick up another with the same name and it would be fine.
However, the dye lot number gives you a little more help. When the yarn is dyed, it's dyed in big batches, and not every batch is exactly the same color. I could pick up another ball of this yarn, but it might be more yellow than the first. Once, I made a sweater for my mom, and halfway through, I saw that the color was off. It had the same name, but the dye lot number was different and the second ball of yarn I was using was more of a dark purple than the navy blue I started with.
So, when you need a few balls of the same yarn, try to get them all at once and make sure the dye lot numbers match. This way, you'll know that all of that yarn was dyed in the same batch and is the same shade.
7. FREE Patterns!
You know those pictures on the front of the labels of a baby in a nice cardigan, or someone modeling a scarf made of the yarn? Well, a lot of the time, that pattern is actually included on the label! Sometimes it's a link to the yarn company's website where you can find the pattern, but most of the time, it's the full pattern.
You just need to take the label off by unsticking it where the ends meet. Taking it off this way just stops you from cutting off any part of the pattern. Then flip it over and voìla, a free pattern on the inside! This is why it's always good to read yarn labels. I like to keep some of my labels if I like the pattern so I can make it another time or for inspiration with some other yarn. They're also great for when you LOVE a yarn but have no idea what to make out of it.
Just like any pattern, all the information is right there, just in a smaller form. And by the way, you shouldn't post pictures of these patterns or share them with others. It's essentially something you paid for by buying the yarn. It would be the same as buying someone's pattern online and redistributing it to others for free. Don't do it.
Laundry Symbol Cheat Sheet
There are a ton of different symbols for taking care of your yarn or any clothing item when it comes to washing and drying. And although it's so incredibly useful to know that information, it can be hard to keep all the symbols straight. So I created a little cheat sheet with all the most common laundry symbols. Just print out and stick in your purse. Then, when you're shopping for new yarn and aren't sure what a symbol means, you can just reference this handy little guide!
When you spend the time to choose pretty yarns and make something handmade, you want it to stay in the best condition possible for as long as possible. And the easiest way to do that is to just read yarn labels and follow the care instructions.
I hope you guys liked this post and now know how to read yarn labels! I'm branching out and working on more informational posts so that along with free patterns, you guys get to know more about the tools, the techniques and all the tricks that go into crocheting or knitting anything.
If there's anything you're curious about or want to learn more about, let me know in the comments! Or, just comment below and tell me your favorite yarn and why you love it. I have a full list of all my favorite yarns and what I like them for right here if you want to take a look.
See you soon 🙂
---
Visit my pattern shops on Ravelry, Craftsy, and Etsy to buy the printable PDFs of all my patterns. They're ad-free, comment-free and your support helps me run The Blue Elephants so I can continue publishing free patterns here.
My material lists sometimes include affiliate links (denoted with a *) for which I earn a small commission at no extra cost to you. I only link to products I personally use, love, and recommend. You can read more about this in my Disclosure.
I worked hard on this pattern, so please be respectful and do not sell or redistribute this pattern as your own. If you sell finished items made using this pattern, credit The Blue Elephants as the designer and link back to the blog post or the Etsy pattern link. For any other questions, read my Terms of Use or contact me.
---