I wanted to share a neat trick with you guys today. I'm sure everyone has picked up a skein of acrylic yarn that wasn't exactly soft. You bought it, used it, and hoped the end result would be okay, but then your hard work just felt stiff and scratchy at the end. You put time and effort into it and you really don't want to start over, so what do you do? How can you soften acrylic yarn?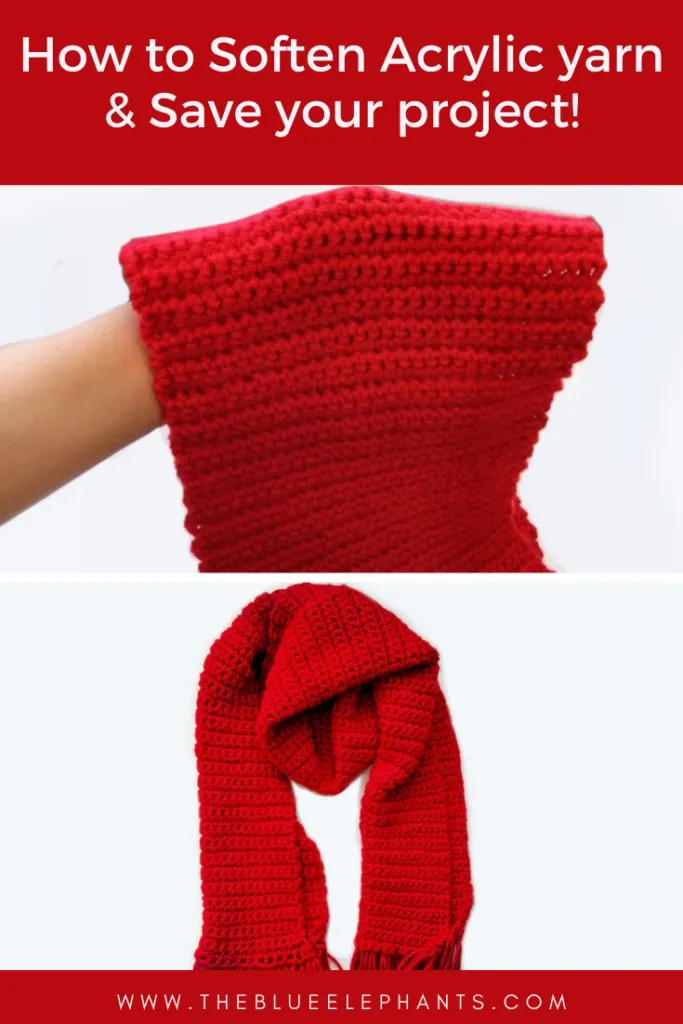 When I started out, some of my family gave me a lot of Red Heart Super Saver. It was nice enough to use, but I needed a way to soften acrylic yarn. I'd seen people soften it before using it, but that seemed too risky. I didn't want to throw the whole skein in the wash and get it tangled. And I didn't want to use the whole thing right away! So I played around and figured out how to soften acrylic yarn after I made my piece.
How to Soften Acrylic Yarn
This is a really easy way to soften acrylic yarn, especially yarn that can be stiff as well as scratchy. I used Red Heart Saver and SC to make the scarf I'm using as an example here. You'll just need a few things you probably already have around.
Hair conditioner (any is fine) – or you can use a blocking product like Soak Wash
a plastic bin or a sink you can stop – I've also tried this with a portable washing machine!
towel
dryer (optional)
1. First, knit or crochet your project. I found it easier to soften the yarn after making the item because it took care of blocking at the same time. Also, I didn't have to worry about pre-treating the yarn before I started, and I could just do it all at the end.
2. Next, fill your sink or a plastic bin with warm water and submerge your item in it. The item will absorb water so add more if you need to in order to keep it submerged. Let it sit for a minute or two and get the fibers soaked.
3. Add two or three pumps of hair conditioner to the water and mix it around to get it bubbly. Any conditioner is fine; I used whatever I happened to be using at the time, which was Pantene Pro-V, but it doesn't matter.
Massage the conditioner into the item like you would with your hair. It's doing the same job, really, by adding moisture and softness into the strands. Then, let the item soak for another half hour.
4. Rinse the item out with cool water and gently squeeze any excess water out into the sink. Be gentle and work in sections to get as much water out as you can. The fibers are more delicate when wet so don't twist or wring the piece because that could damage your stitches. Then, using a towel, go over it again. It should just be damp when you're done.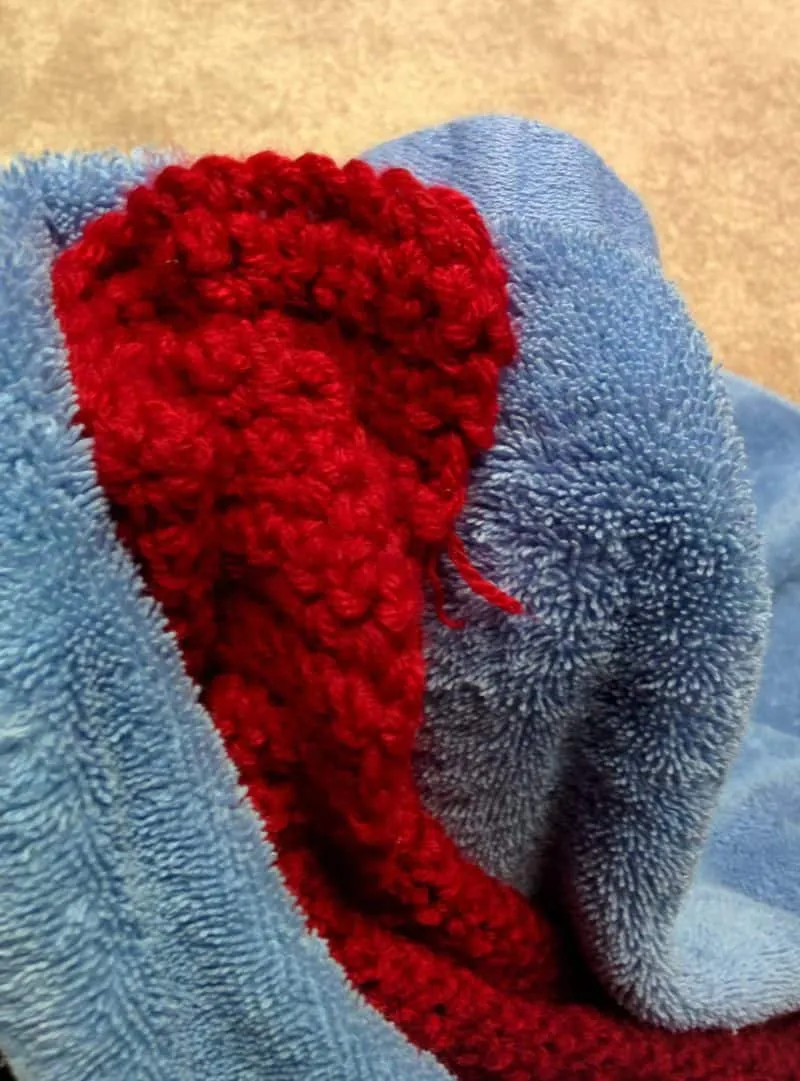 Blocking
Now you have two options: you can either lay the item out on a towel or a blocking mat and block the item to finish as you normally would, or you can dry it the rest of the way in your dryer. For items that you want to keep a certain shape, like sweaters or gloves, I would recommend blocking them. But for simpler items like this scarf, you can just put it in the dryer without worrying about it becoming misshapen.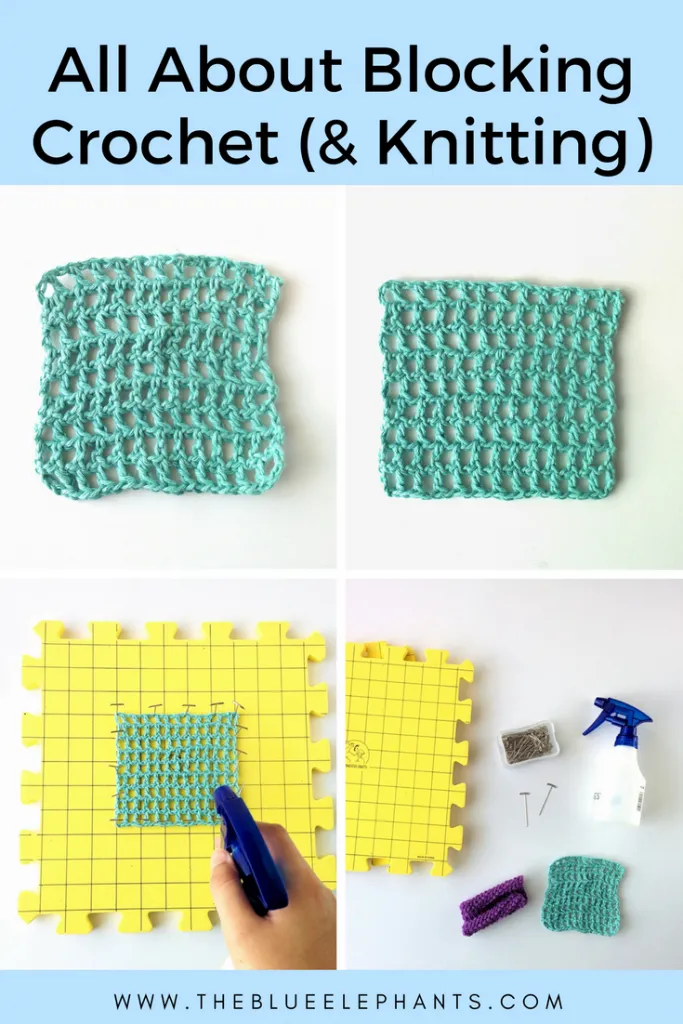 If you don't know how to block things or if your item needs blocking, go ahead and click the image above for a post all about blocking. There's also a freebie there!
For the dryer option, throw the item into the dryer for 40 minutes on a low heat setting. You can also use a dryer sheet to prevent static if you like. If the item isn't completely dry in 40 minutes, you can dry it a while longer, or let it air dry the rest of the time.
That's it! Your item should be soft now and move the way you want it to. Although it takes a while to get it soft like this, a lot of that time is spent letting the item soak or dry, so it doesn't need much attention from you. This is the best way I've found to soften acrylic yarn, and it's worked great on everything I tried it with.
You only need to do this the FIRST time you wash. You can repeat it and try to get softer results, but after a while, it doesn't do much more. After that, you can just throw it in the wash as you normally would and not worry about it.
Using Higher Quality Yarn
If you really want super soft acrylic yarn, the best thing is to just buy higher-quality yarn. When I wrote this post, I used whatever I had because I needed to use it up. But since then, I've found so many yarns I prefer to use over scratchy acrylic. And they aren't expensive or hard to find at all! You can find them right alongside the Red Heart Super Saver and get better quality for the same prices. I have a big list here of all my favorite yarns and what I like to use them all for if you want to see what I use.
While I have my favorite yarns, there's so much more out there so give them all a try! I spent some time learning about yarn fiber content and I think it really helps to understand the materials you're working with. Did you know animal-based fibers act differently than synthetic fibers? Or that you can even have yarn made of banana fibers?
I go into detail about yarn content and its different uses and properties in the post below, just click the image to check it out.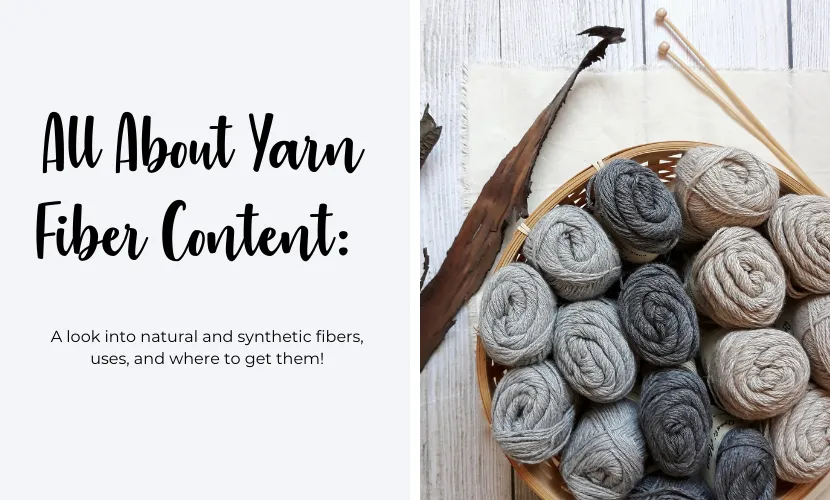 Thanks so much for reading!
I hope this makes your crocheting and knitting a little more relaxing since you don't have to worry about scratchy yarn. I share new patterns and tips every week, so subscribe down below to get new posts, patterns, and tips in your inbox along with access to the resource library! That's where I keep all my best resources and printables and it's totally free 🙂
See you soon!
---
Visit my pattern shops on Ravelry, Craftsy, and Etsy to buy the printable PDFs of all my patterns. They're ad-free, comment-free and your support helps me run The Blue Elephants so I can continue publishing free patterns here.
My material lists sometimes include affiliate links (denoted with a *) for which I earn a small commission at no extra cost to you. I only link to products I personally use, love, and recommend. You can read more about this in my Disclosure.
I worked hard on this pattern, so please be respectful and do not sell or redistribute this pattern as your own. If you sell finished items made using this pattern, credit The Blue Elephants as the designer and link back to the blog post or the Etsy pattern link. For any other questions, read my Terms of Use or contact me.
---