My love affair with velvet yarn continues this week with a new crochet beanie pattern! Last week, I shared the pattern for my Tempest Beanie, a velvet dream of bobbles. Because velvet yarn really works so well with textures and raised stitches, I wanted to make something that felt a little more refined with my second crochet beanie pattern with this yarn.
The Juliet beanie is a ribbed crochet beanie that has raised edges that catch the light and all the softness and squishiness of velvet yarn in a super simple pattern. Let's get started!
Bernat Velvet Yarn
Just like with the Tempest beanie, I used Bernat velvet yarn to make this. This time I chose the color Burgundy Plum, a rich deep jewel tone that's more burgundy than plum. It's labeled as a bulky weight polyester but it feels more like worsted weight, which is great because that's what I like working with better.
The velvet texture of this yarn comes from the strands of fiber that come off a central string, but it doesn't shed! Let me say that again – no shedding!! From super-soft, light colors like this blue to deep, rich jewel tones. Check them all out at JoAnn's here. I've noticed different colors at different locations so if you don't see the one you want, try another store or the Yarnspirations website!
For this crochet beanie pattern, I used my favorite way to create a ribbed texture, and instead of using it just for the bottom part of the beanie, I used it for the body too. This made it much easier for me to see where the stitches should go and where I was placing my hook. With all the velvety threads, it can be tricky to see where to insert your hook and you need to feel around for the spaces. So, I avoided that altogether and used post stitches to create a defined rib texture.
The full free pattern is written out below. For those who'd prefer to print the pattern and take it with you for on-the-go and to markup as you go, you can buy the inexpensive printable PDF from my Etsy and Ravelry shops. The PDF is formatted without ads or comments, so it's easy to read.
Materials:
Abbreviations:
ch – chain
FDC – foundation double crochet
DC – double crochet
sl – slip stitch

Pattern Notes:
Skill level: Beginner
Sizing: Small/medium (21″ circumference) – you can adjust this to any size!
Gauge: 3 sts/inch x 3 rows/inch
Juliet Free Crochet Beanie Pattern
I used front post and back post double crochets for this beanie and for the ribbings for most of my beanies, so I have a video tutorial for that below! The pattern uses this throughout, so if you get stuck, take a look at the video to see how to FPDC and BPDC to get the ribbed look.
Round 1: Chain 4. Work 52 foundation double crochet, and do not count the original chain as a DC. To work a FDC, yarn over and insert your hook into the first chain you made. YO and pull through just one loop. This creates a chain. Then, yarn over and complete the DC as normal. Once you have 52 FDC, slip stitch to the top of the chain to begin working in the round and place a stitch marker.
If you want to make this beanie larger or smaller, work the number of FDC you need to get your hat circumference. You can check the sizes in this free hat sizing guide!
The Ultimate Guide to Sizing Hats
Rounds 2-21: Working in continuous rounds *FPDC, BPDC* around until the beanie measures 9 inches tall. You can also use the sizing guide above to make it a custom hat height.
Round 22: *Insert your hook around the next stitch and pull up a loop. Then insert your hook around the next stitch and pull up a loop. YO and finish as a DC.* Repeat this all around the beanie to decrease your stitches to 26.
Round 23: FPDC around.
Round 24: Repeat round 22 round to decrease your stitches to 13.
To finish this crochet beanie pattern, cut the yarn with a few inches of tail, and thread the tail end through a tapestry needle. Bring the needle under the front loops of each of the last 13 stitches and pull to close the top of the beanie. Secure with a knot and weave in the ends. Trim any excess yarn.
And you're done!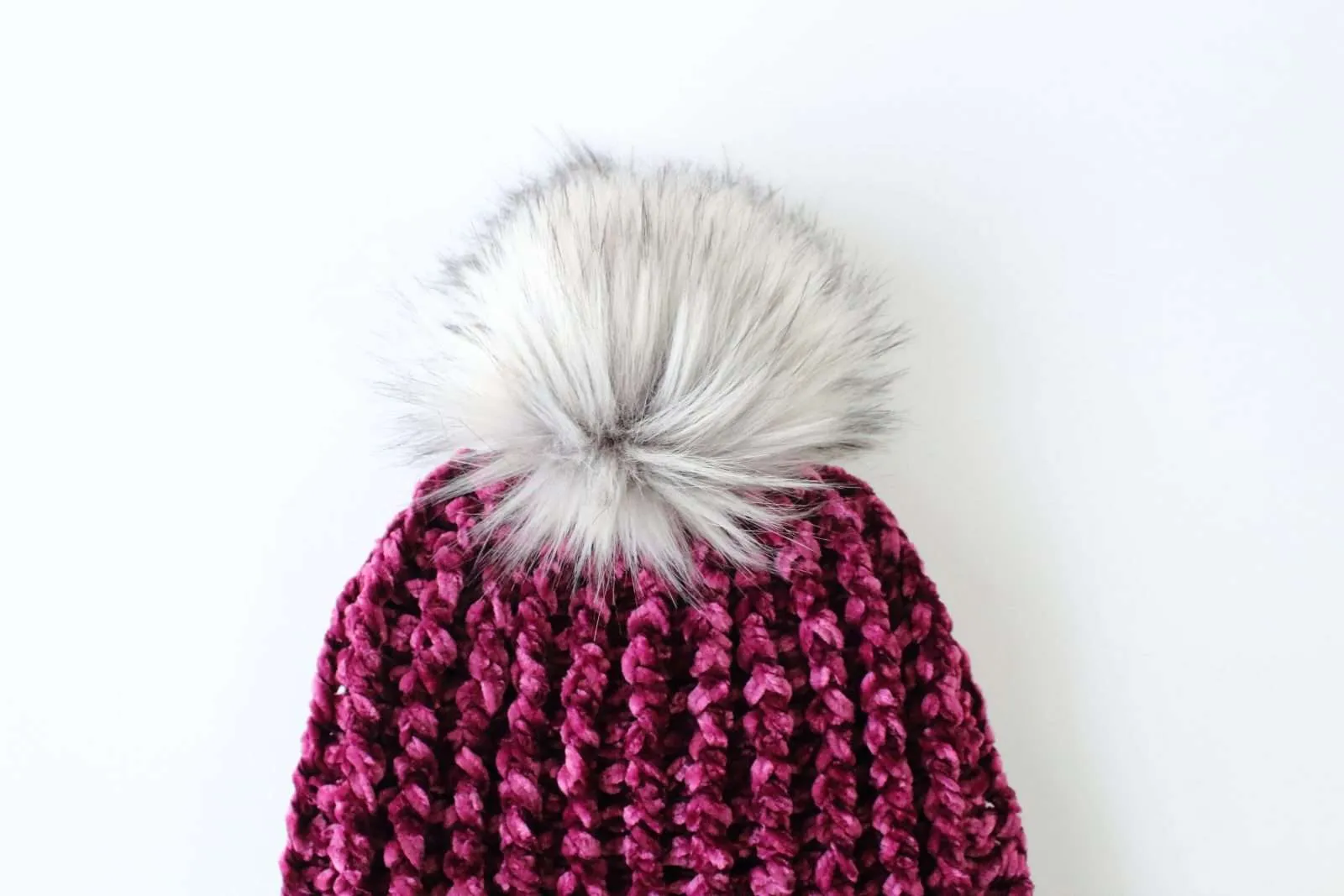 This beanie is super easy to work and you're really just alternating between FPDC and BPDC to create the ribbed texture. If you want a little more help with that, you can check out my post on how I create stretchy crocheted ribbings for all my beanies and then just use that for the entire thing.
I love how classic and pretty this crochet beanie pattern turned out. I couldn't decide whether to add a pom or not, so I attached mine loosely so I could remove it if I changed my mind, but I think I like it better with it. Let me know what you guys think in the comments! And why not check out some of my other crochet beanie patterns as well?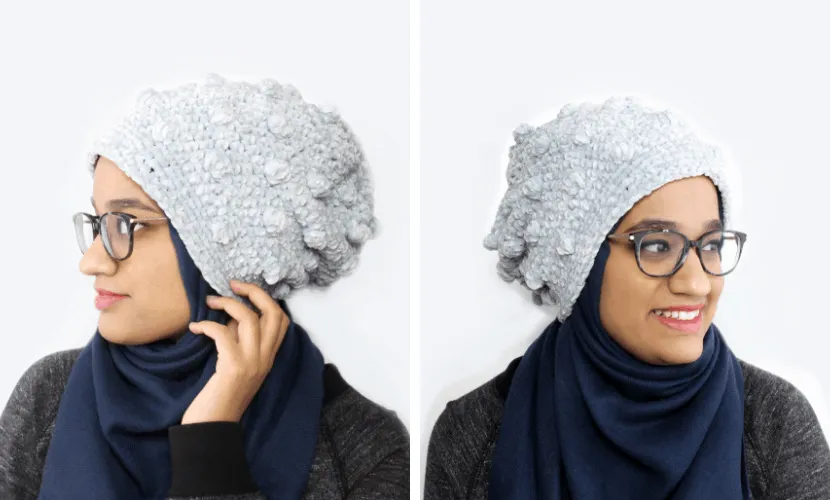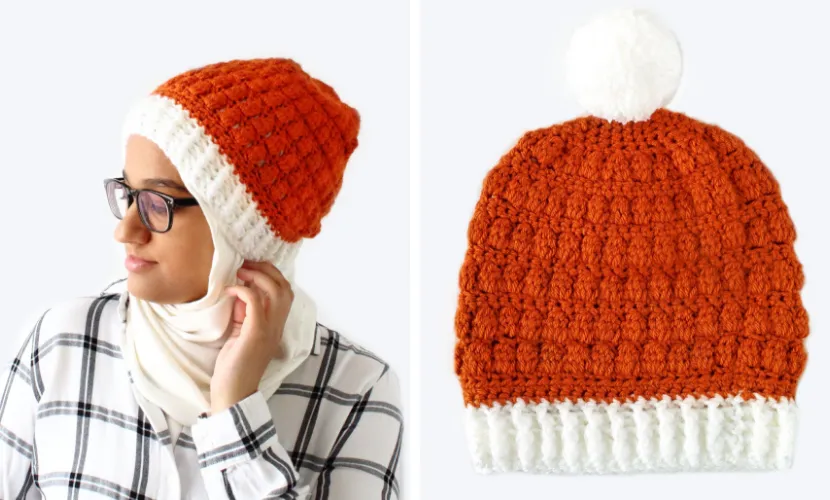 If you liked this pattern and want to get more free patterns and freebies delivered right to your inbox every week, fill out the box below to subscribe to the weekly newsletters! You'll get all the free patterns, tips, and more, along with access to the subscriber-only resource library full of goodies. Thanks so much for reading!
See you soon 🙂
---
Visit my pattern shops on Ravelry, Craftsy, and Etsy to buy the printable PDFs of all my patterns. They're ad-free, comment-free and your support helps me run The Blue Elephants so I can continue publishing free patterns here.
My material lists sometimes include affiliate links (denoted with a *) for which I earn a small commission at no extra cost to you. I only link to products I personally use, love, and recommend. You can read more about this in my Disclosure.
I worked hard on this pattern, so please be respectful and do not sell or redistribute this pattern as your own. If you sell finished items made using this pattern, credit The Blue Elephants as the designer and link back to the blog post or the Etsy pattern link. For any other questions, read my Terms of Use or contact me.
---