Animal beanies have been floating around the internet for a while now and for good reason; they're so cute! My cousin recently asked if I could make a panda beanie for her son, but she wanted something a little different than the animal beanies I'd seen.
She wanted the beanie to be snug-fitting and include a matching cowl rather than a loose hooded scarf design. She also wanted something to cover her son's mouth and stop the cold air from hitting his face as much. So I took those things into consideration and came up with the adorable panda beanie set! Keep reading below for the full pattern.
I made this panda beanie set by first knitting the white beanie, then separately knitting the eye patches and ears to be sewn on later. For the cowl, I made a basic cowl with a herringbone stitch, then attach my little face-covering flap to the inside edge of the cowl. This way, everything is adjustable and you have the flexibility of having the face covered if you like, or open if it isn't super cold!
This is a simple kids' beanie pattern and I've included sizing for ages 1-2, 2-5, and 5-10 years. If you need additional sizing, you can always use your favorite simple beanie pattern for the base and attach the features on using this pattern.
Or you can use the Ultimate Guide to Sizing Hats here and below to make one in any size!
It's a handy little sizing chart to help you figure out the circumference and height when making any kind of hat. This free resource is perfect for anyone that struggles with getting hats and beanies to fit or just wants to play around with making their own patterns. Click the image below to grab the freebie!
The full free pattern is written out below. For those who'd prefer to print the pattern and take it with you for on-the-go and to markup as you go, you can buy the inexpensive printable PDF from my Etsy and Ravelry shops. The PDF is formatted without ads or comments, so it's easy to read.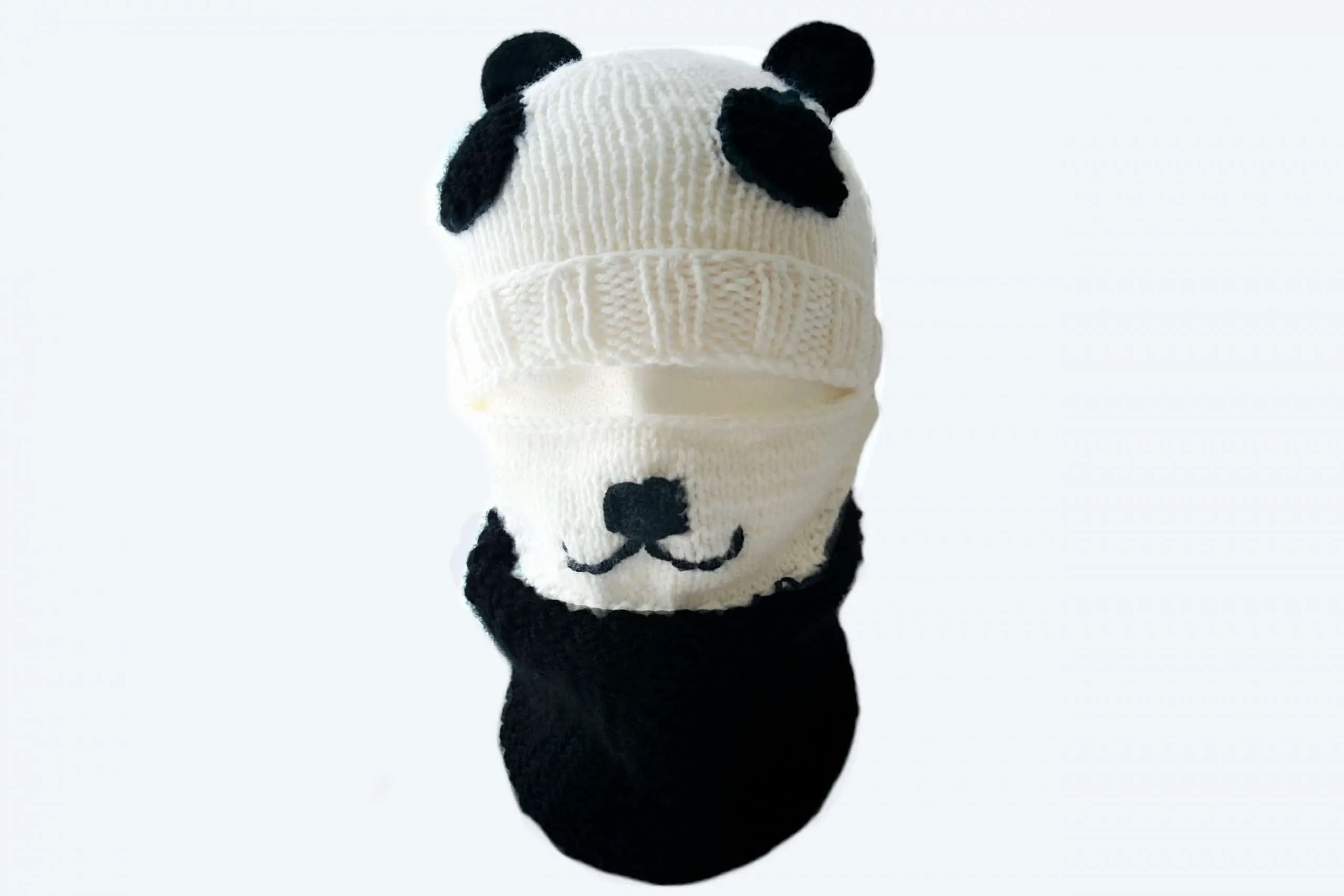 Materials:
Abbreviations:
k – knit
p – purl
k2tog- knit 2 stitches together
psso – pass slipped stitch over
sl – slip stitch
BO – bind off
Pattern Notes:
Skill level: Intermediate
Sizing: 1-2 yrs, 2-5 yrs, and 5-10 years
Gauge: 3S x 4R per inch
Panda Beanie + Cowl Set Knitting Pattern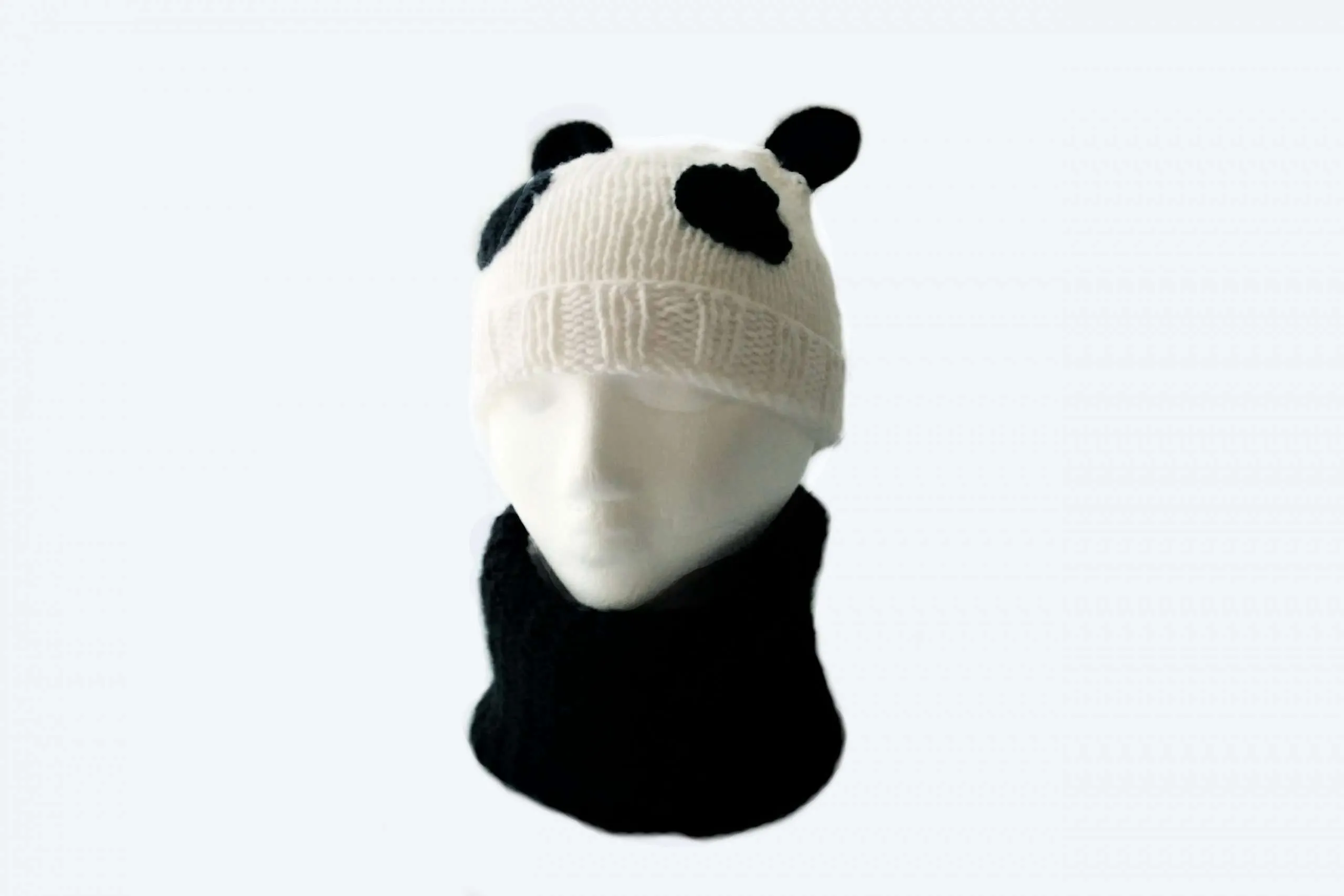 Cowl:
Instead of using just a simple stockinette stitch, the cowl is done in Herringbone which adds thickness and makes the whole thing softer and squishier. It also looks really cool.
With 9.00mm (US 13) needles and black yarn, cast on 44 stitches.
Row 1: K2tog through the back loop, but slide only the first loop off the needle. This will count as another stitch and it will be worked again. K2tog tbl again, leaving one stitch on the left-hand needle. Continue all the way down the row. Knit the last stitch.
Row 2: P2tog tbl and slide only the first loop off the needle. Repeat all the way down the row. Purl the last stitch.
Repeat rows 1 and 2 until the cowl measures 20 (25, 30) inches long. Bind off and sew the short sides of the piece together to form the loop. And you're done with the cowl!
Panda Beanie:
Next, let's make the beanie. Again, if you already have a favorite beanie pattern, you can use that if you like. This is just a simple pattern that will make up the base and we'll add our panda features onto it later. I like this because the crown decreases in four sections making an X at the top.
With white yarn and 5.50mm (US 9) needles, cast on 48 (52, 56) stitches. Join to work in the round, being careful not to twist the stitches.
Round 1: *Knit 2, purl 2* all the way around. Place a marker to mark the beginning of the round.
Rounds 2-7: Work in K2P2 ribbing until the cuff is 1.5 inches tall.
Round 8: Knit around.
Rounds 9-28 (30, 32): Continue knitting every round until the hat measures 7.0 (7.50, 8) inches from the cast-on edge.
Round 29 (31, 33): Knit the next round, placing a stitch marker after every 12 (13, 14) stitches to help track the decreases.
Round 30 (32, 34): [sl 1, PSSO, knit 1, k2tog], knit to marker. Repeat this pattern 3 more times around the hat.
Round 31 (33, 35): Knit all.
Repeat the last two rounds until there are only 4 stitches between markers (12 stitches total).
Last round: K2tog around. Then, cut the yarn and thread the tail through a tapestry needle. Bring the tapestry needle through the 6 remaining stitches and pull to close the top of the hat. Secure the top with a knot, trim the yarn and weave in any loose ends.
You're done with the beanie part! Now, let's make the cute features to turn this into a little panda beanie!
Ears (make 2):
With smaller needles and black yarn, cast on 6 stitches. Work in stockinette until you have a strip 2 inches long. Bind off.
Fold the strip in half and sew down the middle where the two edges meet. You should have a half circle shape that isn't totally flat. It will have a ridge, like an ear.
Eye Patches (make 2):
Row 1: With smaller needles and black yarn, cast on 3 stitches (3).
Row 2: KFB, knit 3, KFB (5).
Row 3: KFB, knit 5, KFB (7).
Row 4: KFB, knit 1 (8).
Rows 5-8: Knit for 4 rows.
Row 9: K2tog, knit 6. (7 stitches total).
Row 10: Knit all.
Row 11: K2tog, knit 3, k2tog (5 stitches total).
Row 12: K2tog, knit 1, k2tog (3 stitches total).
Bind off and leave a long tail for sewing onto the beanie.
Mouth & Nose (Optional):
This last part is optional. I added a mouth-covering area and embroidered it to look like a panda's mouth and nose because it was the little extra warmth that my cousin asked for. However, it's not necessary and the cowl can cover the mouth too.
Row 1: With smaller needles and white yarn, cast on 30 stitches.
Row 2: KFB, knit to last stitch, KFB (32).
Row 3: Purl all.
Rows 4-11 (11, 13): Repeat rows 2 and 3 four (four, five) more times until you have 40 (40, 42) stitches total. Then, work in stockinette for one more inch and bind off.
Using black yarn embroider a rectangle with rounded edges for the nose and a smile coming from it. Trim the yarn and weave in any loose ends.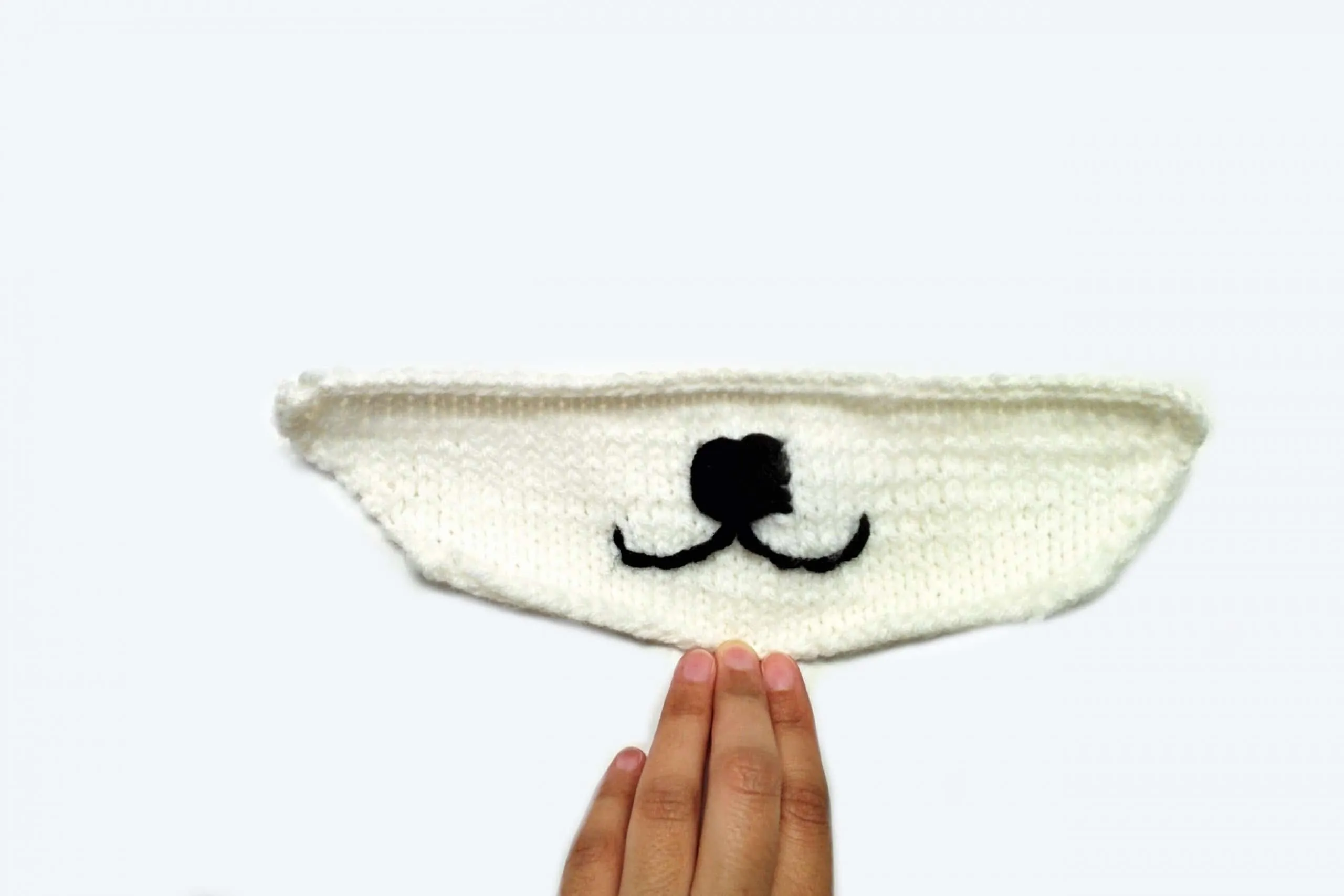 Assembly
Now that you've made all the pieces, all that's left to do is assemble everything to finish off the kids' panda beanie and cowl.
Start by sewing the shorter edge (the cast on edge) of the mouthpiece to the cowl. I intended this cowl to be worn doubled, so I just sewed the mouth along the top edge. It can be pulled up when my nephew wants to use it and tucked away when he doesn't.
Next, sew the ears onto the beanie. Because the decreases were done in four sections, the beanie should lay flat, with two decrease lines on either side. These make the perfect guide for sewing the ears onto!
Lastly, sew on the eye patches to the front of the beanie and slightly higher than the center. Also, use a couple of snap buttons and sew them onto the sides of the mouthpiece and where they meet the cuff of the beanie. This last step is optional if you chose to do the mouthpiece at all, but it helps keep it in place while the hat's in use.
And you're done!
I love the way this kids' panda beanie turned out and I think my nephew is going to look adorable in it! This beanie is super easy to make because it is just a basic white beanie with the features all added on in the end. What I love most about this though is the Herringbone Cowl. I love the look of herringbone stitch for a while and I just didn't have any project I wanted to use it for. So it was really cool to learn this new stitch and have it turned out the way I wanted.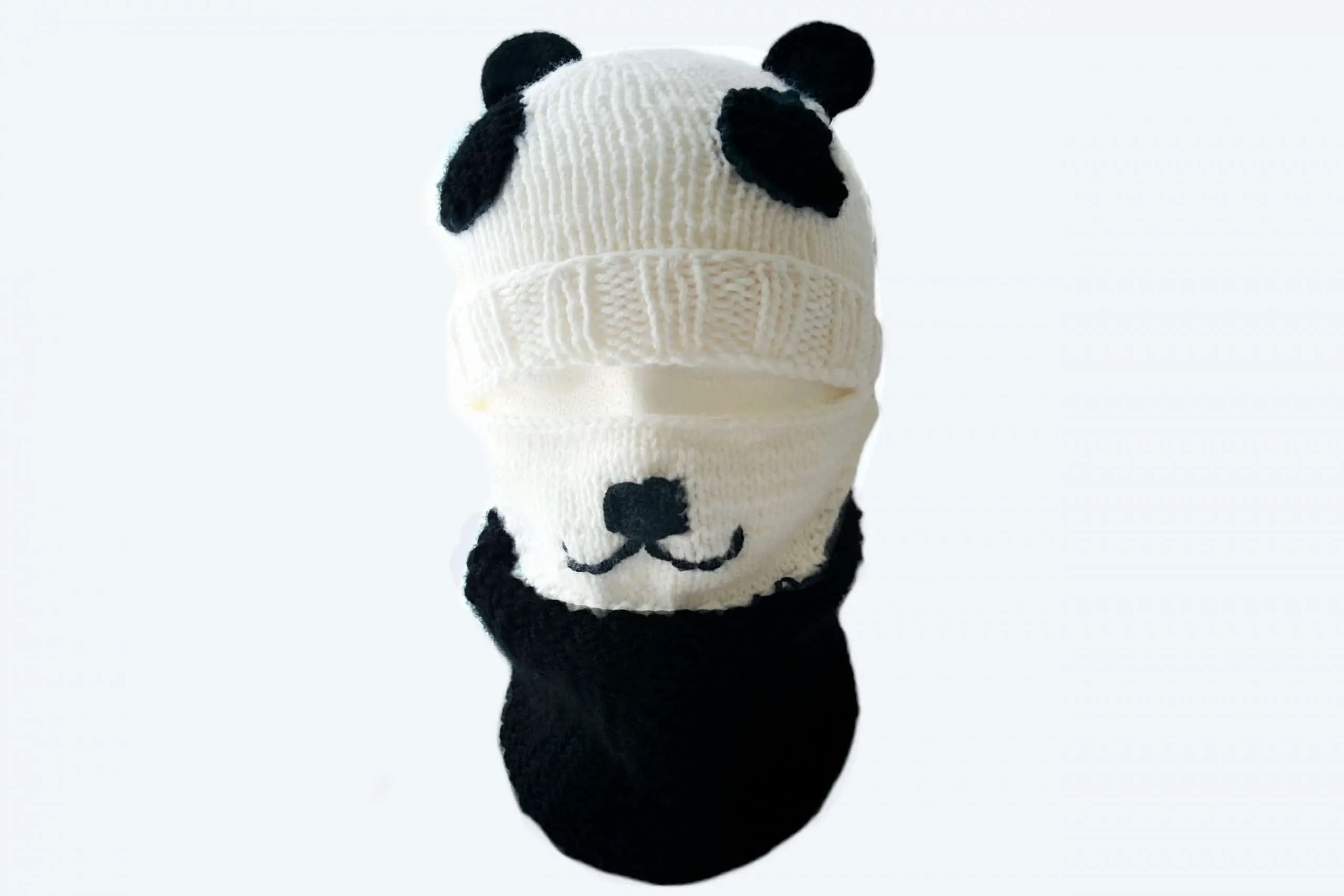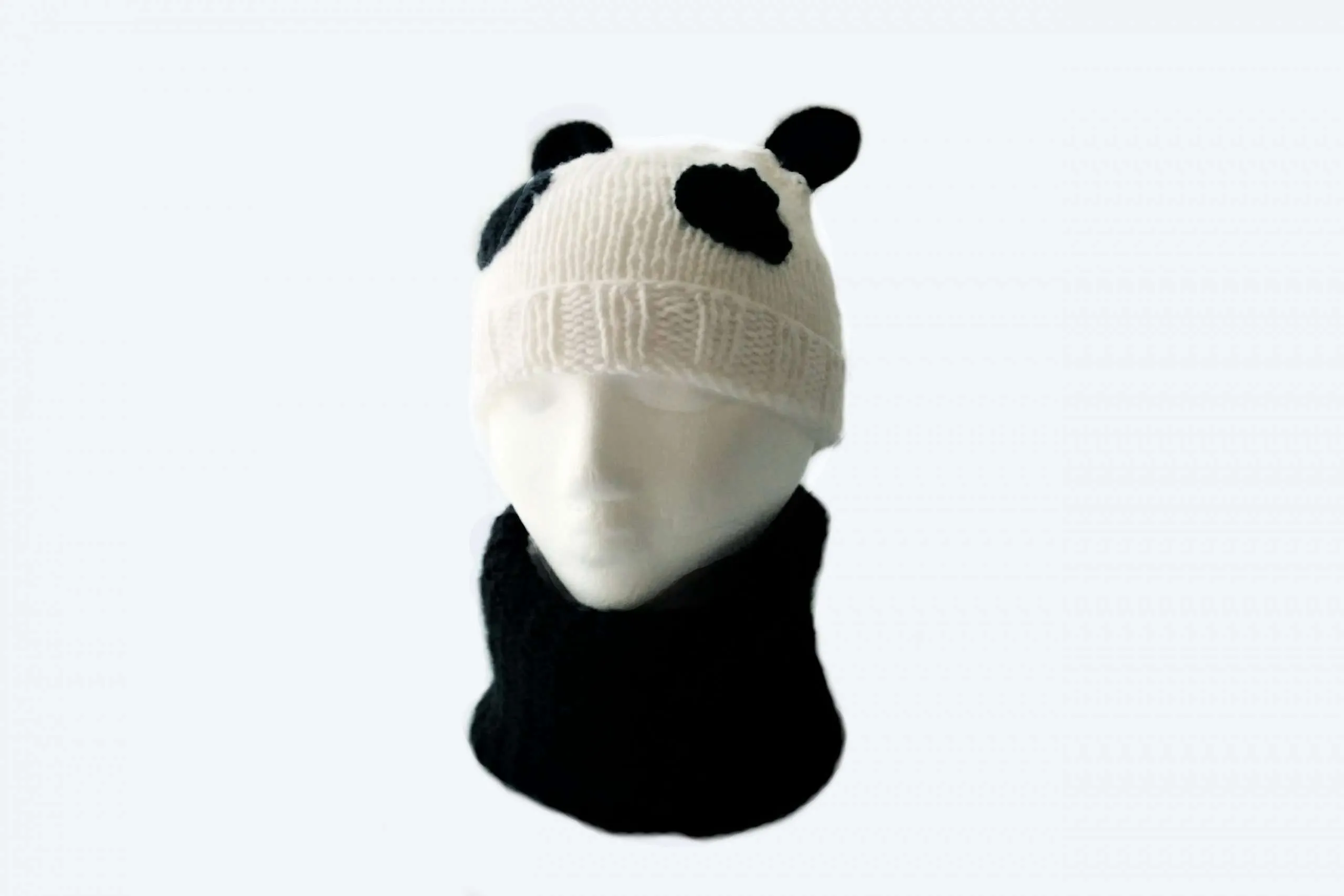 I'd love to see your recreations if you make this panda beanie + cowl set, or if you adapt it into your own animal designs. If you liked this pattern and want to see more knitting patterns from me, like the Saleha Beanie below, be sure to subscribe to the newsletter down below! Just enter your name and email into the box below to get the weekly newsletter with free patterns, tips, tutorials, and more delivered right to your inbox every week!
See you soon 🙂
---
Visit my pattern shops on Ravelry, Craftsy, and Etsy to buy the printable PDFs of all my patterns. They're ad-free, comment-free and your support helps me run The Blue Elephants so I can continue publishing free patterns here.
My material lists sometimes include affiliate links (denoted with a *) for which I earn a small commission at no extra cost to you. I only link to products I personally use, love, and recommend. You can read more about this in my Disclosure.
I worked hard on this pattern, so please be respectful and do not sell or redistribute this pattern as your own. If you sell finished items made using this pattern, credit The Blue Elephants as the designer and link back to the blog post or the Etsy pattern link. For any other questions, read my Terms of Use or contact me.
---