Knitting and crochet can be confusing. There are so many crochet abbreviations and knitting symbols, and sizes and gauges and materials to keep track of that it can get complicated. But it doesn't have to be that way! Knitting and crochet can be easy and streamlined with the Make it Happen Planners: a set of guides and crochet resources for makers. I came out with these in 2019 in the blue colorway. Now, I've expanded the line with even MORE cheat sheets, guides, and trackers in a new colorway to help you take all those ideas and make it happen!
Make It Happen: Knitting & Crochet Resources
Why do I need a planner for playing with yarn?
Tell me honestly, how many projects do you have on the go right now? Do you remember all the hooks you're using for each? Or what about which yarn you started with? Do you know how big that hat should really be in order to fit? There are so many little things to remember with crochet that it helps to have all that information readily available. Plus, the less time you spend searching for the right hook or wondering if a USA 6 hook is the same as a UK 6 (it's not), the more time you have to actually make something.
Maybe you like to write your own patterns or make changes to the patterns you bought. How do you keep track of those changes so you can recreate it later? Did you have a great idea that you bought yarn for and now you can't remember the idea? Do you need help organizing your stash?
I love using planners to grow my blog but there just wasn't a great option for knitting and crochet planners. Sure, you can get a couple of pages here and a few trackers there, but I needed something more comprehensive and uniform.
So, I created 3 planners with 80 pages of knitting and crochet resources between them. These are perfect for all skill levels, and come as a clean, cohesive design that you can print out at home or fill out on your computer!
First up is the monthly planner for makers! I'm super excited about this one because I just learned how much better I am at LIFE when I can plan things out and see them as items to check out and accomplish. It keeps me organized and whether I'm planning patterns for the blog, or working on my own projects, it's easier to actually get it done when I can write it down and plan.
Here's what's inside:
The Make It Happen Guidebook has a Bucket List page where you can jot down all your goals and projects for the year. Maybe you want to attend your first craft fair, or start an Etsy shop! You might want to make 200 items to donate to charity. Whatever it is, this page is great for getting your big plans down on paper where you can see them.
Next is the Year at a Glance page where you can keep track of important dates (birthdays, holidays, events) and see your year all at once. This page really helps when it comes to planning patterns for the year and being realistic about what you have time for.
Then there are SMART goal planning sheets designed to make you not only set goals but set goals that you're actually going to accomplish. Using this system, your goals will be more than just ideas jotted down; they'll be broken down into steps that you can work through!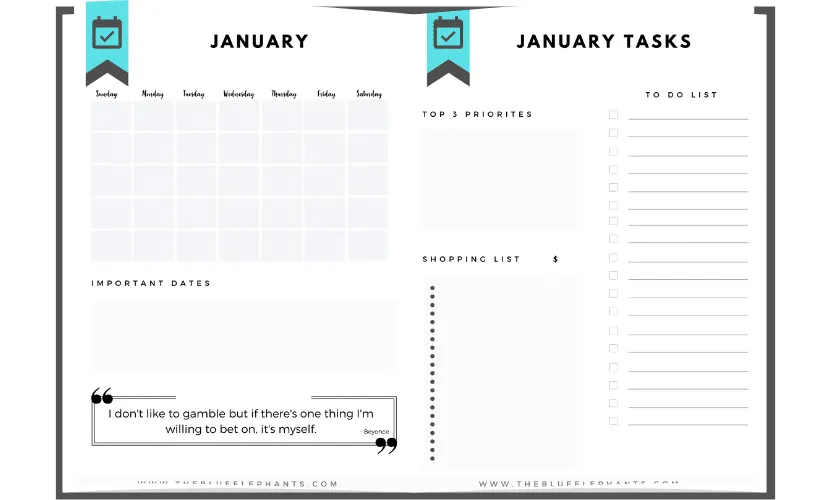 The bulk of the Guidebook is made up of monthly planner pages (2 pages per month) where you can get more specific about your goals. Take a big goal from your bucket list and break it down into manageable tasks, figure out what you need to buy that month, and how you're going to make it happen. These pages are great when you're trying to keep track of everything you need to finish by a certain date and what you'll need! Plus, there are motivational quotes for each month to help encourage you and keep you going!
Finally, the last page is the Year in Review where you can look back at all the amazing things you made happen in the year!
This Guidebook comes in both the pink and blue versions.
Next up is the Resource pack, and this is why I originally created these crochet resources. This has 23 pages of printable knitting and crochet cheat sheets and guides. Some of these pages are available individually for free to subscribers (check out the resource library!), but the full pack is only available on Etsy. These are the pages I use most often. I keep them close at hand and I'm always referring to the sizing guides.
Here's everything inside:
Crochet Hook Sizes -this page lists all the crochet hook sizes with the metric size, UK sizes, USA sizes, and a column to check off what you own already!
Crochet Abbreviations
A Crochet Conversions Guide
Knitting Needle Sizes
Knitting Abbreviations
A Knitting Symbols Guide
Yarn Weight Guide – Have trouble understanding yarn weight? This page is all about the different yarn weight categories, what types of yarn fall into them, knit and crochet gauge ranges, and recommended hook and needle sizes for that yarn weight!
Laundry Care Symbols – Never wonder how to wash your knits again! This page is a printable cheat sheet for all the laundry care symbols and what they mean so you can safely wash your handmade items.
Hat Sizing Guide – Includes 18 sizes from preemies to men's XL and lists the crown diameter, hat heights, and hat circumferences for all sizes (in inches).
Blanket Sizing Guide
Sizing other items
Additional resources (2) -These 2 pages include even more resources for you to check out including all my favorite knitting and crochet books, blogs, and websites.
My Favorite Tools – This page is a list of all the knitting and crochet tools that I personally use as a crocheter/knitter/business owner!
I spent a lot of this over the last year thinking about what I'm doing with this blog and how I can help you guys the best. For me, sharing crochet is amazing and rewarding, but it's a lot more than that. Somehow, I became a designer and now I teach other people how to make money with crochet. I've seen people become inspired and empowered by what they can do and it's motivated me to create crochet resources especially for budding entrepreneurs and designers.
The Designer Pack is full of pages to help you build and grow a handmade business, whether you're just starting out selling to family and friends or need some help rebranding and getting serious about your business.
Here's what's inside:
Works in Progress tracker
Project Trackers (2) – 2 pages to track your project details, and note what hooks, yarn, size, and anything other relevant information about your patterns. No more wondering which hook you started with!
Yarn Stash Inventory (2) – 2 pages to organize your yarn stash, record what you own, how much you have, what colors, how much it cost, and attach a swatch or image for reference.
Project Ideas List
Brand Identity Plan (3) – 3 worksheets to help you work out a brand identity and start your handmade business! This covers creating a brand look, and what you want to focus on with your crochet business.
Product Line Planner
Custom Order Tracker – Taking custom orders from family, friends, and clients have never been easier! Use this template to record all the important information, track your costs, and keep a written record for future reference!
Handmade Pricing Guide
Monthly Income/Expenses reports
Pattern Design Template
Resources for Makers – a list of my favorite resources & courses to help you grow your knitting & crochet business (or any handmade biz!)
3 types of printable tags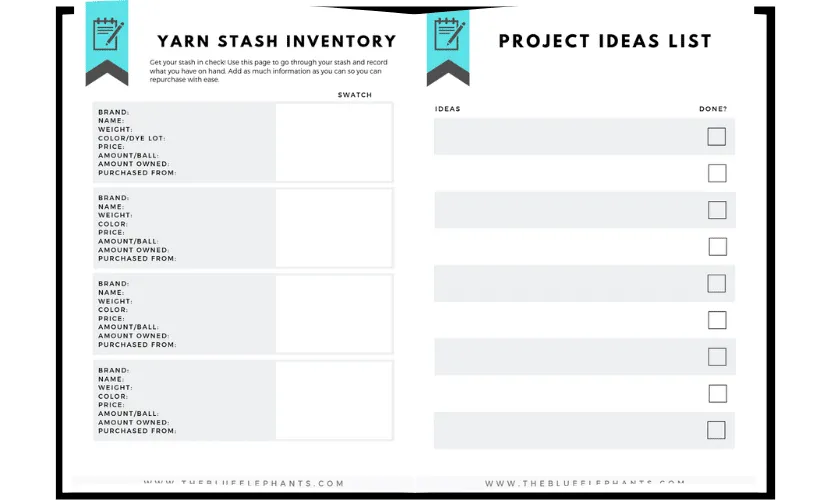 Basically, it's everything I WISH I had available when I started plus more! If you plan on making money with your crochet at all, this is definitely the one you should check out.
This is the year to Make it Happen!
I've been crocheting blogging for a few years now, but this year feels different. I am so much more driven and excited about this year being amazing. I know exactly where I want to go with the business and I'm not afraid anymore. Part of that is planning and having great crochet resources that I can count on, but the other part is just believing that I can. It's been a huge step to get this far and to feel like great, and it wouldn't be possible without you guys supporting me.
Let's keep each other motivated and happy and encouraged. Leave me a comment and share what your goals are this year? What do you want to make happen?
You can read all about mine in the this post: 2018 in Review & 2019 Resolutions for Makers!
See you soon 🙂
---
Visit my pattern shops on Ravelry, Craftsy, and Etsy to buy the printable PDFs of all my patterns. They're ad-free, comment-free and your support helps me run The Blue Elephants so I can continue publishing free patterns here.
My material lists sometimes include affiliate links (denoted with a *) for which I earn a small commission at no extra cost to you. I only link to products I personally use, love, and recommend. You can read more about this in my Disclosure.
I worked hard on this pattern, so please be respectful and do not sell or redistribute this pattern as your own. If you sell finished items made using this pattern, credit The Blue Elephants as the designer and link back to the blog post or the Etsy pattern link. For any other questions, read my Terms of Use or contact me.
---