I love knitting, but sometimes, I just don't want to spend hours on a blanket or an intricate pattern. Sometimes you just want to start and finish a project in one day. A few weeks ago, I decided to come up with a pattern that I could use all the time without worrying about time, or difficulty, or the amount of yarn I needed. I wanted something that was "one size fits all" and easy. I came up with the Marley Beanie! It's perfect for guys and girls, and it took me a little under an hour and a half to make. So let's get right into the free beanie knitting pattern!
This is a really simple beanie knitting pattern, and I love the simplicity of it. My friend and I came across a beanie very similar to this when we were out shopping and my friend loved it. But the beanie was really overpriced and from a huge company that didn't have the nicest quality yarn. So I went home and recreated the beanie for my friend in the colors that she liked in the store.
The picture below is the black and taupe version I made for her almost 2 years ago. But since I didn't have any pictures of it to write this post, I made a new version in a gray gradient yarn.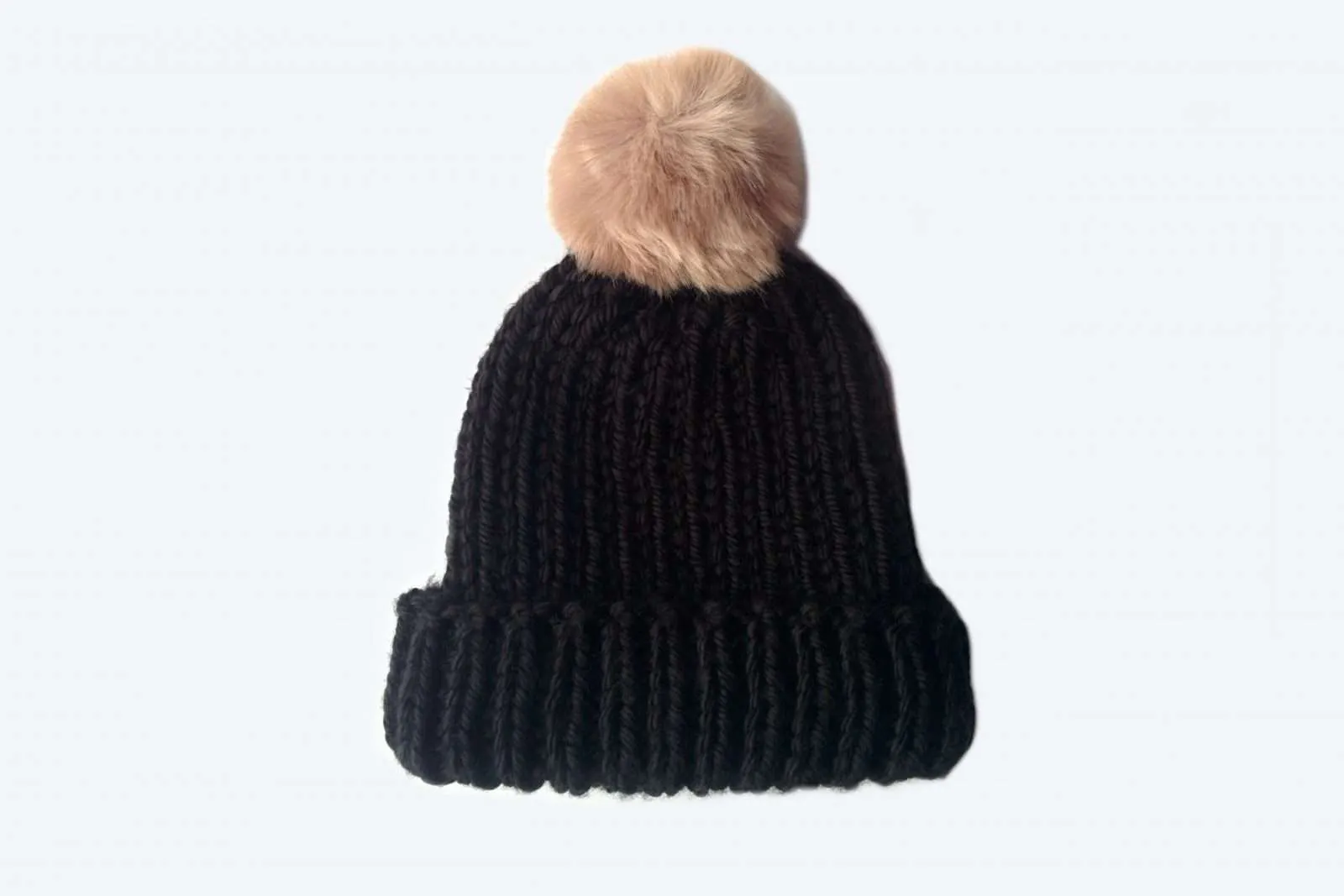 The best thing about the Marley beanie is that it's one size fits all! Well, maybe it's not an extra-large men's, but it can be with a small adjustment. This free beanie knitting pattern makes a hat that's super stretchy and can go back to its original size. It's easy to wear and you can get different looks just by changing out the yarn! For this beanie (and the black one) I used Lion Brand's Hometown USA, but I also made a pink one in Bernat Roving that came out beautifully! Plus, it's a great pattern for craft fairs and markets and easy to sell online if that's your thing!
The full free pattern is written out below. For those who'd prefer to print the pattern and take it with you for on-the-go and to markup as you go, you can buy the inexpensive printable PDF from my Etsy and Ravelry shops. The PDF is formatted without ads or comments, so it's easy to read.
Materials:
Abbreviations:
k – knit
p – purl
k2tog – knit 2 stitches together
Pattern Notes:
Skill level: Beginner
Sizing: One size fits all (adults/teens)
Gauge: 3S X 3R per inch
Marley Beanie: Free Beanie Knitting Pattern
Round 1: Cast on 56 stitches using a long tail or knitted cast on. Then, being careful not to twist the stitches, join to work in the round. Mark the beginning of the round with a stitch marker.
Round 2: *Knit 1, purl 1* around.
Rounds 3-33: Continue working in K1P1 ribbing until the hat is about 10 inches tall and only 2-3 feet of yarn remain from the skein. You don't really need to measure this; just continue working and stop when you only have enough yarn for 2 or three more rounds.
Round 34-35: *K1, P3tog* around for 2 rounds. Then, thread the end of the yarn through a jumbo tapestry needle and pull it through the remaining stitches. Pull to close the top of the beanie and fasten off the yarn. Weave in the tail and trim any excess yarn.
Finishing Touches:
To finish it off, add your pompom to the top and sew it securely into place. Use a large tapestry needle and be sure to go through the ball of the pom, not just the fur, to attach it properly. Wiggle the needle around a bit to make sure you've gone through the fabric and batting inside. I used a ready-made faux fur pom that I got from Michaels. It was actually a keychain and I just removed the keychain part of it, but since then I've found some online I like. You can also make your own or skip the pom altogether!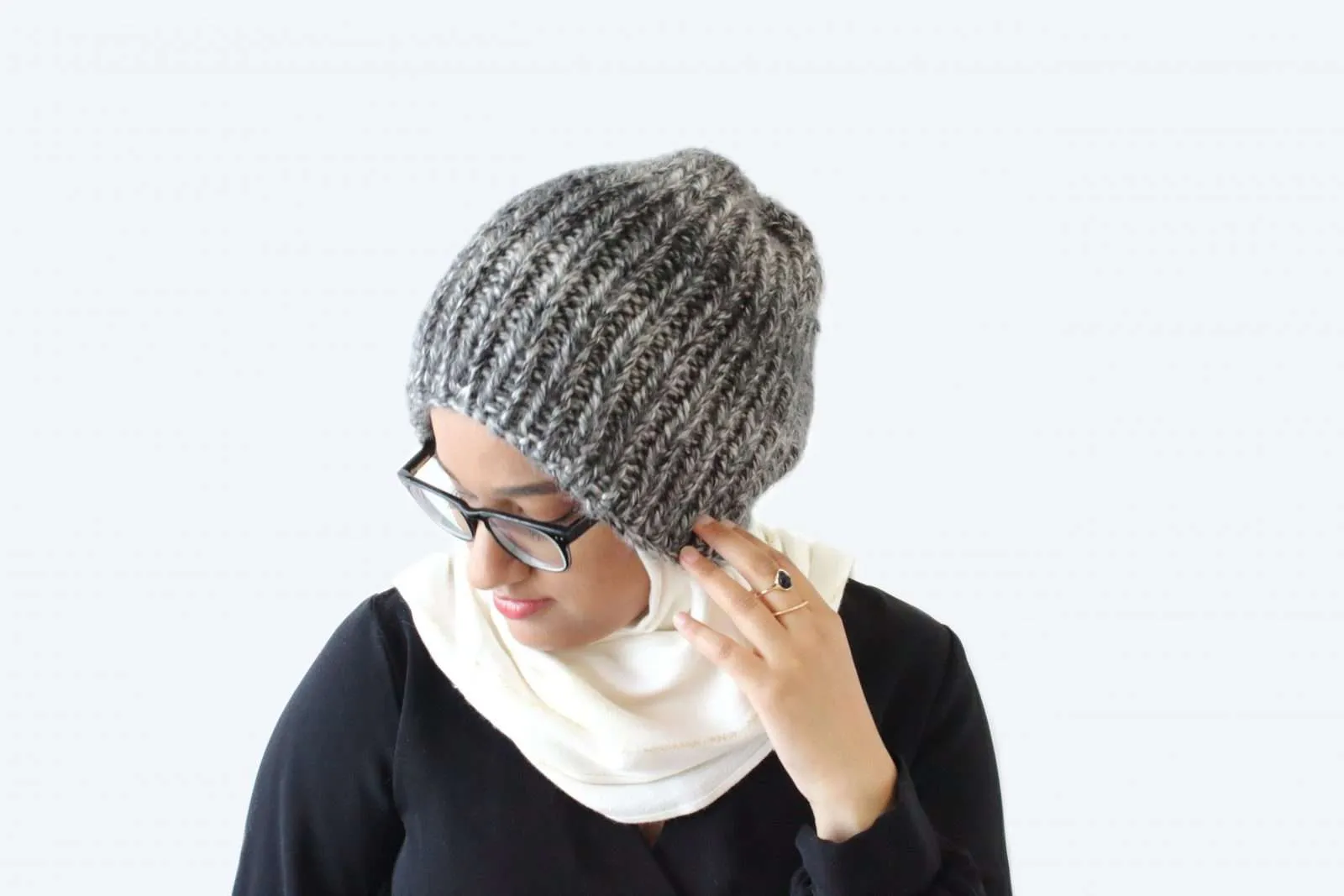 I love how this beanie turned out and I'll definitely be grabbing this as my go-to beanie this winter. If you liked this, check out the Saleha Slouchy Beanie! It's a little more slouchy and feminine, and there are multiple sizes for it.
Thanks so much for reading! If you liked this post and want more knit beanie patterns, let me know in the comments below. You can also sign up for the weekly newsletter to get new patterns, tutorials, and tips delivered right to your inbox every week. It's completely free and all you need to do is fill out the box below with your name and email. That's all!
See you soon 🙂
---
Visit my pattern shops on Ravelry, Craftsy, and Etsy to buy the printable PDFs of all my patterns. They're ad-free, comment-free and your support helps me run The Blue Elephants so I can continue publishing free patterns here.
My material lists sometimes include affiliate links (denoted with a *) for which I earn a small commission at no extra cost to you. I only link to products I personally use, love, and recommend. You can read more about this in my Disclosure.
I worked hard on this pattern, so please be respectful and do not sell or redistribute this pattern as your own. If you sell finished items made using this pattern, credit The Blue Elephants as the designer and link back to the blog post or the Etsy pattern link. For any other questions, read my Terms of Use or contact me.
---