Warning
: exif_imagetype(https://www.theblueelephants.com/wp-content/uploads/2015/11/Rameez-baby-blanket-knitting-pattern.png): Failed to open stream: HTTP request failed! HTTP/1.1 404 Not Found in
/home/customer/www/theblueelephants.com/public_html/wp-includes/functions.php
on line
3310
Warning
: file_get_contents(https://www.theblueelephants.com/wp-content/uploads/2015/11/Rameez-baby-blanket-knitting-pattern.png): Failed to open stream: HTTP request failed! HTTP/1.1 404 Not Found in
/home/customer/www/theblueelephants.com/public_html/wp-includes/functions.php
on line
3332
Warning
: Trying to access array offset on value of type bool in
/home/customer/www/theblueelephants.com/public_html/wp-content/themes/mediavine-trellis/inc/classes/class-images.php
on line
1514
Over the last few weeks on Instagram, I've been sharing snippets of my new blanket with its Autumnal chevron pattern and it's finally done! This is the Mocha Ripple throw and it's a gorgeous mix of warm, deep browns and creamy neutrals. It reminds me of a cup of coffee or hot chocolate after spending the day out shopping in the brisk Autumn air.
The pattern for this afghan is actually very simple and once I figured out how I wanted the colors to line up, the rest was just repetition. And although I made my blanket HUGE at 7×6 feet for a queen-sized bed, you can make this in any size you like. So, let's get into it!
Blankets are one of my favorite things in the world to make, and I love making them in all different sizes. I've made giant throws like this one and little baby blankets perfect for strollers too. Because I make a lot of these, I had to figure out sizing so that I know my blankets are always the right size for customers and for the occasion so I created a handy printable guide to crochet blanket sizing. You can pick up your free copy by clicking the image below!

This chevron pattern is a really easy pattern to follow and works with any hook/yarn combination. I used bulky yarn to make this a little bit heavier and a larger hook so you get some airiness too. I used all neutral colors on the request of my customer, and I worked with lightest to darkest and just repeated them. This would also look amazing in bright fun colors for a kids' room or something lighter and softer like grays and whites for a more modern look. However you choose to do it, I would love to see your recreations of this chevron pattern!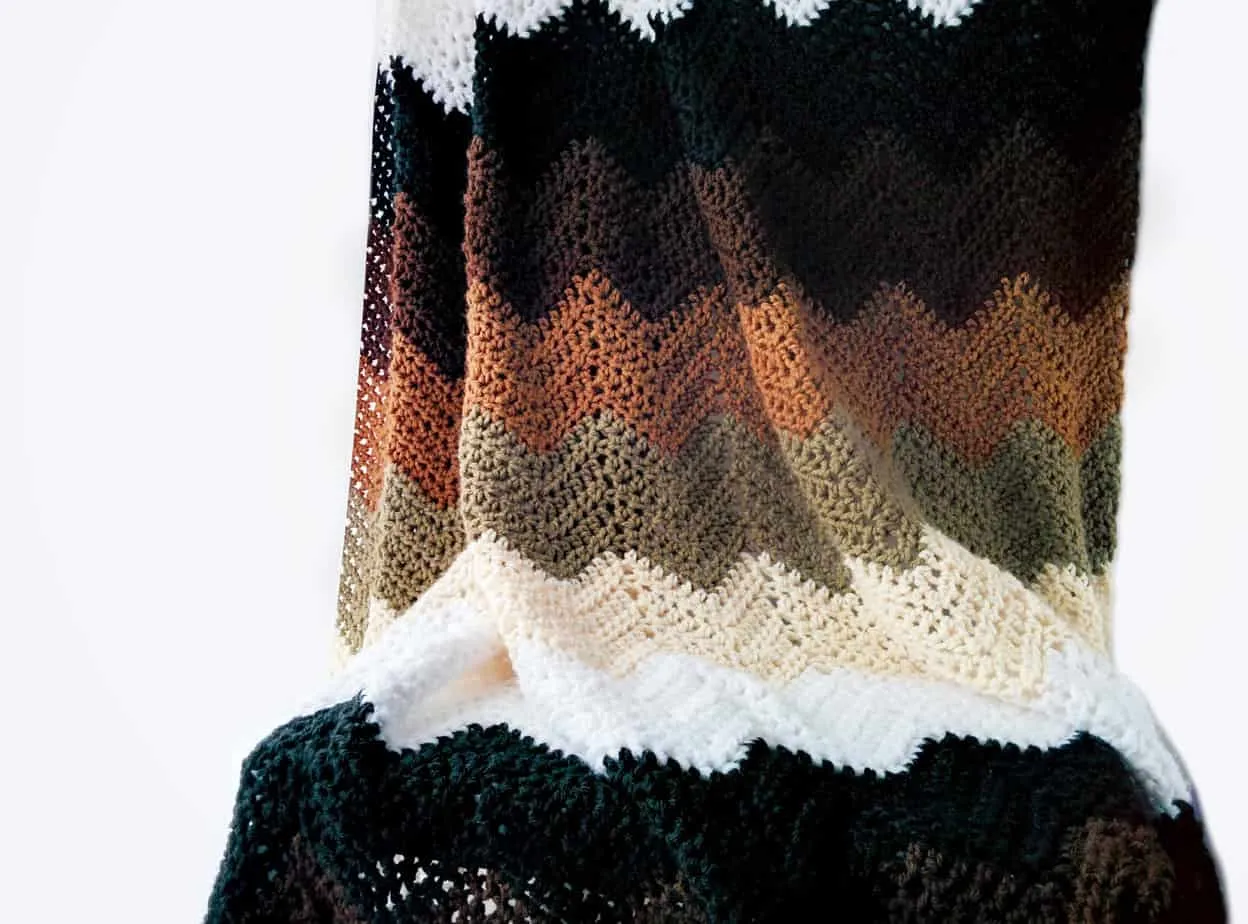 The full free pattern is written out below. For those who'd prefer to print the pattern and take it with you for on-the-go and to markup as you go, you can buy the inexpensive printable PDF from my Etsy and Ravelry shops. The PDF is formatted without ads or comments, so it's easy to read.
Materials:
#5 bulky weight yarn in 6 colors – I used 4 skeins each of Knit Picks Brava Bulky yarn in Black, Sienna, Brindle, Camel, Cream, and White
* denotes affiliate link
Abbreviations:
Pattern Notes:
Skill level: Beginner
Sizing: 7 x 6 feet
Gauge: 2.5 sts/inch x 2 rows/inch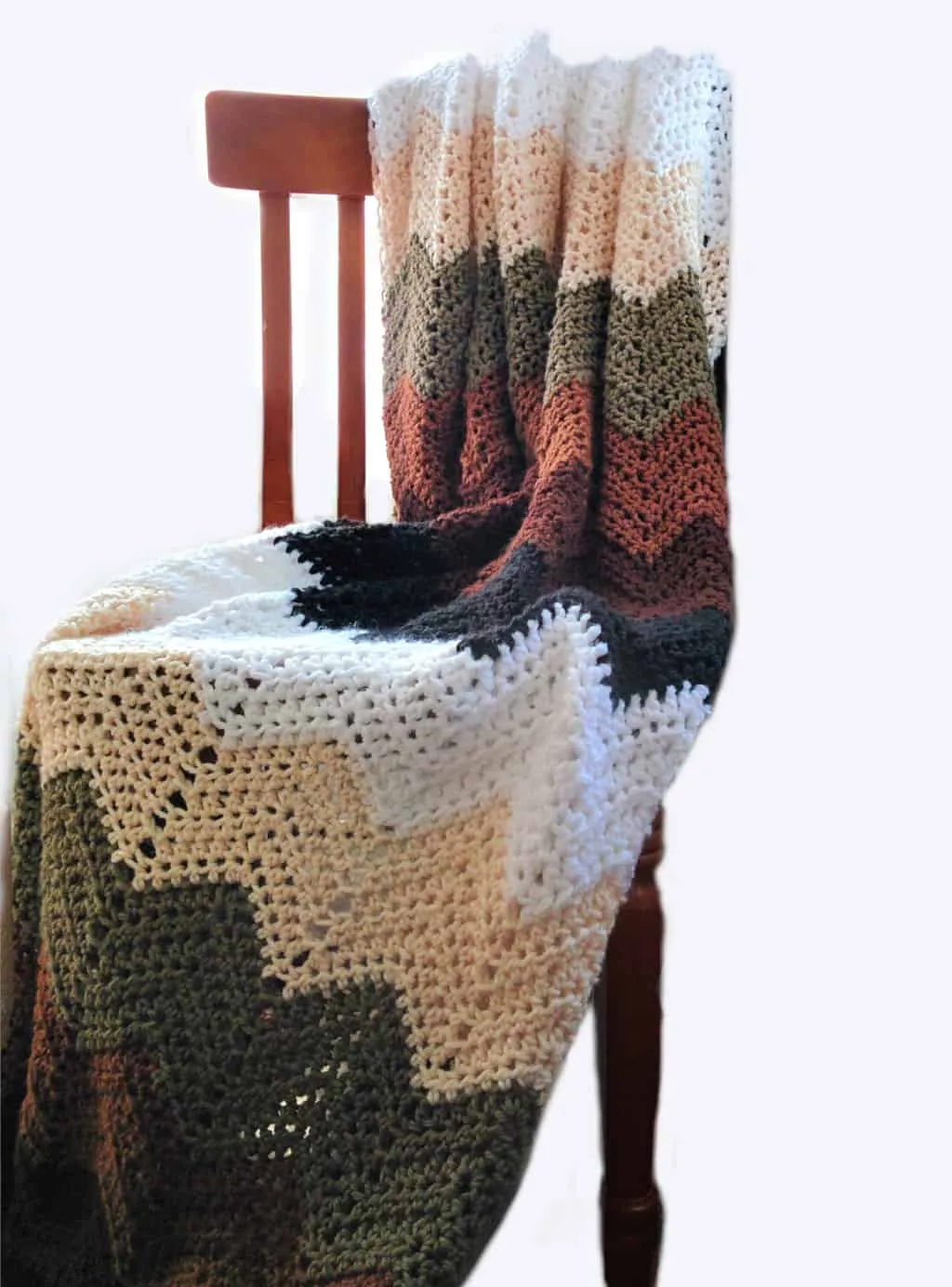 Chevron Pattern Video
First, let's go over the basic chevron pattern. This throw uses only half double crochets (HDCs) to make, and it's very easy to get the chevron design. I did a full post on how to crochet chevrons earlier this week, so you can check that out here if you'd like. Or, you can watch the video down below where I explain how to create this stitch pattern.
Mocha Ripple Throw: Blanket with Chevron Pattern
Row 1: Start by creating a chain that is a multiple of 13+1. I did 17 repeats so I chained 222 to start with. to make a smaller blanket, work fewer repeats.
Row 2: Insert your hook in the 2nd chain from the hook and pull up a loop. Then insert into the next chain and pull up another loop. Yarn over (YO) and pull through all three loops to decrease.
HDC 4, then work 3 HDC into the same space to make the peak. HDC 5 over the next 5 spaces to go down the side of the peak, then skip two spaces to create the valley. *HDC 5, 3 HDC into the same space, HDC 5, skip 2 spaces*, repeat this until the last 6 spaces. Then, HDC 4, and decrease over the last two spaces.
Row 3: Chain 1, turn. Insert your hook in the chain and pull up a loop. Then insert into the next space and pull up another loop. Yarn over (YO) and pull through all three loops to decrease. Be sure to start in the chain 1 space!
HDC 4, 3 HDC into the same space, HDC 5, then skip two spaces, *HDC 5, 3 HDC into the same space, HDC 5, skip 2 spaces*, repeat this until the last side. HDC 4, then decrease over the next two spaces to finish the row.
Leave the last stitch unworked.
Rows 4-108: Now, just repeat step 3 for every row to create the chevron pattern. Work until your crochet chevron throw is as big as you want it to be. Change colors every 6 rows and once you've worked the last row of the blanket, just bind off. Then use the tapestry needle to weave in your ends and trim any excess yarn. You can also block the blanket to help it set in the right shape and to even out all the peaks and valleys.
For the color scheme:
For the stripes, I switched colors after every 6 rows. I started with 6 rows of the black, then 6 rows of Sienna, 6 of Brindle, 6 of Camel and so on.
To switch colors, begin the decrease stitch as you normally would at the end of the row: insert your hook, pull up a loop, insert into the next space, and pull up another loop. Now, instead of yarning over with the same color, YO and pull through with the new color. Cut the old color and leave the tails hanging on the side for now. But by doing this, you get a smooth color change. You can see how I change colors in crochet in this tutorial here.
And if you want to work more rows or fewer rows of each color, go ahead! But, it helps to work in even rows for each color. That way, one side is always neat and all the tails are on the other side. You'll only have to weave in ends on one side.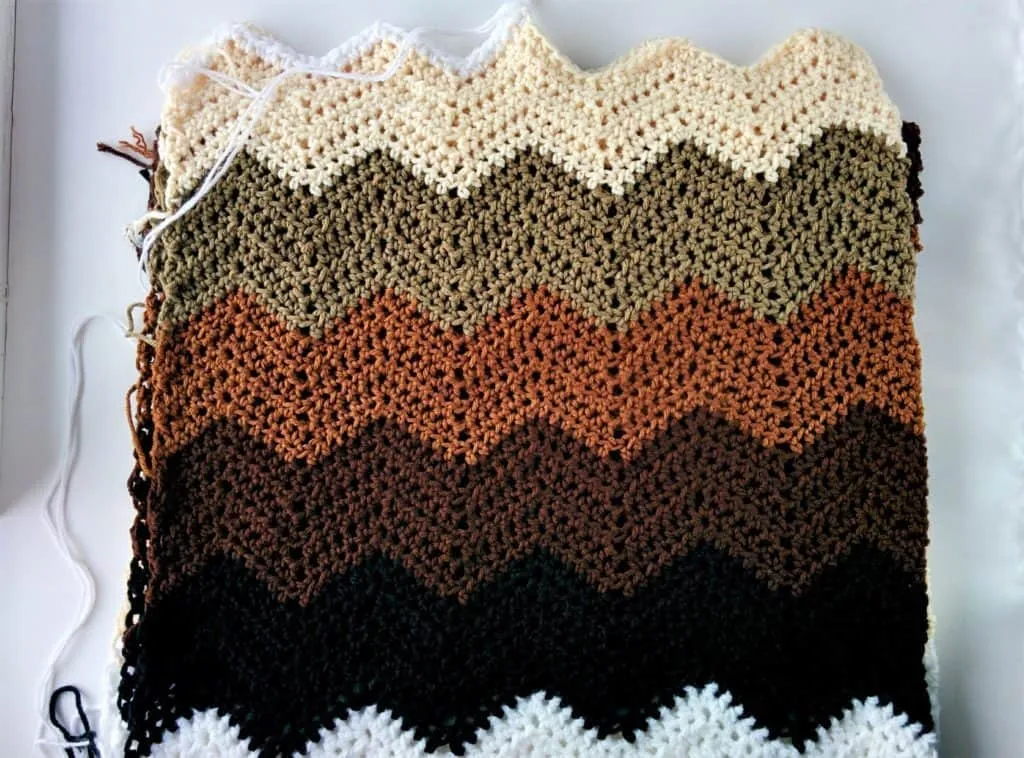 You're done!
This crochet chevron pattern blanket is the first non-baby blanket that I've made and I just couldn't get over how big it turned out. It's wonderfully warm and snuggly, and even a little heavy/weighted which I love, but it was hard to photograph. I just couldn't find a way to capture the scale of it. But, here are some of the finished pictures that I did get: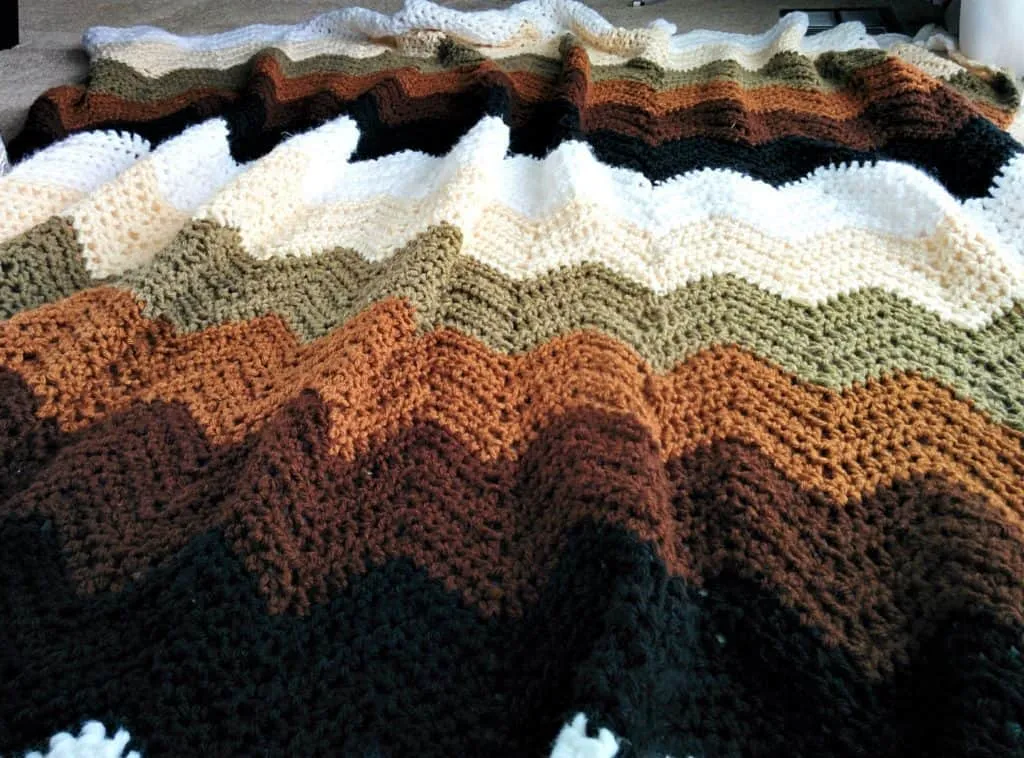 We have a lot of brown/warm colors in our house, so this fits right in. This picture was taken in our living room, and the next few were taken in my parents' room. It matched perfectly with everything in there and fit the queen-sized bed really well too!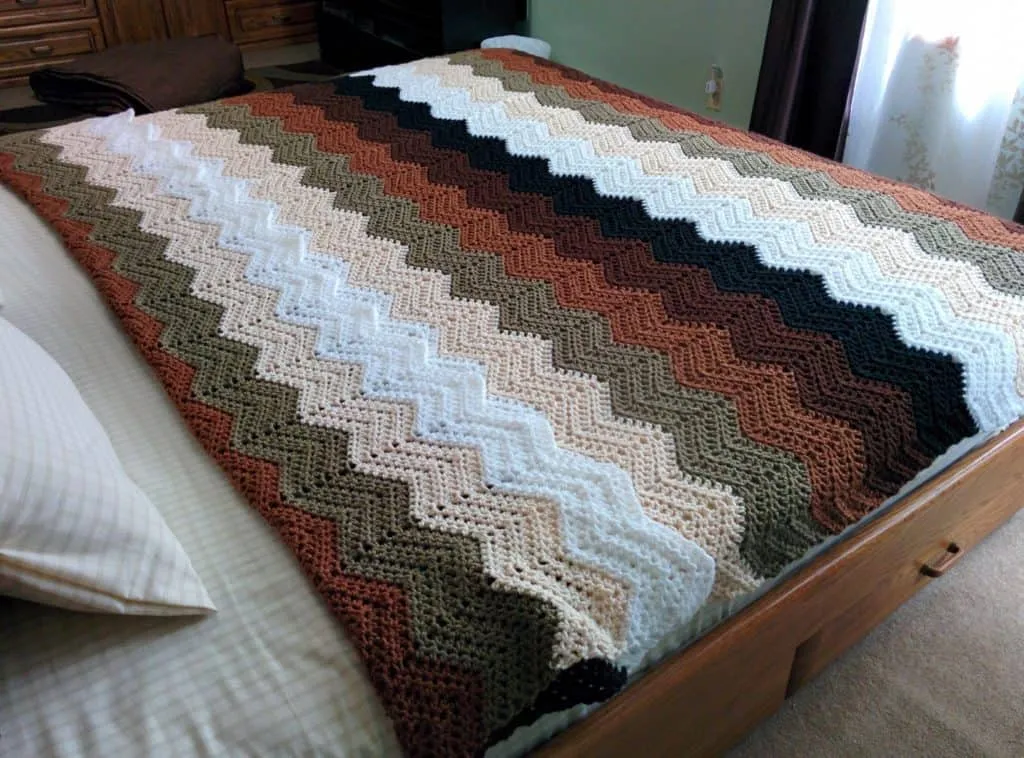 Thanks so much for reading! I have a new pattern every week so to make sure you don't miss anything, subscribe down below. You'll get weekly newsletters with the latest posts, freebies, and tips delivered right to your inbox! You'll also get access to the resource library full of special subscriber-only bonuses. It's completely free and you get tons of goodies!
See you soon 🙂
---
Visit my pattern shops on Ravelry, Craftsy, and Etsy to buy the printable PDFs of all my patterns. They're ad-free, comment-free and your support helps me run The Blue Elephants so I can continue publishing free patterns here.
My material lists sometimes include affiliate links (denoted with a *) for which I earn a small commission at no extra cost to you. I only link to products I personally use, love, and recommend. You can read more about this in my Disclosure.
I worked hard on this pattern, so please be respectful and do not sell or redistribute this pattern as your own. If you sell finished items made using this pattern, credit The Blue Elephants as the designer and link back to the blog post or the Etsy pattern link. For any other questions, read my Terms of Use or contact me.
---