Over the summer, I've been making a bunch of blankets to snuggle up in once it gets chilly. Aside from the baby blankets like this Summer Waves pattern I shared recently, I've made blankets for my aunt, my sister, and finally one for myself. I'll share them all with you over the next few weeks, but today, let's talk about the easy crochet blanket I'm calling the Mulberry Throw. It's my favorite of the bunch and I think you'll love it too!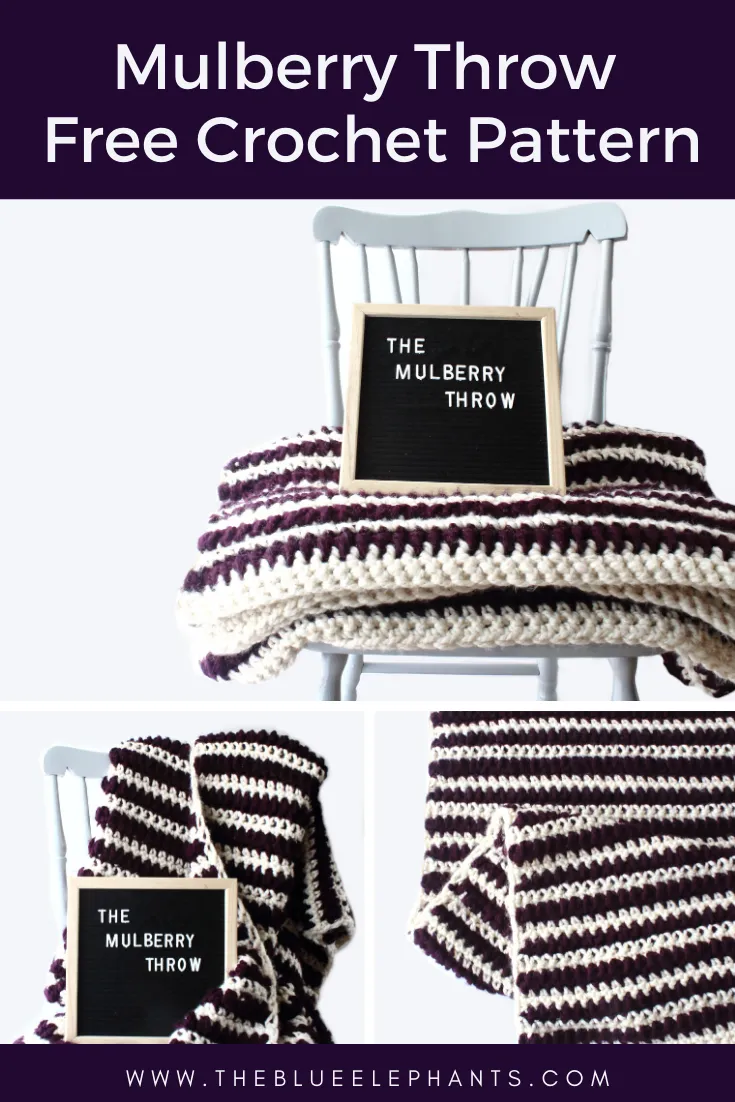 This blanket was actually meant to be a baby blanket, but I loved it so much I just made it bigger and kept it for myself. It's a thick and heavy blanket that's so perfect for snuggling into to watch a movie or read a book, which I do a lot of during the Fall and Winter.
Purple is my favorite color and this yarn had the most beautiful deep, rich color that worked so well with the cream yarn I've had for ages. They're both from Lion Brand's Thick and Quick line, and there are so many other options if you want to really make it yours.
I used only single crochets and puff stitches to make this blanket. It's a super easy crochet blanket, but it feels luxurious. It would be an amazing Christmas present if you're looking for something that feels high-end, but it still has a special handmade aspect to it. It does use several balls of yarn since there isn't much in each skein, but I think that the wow factor you get is totally worth the yarn cost.
The full free pattern is written out below. For those who'd prefer to print the pattern and take it with you for on-the-go and to markup as you go, you can buy the inexpensive printable PDF from my Etsy and Ravelry shops. The PDF is formatted without ads or comments, so it's easy to read.
Materials:
* denotes affiliate link
Abbreviations:
ch – chain
SC – single crochet
puff – yarn over and pull up a loop, yo and pull up another loop, yo and pull through all 5 loops.

Pattern Notes:
Skill level: Beginner
Sizing: 45 x 60 inches
Gauge: 2S x 1R per inch
Mulberry Throw: Easy Crochet Blanket
Row 1: Start with your contrast color, which is Starlight for mine, and chain 71.
Row 2: Turn and SC in each space across (70).
Row 3: Switch to the main color (Eggplant) and chain 2. Turn and work a puff into each SC space across (70). Do NOT chain 1 after each puff stitch.
Row 4: Switch to contrast color and chain 1. SC into the top of each puff stitch along the row.
Row 5: Chain 1, SC into each space.
Rows 6-79: Repeat rows 3-5 until the blanket is the desired length. If you want, you can make the blanket longer by working more rows but be sure to end on row 4.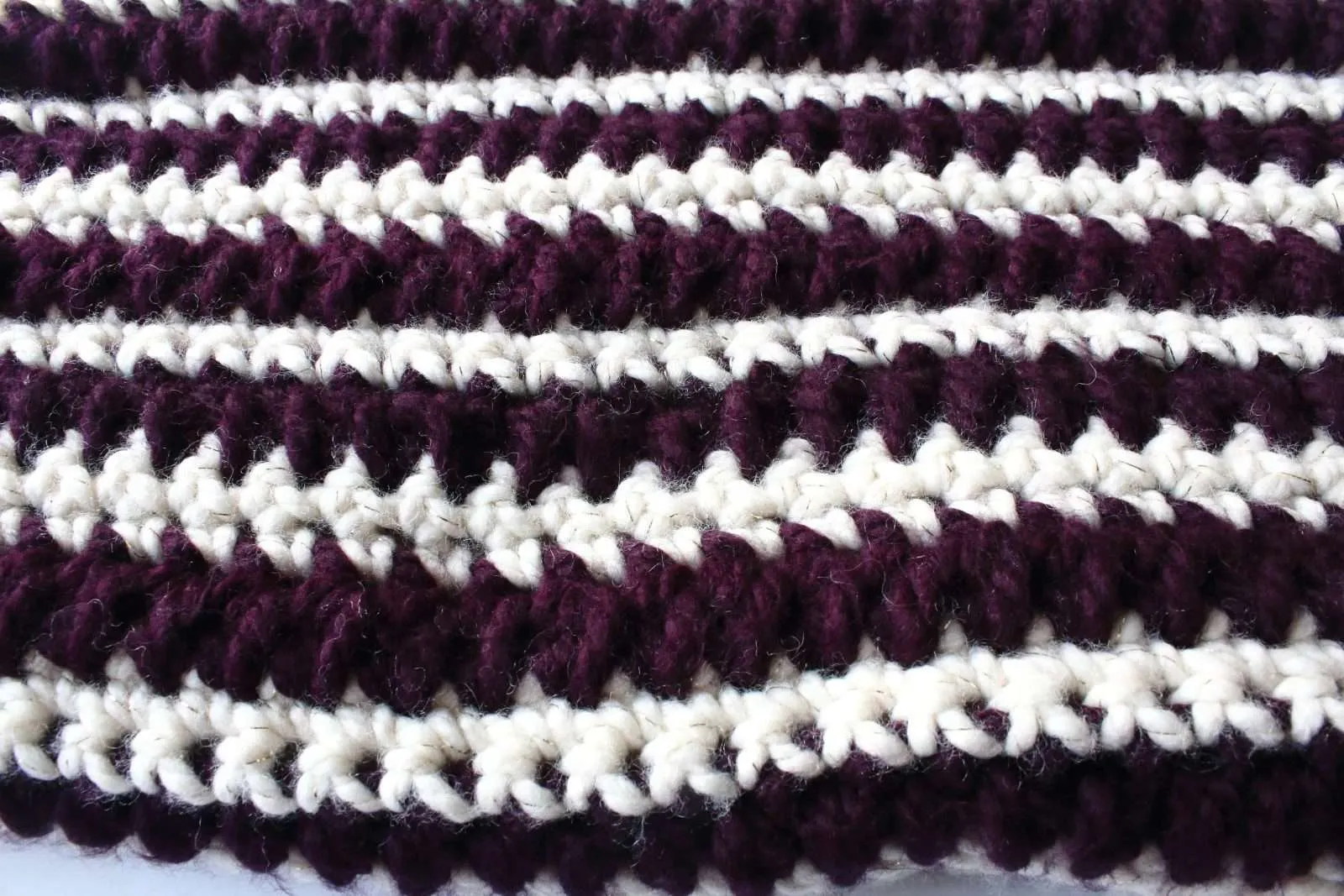 Border
To finish this easy crochet blanket, ch 1 and SC along the next row. In the last space, work 2 SC and turn to work into the long side of the blanket. Work 1 SC into each ch1 space and 2 SC into each chain 2 space until you get to the corner. Then SC 2 into the last space and turn to work into the foundation row. SC along and work 2 SC into the last space. Turn, and SC along the other long side. When you reach the end, slip stitch to the last space and bind off.
And that's it!
Now just use a tapestry needle to weave in all the loose ends and trim the excess yarn. You don't even need to block this blanket since it's heavy enough to lie flat on its own. I am obsessed with how soft and cozy this blanket is and I really hope you make it so you can feel what I mean!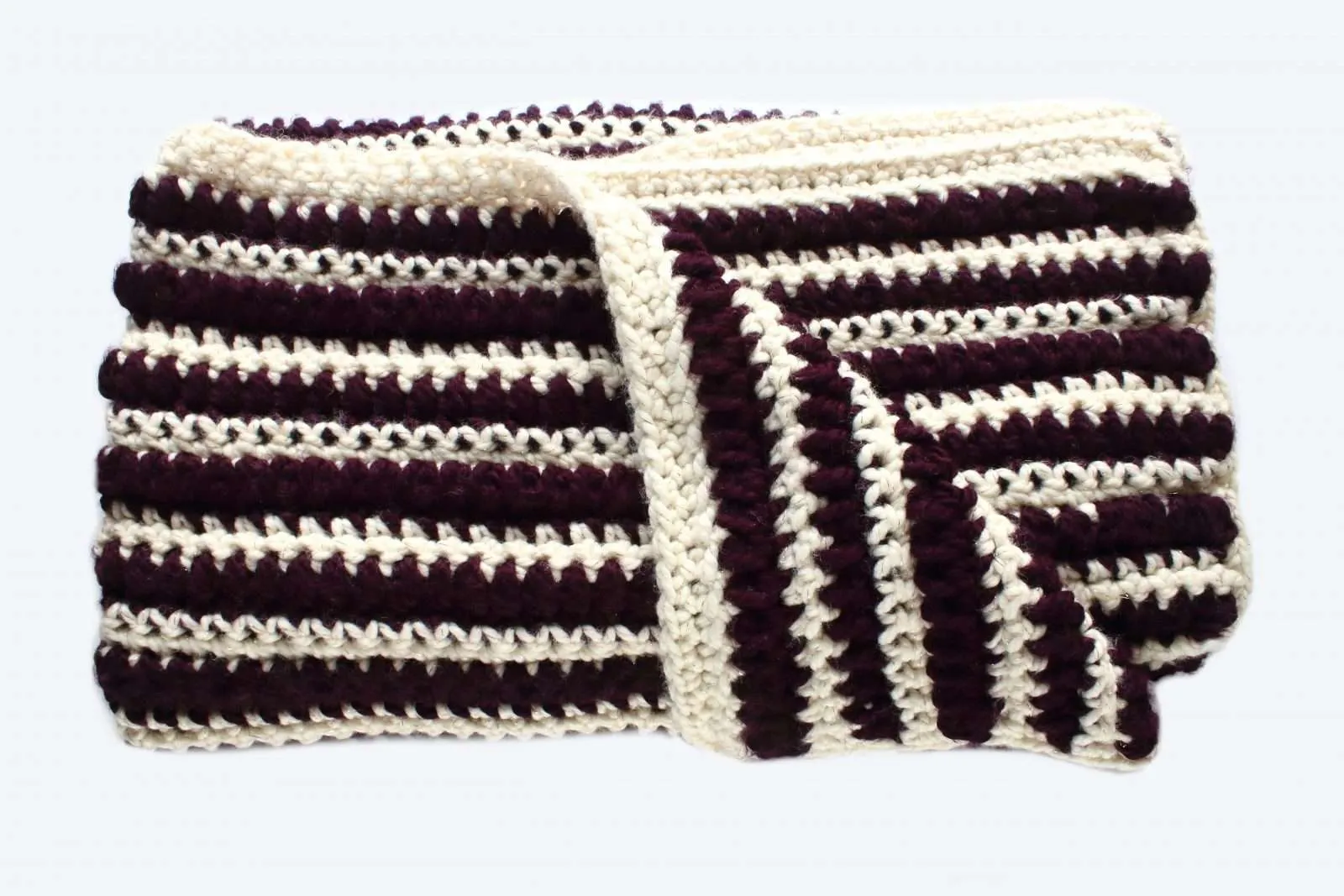 If you like super thick, luxurious blankets like this, check out my other throw patterns below! These all make for wonderful gifts that impress but are not hard to make at all.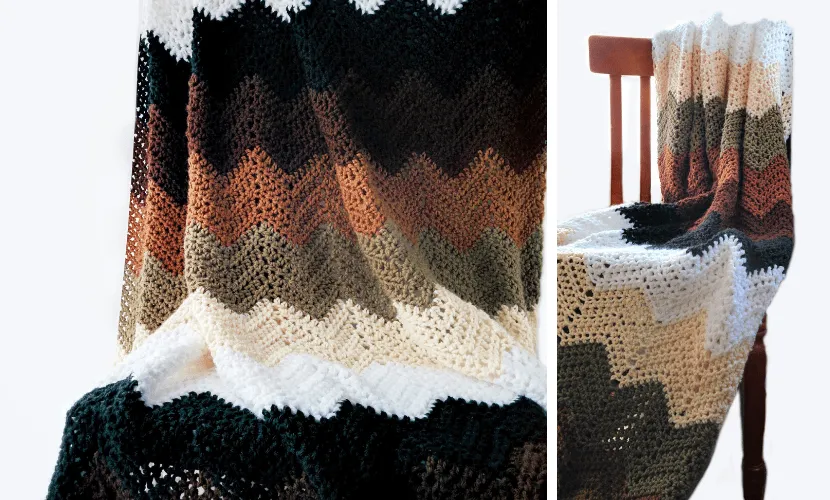 I also mentioned earlier how this was meant to be a baby blanket but I sized it up to be a throw for myself. This was easy to do with my Blanket Sizing Cheatsheet, which you can grab for free below! It has the dimensions for all different types of blankets and comes in handy so much whether I'm resizing a blanket pattern or coming up with a custom design with a stitch I really like!
Go on and click the image below to grab your free copy, or get the cheatsheet and more as part of the Make It Happen: Resource Pack over in my shop!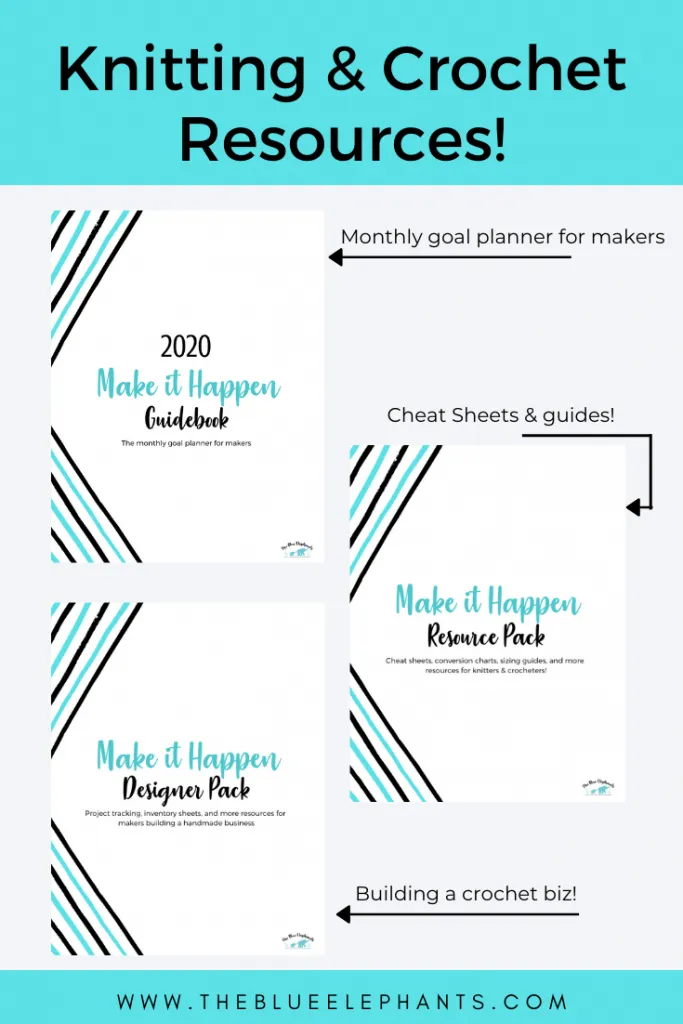 Thanks so much for reading! If you like this easy crochet blanket pattern, be sure to subscribe to the blog down below. You'll get free patterns, tutorials, and tips delivered right to your inbox every week. Just fill out the box below with your name and email and you're done! That's all for today, but I will be back with more patterns next week.
See you soon 🙂
---
Visit my pattern shops on Ravelry, Craftsy, and Etsy to buy the printable PDFs of all my patterns. They're ad-free, comment-free and your support helps me run The Blue Elephants so I can continue publishing free patterns here.
My material lists sometimes include affiliate links (denoted with a *) for which I earn a small commission at no extra cost to you. I only link to products I personally use, love, and recommend. You can read more about this in my Disclosure.
I worked hard on this pattern, so please be respectful and do not sell or redistribute this pattern as your own. If you sell finished items made using this pattern, credit The Blue Elephants as the designer and link back to the blog post or the Etsy pattern link. For any other questions, read my Terms of Use or contact me.
---