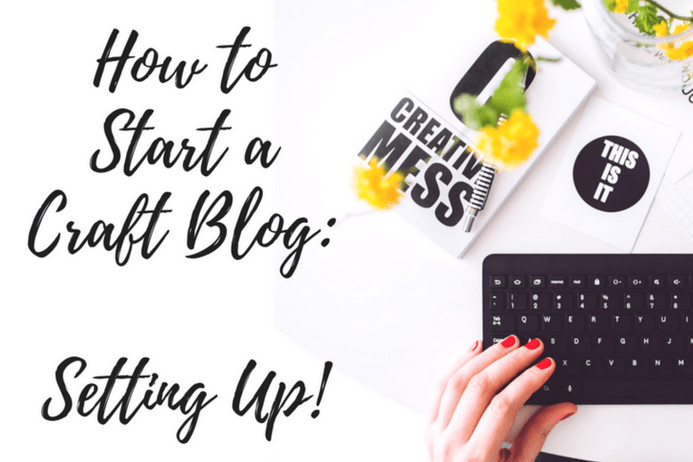 Starting a craft blog has to be the best thing I ever did for myself. The thought of putting myself out there in such a public way was terrifying, but I did it anyway. Since then, I've been able to grow this little blog into a business that I get paid from every month, nurture a community of thousands of people, and I get to do it all at my own pace and from anywhere I want.
And you can do it too. You can actually start your own craft blog today.
If you craft anything, if you have a skill to share or something you enjoy doing, you can start a craft blog. I'm going to tell you everything you need to know about blogging basics. This series is going to include the 4 topics that are the most important:
Getting Blog Traffic and Building a Community
Blog Monetization – How to Get Paid with a Craft Blog
How to Start a Craft Blog
In a separate blog post, I talked about some of the ways to make money online with crochet. That post was all about how you can turn your hobby into a profitable business even if you didn't want to start a blog. Although I love blogging and having this platform, I know not everyone wants to go this route. For more ideas on how to supplement your income with crochet, check out these 9 Ways to Make Money Crocheting!
Before we dive in, I have an amazing limited time offer to share with you.
Ultimate Bundles also has an offer called the Genius Blogger Toolkit that is all about teaching regular people like me and you how to start and run a profitable blog. Available only from OCT 10-15/2018!
The Genius Blogger Toolkit has 41 eCourses, 15 eBooks, 9 printable packs & workbooks, 5 templates, 5 stock photo packs, and 2 membership sites included for a total of 77 items valued at over $5000, but you can get it for $97! Pick the brains of the top bloggers and get their advice on everything from setting up, best business practices, creating content, promoting yourself, and even all the techy things that go into blogging! I love my copy of this bundle and so much of it is from bloggers I already know, love, and recommend.
If you're interested, sign up for it now! You'll get some extra (limited time) freebies in the coming days even if you don't end up purchasing a bundle. And when the sale is live, you'll be the first to know so you can snag your copy!
Step 1: Hosting & Domain
Getting setup starts with having a domain name and place for your blog to live. You can start a free WordPress blog just by signing up on WordPress.com (or Blogger, or Squarespace, or whatever), but it's so much better if you dive in and get a self-hosted website.
All this means is you invest in yourself and your blog by giving it a place to live. I use Bluehost and they're awesome. The system is super easy to use and they have great customer support so if you ever need help, they'll be there. You set up your account with them, pick a domain name, and you're good to go. Here's how to do it:
1. Go to the hosting tab and click shared hosting. Select the basic plan – it's only $2.95/month! You'll get one website and domain name, and up to 5 emails you can use with that address (like [email protected]). The screenshot below shows $3.95/month, but as you set up, they give you an offer for $2.95!
2. Pick a name for your blog! This is also called a domain name and it can be whatever you want it to be. Pick something that's unique and really fits what you want your blog to be so you can get the matching social media usernames too.
You can get creative and choose something that says exactly what you do, but you can also go with your own name and create your brand around YOU.
I picked TheBlueElephants.com because it was something specific and it had a story to it, but it also gave me room to include things other than crochet if I ever felt like it.
3. Fill out the account information and check whatever you want to include – the only thing you need, in my opinion, is the domain privacy. Pick an account plan (the cheapest is $2.95/month for 36 months) and complete the payment information. Choose the 36-month plan or the 60-month plan to get the most for your money. This low price is only available when you first sign up and then you'll have to renew at the regular price (7.95/mo). So if you can get the first few years paid at the lowest cost, you'll have more time to get your blog off the ground and running. By the time you need to renew, you'll be making that money back easiy.
If you're uneasy about paying for hosting, don't be.
It's really the best thing you can do for your blog. You spend about $100 up front here and you have this blog for 3 years to do whatever you want. You can get your money back if you don't like blogging anymore, but you will and investing in hosting and someone else to take care of the finicky parts is so worth it. I waited years before moving from the free Blogger platform to Bluehost-run WordPress and I should have started there. It was simpler, it was cleaner, and it made making money and content SOOO much easier. Also, the Bluehost support helped me save my website several times after I kept breaking it trying to DIY fixes myself. There was no hassle and they were super nice about it.
Now, just login in and get started!
Step 2: Set up WordPress
WordPress is the blogging software you'll use to actually manage content – posts, comments, all the fun stuff. It's the same software that most bloggers use and love, and for good reason. You can install it in one step through Bluehost.
Bluehost will walk you through installing and setting up WordPress on the next screens.
Customize Your Craft Blog
Follow the directions on screen and you can start customizing your blog to look however you like. The first thing you'll do is pick a theme and decide how you want your website to look.
You can use a free option from the ones WP has or you can get a premium one. Although there are a lot of free themes available, you can't always do as much as you want to with them and there's no support if you need help. Getting a premium theme (like this one) gives you a lot more flexibility and makes it easier to monetize, make your site mobile friendly, and customize exactly how you want. After all, you're a blogger now!
My theme is the Soledad Theme and the possibilities are endless with it. It's one theme but there are over 2000 ways to customize it so you can create your own look. It was $60 when I got it but so worth it! Before, I spent way too much time trying to do everything myself and breaking my website. Multiple times. Save yourself a headache and get a premium theme with support. You really can't go wrong with the Soledad Theme, so check it out and play around with their live demos to see all the different looks.
Get Familiar with WordPress
You can go ahead and launch your blog now! Your site is up and running so the next step is to add content and give people something to read when they visit. Be sure to visit the posts below to learn more about blogging and how to make content and get paid for your new blog!
Creating Blog Content that People WANT to Read
Getting Blog Traffic and Building a Community
Blog Monetization – How to Get Paid with a Craft Blog
Set up for Success!
If you're serious about starting a craft blog and making it into a real business you can run from home, I have two more amazing resources for you.
One of the highlights of my blogging career has been being part of Ultimate Bundles very first bundle geared towards crafters. I had a pattern included in their Handmade with Love Super Bundle and I get to share that with such an amazing, supportive audience! This bundle is perfect for crafters because it includes over 200 patterns, projects, courses and more to get your creativity flowing. These are some of the best offers from craft bloggers all over and it's a great way to see what works, and how you can get in on it no matter what your craft is. Plus, there's a lot of fun crafty things to learn too!
Bloggers' Dream Resource!
Ultimate Bundles also has another offer called the Genius Blogger Toolkit that's all about how to create a business from home. It has resources and guides on everything from setting up, getting the legal stuff squared away and all aspects for running a successful blog. Some of my absolute favorite bloggers and boss babes have contributed to this bundle and it's an absolute steal at 98% off the prices of the individual courses.
Both of these bundles are perfect ways to start off your blogging and business building journey. All the materials and courses that will actually help you are all in one place and you pay less than you would for just one of the resources included.
Thanks so much for reading. If you need help with anything, shoot me a message! Blogging is my favorite thing and I can't believe it's already been a few years of this. I love it more than when I started (since learning how to do things properly!) and I know you will too.
Finally, if you want to hear more about blogging and all the freebies, bonuses, and sales like this Genius Blogger Toolkit, sign up to the mailing list! You'll get blogging information as well as my regular newsletters! Just fill out the box below.
See you soon!