Let's step back a minute from all the holiday prep and Christmas Crochet Bundles, and savor where we are right now. Although this year has been… different, to say the least, it's finally Fall again! I want to start it off with all the comforting, cozy things I love about fall – sweaters and colors, cinnamon, pumpkins, and all things soft. This week I'm sharing an easy crochet pumpkin pattern that's sure to bring some of that cheer to your home!
This simple crochet pumpkin pattern can be used to make all kinds of different pumpkins to match your own and style, just by changing out the yarn you use. I went with the traditional orange color but I think some pastel ones are next! For these crochet pumpkins, I used two strands of yarn held together to make them a little stiffer and thicker, but feel free to try this pattern with thicker yarn or maybe even something velvet for a different look and feel.
I love making using this crochet pumpkin pattern for craft fairs too. It works up so quickly and needs very little material, plus the cinnamon stick I use as a stem makes my booth smell amazing! For this pattern, I have a video tutorial as well as the written pattern so if you need any help, be sure to check that out too!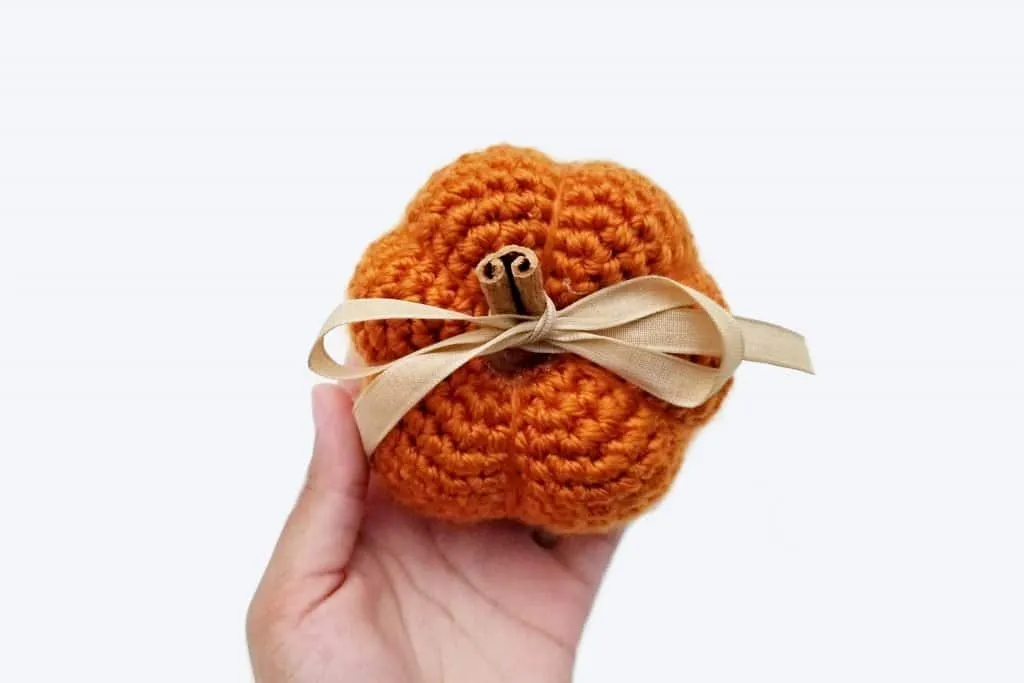 Materials:
4.25mm crochet hook
#4 medium weight yarn – I used Yarn Bee Soft Secret in Pumpkin Spice
Hot glue
Cinnamon stick
Burlap ribbon (optional)
*denotes affiliate link
Abbreviations:

Pattern Notes:
Skill level: Beginner
Sizing: 2.5″ tall
Gauge: 3S X 4R per inch
Free Crochet Pumpkin Pattern
Round 1: Holding two strands of yarn together, create a magic loop and work 6 SC into it. Pull the loop closed.
Round 2: Inc in each space by working 2 SC into each (12).
Round 3: *SC, inc* around (18).
Round 4: *SC 2, inc* around (24).
Round 5: *SC 3, inc* around (30).
Round 6: *SC 4, inc* around (36).
Rounds 7-16: SC around for 10 rounds. If you want to make your pumpkin taller, feel free to work a few extra rounds here.
Round 17: *SC 4, dec* around (30).
Round 18: *SC 3, dec* around (24). You can start to add the stuffing now. Don't add too much that it'll show through the holes, but as you stuff, make sure there's room for the pumpkin to squish down a little.
Round 19: *SC 2, dec* around (18).
Round 22: *SC, dec* around (12). Finish adding stuffing.
Round 23: Decrease around (6). Cut the yarn and thread tail through a tapestry needle. Run the needle under the front loops of each stitch and secure yarn. Pull tight and cut a long tail.
Finishing Touches
To make the lines for the crochet pumpkin pattern, thread the tail yarn through a tapestry needle and push it through the center of the pumpkin from top to bottom. Then go back through the top center to the bottom and you'll have a large stitch across the pumpkin. Pull the yarn tight to create the first line and repeat 4 more times to make the other sections of the pumpkin.
Once you're done, fasten off the tail and weave in the loose end. To finish, add a bit of hot glue to the center of the pumpkin and stick a 1-inch long bit of cinnamon stick for the stem. Hold it in place as the glue dries and you're done!
And that's it! These crochet pumpkins are so quick to make and they make great little decoration pieces. Get creative with your pumpkins and try out different colors and yarn types and you can even use these pumpkins as stashbusters!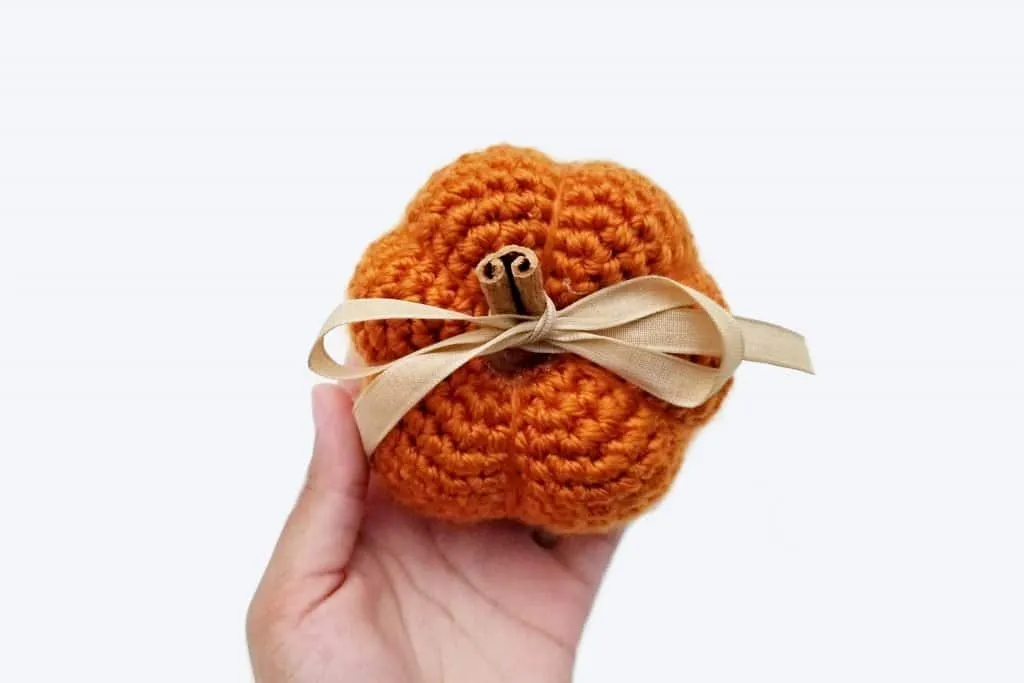 I hope you enjoyed this quick little post. I'll be back soon with more new patterns, so be sure to sign up for the newsletter so you don't miss them! Just fill out your name and email in the box below and you're good to go!
See you soon 🙂
---
Visit my pattern shops on Ravelry, Craftsy, and Etsy to buy the printable PDFs of all my patterns. They're ad-free, comment-free and your support helps me run The Blue Elephants so I can continue publishing free patterns here.
My material lists sometimes include affiliate links (denoted with a *) for which I earn a small commission at no extra cost to you. I only link to products I personally use, love, and recommend. You can read more about this in my Disclosure.
I worked hard on this pattern, so please be respectful and do not sell or redistribute this pattern as your own. If you sell finished items made using this pattern, credit The Blue Elephants as the designer and link back to the blog post or the Etsy pattern link. For any other questions, read my Terms of Use or contact me.
---