It's been Fall for a while, but where I live, the leaves just changed and the winds are starting to get blustery. Every night, we have rain storms and I love this time of year. It's cold, but not freezing. I get to cuddle up in blankets and the mood outside is perfect for diving into fantasy novels. This kind of weather is just right and that's what the Rainy Days blanket makes me think of. This is my first corner to corner crochet blanket pattern and it couldn't be easier to work up, so let's dive in!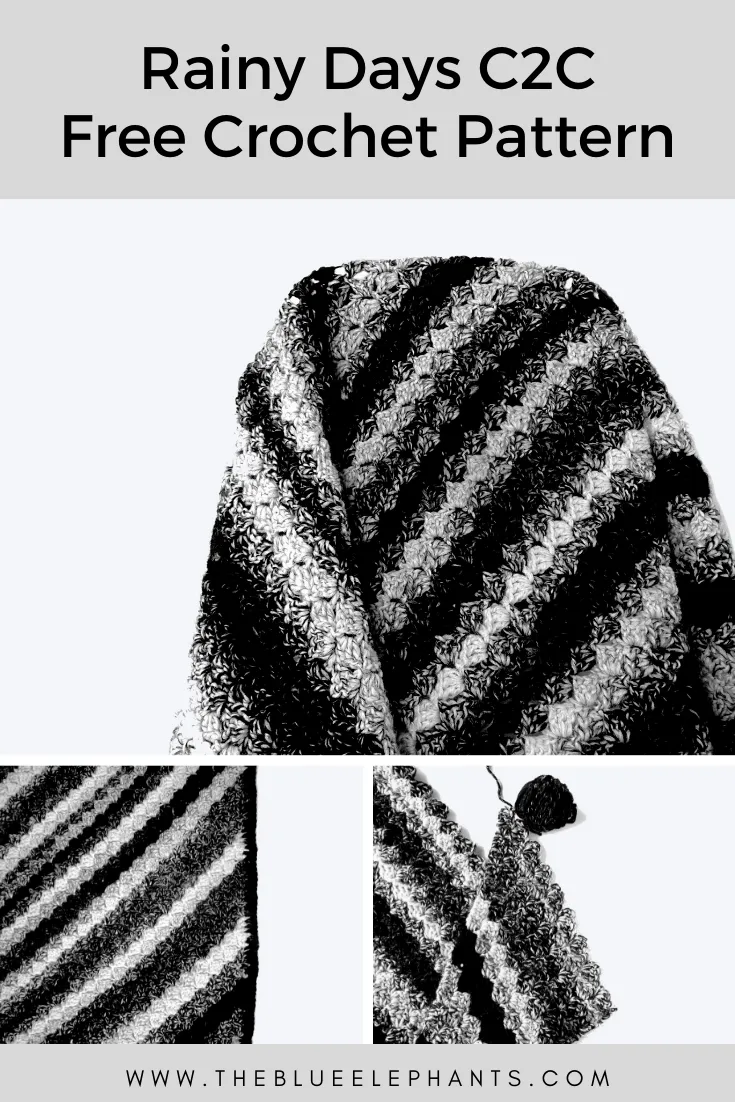 I actually made this blanket back in March, but I didn't take any pictures until this weekend. I sort of forgot about it!
When I made this, it was the Spring and right around when my dad cranks up the air conditioning in his car. For years, I would be frozen in the passenger seat on our way to and from school. This year, my sister was complaining about the same thing, so I decided we needed a car blanket. As soon as I made this blanket, it went into the car before I thought to get pictures.
It's been well-loved and used during that time, though 🙂
The beauty of this pattern is that the gradient in the Scarfie yarn does all the work and you don't need to measure or even keep track of rows. This corner to corner crochet blanket pattern is perfect for beginners who just want something simple to practice on without all the bells and whistles of complicated charts.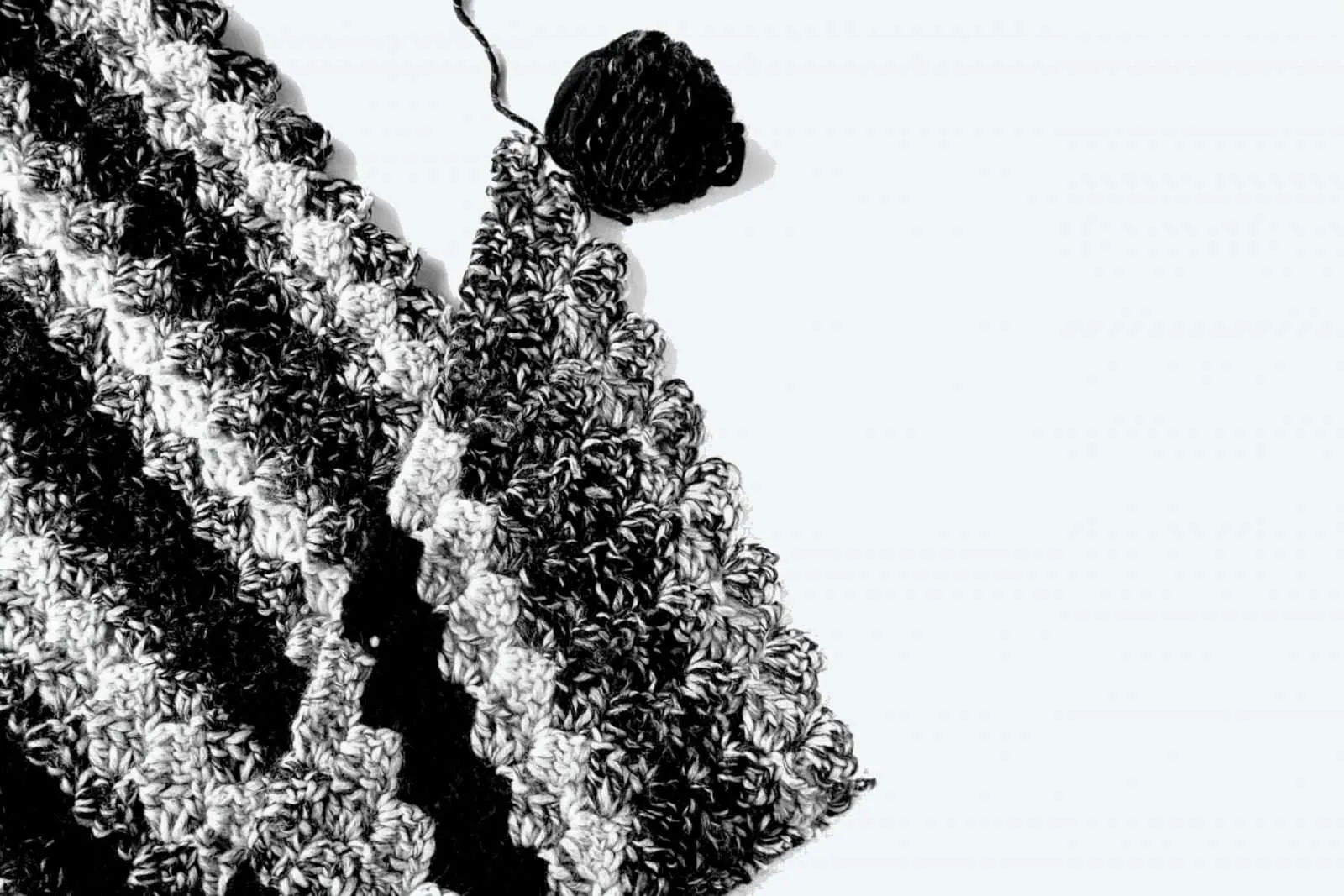 The full free pattern is written out below. For those who'd prefer to print the pattern and take it with you for on-the-go and to markup as you go, you can buy the inexpensive printable PDF from my Etsy and Ravelry shops. The PDF is formatted without ads or comments, so it's easy to read.
Materials:
Abbreviations:

Pattern Notes:
Skill level: Beginner
Sizing: 50×50 inches, but you can customize it easily
Gauge: 3S x 1R per inch

Rainy Days Corner to Corner Crochet Blanket Pattern
Row 1: Make a slip knot and chain 5. YO and double crochet into the 3rd space from the hook and each space after. You'll have 3 DCs and a chain 2.
Row 2: Once you finish the first block, you hook will be at the top left of the block. Rotate the piece so you have your hook at the bottom right again. Chain 5, and DC 3 starting from the 3rd space from the hook. Slip stitch to the chain 2 space of the last row to bring the blocks together. Chain 2 and work 3 DC into the chain-2 space of the last block.
Row 3: Rotate the work so your hook is in the bottom right corner. Chain 5, starting from the 3rd space from the hook, DC 3. Sl st to the top of the ch 2 space. *Ch 2, DC3 into the space, slip st to the top of the next space*. Repeat from * to * until the end of the row.
Rows 4-50: Repeat row 3 until the blanket reaches the width that you want it to be, increasing by one block in each row. I continued until the last full row I could work with 2 balls of the Scarfie yarn. That came up to 50 rows for me.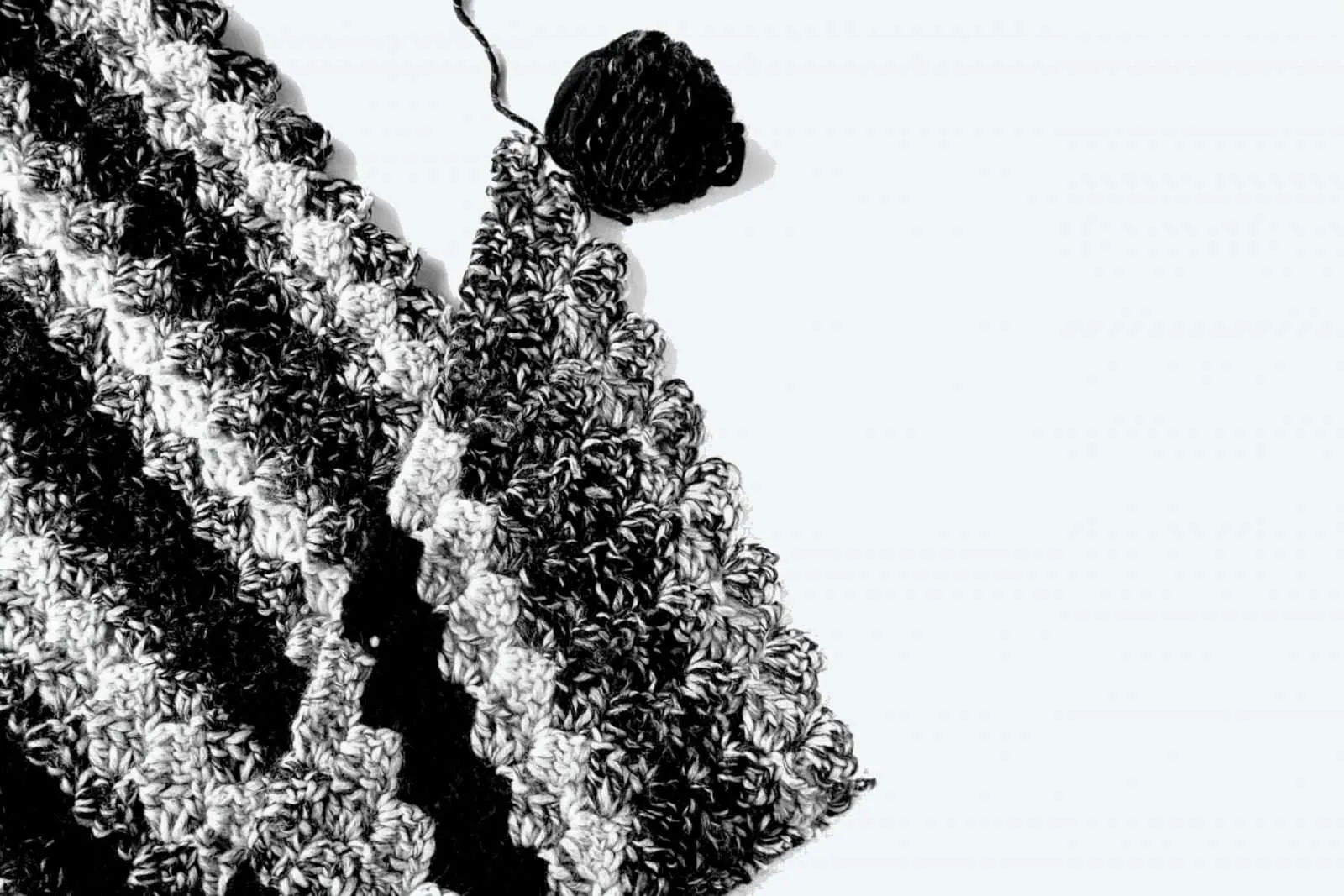 Decreasing the blanket
Row 51: Turn the work so you're at the bottom right corner. Slip stitch 3 times into each of the next 3 spaces to start the decrease rows. Then, continue working each block as normal: Ch 2, DC3 into the space, slip st to the top of the next space. Repeat until the end of the row.
Row 52-100: Repeat row 5 until you have only 1 block left, after decreasing one block from each row. This is going to be the same amount of rows as your increasing rows, so for me, it was another 2 balls of the Scarfie. After you work the last block, slip stitch to the last chain 2 space and bind off.
Border
Now, we are going to make a nice smooth border to go around our corner to corner crochet blanket pattern. You can leave it as is, but I liked the finished look a solid color gave the blanket.
Attach a new piece of solid black yarn to the corner of the blanket (any corner) and work one round of SC, working into the spaces between stitches to add a border. Slip stitch to the first SC and bind off. Weave in loose ends and trim the excess yarn.
You're all done!
I love this corner-to-corner crochet blanket pattern because it is so EASY. You can make it as large or as small as you like without changing the pattern at all. And once you know the basic C2C method, it's so simple to work up.
The only thing about this blanket is that it does take a bit longer than you expect it to. I have no idea why, but building up the rows seems to take forever, but decreasing takes no time at all. Overall, I'm super happy with this blanket, and the fact that my sisters use it every day makes me even happier.
I hope you liked this! This C2C blanket pattern was one of my simpler designs. C2C blanket patterns like this are, in general, very simple since you aren't doing any fancy stitches.
Because you're working in squares, this technique is really great for making graphgans and playing with the designs. Down below are a few other designs I've made using C2C.
Thanks so much for reading! I hope you liked this pattern and if you did, comment below and tell me what other crochet techniques you'd like to see.
I post new patterns, tutorials, and tips every week. If you want more like this in your inbox, just fill out the box below to sign up for the weekly newsletter and you'll also get access to the resource library with subscriber-only freebies. That's all for today, but I will see you guys soon 🙂
---
Visit my pattern shops on Ravelry, Craftsy, and Etsy to buy the printable PDFs of all my patterns. They're ad-free, comment-free and your support helps me run The Blue Elephants so I can continue publishing free patterns here.
My material lists sometimes include affiliate links (denoted with a *) for which I earn a small commission at no extra cost to you. I only link to products I personally use, love, and recommend. You can read more about this in my Disclosure.
I worked hard on this pattern, so please be respectful and do not sell or redistribute this pattern as your own. If you sell finished items made using this pattern, credit The Blue Elephants as the designer and link back to the blog post or the Etsy pattern link. For any other questions, read my Terms of Use or contact me.
---