I've had this gorgeous dusty pink yarn in my stash for a long time now, and I couldn't decide what to do with it for a long time. I actually bought it as part of a blanket kit, but once I saw the yarn in person, I knew I couldn't use it for that pattern. It seemed like a color that needed to be paired with something soft and delicate, so I held onto my pretty dusty pink. This week, finally figured out the perfect pattern to use it on. This crochet slouchy beanie pattern is so easy and beautiful, plus it's light enough to wear during the Spring!
The Rosebud Beanie is worked much more loosely than some of my other beanie patterns and with a more open stitch. Normally, I want the stitches close together with few gaps so they keep you super warm, but with this crochet slouchy beanie, I tried something different. The looser stitch pattern makes the beanie slouch more easily and it makes the hat a little breezier and perfect for Spring. And how pretty is this dusty pink color next to the white? I feel like it pops more than if it were all pink!
My dad loves roses and we have so many roses growing in our garden during the Spring and Summer that you can smell them every time you walk outside. Sometimes, we grab a rosebud here and there to add to our outfits or give to people. My favorites are the ones that change gradually from one color to another, like white to pink-edged petals, and that Springtime tradition was the inspiration behind this crochet slouchy beanie.
The full free pattern is written out below. For those who'd prefer to print the pattern and take it with you for on-the-go and to markup as you go, you can buy the inexpensive printable PDF from my Etsy and Ravelry shops. The PDF is formatted without ads or comments, so it's easy to read.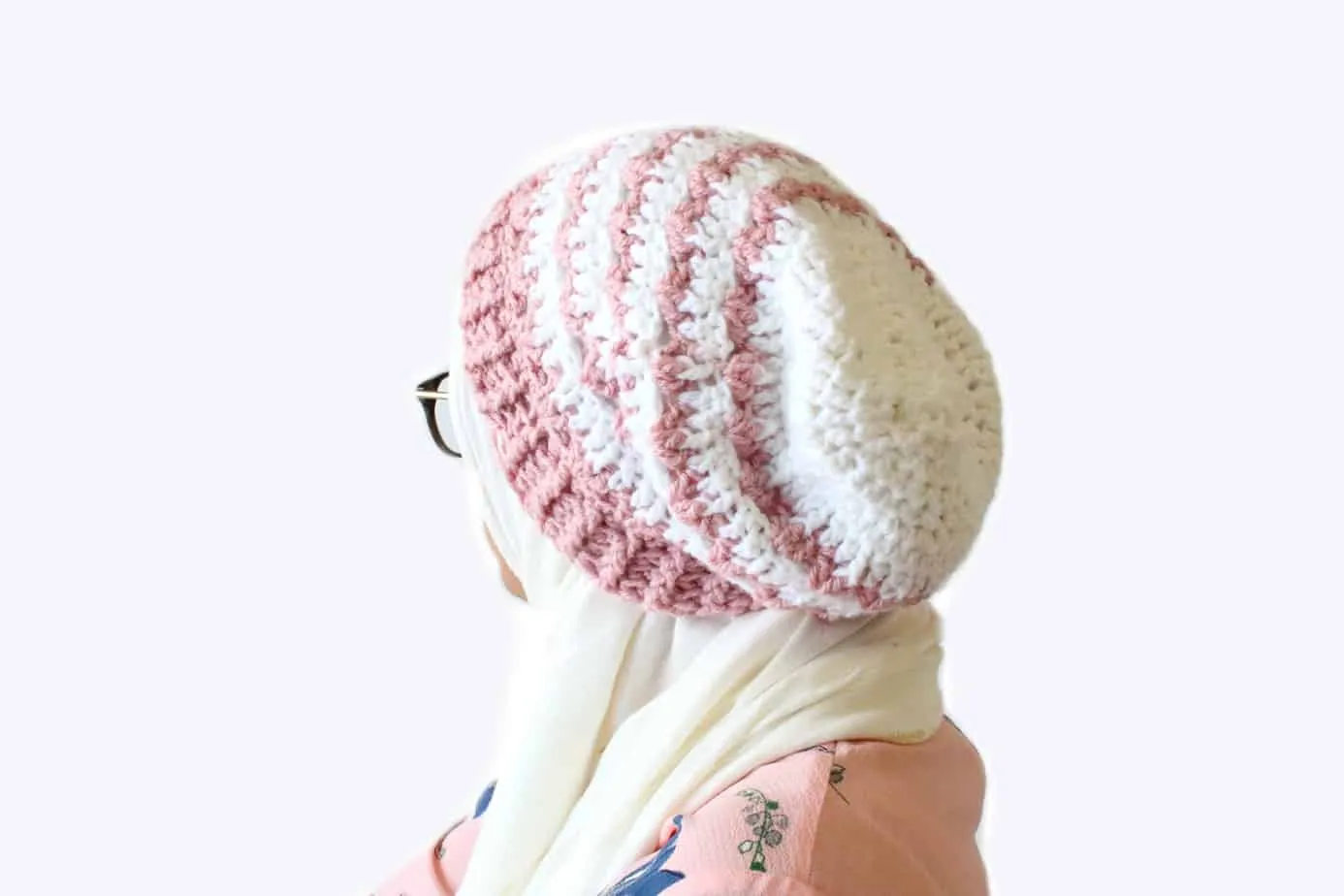 Materials:
#4 Worsted weight yarn in Pink and white – I used a ball each of Sprightly Acrylic in Misty Pink and White
Tapestry needle
Pom-pom (optional)
Abbreviations:
ch – chain
SC – single crochet
DC – double crochet
HDC – half double crochet
sl – slip stitch
FDC – foundation double crochet
FPDC – Front post DC
BPDC – Back post DC
YO – yarn over
BO – bind off

Pattern Notes:
Skill level: Beginner/intermediate
Sizing: Women's small (medium, large)
Gauge: 3.5S x 2R per inch
If you need any help sizing beanies or want to convert this to a children's sizes, get the free Ultimate Guide to Sizing Hats Ebook!
Rosebud Crochet Slouchy Beanie Pattern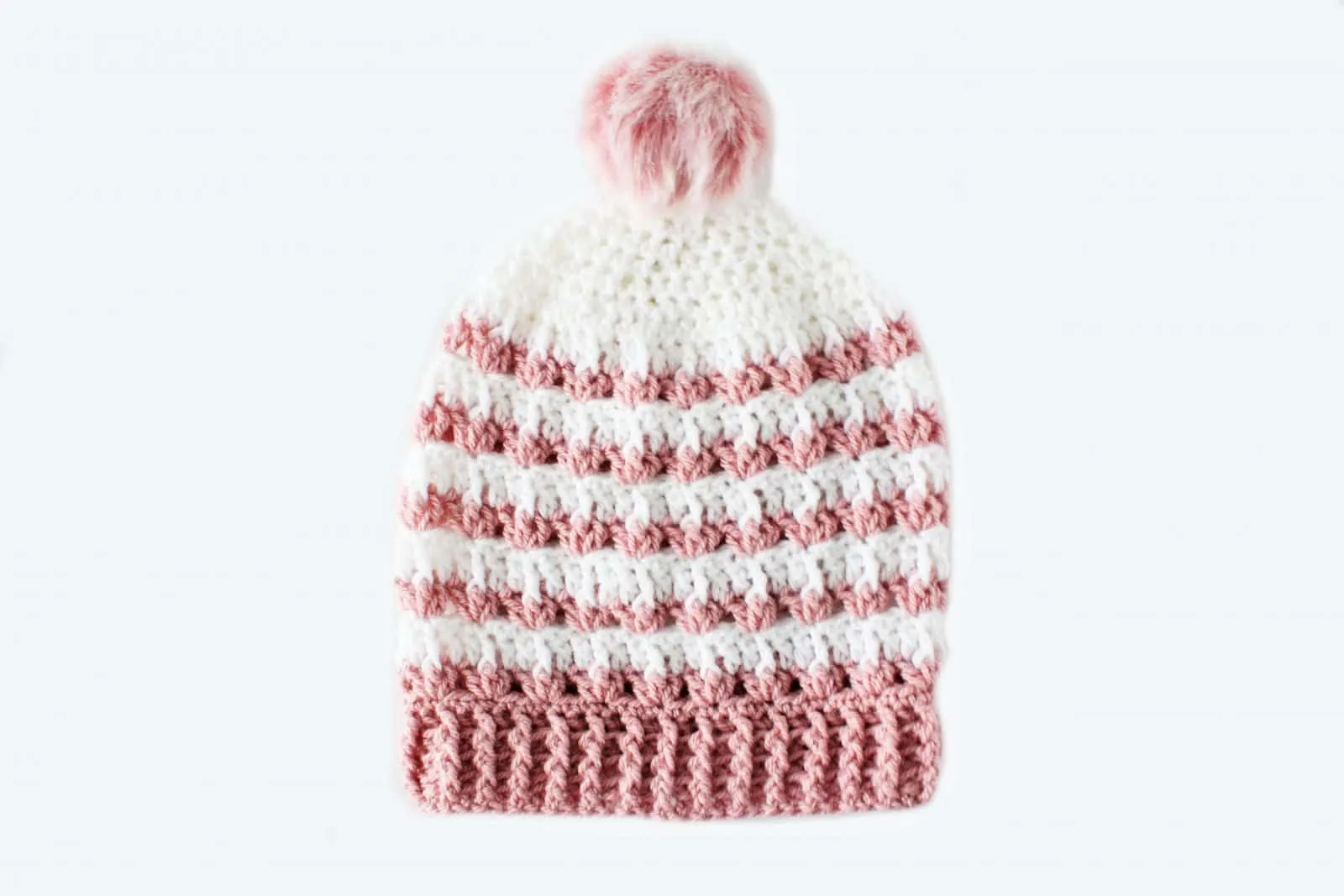 Cuff/Ribbing
Row 1: With the pink yarn, chain 4. YO, and insert the hook int the first chain, pull up a loop and ch 1. YO and pull through the 2 loops, then YO and pull through the next 2 loops on the hook. This is 1 foundation DC. *YO, insert into the chain 1 space, and chain 1. YO and complete the DC. Repeat from the *until you have 60 (66, 69) FDC.
If you prefer, you can also simply chain 62 (68, 71), and then work 60 (66, 69) DC starting from the 2nd space from the hook. It won't be as stretchy as using a foundation DC, however.
Slip stitch to the top of the first stitch to join. Now, can work in rounds.
Round 2: Chain 2. *FPDC around the first stitch, BPDC around the next* all the way around the cuff. Then, Slip stitch to the top of the ch 2 to finish the round.
Round 3-5: Repeat round 2 for another 3 rounds to create the ribbing of the cuff. If you need help, check out this post on how to crochet the perfect stretchy ribbing! It's the same as the one I used here.
Body
Round 6: Chain 1. Work 2 SC into the first space, then SC once in each space around (61, 67, 70). Slip stitch to the chain 1 at the end of the round.
Round 7: (Still in pink) Chain 3, skip 3 spaces and DC into the 4th space. *Sk 2, work 3 DC into the next space* and continue from * all the way to the last space. DC 2 into the last space and slip stitch to the top of the chain 3.
Round 8: (Switch to white) Chain 2. DC into the first space, FPDC into the next (this should be the center DC from the previous round). * DC 2, FPDC* all the way around the beanie and slip stitch to the chain 2 to finish.
Round 9: (White) Chain 1. SC in each space around (61, 67, 71). Slip stitch to the chain 1 to finish.
Rounds 10-20 (23, 26): Repeat rounds 7-9 until you reach the right height for your hat. For small, it should be around 8.5 inches, 9 inches for medium and 9.25 inches for a large. Continue to use the pink yarn for the DC cluster rounds and switching to white for the others, and end with round 8.
Round 21 (24, 27): Chain 1. Work one HDC decrease by picking up a loop from each of the next two spaces, YO and drawing the yarn through all three loops. HDC in each space around (60, 66, 69).
Round 22 (25, 28): HDC 1, *HDC, HDC2tog* all the way around. You should have 40 (45, 47)stitches now.
Crown
Medium size only: *HDC 7, decrease* around (40).
Large size only: Decrease twice. *HDC 7, decrease* around (40).
Round 23 (27, 30): *HDC 6, decrease* around. (35)
Round 24 (28, 31): *HDC 5, decrease* around. (30)
Round 25 (29, 32): *HDC 4, decrease* around. (25)
Round 26 (30, 33): *HDC 3, decrease* around. (20)
Round 27 (31, 34): *HDC 2, decrease* around. (15)
Round 28 (32, 35): *HDC 1, decrease* around. (10)
Cut the yarn and leave a long tail end. Then thread the tail through a tapestry needle and pick up the front loop of all 10 stitches with the needle. Pull the needle through to close the top of you crochet slouchy beanie and fasten off the yarn. Now, you can add a pom-pom if you like or just leave it as is.
And you're done with the Rosebud beanie!
I got this blush pink pompom from Etsy and I LOVE it. It's just the right shade to match this Rosebud beanie, but I'm not sure if I should attach it. It seems a little small to me, although my sisters thought it looked fine. I can't decide! Let me know what you think.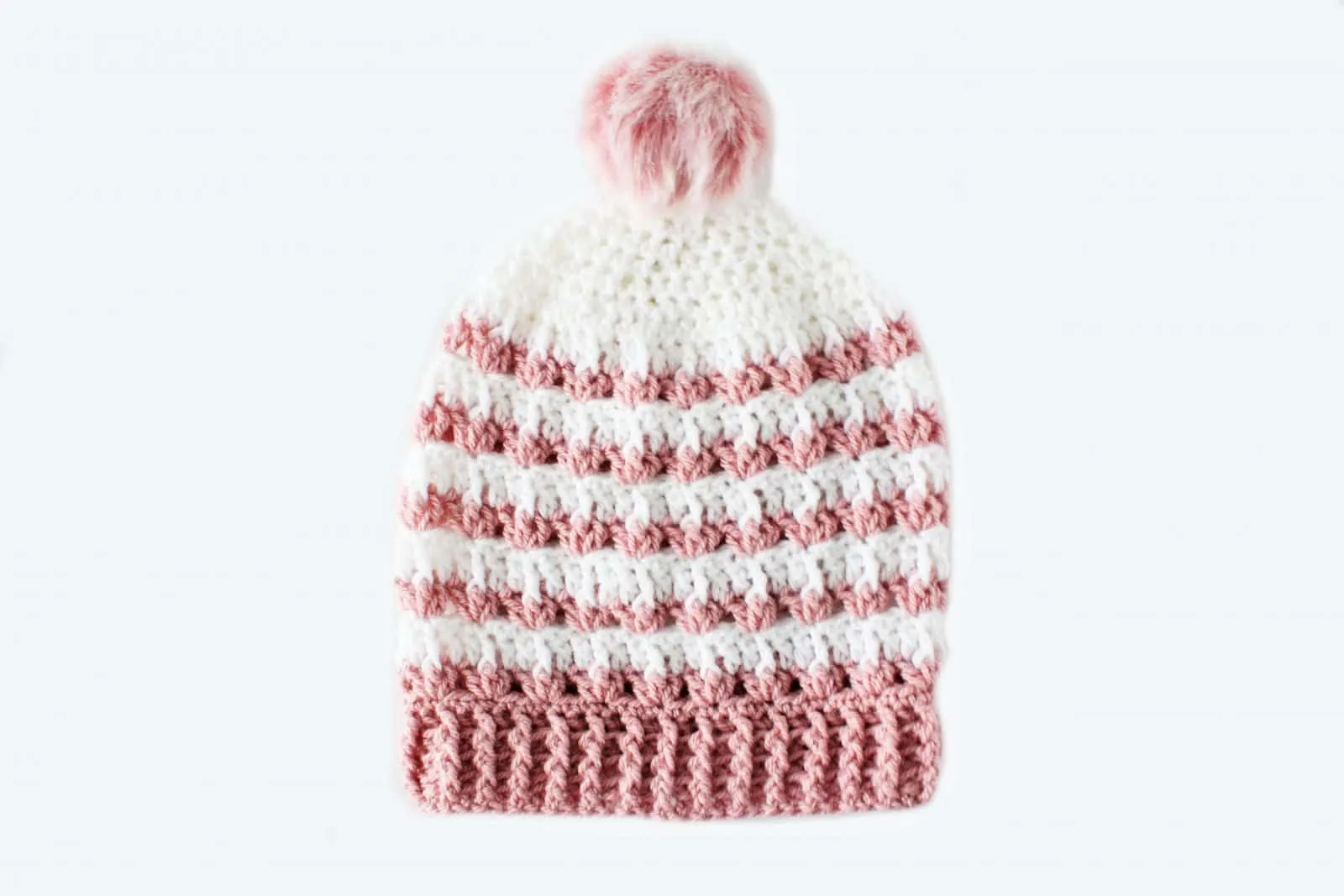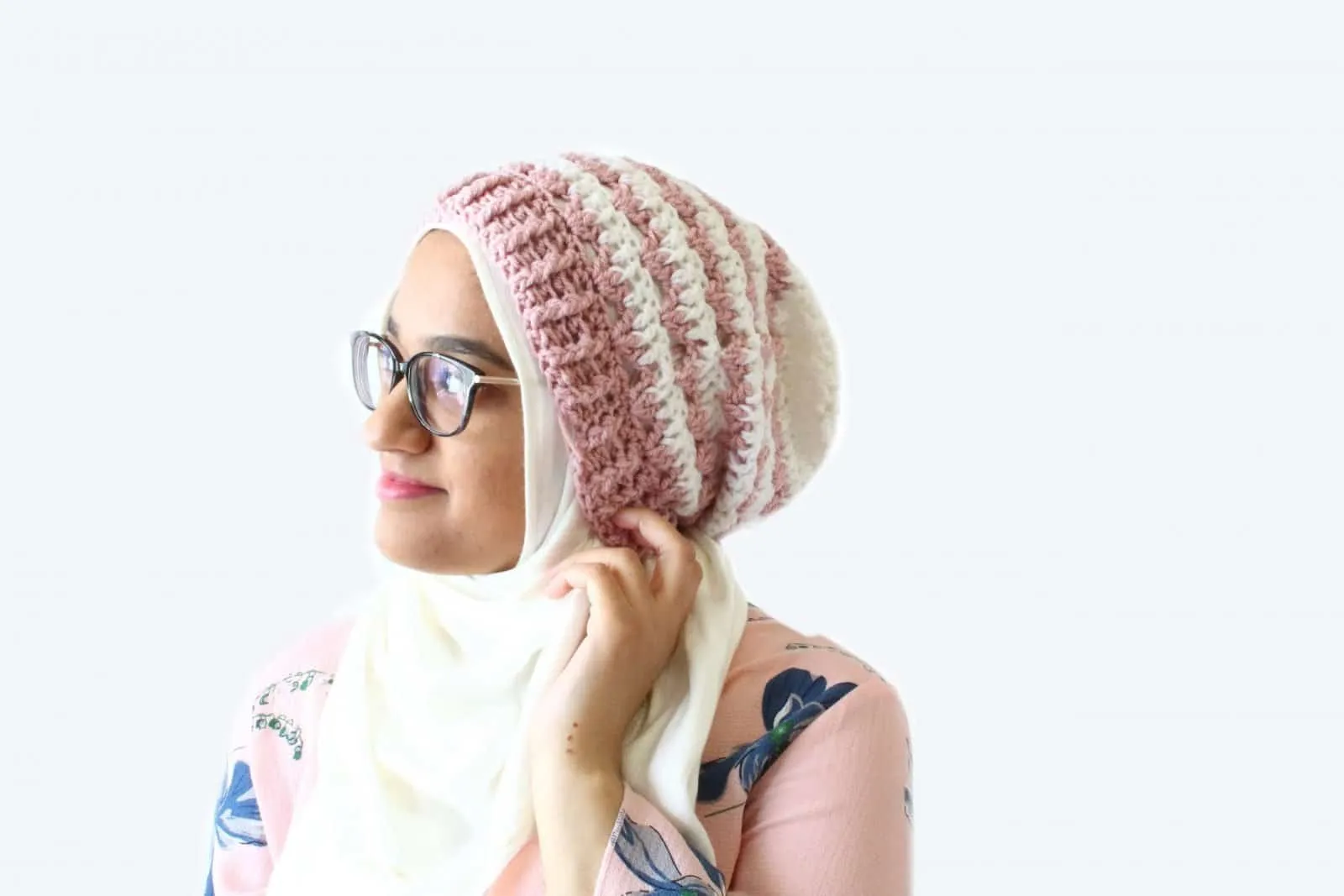 Thanks so much for reading everyone! Check out more of my beanies below. Now that we're moving into Spring and Summer, I'll be putting away the warm weather project for a bit and focusing more on teaching techniques, making toys, and helping you guys learn more about crocheting.
If you liked this, please subscribe to get free patterns, tutorials, and tips delivered right to your inbox every week! It's totally free and you get access to subscriber-only bonuses in the resource library. Just use the box below to sign up with your name and email. And if you want more with this pretty yarn, check out the easiest crochet cardigan pattern I made with the same yarn.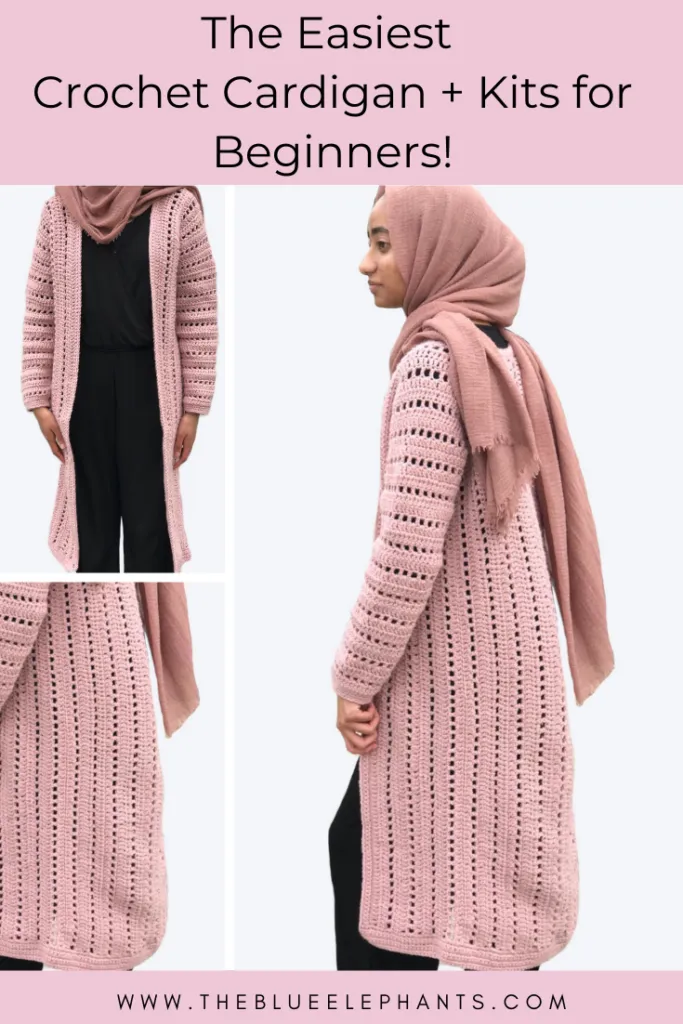 See you soon 🙂
---
Visit my pattern shops on Ravelry, Craftsy, and Etsy to buy the printable PDFs of all my patterns. They're ad-free, comment-free and your support helps me run The Blue Elephants so I can continue publishing free patterns here.
My material lists sometimes include affiliate links (denoted with a *) for which I earn a small commission at no extra cost to you. I only link to products I personally use, love, and recommend. You can read more about this in my Disclosure.
I worked hard on this pattern, so please be respectful and do not sell or redistribute this pattern as your own. If you sell finished items made using this pattern, credit The Blue Elephants as the designer and link back to the blog post or the Etsy pattern link. For any other questions, read my Terms of Use or contact me.
---