If there's anyone that knows how to be comfortable, it's my sister, Sofie. She's always in the comfiest outfits and even has her workspace set up for maximum comfort while still being productive. I've actually stolen her set up to make my life easier too! Over the summer, she asked me to make her a crochet blanket with the Bernat Blanket yarn. Here is the super plush crochet blanket pattern I came up with, fittingly called the Sofie Throw!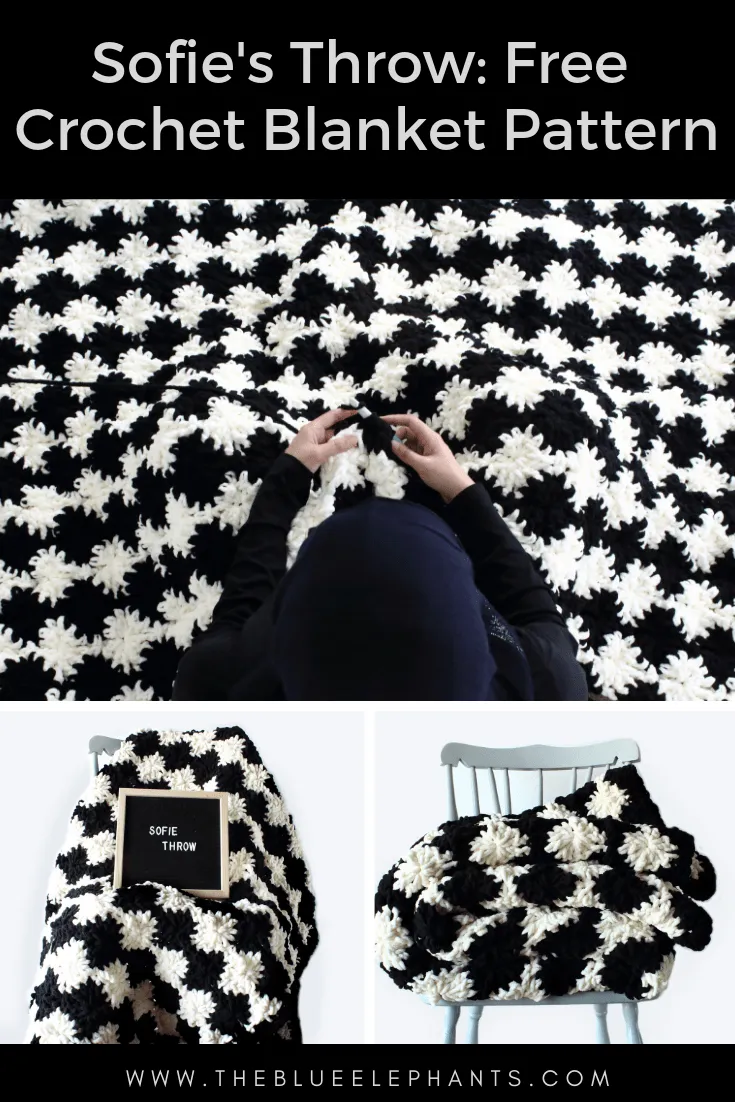 The Yarn
Sofie saw the Bernat Blanket yarn when she came with me to pick up some other things at JoAnn Fabrics and she immediately loved it. The yarn is 100% polyester so it's easy to wash and dry in the machine, and it's a #6 super bulky yarn. It's super thick and plush so with a big hook, this works up very quickly. There are so many colors to choose from. Her room is very pink, so we went with a simple black and white and used a stitch pattern she also adored. Your local JoAnn usually only holds a few colors in stock but if you head on over to Yarnspirations, you can find all the other colors too!
For this crochet blanket pattern, my sister chose the Harlequin stitch. It's the same stitch I used on my Fireworks Throw a few months ago and she loved it then. This stitch looks complicated but once you get the first couple of rows done, it's just a matter of repeating it until you get your blanket to the right length.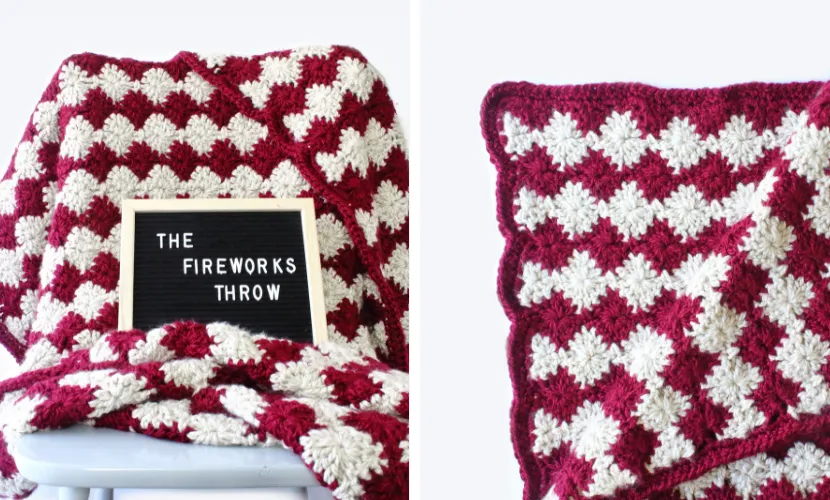 The full free pattern is written out below. For those who'd prefer to print the pattern and take it with you for on-the-go and to markup as you go, you can buy the inexpensive printable PDF from my Etsy and Ravelry shops. The PDF is formatted without ads or comments, so it's easy to read.
Materials:
6 (300g) balls of Bernat Blanket – I used 3 in Coal and 3 in Vintage White
*denotes affiliate link
Abbreviations:
ch – chain
SC – single crochet
DC – double crochet
DC#tog – DC # of stitches together as one
sl – slip stitch

Pattern Notes:
Skill level: Intermediate
Sizing: 60 x 72 inches
Gauge: 1S x 1R per inch
Sofie's Crochet Blanket Pattern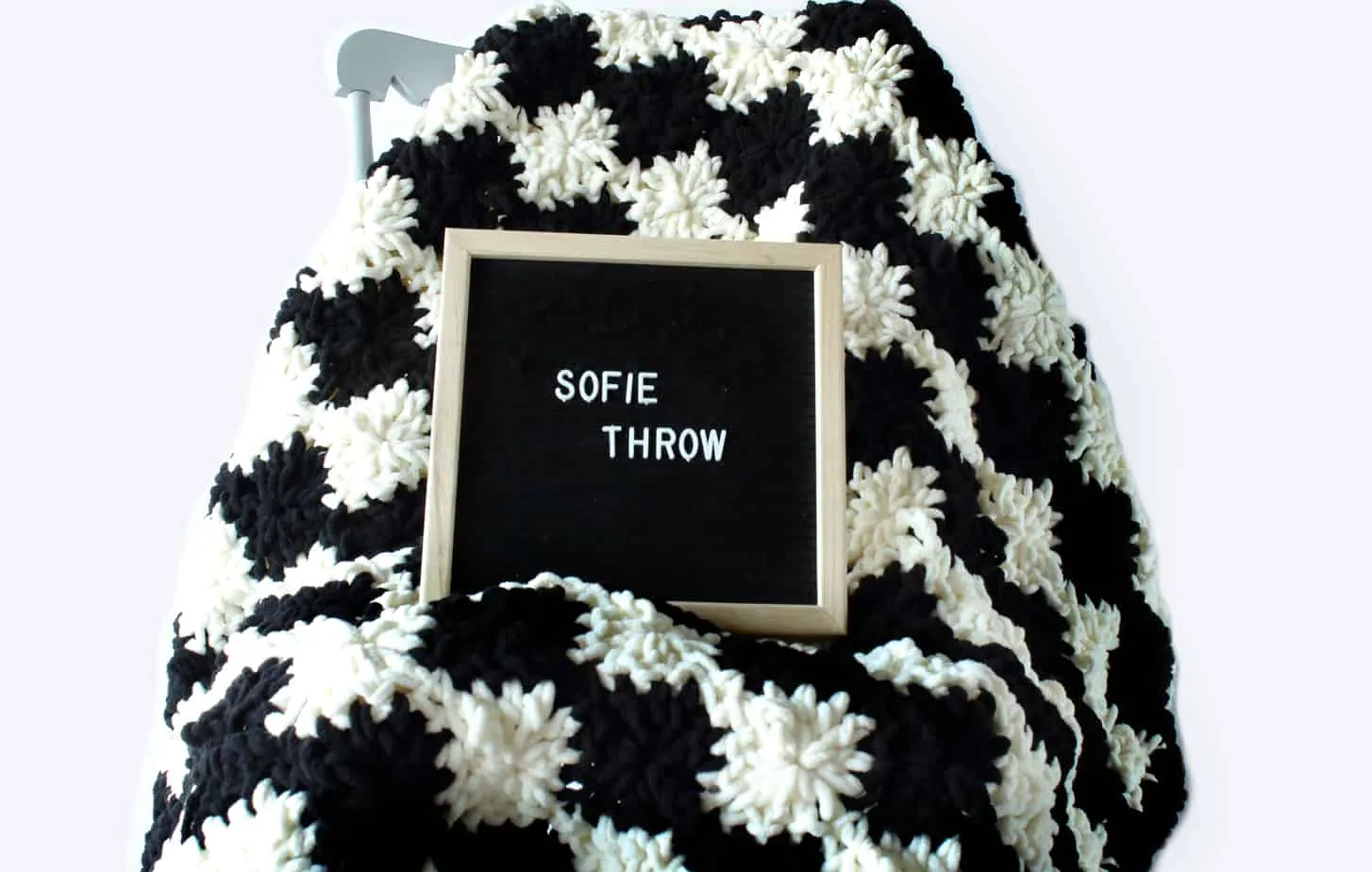 Row 1: With color A, chain 121 (or another multiple of 8 +1).
This blanket is huge! It's sized to be a large throw at 60×72 inches, but you can easily adjust this by making your starting chain longer or shorter. I have a free guide to blanket sizing if you want to know how big most blanket sizes are. Just click the button below to grab it!

Row 2: Insert your hook into the 5th space from the hook and [DC 3, ch 1, DC 3] into the space. Skip 3 spaces, SC into the next. *Skip 3 spaces, [DC 3, ch 1, DC 3] in next, skip 3, SC into the next*. Repeat everything in the *s until the end of the row.
Switch to Color B. Carry your yarn up the sides so you don't have to weave in ends!
Row 3: Ch 3, turn. Skip the first SC and DC3tog over the next 3 spaces. *Ch 7, skip the ch 1, DC6tog over the next 6 DC (skipping the SC). Repeat from * until the last 3 spaces, DC3tog, and DC 1 into the top of the last chain.
Row 4: Ch 3, turn. Work 3 DC into the hole between the DC3tog and the DC from the row below. *SC around the chain 1 from below (trapping the chain 7), [DC 3, chain 1, DC 3] in the center of the DC6tog. Repeat from * until the last DC3tog. Work 3 DC into the space, DC 1 into the top of the chain.
Switch to Color A.
Row 5: Chain 3, turn. Skip the first DC, *DC6tog over the next 6 DC, chain 7, skip the chain 1, repeat from * until the end. Chain 3, SC into the top of the turning chain.
Row 6: Chain 1, turn. Skip the first SC and the chain 3. *[DC 3, chain 1, DC 3] into the center of the DC6tog, SC into chain 1 space (trapping chain 7), repeat until the end of the row. Then SC into the top of the turning chain.
Switch to Color B.
Repeat rows 3-6 until the blanket reaches the height you want it to be. I continued until my blanket was 71 inches long.
For the border
For this blanket, I worked 2 rounds of SC around the entire blanket, working into the sides of the stitches and working 3 SC into each corner. It made a nice, clean edge and it hid the color changes on the sides. Then bind off, weave in any ends and trim the excess yarn.
And you're done!
This crochet blanket was so nice to make, and it kept me cozy as I worked on it. My sister actually made me a quilt in return for this blanket. It was her first quilt and she used a course over on Bluprint to learn the basics. If you'd like to see more about that, let me know and I'll pick her brains for a course review!
Want more ideas for home? Check out this post about how to decorate with crafts like crochet, macrame, and more!
That's all for today, but be sure to subscribe down below if you want to get new patterns, posts, and tutorials in your inbox every week. It's completely free and you'll get access to the subscriber-only resource library full of goodies. Just use the box below to sign up!
See you soon 🙂
---
Visit my pattern shops on Ravelry, Craftsy, and Etsy to buy the printable PDFs of all my patterns. They're ad-free, comment-free and your support helps me run The Blue Elephants so I can continue publishing free patterns here.
My material lists sometimes include affiliate links (denoted with a *) for which I earn a small commission at no extra cost to you. I only link to products I personally use, love, and recommend. You can read more about this in my Disclosure.
I worked hard on this pattern, so please be respectful and do not sell or redistribute this pattern as your own. If you sell finished items made using this pattern, credit The Blue Elephants as the designer and link back to the blog post or the Etsy pattern link. For any other questions, read my Terms of Use or contact me.
---