Finding lightweight projects to work on during the summer can be tricky. You want to crochet but it's too hot to be holding a thick blanket next to your skin for hours. I usually make toys and small things in the summertime, but I really had the urge to make a blanket. So I came up with a lightweight ripple crochet pattern that is perfect for summer.
The colors of this blanket are so pretty. The seafoam green and the white go together so well and make the blanket feel even lighter and airier. Along with the ripple crochet pattern, this beautiful pale green reminds me of the sea and waves rushing over soft sand.
I can imagine this being a blanket you wrap your little one in when it's windy but so nice out you just need a beach day! The pattern itself is really simple to recreate and there's just a thin border around the edge to finish it off and keep it wavy.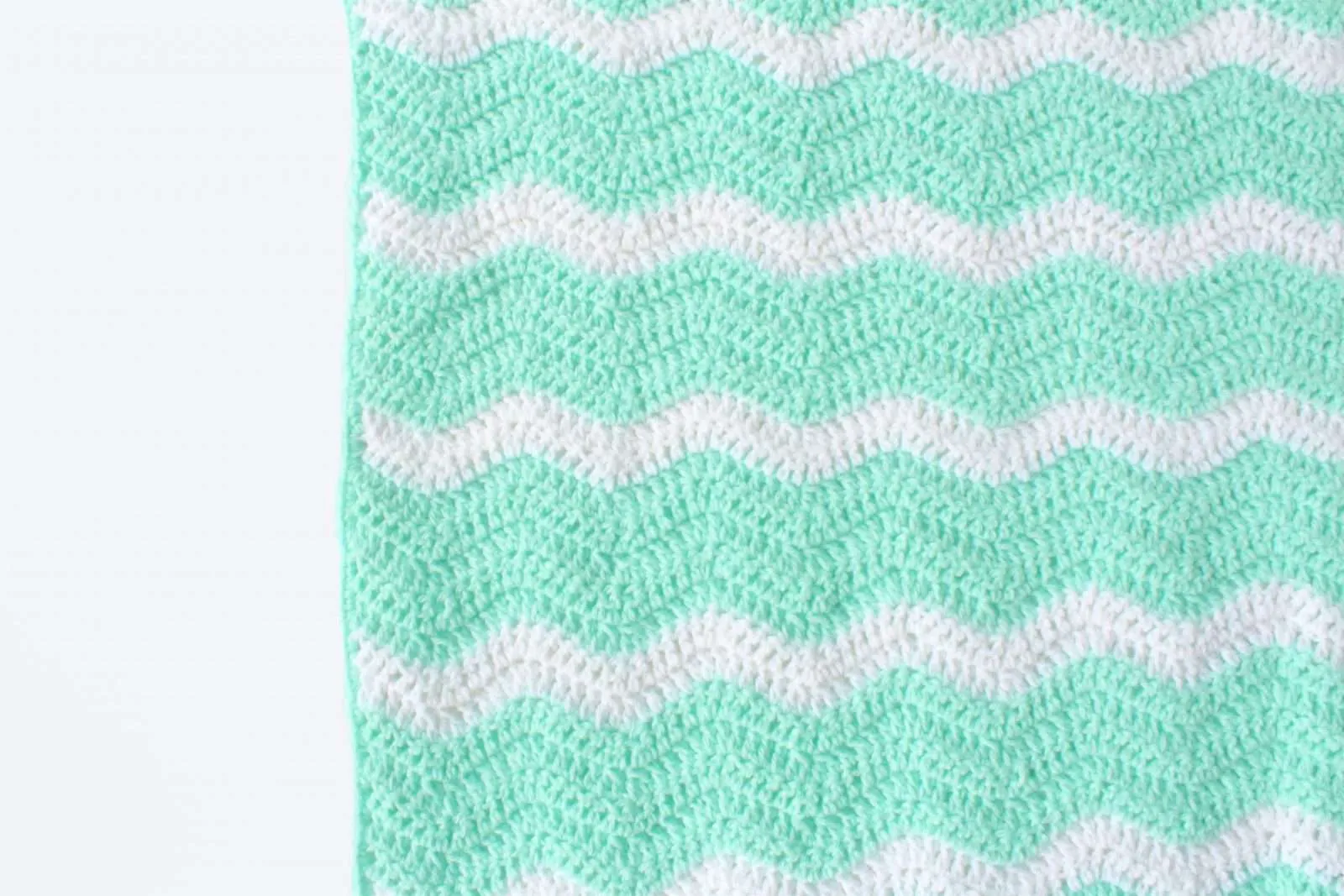 To make this blanket, I only used 2 skeins of yarn! I used Lion Brand Pound of Love in the colors Pastel Green and White. This yarn is incredibly soft and really easy to care for, which makes it perfect for anything "baby". It's a light worsted weight yarn so it's even great for shawls and thinners sweaters or cardigans. I usually have a skein of white on hand so I just grabbed the green to get this pretty color combination! You can see the other gorgeous colors of this over on the Lion Brand website.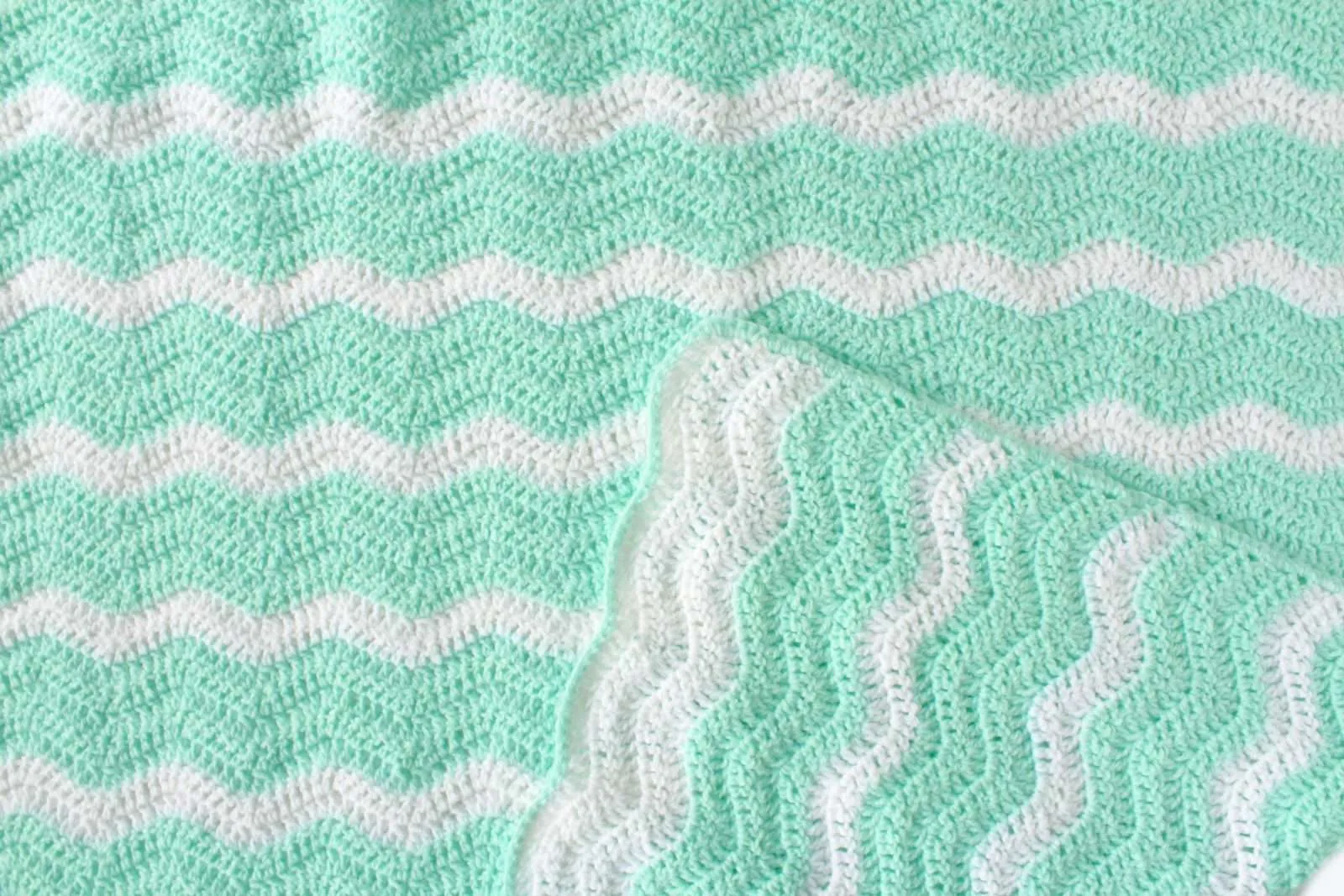 The full free pattern is written out below. For those who'd prefer to print the pattern and take it with you for on-the-go and to markup as you go, you can buy the inexpensive printable PDF from my Etsy and Ravelry shops. The PDF is formatted without ads or comments, so it's easy to read.
Materials:
Abbreviations:
ch – chain
SC – single crochet
DC – double crochet
DC2tog – YO, insert hook into stitch and pull up a loop. YO and pull through two loops. With 2 loops still on the hook, YO, pick up a loop from the next stitch, YO, pull through 2 loops. YO and pull through all three loops to finish.

Pattern Notes:
Skill level: Beginner
Sizing: 40 x40 inches
Gauge: 4 sts/inch x 2 rows/inch
Summer Waves: A Ripple Crochet Pattern
With the white, chain 159 or a multiple of 12 + 3.
Row 1: Work into the back bumps of the chain for this row. DC into the 4th space from the hook (count ch 3 as DC here and throughout). *DC into each of the next 3 spaces, DC2tog twice, DC into each of the next 3, [2 DC into the next space] twice*. Repeat everything between the *s along the chain, ending with 2DC in the last space.
Row 2: Chain 3, DC into the same space. *DC into each of the next 3 spaces, DC2tog twice, DC into each of the next 3, [2 DC into the next space] twice*. Repeat everything between the *s along the row, ending with 2DC in the turning chain of the last row.
Row 3-71: Repeat row 2 until the blanket is the desired length.
Down below I have a short Instagram video explaining how I work the row and the increase ad decrease stitches.
You should have 26 decreases (2 in each valley) and 26 increases (2 at each peak and one on either end of the row). This way, the stitch count remains consistent since you aren't adding or removing any stitches from the total once you're done with the row.
View this post on Instagram
Color Scheme
TO create the ripple crochet pattern for my blanket, I started with 5 rows of white, then 5 rows of green. Then, I alternated between 2 rows of white and 5 rows of green until I had 9 thick green stripes. Then I finished with 5 rows of white.
For the border, I attached a new piece of green and worked one row of SC, then SC 3 into the last space and turn to work into the side of the blanket. Work 2 SC into the side of each DC and then work 3 SC into the corner. Turn and continue all the way around the blanket and bind off. Weave in the loose ends and you're done!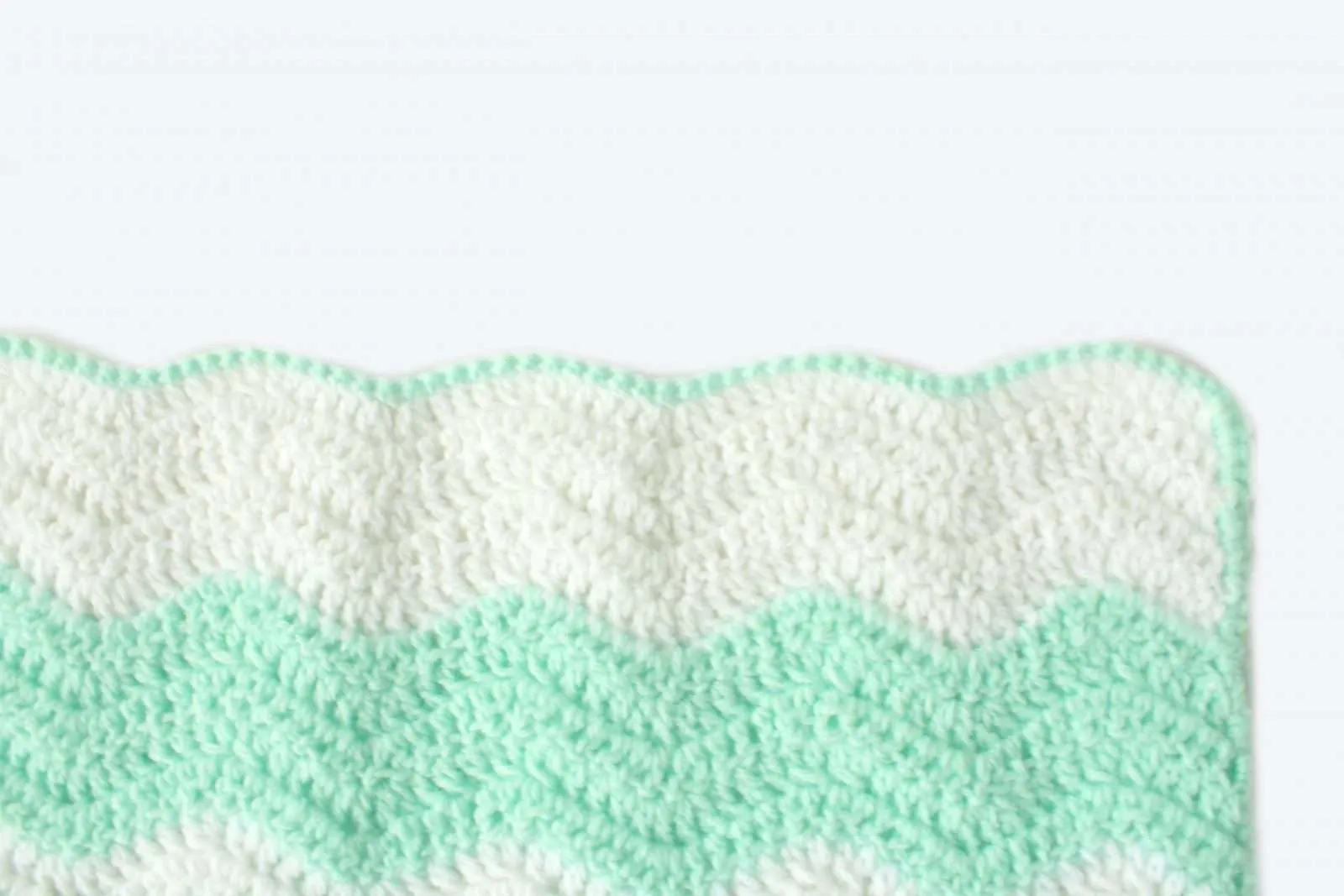 I can't get over how summery this baby blanket feels! It's light and airy, and the ripple crochet pattern just makes it that much more beachy. I used a pale green color for my blanket, but there are lots of other colors in this line that would look beautiful too. I think I'll make one in that peachy coral next. This blanket is a receiving blanket size, so it's 40×40 inches. I tend to work my blankets to whatever size I like if I'm just playing around, but I do need exact sizes sometimes. I put together a little freebie for you guys if you want to keep track of different blanket types and sizes.

Looking for a grown up version or something with more of a defined chevron? Check out the Mocha Ripple Crochet Pattern!
This blanket is another crochet pattern in a similar look but much bigger and with sharper V's typical for a chevron. This is a great pattern that also only uses a few basic stitches to make.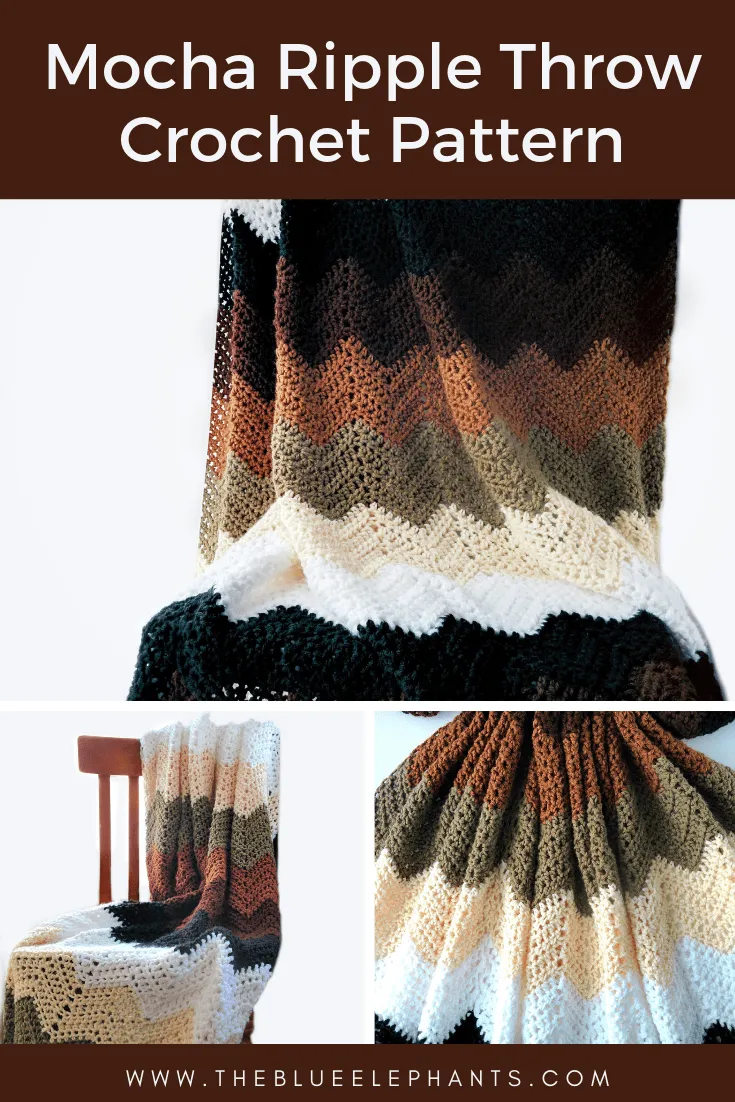 Thanks so much for reading! I hope you guys liked this pattern and the new freebie. If you haven't already, check out some of my other crochet blanket patterns, and be sure to subscribe down below! You'll be signed up for the weekly newsletter and free patterns and updates delivered right to your inbox every week.
See you soon 🙂
---
Visit my pattern shops on Ravelry, Craftsy, and Etsy to buy the printable PDFs of all my patterns. They're ad-free, comment-free and your support helps me run The Blue Elephants so I can continue publishing free patterns here.
My material lists sometimes include affiliate links (denoted with a *) for which I earn a small commission at no extra cost to you. I only link to products I personally use, love, and recommend. You can read more about this in my Disclosure.
I worked hard on this pattern, so please be respectful and do not sell or redistribute this pattern as your own. If you sell finished items made using this pattern, credit The Blue Elephants as the designer and link back to the blog post or the Etsy pattern link. For any other questions, read my Terms of Use or contact me.
---