Warning
: exif_imagetype(https://www.theblueelephants.com/wp-content/uploads/2015/11/Rameez-baby-blanket-knitting-pattern.png): Failed to open stream: HTTP request failed! HTTP/1.1 404 Not Found in
/home/customer/www/theblueelephants.com/public_html/wp-includes/functions.php
on line
3310
Warning
: file_get_contents(https://www.theblueelephants.com/wp-content/uploads/2015/11/Rameez-baby-blanket-knitting-pattern.png): Failed to open stream: HTTP request failed! HTTP/1.1 404 Not Found in
/home/customer/www/theblueelephants.com/public_html/wp-includes/functions.php
on line
3332
Warning
: Trying to access array offset on value of type bool in
/home/customer/www/theblueelephants.com/public_html/wp-content/themes/mediavine-trellis/inc/classes/class-images.php
on line
1514
The one thing all fiber artists know is the struggle of dealing with yarn storage. No matter how big or small the stash is, it takes a little bit of work to figure out the best way to store and organize your yarn. Over the decade and some years I've been playing with yarn, I've had a few different situations.
I've had a small stash that was easy to store but hard to organize, a medium stash that was outgrowing my space even while it was organized, and a large stash with plenty of storage space but I wasn't sure how to organize. Today, I wanted to share some tips on how to tackle yarn storage no matter what you're working with!
Yarn Storage Overview
As I mentioned, I've had a few different setups. The pictures from this post deal with my medium-sized stash in a smaller space, but you can also see how I managed my large stash at the end of the post. These are tips that can grow (or shrink) with your available space and stash so I hope you find it helpful!
At this time, I used to keep all of my yarn in my closet and have it organized into bins and drawers. I spent a lot of time in here, just hanging out, working on projects, or staying up late reading, so I needed a system that wouldn't make the room feel cluttered. My solution was to store yarn in bins that hid the yarn but kept it organized.
I also used two Sterilite 3-drawer carts as yarn storage. These hold the yarn that I reach for most often and ones that come in smaller balls. These carts are cheap, but they're amazing: they hold so much more than you would expect them to, and they can be moved around or customized with spray paint. I left mine white, but I will go into detail about what's in each drawer (and bin) and what I do to make sure it's all tangle-free.
TIP #1: Use Bins or drawers to organize like items together
Drawer #1
The drawers of this cart come out so it was easy to take them out and show you one by one. I try to organize my yarn by type or purpose so it's easy to find. This is my Knit Picks Drawer. The last row is a mix of yarns, but the rest are all Knit Picks Brava and this drawer easily holds 12 balls of yarn. I could probably fit more if I wanted to wedge them in, but they fit perfectly. Each ball is shorter than the drawer, so they can stand up and look super neat and clean from the top, but I can still see all of them at a glance.
Drawer #2
This drawer holds most of my smaller, full balls of yarn. Half of these are part of a kit so I kept them together, and the rest are just single skeins of things I don't use too often but I have projects in mind for them. There are a total of 19 balls of yarn in this one drawer! I'm telling you, they don't look like much, but they are the key to yarn storage!
Tip #2: Plan your projects and group together the yarn you need
Drawer #3
This drawer is less full. It holds the leftover full skeins I got for my Rameez Knit Baby Blanket Pattern and the Hudson Baby Crocheted Blanket Pattern. When I had more of those skeins, this drawer could hold 11 full skeins like this. By deciding ahead of time what yarn I need for which projects, I could keep all the materials together and know exactly what I had in my stash.
So far, these have all been the full or mostly full skeins, and normal-sized skeins at that. And that's the easy part. Sometimes, figuring out yarn storage or any kind of organization comes down to what to do with all the odd-shaped things and the leftover bits that you want to keep.
Tip #3: Use a ball winder to get uniform, stackable cakes!
Drawer #4
The drawers below are amazing examples of why I love my ball winder so much. It changes my yarn storage into something so neat and easy to manage, even with used skeins. I have a full post on how to use it and my review of it here.
The 5 black and brown yarn in this drawer are my Cloudborn Superwash Merino Bulky (discontinued) yarns, and they came in 100g hanks. I used them for a blanket idea, changed my mind about using this incredible yarn for a blanket, and frogged the whole thing. I used my ball winder to wrap each color into a nice little cake and now they look like this!
Isn't that SO much better than the hank form? Which would you rather see in your yarn storage? I ended up making some thick cozy scarves with this yarn! This drawer also has some other leftovers I wound up and a few things of crochet thread I added in because it had the same cake shape.
Drawer #5
This is my favorite drawer. It's just so perfect. The first 5 yarns are the leftover Knit Picks Brava that I used for my Mocha Ripple Throw. Those cakes of yarn are actually made up of remnants from 5 balls of each color, but I used my ball winder and joined the ends of each ball to make one cake each. This way, I can see exactly how much there is rather than guessing if there are enough scraps. The yellow one in the corner is leftover from my Lemonade Scarf. All the other yarns outside the box are meant to go in too, but they're on the side so you can see everything.
I love my ball winder and no matter how big or small your stash is, this thing is a game-changer. It was perfect for wrapping up leftovers of the same color yarn into one cake that's ready for me to use and I can store so easily.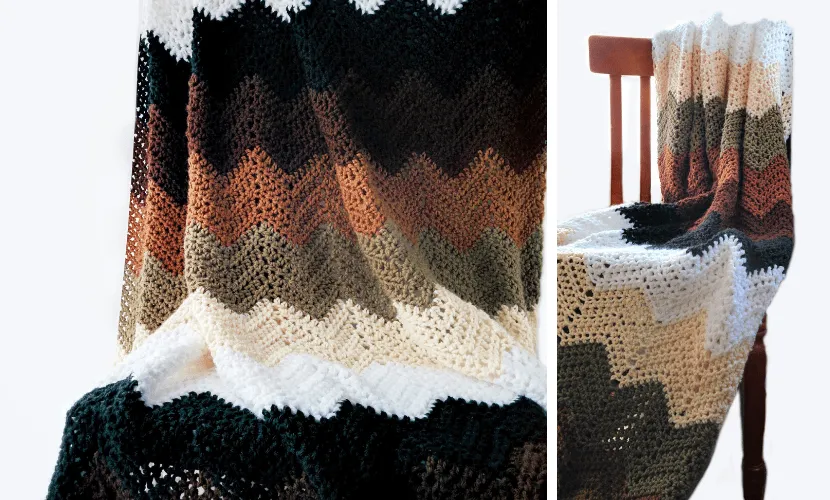 Tip #4: Have a Miscellaneous space to put the stuff that doesn't go anywhere else
Drawer #6
This is the last drawer and it's a mix of smaller finished items and scraps. These are all scraps that are too small to bother using the ball winder with, but there's enough to actually make something with or use as embellishments. This drawer is the one I make sure to maintain the most carefully.
Sometimes, we tend to keep scraps that can't make much, scraps so short you can't really even crochet 5 rows with it. I try to use those up rather than keep them in my yarn storage, or I'll just toss them out. There's no point in keeping little bits like that and those are the ones that make tangling an issue. So, if I can make a flower or a bow with it, I keep it. Otherwise, it's out.
Also in this drawer are my yarn bobbins with the yarn they hold. These have fine or superfine yarn on them from something I did a long time ago. There's actually a lot on them, but finer yarn like this also gets tangled and unraveled easily, so these bobbins help control that. They can also be used when you're doing colorwork and need to keep the working colors separate. The best part about these, though, is that they stack and click together.
This miscellaneous drawer is great for throwing in the things that don't fit anywhere else and make the other drawers unorganized. I know that if I have a tiny bit of yarn, it goes in here. If I'm looking for something that isn't in one of my main categories, then it's easy to find in the misc drawer.
Tip #5: Use folding storage bins in your vertical space!
I also have several fabric bins lined up along the top shelves in my closet, and most of those are for yarn storage. This top shelf of my closet had wasted space that was perfect for these bins and they give me so much more room for yarn storage. Folding bins like this are perfect because it's easy to flatten and store the bins themselves when not in use.
Each bin is just a few dollars and they come in so many colors, so they'll match any room. You can get them here. There are even some with chalkboard sides that you can write on! I stuck to simple gray ones.
The ones in the pictures are from my Dollar Tree, and they do the job, but the ones I'm linking and recommending are a bit better. They're sturdier and made of thicker stuff than the Dollar Tree ones, and the color options are amazing. Either way, collapsible fabric bins are super useful. Here's what I keep in my bins .
Bin #1
My first bin has my "neutrals" in it. I like to keep some black and white yarn on hand at all times because you always need them for something. So I always have the Caron One Pound or the Lion Brand Pound of Love in my yarn stash in black and white. This also has a tan color from a sweater I made for myself, but it's another useful neutral color.
Bin #2
My bins are organized by type of yarn, but it's mostly about what I intend to use them for. You'll see the trend, but it's split up by what project I have in mind for them. This bin has my Sprightly yarn in it. This bin is deep, so the yarn is actually in layers. I have 12 of the balls in here, and the other 2 in another bin, which I will get to.
Bin #3
This third bin has the two remaining Sprightly yarn and my Bernat Softee Chunky yarn. These are going to end up as a baby blanket, but for now, they're just hanging out in here. This bin holds 9 big skeins right now, but I can easily add a second layer on top.
Bin #4
This bin is a little bulging on the sides, but I didn't want to separate them! These are all the Crafter's Secret from Hobby Lobby, except the white with the gold ribbon.
Tip #6: Keep a Current Project Bin
My last bin is where I keep everything I'm currently working on. This bin lives under my desk. I change the contents of this bin a lot, replacing it with new yarn each time I start a project. I also take whatever leftovers I have and wind it up or add it to my leftovers drawer. It's also where I keep my needle/hook case so it's always on hand. This bin is sturdier than my other ones and although it's smaller, it has great handles which makes it easy to take with me if I want to work somewhere else.
Tip #7: Organize the other things too!
Last but not least in my yarn storage is my embroidery floss. Aside from yarn, there are other things included in our stashes and it's important to organize those too. For me, it's the embroidery floss I use to add details to my plushies. The pinks, whites, and black are especially good for adding on noses and eyes. They're also great for sewing crocheted pieces together if you have the matching color. I keep this container on top of my storage carts.
Check out some of the freebies below to help you with yarn storage, organizing your stash and WIPs!
Figuring out yarn storage is different for everyone, so don't feel bad if you don't have as much yarn as others or you have more than what you know what to do with. I wrote this post in 2018 when this was my entire stash, but it's grown since then and I had to come up with new ways to store my yarn. I actually did a video so you can see me set up my yarn room here.
Everything You Need to Know About Yarn Free Ebook!
So about that freebie I mentioned…
This ebook answers all the questions you've had about yarn in one handy little guide. Curious about yarn dye lots and fiber content? Maybe you need help understanding how to store yarn or choose yarn, or change between different colors of yarn. All these things are answered in the ebook!
I've answered the top 15 questions I get asked about yarn and answered them for you here, but there are bonus resources within it too! Not only do you get the short answers in the guide, but I also share where to get longer more in-depth information if you want it. Plus, I've included my Yarn Care Cheat Sheet AND Yarn Weight Guide too! It really is everything you need to know about yarn. Just click the image below to grab your copy!
Yarn Storage Recap
That's all of my yarn storage and organization! Let's just quickly recap everything you need to take away from this post and make it more bite-sized:
Use storage carts and collapsible bins!
Buy new yarn with projects in mind to avoid too much excess.
GET A BALL WINDER! It's only $20 and you'll use it forever.
Throw away little bits/scraps. You won't use them and they're taking up space.
Keep a current project bin to help organize your work.
That's it for today, guys. If you want to see how I store my supplies, let me know in the comments! Until then, be sure to subscribe down below and you'll get access to the weekly newsletter for post updates, yarn sales, and subscriber-only bonuses in the resource library. Thanks for reading! In the comments, let me know how you store and organize your yarn.
See you soon!
---
Visit my pattern shops on Ravelry, Craftsy, and Etsy to buy the printable PDFs of all my patterns. They're ad-free, comment-free and your support helps me run The Blue Elephants so I can continue publishing free patterns here.
My material lists sometimes include affiliate links (denoted with a *) for which I earn a small commission at no extra cost to you. I only link to products I personally use, love, and recommend. You can read more about this in my Disclosure.
I worked hard on this pattern, so please be respectful and do not sell or redistribute this pattern as your own. If you sell finished items made using this pattern, credit The Blue Elephants as the designer and link back to the blog post or the Etsy pattern link. For any other questions, read my Terms of Use or contact me.
---