Have you guys tried velvet yarn yet? I started seeing this incredible, luxurious yarn in stores around the end of November last year, and since the new year's started, it seems like everyone's obsessed! And for good reason. This velvet yarn trend is so fun and cute, but it's also really easy to work with. I've already made a TON of things with the two skeins I purchased, so stay tuned for more velvety crochet projects from me. Today's all about how to crochet a beanie with velvet yarn and this is the pattern for my Tempest Beanie!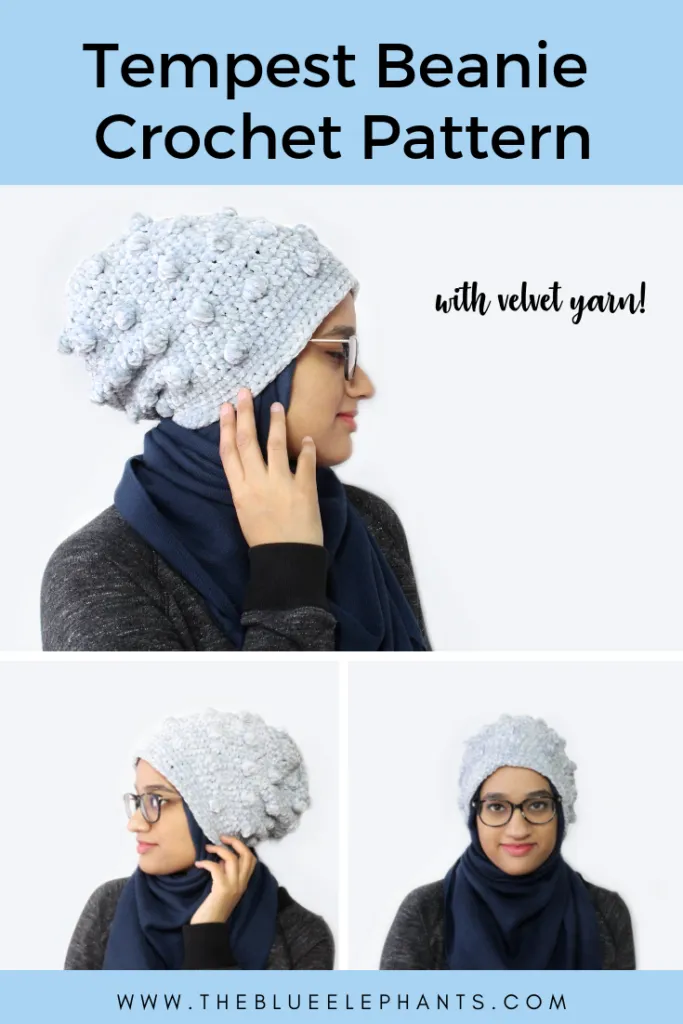 Bernat Velvet Yarn
The yarn I'm using is the Bernat Velvet Yarn in the color Softened Blue. It's labeled as a bulky weight polyester but it feels more like worsted weight, which is great because that's what I like working with better. This yarn has the most incredible squish and anything you make with it stays light and fluffy.
The velvet texture of this yarn comes from the strands of fiber that come off a central string, but it doesn't shed! Let me say that again – no shedding!! I've seen a ton of reviews for other velvet yarns that shed and break but this has been amazing to work with and there are so many pretty colors to choose from, like super-soft, light colors like this blue to deep, rich jewel tones.
The Tempest beanie is a really simple beanie pattern with bobbles worked at regular intervals. Because this velvet yarn catches the light at different angles, I decided to go with a textured stitch that would highlight that. The popcorn stitch used stands out against the flat HDC background, but it all shimmers in the light with this velvet yarn.
The whole beanie works up in about an hour since the yarn is so smooth it just glides over the hook! I'm in love with the cloudy, smoky look of this beanie. It reminds me of the weather just before a storm and I'm all for that.
The full free pattern is written out below. For those who'd prefer to print the pattern and take it with you for on-the-go and to markup as you go, you can buy the inexpensive printable PDF from my Etsy and Ravelry shops. The PDF is formatted without ads or comments, so it's easy to read.
Materials:
Abbreviations:
ch – chain
FSC – foundation single crochet
DC – double crochet
HDC – half double crochet
sl – slip stitch

Pattern Notes:
Skill level: Beginner
Sizing: Women's small/medium (21″ circumference)
Gauge: 3 sts/inch x 2.5 rows/inch
Tempest Beanie Crochet Pattern with Velvet Yarn
Round 1: Create a slip knot and chain 2. Work 60 FSC, then slip stitch to the top of the chain 2 to join in the round. Be careful not to twist the chain. Place a stitch marker to mark the beginning of the round.
This gave me a circumference of 21 inches which is small/medium. If you want to adjust this pattern to fit a larger or smaller size, you can work more FSC or fewer, but you'll have to figure out the placement of the popcorns so they're evenly spaced. You can get my free guide to sizing hats below to figure out the circumference you need.
Rounds 2-6: SC around for 5 rounds.
Round 7: *HDC 9, DC5tog in the next space*. Continue around. You should have 60 stitches.
Round 8: HDC around.
Round 9: HDC 4, DC5tog. *HDC 9, DC5tog*. Continue around, ending with HDC.
Round 10: HDC around.
Rounds 11-22: Repeat rounds 7-10 another 3 times. You'll see that the bobbles line up diagonally as you go.
Round 23: *HDC 4, decrease*, repeat around (50).
Round 24: *HDC 3, decrease*, repeat around (40).
Round 25: *HDC 2, decrease*, repeat around (30).
Round 26: *HDC 1, decrease*, repeat around (20).
Round 27: Decrease around (10).
Finally, cut the velvet yarn with about 12 inches of tail, and thread the end through a tapestry needle. Bring the needle under the front loop of each of the remaining stitches and pull the close. This might be a little hard to see with the velvet yarn, but use your fingers to feel where the stitches are. Then secure with a knot on the inside of the beanie. Weave in the ends and trim the excess yarn.
And you're done!
I'm obsessed with this Tempest Beanie and I'm ready to make another for my sister. If there's anyone who loves this velvet yarn more than I do, it's my little sister. She's been crazy about velvet way before it came back in style and we always teased her about her extra cozy lifestyle, but I guess she was onto something!
Let me know what colors you'd make this beanie in – I'm thinking that Vapor Gray or Smokey Violet would be beautiful. If you want to check out some more easy crochet beanie patterns, I have a couple of my favorites linked down below. You can make them in velvet yarn and see how luxe they turn out!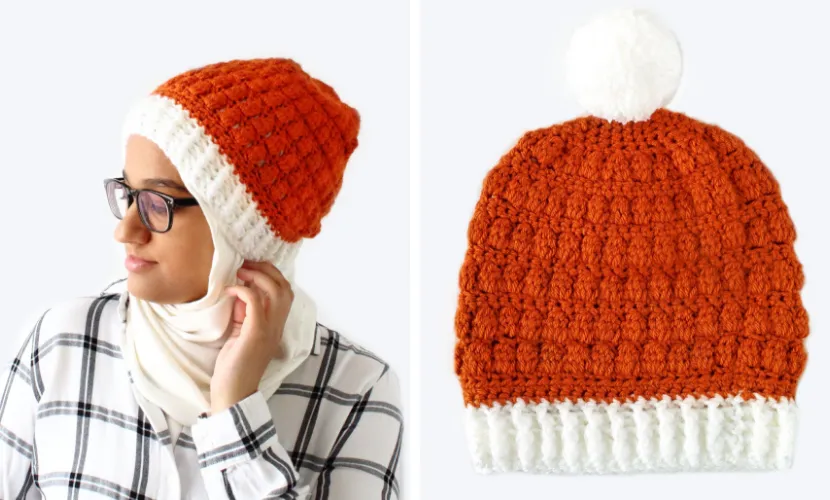 Thanks so much for reading! If you liked this post and want to get more free patterns and tutorials delivered right to your inbox every week, use the box below to subscribe to The Blue Elephants Newsletter! It's completely free and you get access to the subscriber-only resource library, updates on new yarn deals, and you'll be the first to know about new freebies. Stay tuned so you don't miss the new velvet yarn patterns I have coming out!
See you soon 🙂
---
Visit my pattern shops on Ravelry, Craftsy, and Etsy to buy the printable PDFs of all my patterns. They're ad-free, comment-free and your support helps me run The Blue Elephants so I can continue publishing free patterns here.
My material lists sometimes include affiliate links (denoted with a *) for which I earn a small commission at no extra cost to you. I only link to products I personally use, love, and recommend. You can read more about this in my Disclosure.
I worked hard on this pattern, so please be respectful and do not sell or redistribute this pattern as your own. If you sell finished items made using this pattern, credit The Blue Elephants as the designer and link back to the blog post or the Etsy pattern link. For any other questions, read my Terms of Use or contact me.
---