Like most crocheters, I always have multiple projects on the go, and I'm constantly adding to my "someday projects" list. Today, I wanted to step back from all of that and just talk about some of the great things I've learned from crocheting.
When I started crocheting almost 10 years ago, it was really just a whim. I was being stubborn about a hat that I wanted, and when I couldn't buy it, I decided I would just make it myself. Because if someone else made it, so could I, right? Fast forward almost 10 years and I've learned a few things that I wish I knew when I started.
5 Things I Wish I Knew When I Started Crocheting
#1 Crocheting takes practice, but it's not hard
I hear people saying all the time how hard crocheting looks. Before I started, I looked up videos and resources but there wasn't a lot out there so the process was slow going. It was so frustrating to try this new craft and not get anywhere for so long.
I wish someone had told me then crocheting wasn't hard, but I needed a consistent course. I was using tutorials from all different sources and sometimes, they contradicted and it left me confused. It took me a lot of practice to find out what worked for me and how to learn in a way that made crochet rewarding for me
The Beginner's Guide to Crochet Free Ebook
I took everything I learned and put it together into one resource that I hope helps out others who want to learn. This free ebook, The Beginner's Guide to Crochet, is designed to take you from the very basics to making beautiful finished projects that impress. It's totally free and there are videos and guides all throughout to help you. Just click the image below to grab your free copy!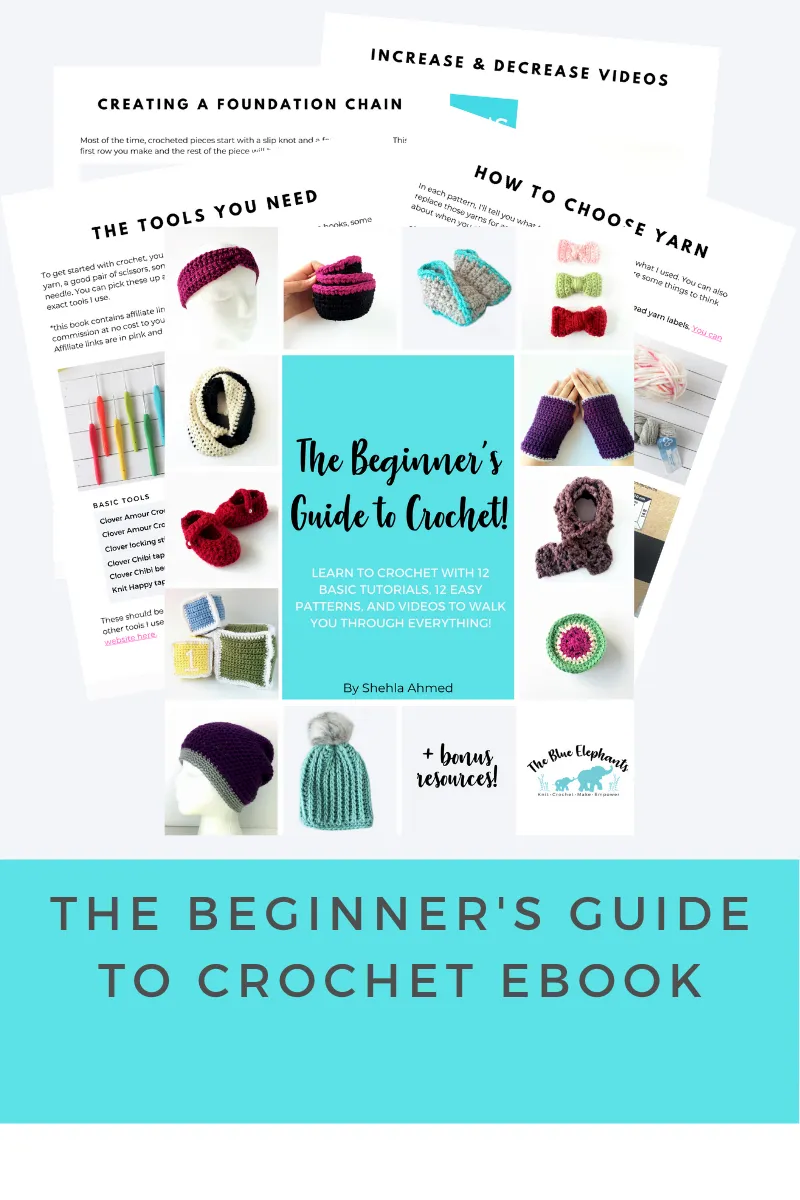 #2 It would calm me down & help my anxiety
I've been dealing with anxiety for years, but crocheting helps. The repetitive motions make it easier to clear my mind. It gives me something else to focus on so I can get my mind off whatever is stressing me out. Crocheting gives my hands something to do and all those things can sometimes make the anxiety easier to deal with.
#3 Crocheting is so much more than hats and blankets
When I tell people I crochet, they immediately see it as an "old people's hobby". Something you pick up after you hit a certain age. But crocheting is for all ages, and there is so much you can make! It's a lot more than vintage-looking blankets and hats, and designers are coming up with new patterns and techniques all the time.
I try new things all the time, but I have the most fun making and designing toys and plushies. And when you show people something they didn't expect to be crocheted, they're surprised and their interest is piqued!
But, hey, I'm also a big fan of hats and blankets 🙂
#4 Organize everything!
I'm usually really organized with most things, but I didn't bother to organize my crochet for a long time. What was there to organize? Turns out, quite a bit.
I wish I had learned to keep track of my yarn, my tools, and my patterns much earlier. It would have saved me so many headaches and I would have been able to get better, faster. I had a habit of buying duplicate hooks or buying yarn without thinking about how much I needed/had. I ended up spending too much time and money fixing things I could have gotten right the first time if I had bothered to organize things a little.
So, I started making some cheat sheets and organization guides for myself. And they changed everything! Suddenly, i knew exactly what I had on hand and what sizes things should be. I had resources all in one place that make being organized and efficient in my crocheting so much easier.
I put all the resources I've created over the years together in the Make It Happen Planner Packs, and made them available to you! There's one of all the resources and cheat sheets every crocheter needs, a guidebook for the planner that needs to set goals and schedules, and a designer pack with resources for those of you that want to get to designing your own patterns!
Check out all three of them here for more info or buy your copies below. They also come in pink 🙂
#5 I could start a business crocheting!
My absolutely favorite thing about crocheting is that it allowed me to put my stuff out there and start a business.
If someone had told me that I could make money doing this, I wouldn't have believed them at all. But it's true, and it's actually really easy. I spend a lot of time crocheting. Whether I'm designing, writing blog posts, or working on custom orders, I get paid to do this and it's awesome. If I had known that it was even an option 10 years ago, I would have taken the time to open my pattern shop and start a blog MUCH sooner.
There are actually a ton of other ways to make money crocheting too. You could become a pattern tester, participate in craft fairs, promote affiliate products you already love, etc. I have a whole post talking about different ways you can make money crocheting down below!
There you have it!
Those are the top 5 things I wish I knew before I started crocheting. It's been over 10 years since I started crocheting, but it feels like I just learned it. I still have that excitement to try new designs, new stitches. I'm always a little bit impressed that I made that when I finish a project. And I'm thrilled that I get to share this with you guys.
When I started out, I was the only person I knew who could crochet. Since starting this blog and sharing the things I've made, this community has grown to over 20,000 members who love playing with yarn and I've met amazing crafters in person too! I've learned a lot, and I love sharing it all with you. If you have any tips or things you've learned from crocheting, let me know in the comments!
If you liked this post and want in on the crochet journey, please subscribe to the newsletter! Just fill out your name and email in the box below and you'll get new patterns, tutorials, and more delivered right to your inbox every week!
See you soon 🙂
---
Visit my pattern shops on Ravelry, Craftsy, and Etsy to buy the printable PDFs of all my patterns. They're ad-free, comment-free and your support helps me run The Blue Elephants so I can continue publishing free patterns here.
My material lists sometimes include affiliate links (denoted with a *) for which I earn a small commission at no extra cost to you. I only link to products I personally use, love, and recommend. You can read more about this in my Disclosure.
I worked hard on this pattern, so please be respectful and do not sell or redistribute this pattern as your own. If you sell finished items made using this pattern, credit The Blue Elephants as the designer and link back to the blog post or the Etsy pattern link. For any other questions, read my Terms of Use or contact me.
---