Men have a reputation of being hard to crochet for, but that doesn't mean we shouldn't make something special for our guys! They'll appreciate a handmade gift as much as anyone. This year, I decided to think about some crochet ideas for him this Valentine's Day and share some patterns that would fit the bill. I hope you enjoy this list and it gives you a little inspiration on what to make for your Valentine!
Crochet Ideas for Him this Valentine's Day!
1. Beanies
A nice beanie is always a favorite item to gift, and there are some wonderful patterns for men available! Neutral colors and textures are a good bet for most guys, but if your guy loves vibrant colors, go for it! This is the Houndstooth beanie that I made for my guy cousins and they loved them. I couldn't get any of them to model it for me, but I think it looks nice on me too!
2. Scarves
Just like beanies, a cozy scarf is a great gift idea for him! You can get pretty fun with these by changing up the textures and colors to suit him and his style. You can even make a scarf and beanie set that would be great for colder climates! Down below is the Fairbrook Scarf and I think guys would love the texture and woodland feel of this one.
3. Cozy Slippers
Is there anyone that doesn't love a pair of cozy slippers and socks? When I got married, my husband stole my slippers all throughout the first month until I bought him his own! These crocheted slipper socks are so simple and warm and a fun thing to crochet for men.
4. Remote Caddy/Organizer
Dads, brothers, and husbands all seem to lose the remotes a lot or just can't find the right one when they need it. This handy remote caddy keeps all the remotes in one place and is easy to reach so he doesn't have to look around for it. And as a bonus, it keeps the space tidy!
5. A plush of his favorite character
If your guy is into any shows or characters, a plush of one of his favorite characters makes a fun and thoughtful gift. You can find patterns for just about any popular character online so take the time to find what he likes and make a playful gift of it. This is a Darth Vader pattern I followed and made a few customizations to, and you can read all about that process at the link below.
6. Pot holders/ Oven mitts for the cook
Does he like to cook or grill? A set of potholders and oven mitts are an awesome gift to crochet for men! Make them in his favorite colors or decorate them with fun text, or whatever suits his style. It'll be a nice way to show you love it when they cook for you, and it's a gift they'll actually use!
7. His team's throw
A blanket with his favorite sport or even his team colors would be a great gift, especially since Valentine's Day and the Superbowl fall around the same! This is a simple football pattern blanket, but you can make so many versions and customize the colors for his team or make logo blankets. The options are endless!
8. Sweater
If you're feeling a little more adventurous, a comfy sweater might be just the thing for your guy! This fleecy, furry sweater looks as soft as a cloud and it's made with a few simple shapes. This would be a nice project if you want to impress him a little and give him something that looks stylish and comfortable! You can also find sweater patterns for all different styles and constructions methods, so look for something that works best for you!
9. Ipad Case
Every guy has his favorite device, a tablet, a gaming device, something, and a nice case for it would be a good gift. This classic and modern Ipad case cover is one idea but you can also do one in fun colors if that's his thing or customize it with pictures and appliques of things he likes. Or you can even just add his name on it.
10. Ask him!
And last but not least, you can always just ask him what he'd like! Guys sometimes come up with the best combinations of colors or just want something you've never thought to make. My dad and my brother have asked for such random things, from stress balls to a blue and orange turtle, to a full-face balaclava – things I never would have thought of. But I made them and they loved them and it made me so happy to see them used.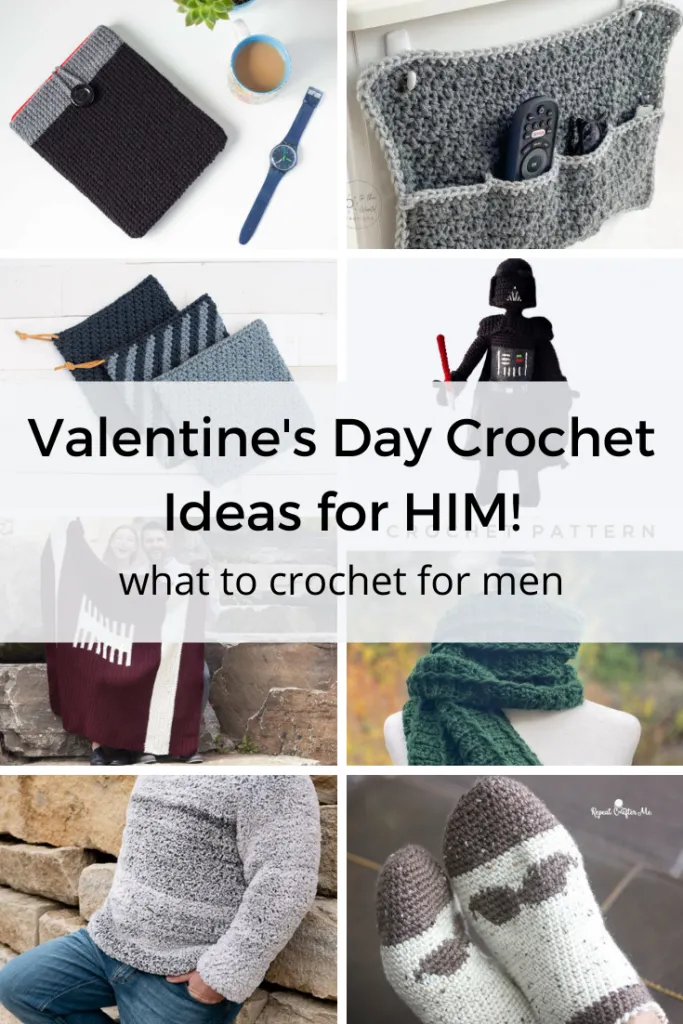 And there you have it, 10 ideas on what to crochet for men this Valentine's Day! I hope this post gave you some inspiration and got you thinking about what the men in your life specifically would want. These are just general ideas to get the ball rolling, but there is so much you can make for guys if you know where to start.
Want more themed Valentine's Day crochet patterns? Check out my roundup below of all the cute crochet patterns with hearts and love themes. These are more fun patterns and great for kids and decor.
Thanks so much for reading and hanging out with me today! If you liked this post and want more like it, please subscribe to my newsletter. Just sign up using your name and email in the box below and you'll get free patterns, tutorials, and more delivered right to your inbox. I'll have 2 fun new Valentine plushies coming out next week you won't want to miss!
See you soon 🙂
---
Visit my pattern shops on Ravelry, Craftsy, and Etsy to buy the printable PDFs of all my patterns. They're ad-free, comment-free and your support helps me run The Blue Elephants so I can continue publishing free patterns here.
My material lists sometimes include affiliate links (denoted with a *) for which I earn a small commission at no extra cost to you. I only link to products I personally use, love, and recommend. You can read more about this in my Disclosure.
I worked hard on this pattern, so please be respectful and do not sell or redistribute this pattern as your own. If you sell finished items made using this pattern, credit The Blue Elephants as the designer and link back to the blog post or the Etsy pattern link. For any other questions, read my Terms of Use or contact me.
---