Most of the Etsy stories I think of come from people who already had a hobby and turned it into a business. It was a natural progression and they didn't have to really think about what to sell on Etsy. But what if you're interested in the idea of starting an online business but need a little help figuring out what you'll sell? That's what today's lesson is all about. So whether you already have an idea and need some fine tuning, or you're still in the brainstorming stage, here are some things you can sell on Etsy!
First, get inspired!
If you're considering selling on Etsy, it's likely you already have something in mind. Think about what gets your excited and inspired. Are there things you've made just for fun that received a lot of compliments or questions? Is there something you play around with and enjoy, but you know you can do more with? Hop on over to Pinterest and Youtube to see what strikes you and gets your creative juices going. These can be great points to jump off from when choosing what to sell on Etsy.
For example, say you LOVE watching resin videos on Instagram and Youtube. You have tons of ideas saved on Pinterest and you think, maybe I can make these someday. Or you see someone else making a resin necklace and it gives you an idea for your own design. Resin jewelry might be your thing! Try it if you haven't before and see how you like it.
Keep Logistics in Mind
Once you're excited about an idea, it's so easy to just dive in right away, but there are some things to consider. Will this product idea be profitable? How much will it cost to make? Can it be shipped easily? Will you have the time to make them and create new designs?
Figure out what materials and tools you'll need for this idea. For our resin example, you'll need the actual resin material, molds, jewelry findings, stuff to put inside and decorate with, etc.
Come up with a few ideas you like and write up lists of materials needed for each. Then check how much they sell for on average on Etsy. This way, you can get an idea of what's going to be profitable for you and your time.
This is a huge part of the reason I sell mostly digital patterns and products – they take me a certain amount of time to design and create in the first place but don't continue to eat up my time. It wouldn't be as profitable to me if I was selling only finished items because I don't have the time to make as many as I would need to. Which brings me to the next point…
What to Sell on Etsy: Physical or Digital?
Etsy products fall under two main categories: physical products or digitals ones. There are pros and cons to each and it really comes down to what you want to spend your time doing.
Physical products are a great way to share something you've made. They're usually priced higher and give you more profit per item that you sell. You'll also need to think about the time to make each item, how it ships, and having all the supplies and materials to make it. Will you make items to order or have a stock inventory? This is something you can figure out using the Brand Identity Planner below!

Digital products are easy to share and once you make one, you're done. They're less expensive to make and they bring in passive income, meaning you aren't doing additional work for each item. Also, there are no shipping costs to deal with. However, they are lower priced and you need to sell more of them to make a good amount of income. You also have very little control over what people do with your product once it's downloaded.
Both options are worth considering, but see what works best for you. You can even do a combination of them. For example, while I sell the patterns to all the things I knit and crochet, most of the original items I make are sold as well. Whether it's a custom ordered blanket or something I made for fun, I can sell that object once and continue to sell the pattern for years afterward!
What to Sell on Etsy: Product Ideas List
Here are some products ideas to get you started. These can be applicable to all kinds of specific crafts and materials to make them truly yours, so think about how you can work with these ideas. Play around with different ideas and you'll be well on your way to figuring out what to sell on Etsy. Then, in our next lesson, I'll show you how to create a great listing.
Physical Products
Clothing
Accessories – hats, scarves, bags
Jewelry
Men's accessories
Leather products
Toys
Kids' clothing
Photoshoot props
Hair Accessories
Supplies for other crafts/Kits
Digital Products
Digital art prints
Templates
Spreadsheets
Custom logos
Stickers
Patterns – for anything!
Ebooks
Blog templates
Illustrations/vectors
Stock photography
Once you choose a category of items you want to create, create a list of specific items to include in your inventory. To help you out with that, I've put together a Product Planner Sheet you can use to create a line of cohesive products that all go together and make sense with your brand.
That's all for today! I'll be back soon with a post all about how to create your killer product listings. If you haven't already checked out the rest of this series so far, take a look at them below!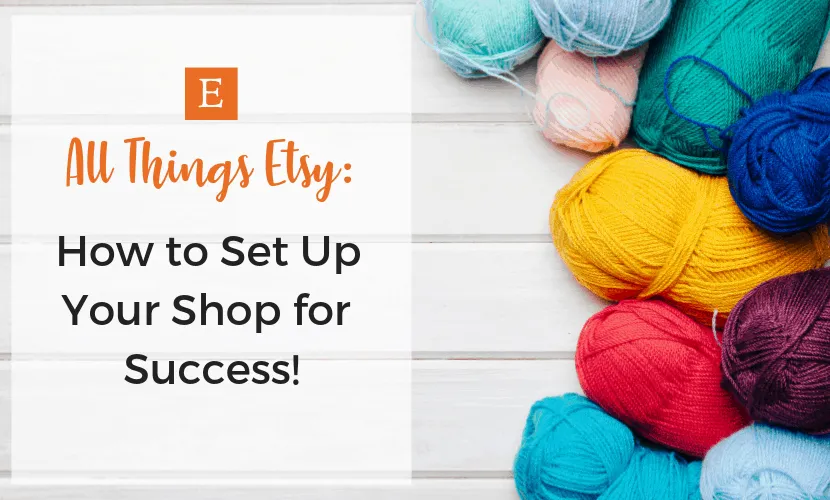 If you want to stay up to date with new posts on the blog and get access to subscriber-only freebies in the resource library, subscribe down below! Just fill out the box below and you'll get my new post delivered right to your inbox every week, along with tips, freebies, and more.
See you soon 🙂
---
Visit my pattern shops on Ravelry, Craftsy, and Etsy to buy the printable PDFs of all my patterns. They're ad-free, comment-free and your support helps me run The Blue Elephants so I can continue publishing free patterns here.
My material lists sometimes include affiliate links (denoted with a *) for which I earn a small commission at no extra cost to you. I only link to products I personally use, love, and recommend. You can read more about this in my Disclosure.
I worked hard on this pattern, so please be respectful and do not sell or redistribute this pattern as your own. If you sell finished items made using this pattern, credit The Blue Elephants as the designer and link back to the blog post or the Etsy pattern link. For any other questions, read my Terms of Use or contact me.
---