Since I started working with yarn, I've slowly been building up my library of knitting & crochet-related books. Whether I'm looking for pattern inspiration, color combinations, or trying to learn new crochet stitches and try different patterns, I can always find something in one of my books. These books make amazing resources and great gifts, so I've put together a list of some of my favorite knitting & crochet books for you.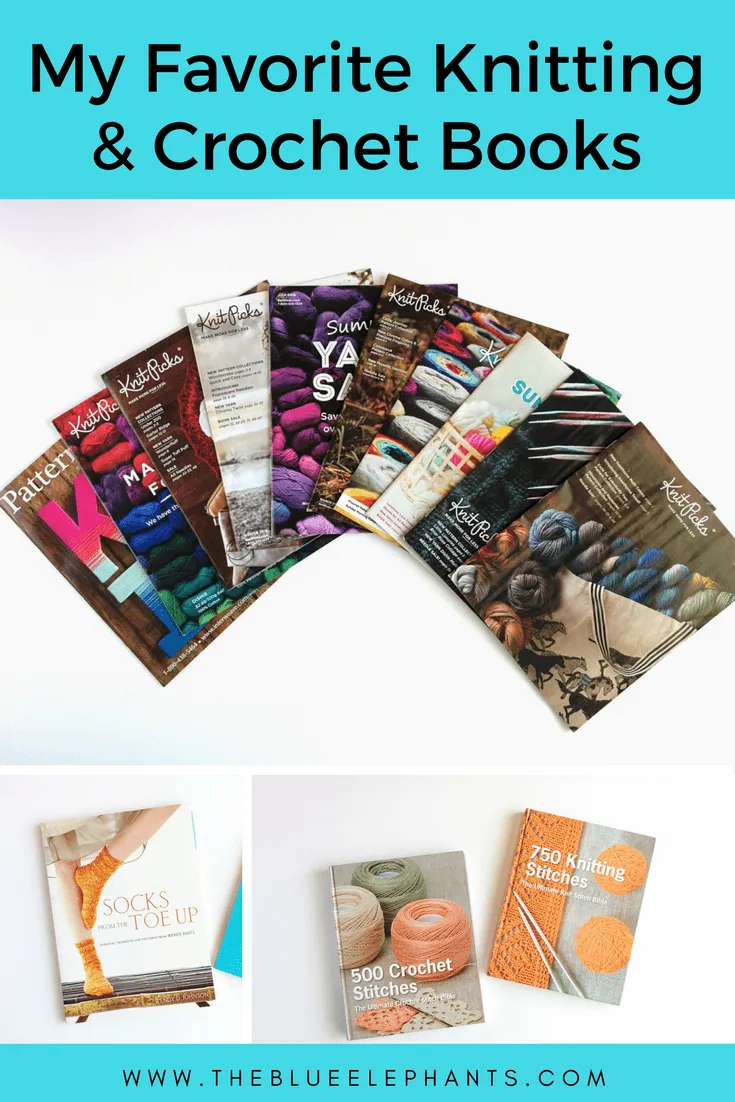 Books to Learn Knitting & Crochet Stitches
First up, the stitch dictionaries! I am obsessed with stitch dictionaries. They are resources packed with information and helpful tutorials on how to work just about any stitch you can think of!
Short on time? Get the checklist, complete with links to each book, for free! (plus access to the resource library with even more goodies).
/thrive_2step]
With knitting and crochet books, I think it's best to learn as many stitches as you can. For me, designing patterns usually starts with picking a stitch pattern that I love and working from there. These two books are the same thing, one is crochet and the other is knitting, but both have beautiful stitches.
The stitches are explained through written directions and charts/diagrams so it makes the stitches really easy to learn. I did a full review of the 500 Crochet stitches here if you want to see more about that. I've also used these to learn the Star Stitch and Trinity Stitch, which are currently my favorite textures.
This is a really fun book with ideas for finishing your items with a fun border. It's written by Edie Eckman who also teaches a course on Craftsy about fixing crochet mistakes. I loved her style of teaching and this book is just as colorful and fun as she is. The borders and edging patterns in this book are so cool and different, making this book a perfect gift for someone who's a little out there with their designs!
Like the book above, this book is all about how to create nice edges on your piece, only this one focuses on knitting. There are 33 different cast ons for when you're bored of the long-tail cast-on or want something a little more decorative. Plus, there are 21 bind-off methods so you can end your piece beautifully too! It's a great resource for any time you want to make a simpler design stand out more or if you want the perfect borders for your knitting projects without a whole lot of fuss.
This is a great resource if you're just starting out. It goes over everything you need to know and has great beginner projects to try. If you click the title, you can take a look inside the book on Amazon and see all the things it teaches.
The thing I loved most about this was that it had a section at the beginning on how to hold the yarn and hook for left- and right-handed crocheters. Most resources only show right-handed instructions and I got this to help my niece who's left-handed. The book is written with the UK terms, but it also gives the USA terms which was a nice touch.
If you only get one book from this list, I recommend you check out this treasure trove of a book from Edie Eckman. It's exactly what the title claims, a crochet answer book with all the helpful tips, advice, solutions, and answers you'll ever need. It's a chunky book PACKED with information on crochet stitches and pattern reading. I turn to it all the time.
Pattern Collections & Inspiration Books
These next couple of books are all about pattern collections and although they include lots of textures and ideas, they're less about the individual crochet stitches. The ones I listed below are a mix of knitting and crochet pattern books, and they aren't in any particular order. I did try to keep the crochet together and the knitting together, but some of my favorite books have a mix of both!
This is the oldest in my knitting and crochet books collection. I bought it 10 years ago when I first started learning. I don't think the patterns are quite what I would go for now, but I learned a lot from this book. Since I learned the basics through online resources, I used this to learn more about how those stitches would come together to make something. The patterns use simple stitches to create different looks that I didn't think were possible.
Overall, I think this book helped me think outside of basic scarves and hats and showed me how to make crochet more interesting, even if you only know a couple of stitches. If you like the idea of making more vintage-inspired pieces, and 80s fun things, this might be perfect for you!
You know that one skein of incredible, expensive yarn you couldn't resist buying, but don't know what to use for? This book is full of the perfect projects for that, but even if you use the regular worsted weight acrylic from the craft store, you'll get something that feels luxurious.
The patterns are all elegant and simple and clean. I've used a lot of the patterns in this book; I made about 8 pairs of gloves for my mom and aunts. Also, the back of this book has measurements and references for everything. I'm a huge fan of all the knitting and crochet books in the One Skein series, but this is my favorite.
If you've ever wanted to make C2C blankets before, you've probably already heard of Sarah from Repeat Crafter Me. She makes some of the prettiest and interesting crochet blanket patterns, and many of them are C2C. She also has a book out with a collection of 5 throws all using simple stitches so it's great for beginners. The book is pretty slim (about 20 pages) but it's full of great content and you're supporting a blogger you already know and love!
This book is a collection of patterns by a bunch of different designers and all compiled into one book of relaxing crochet patterns. The patterns in this book are super clean, easy, and modern. There's a ton in here with 18 patterns, but the thing they all have in common is that they're meant to be calming patterns and repetitive crochet stitches.
This is a handy little book to have when you need last-minute gift ideas or just need something to destress with. It really does make crocheting feel simple and relaxing again, especially if you've been on a deadline and need something easier.
This next book is fairly new but it's already on this list! You may have seen it floating around on Instagram, but this book is absolutely amazing for anyone who wants to get into amigurumi, or just wants to make some cute toys! There are 31 little plushies in this book, from a couple of different categories so there's something for everyone. Plus the book is filled with easy step-by-step instructions so you get gorgeous results just the pictures! I would love to go more in-depth in a review of this one, so let me know if you're interested in that.
Another book from the One-Skein series, this one is focused on patterns for babies and it's just about the cutest thing in the world. It has tons of patterns sized for the tiniest newborns to big kids. It's sectioned into hats/caps, dresses & tops, little pants, and diaper covers; it also has sections for random toys and accessories, blankets, and anything else you'd want to make. Another thing I love is that not only does it tell you how much yarn you need and what kind, but it also gives you the exact name and color they used, so you can get the same results.
This is a short and sweet book. It's small but there are some adorable patterns in here. I've made everything in this and I love it. The patterns are more for children under 6-9 months and everything is really small, but they're sweet and easy to make. The first 20 pages of this book (which is 100pgs) are about how to knit, measure, finish and just general tips similar to most knitting and crochet books.
This book makes me so happy! Each and every pattern here is incredible; they're fun and colorful, stylish and still easy to do. I love that these patterns feel modern and something you'd really want to dress a kid in. As much as I love the patterns in the other books, they can sometimes feel tacky or too "granny-ish", but these are patterns that I am completely in love with. This book makes me want to save patterns for when my friends and cousins have kids lol. These patterns are mostly for toddlers and "big kids" so it's nice to have this supplement the book above.
This is an amazing resource for learning to work socks. The book is so beautiful and detailed. It goes over several different ways to works the toes and heels and give you tips along the way. The first pattern for each section has a simple socks design using a certain toe & heel combination so you get to practice getting those techniques down. It really helped me make sense of short rows and practice increasing. The patterns in this book are just exquisite. I like to just flip through and look at them sometimes!
This is actually a kit, but once you use up the yarn and stuffing they supply, the book is pretty great and you can always go back to it. The patterns in the book are great and described very easily, but you can't learn to crochet from them. You can learn to crochet amigurumi from it, as long as you already learned the basic stitches.
This was so fun to use and I made a figure for each of the kiddos in my family and they went by quickly. The shapes are simple and it was so cool to see how they worked up. Overall, I love this book (and kit), and it was a great intro to working with small figures.
They also have different versions of this kit: Star Wars, Disney princesses, Marvel Avengers, and even a nativity one! This would be a really fun gift for someone just learning to crochet, so just pick their favorite series and you have the perfect kit.
This next one isn't really a book, but I'm including it anyway because it is a collection of patterns. This is actually a box and inside there are cards with the patterns on the back. There are 21 patterns, plus a card that includes abbreviations and extra info. The 5 in the first row of the picture are my favorite. I really like the way this is in a box form; when I work on a pattern, I can just grab the card I want. There's a good mix of patterns, from the bright and cheerful baby blankets to the more manly, woodsy throws.
I've been shopping from KnitPicks since I started knitting 10 years ago, and it always makes me super happy to get their catalogs in the mail. I only started saving them recently though, because I realized how much good stuff is in there. They don't have patterns or tutorials in them, but they show you everything they have in stock.
So if you did want a pattern or kit, you can get it from their website. I love these and keep these for inspiration. I always feel very inspired by the designs and the new things I see in the catalogs and I like to reference them for ideas. They're free and they're full of beautiful pictures of yarn so I keep all of them.
This year, I came out with my own book! It's a full course designed to teach you how to crochet even if you're just starting out. Especially if you're just starting out. It's an ebook that you can download and work through at your own pace. There is a "Getting Started" section that goes over the tools you need, choosing the yarn, and some tips and guides to help you.

Then there's a "Tutorials" section which goes over 12 of the basic crochet tutorials from creating the foundation chain to changing colors and working in the round. The patterns section is my favorite because there are 12 beginner-friendly patterns that I've made myself, taught others, and tested. These are simple and beautiful patterns that I guide you through with step-by-step pictures and written patterns.
It's more than just an ebook though, The Beginner's Guide to Crochet is a full course. There are videos walking you through each tutorial and each pattern so you can actually watch me make the project and follow along. It's a short book at 63 pages, but it's full of 12 tutorials, 12 patterns, 24 videos, and bonus resource pages. I'm a bit biased, but you can grab your totally free copy here.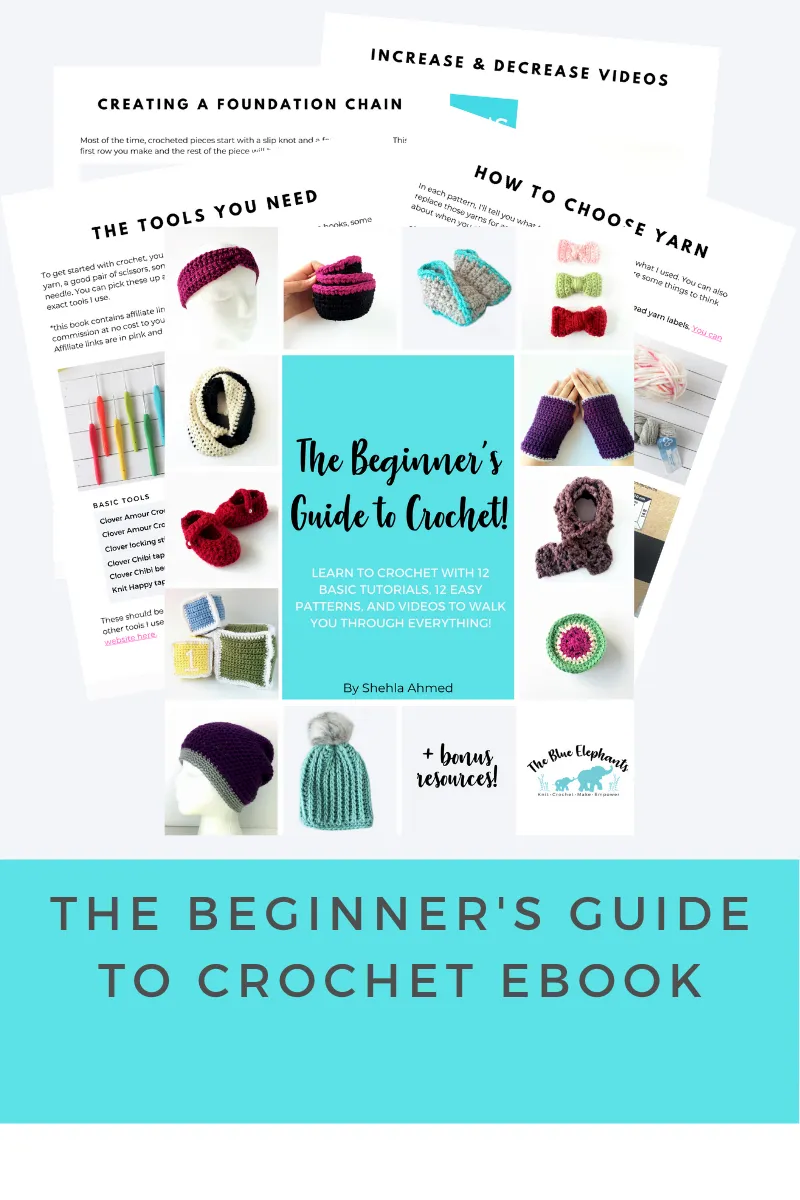 And there you have it!
Those are all my favorite knitting and crochet books! These are amazing resources to look through whether I'm looking to try some new crochet stitches or I want to challenge myself with a different knitting pattern. I love watching my little collection of crochet and knitting books grow, so tell me your favorites in the comments! This post is pretty long, so I've also created a printable checklist with all the books and the links to them so you can look through it quickly. Click here to get the checklist.
If you liked this post and want to see more like it, sign up for the newsletter! You'll get new posts, patterns, and freebies delivered to your inbox every week, totally free.
See you soon 🙂
---
Visit my pattern shops on Ravelry, Craftsy, and Etsy to buy the printable PDFs of all my patterns. They're ad-free, comment-free and your support helps me run The Blue Elephants so I can continue publishing free patterns here.
My material lists sometimes include affiliate links (denoted with a *) for which I earn a small commission at no extra cost to you. I only link to products I personally use, love, and recommend. You can read more about this in my Disclosure.
I worked hard on this pattern, so please be respectful and do not sell or redistribute this pattern as your own. If you sell finished items made using this pattern, credit The Blue Elephants as the designer and link back to the blog post or the Etsy pattern link. For any other questions, read my Terms of Use or contact me.
---