It's been a minute since I last shared a blanket knitting pattern. This week, I have a knit blanket pattern that is classic and sleek, and also perfect for beginners. This is the Ammara Throw and I've included the traditional knitting pattern below and the recipe for making it on a knitting machine will come soon. So let's get into it!
I made this throw on my Addi Express Professional, which I got over the summer to help me prepare for my craft fair. It is a bit pricey but there's a lot you can do with it and after experimenting with beanies and scarves, I wanted to try something else with it. The first thing I wanted to make was this blanket. Because I intended the design to be simple and in stockinette anyways, the machine really helped me fly through this pattern.
But if you don't have a knitting machine, you can totally do this on a set of traditional needles too! That's what this pattern is.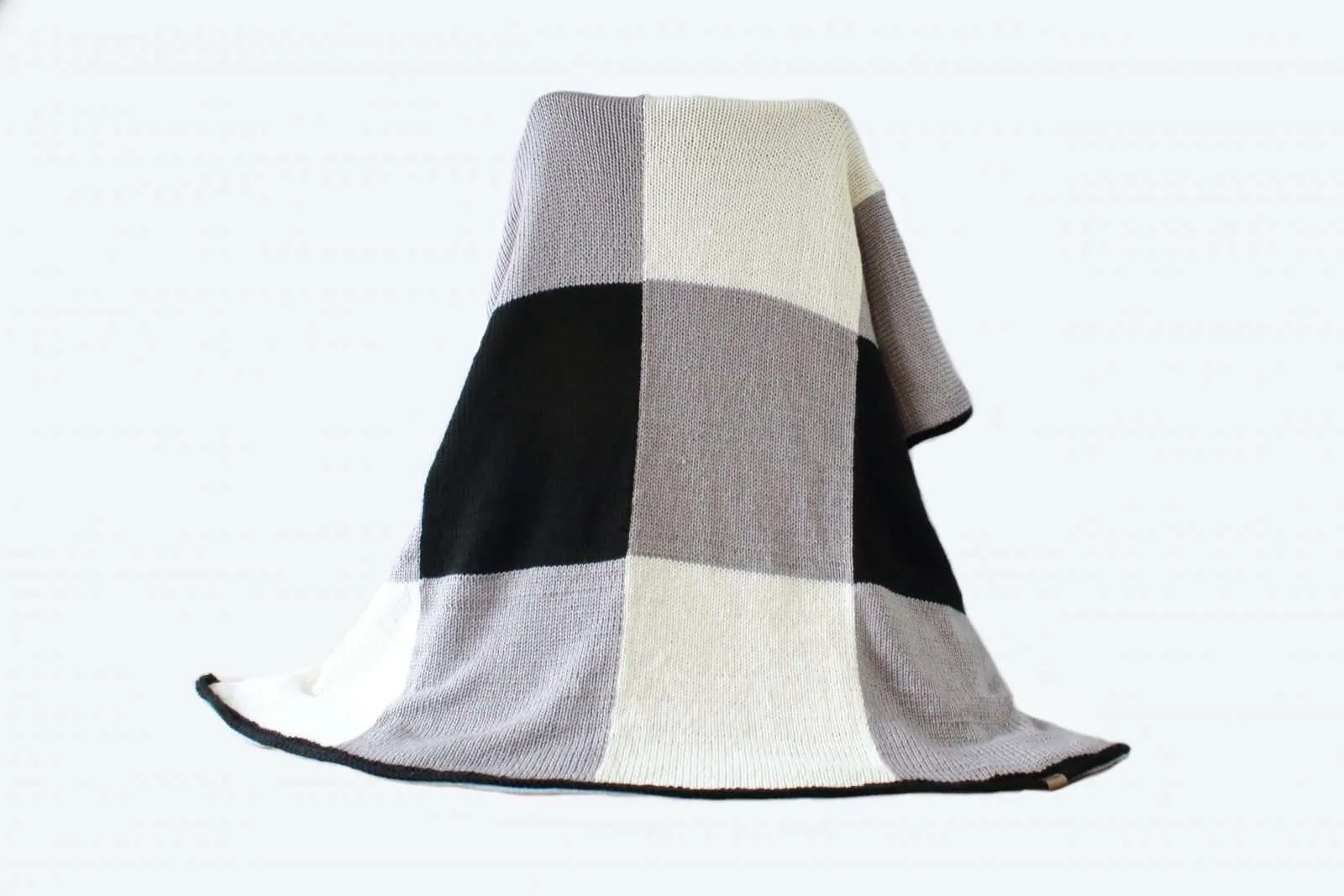 I love the bigger gingham design of this knit blanket pattern. It means fewer color changes for me and I think it creates a more elegant finish than a smaller print. To make this on traditional needles, you'll be working with two colors per row and wrapping the yarns when you change to the next section. It's a simple technique that will give you a seamless blanket in the end.
Also, this pattern uses the Mighty Stitch Bulky yarn from Knit Picks. Although it's labeled as bulky, and that's how I refer to it, it's slightly thinner than a true #5 bulky but it's thicker than medium weight. You can use either weight you like, but there may be a slight difference in the finished size.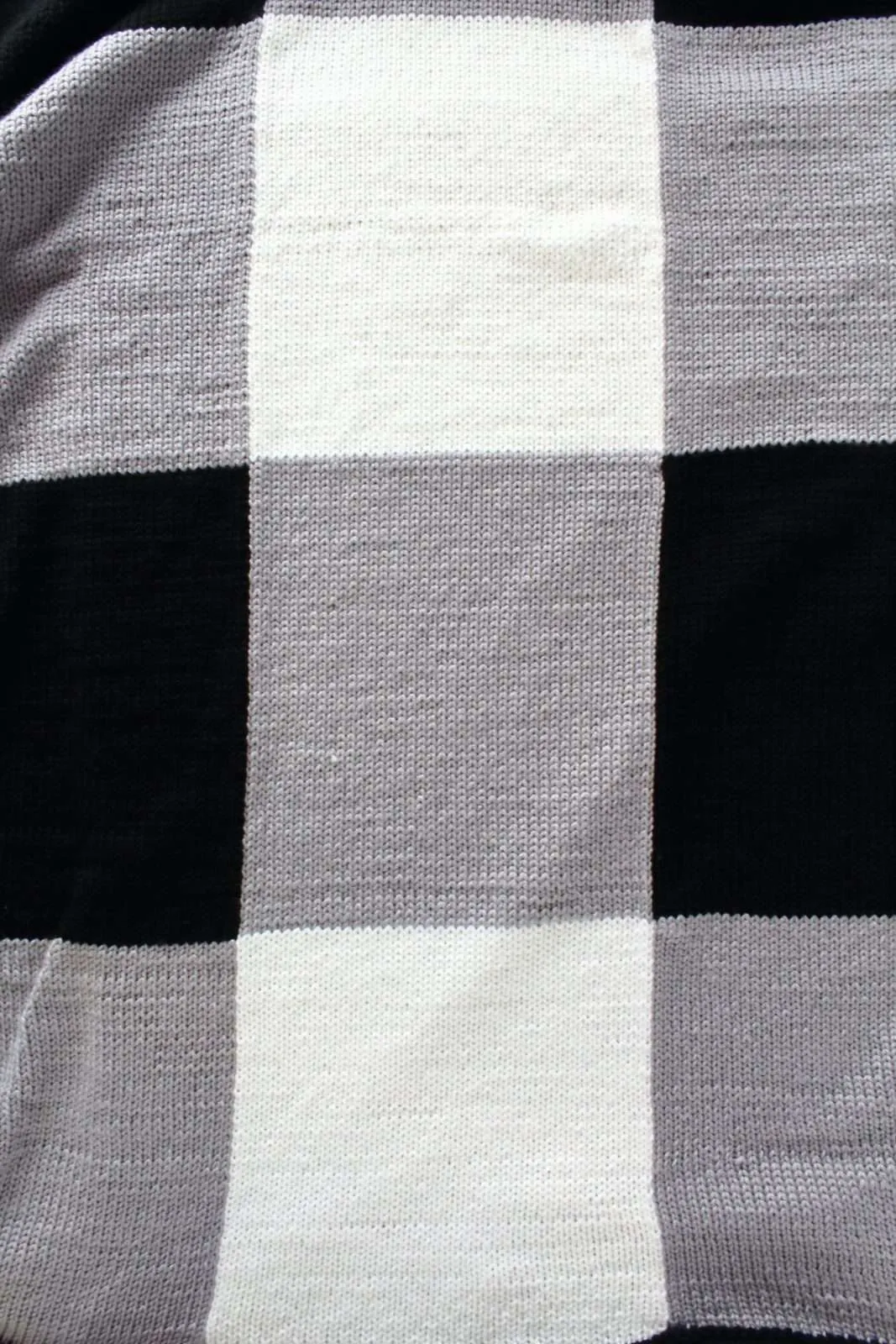 The full free pattern is written out below. For those who'd prefer to print the pattern and take it with you for on-the-go and to markup as you go, you can buy the inexpensive printable PDF from my Etsy and Ravelry shops. The PDF is formatted without ads or comments, so it's easy to read.
Materials:
Abbreviations:
k – knit
p – purl
BO – bind off
Pattern Notes:
Skill level: Beginner
Sizing: 52 x 60 inches
Gauge: 3S x 5R per inch
Ammara Throw: Knit Blanket Pattern
With black yarn, cast on 172 stitches using a knitted or long-tail cast on.
Rows 1-3: Knit for 3 rows.
Row 4: Drop the black yarn and begin working the pattern with white and gray. It's easiest to have a new ball of yarn attached for each section. So you'll need 2 balls of white and 2 of gray here. Knit 43 stitch in white leaving a long tail, pm, k 43 in gray, pm, k43 in white, pm, and k43 in white.
Row 5: Turn, and purl all the whites with white. When you get to the next section, twist the white and gray yarn together so the gray you pick up is over the white strand you dropped. Continue to purl all the gray with gray and white with white until the end of the row.
Row 6: Turn and knit all the white with white, and all the gray with gray.
Rows 7-69: Continue in pattern for 65 total rows.
Row 70: Cut the gray and white yarns, leaving enough tail to weave in later. Begin working the pattern with gray and black. Knit 43 stitch in gray, k 43 in black, k43 in gray, and k43 in black.
Rows 71-135: Continue in the established pattern, working the black and gray section of the blanket for 65 rows.
Here's a look at the chart that may help you see the pattern.
Rows 136-200: Work the next section in white, gray, white, and gray
Rows 201-265: Work the next section in gray, black, gray, and black.
Rows 266-330: Work the last section of white, gray, white, and gray.
Rows 331-334: Switch to the black yarn and knit all for 3 rows. Bind off and leave a long tail.
Using a tapestry needle, weave in all the loose ends and trim the excess yarn.
Border
To make the border, pick up and knit 334 stitches evenly along the sides of the blanket. Knit all for 3 rows and bind off. Repeat on the other side. Then use a tapestry needle to weave in the ends and trim any excess yarn to finish.
Block the finished blanket if desired. With this yarn, I didn't need to since it was heavy enough to lay flat on its own.
Attaching the Fleece
To finish off this knit blanket pattern, I added a fleece lining to make it heavy and extra warm. You can skip this if you like, but I also like how it hides the wrong side of the blanket. I used fleece, but you can also use a lighter fabric like cotton to keep the blanket a little lighter.
First, lay your fleece out flat on the ground, with the wrong side up if there is one. Then lay the finished blanket over it with the right side up. Try to place the blanket so there's an even amount of the fleece on all sides. Starting on a flat side, fold the excess fleece inwards and pin the fleece and blanket together. Work your way around the blanket, pinning as you go, until the fleece is even with the blanket's size and lays flat and smooth. You may need to trim the fleece in the corners or anywhere it's really long to prevent bulk.
Add a few more pins around the center to keep the fleece and blanket together are you move it for the next step.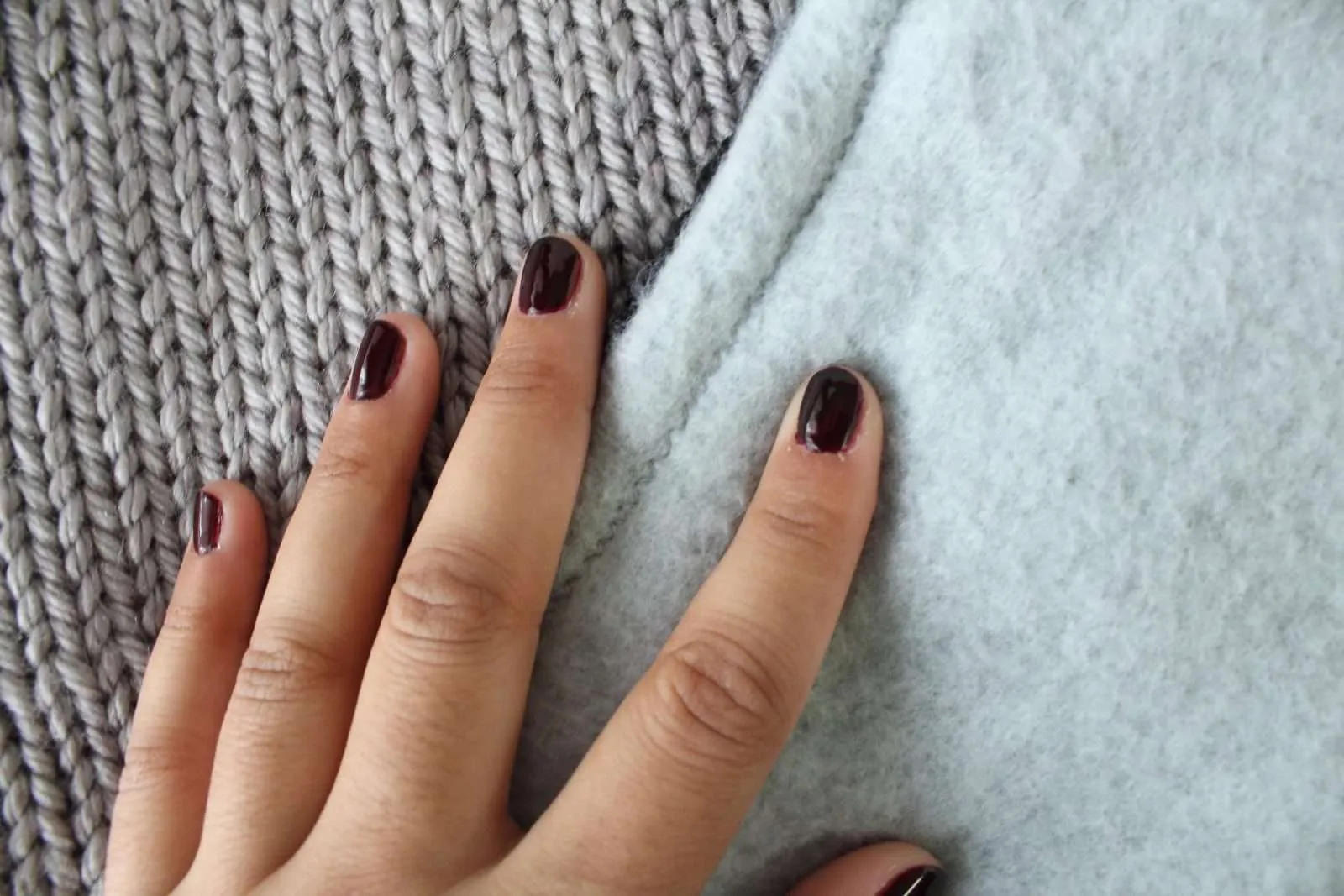 Take the whole blanket over to a sewing machine set up with a black thread on top and a thread matching the fleece in the bobbin. Set the machine to a zigzag stitch and a medium stitch length and just sew around the edge of the blanket in the space of the black border. The zigzag stitch keeps the blanket and fleece stretchy so they can move together, without a tight line of stitches holding them stiff. Once you've worked around the blanket, remove any pins and trim the excess thread to finish it off.
And you're done! I absolutely love how this blanket turned out and the way the fleece is sewn on. I hope to have a tutorial with a video of that technique up soon, so if that's something you're interested in, be sure to subscribe to my Youtube Channel to see it.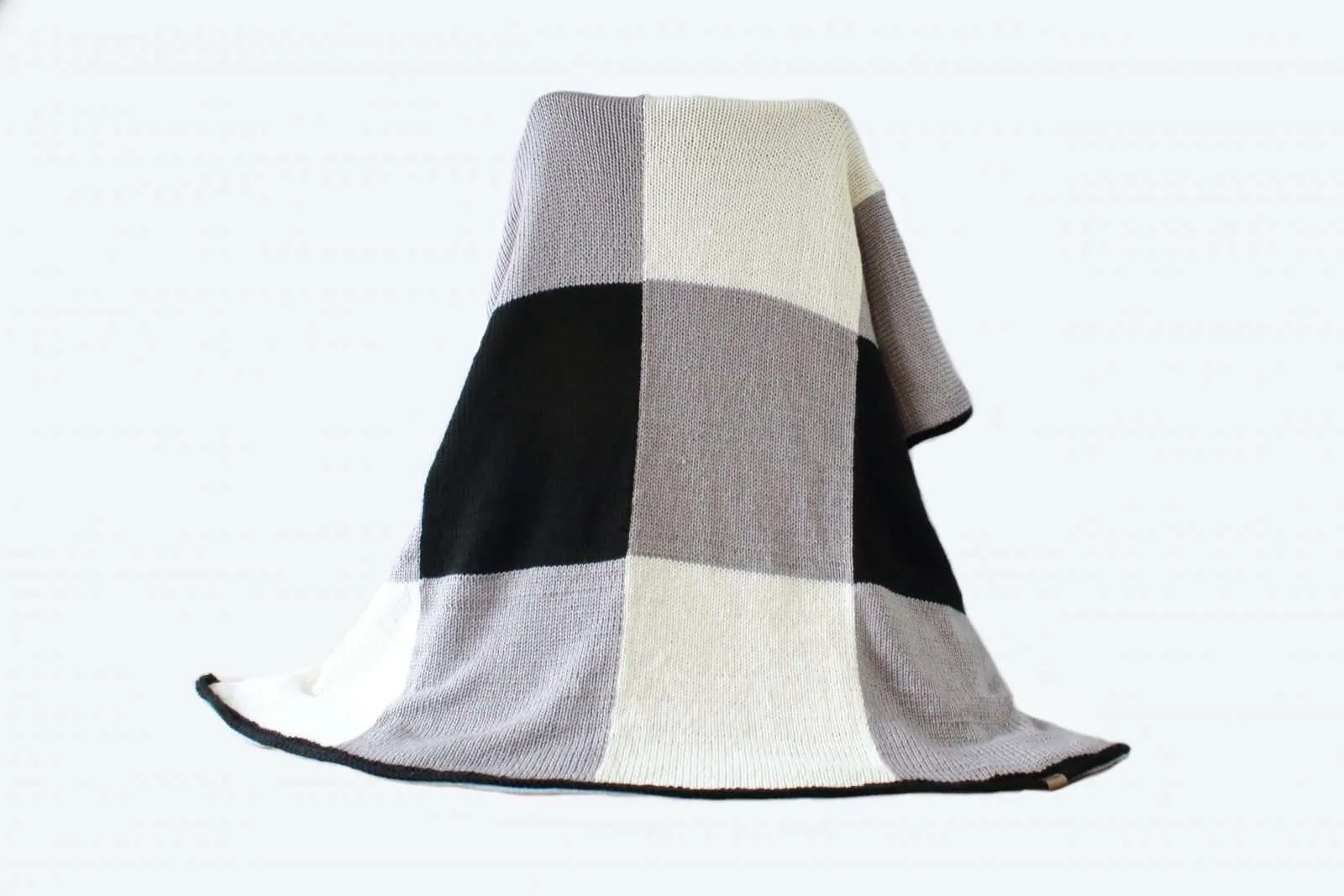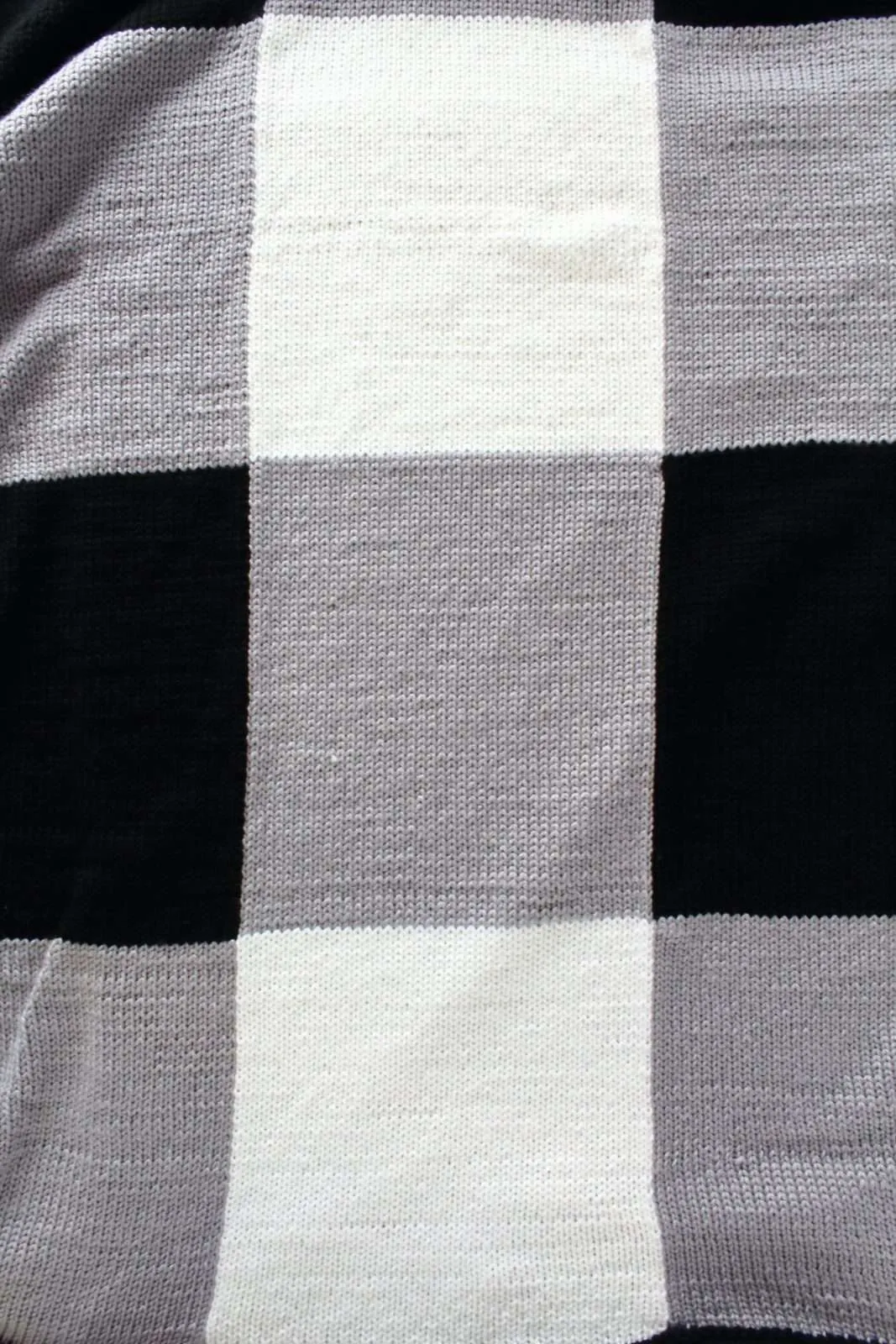 Because this post is long enough, the machine knitting recipe for this blanket will be up in its own post in a few days. I don't think one way, traditional or machine knitting, is better than the other, but both are fun to do and I'm having fun experimenting with it! For more blanket knitting patterns, check out some of the links below!
If you liked this post, please subscribe here or down below for the email newsletter. You'll get free patterns, tutorials, and resources in your inbox every week, along with yarny deals and more!
See you soon 🙂
---
Visit my pattern shops on Ravelry, Craftsy, and Etsy to buy the printable PDFs of all my patterns. They're ad-free, comment-free and your support helps me run The Blue Elephants so I can continue publishing free patterns here.
My material lists sometimes include affiliate links (denoted with a *) for which I earn a small commission at no extra cost to you. I only link to products I personally use, love, and recommend. You can read more about this in my Disclosure.
I worked hard on this pattern, so please be respectful and do not sell or redistribute this pattern as your own. If you sell finished items made using this pattern, credit The Blue Elephants as the designer and link back to the blog post or the Etsy pattern link. For any other questions, read my Terms of Use or contact me.
---