Do you ever need ideas for a quick and easy crochet baby blanket that still makes a statement? Some of my favorite baby blanket patterns involve a lot of colors and fancy stitches, but I don't always have the time (or budget) to make those. When I need something that's just as lavish, but a little easier on me, I use big chunky yarn and some really nice fleece to finish it off. This is an easy crochet baby blanket pattern that you can make in just a day and will always be a classic.
Bernat blanket yarn has become a new favorite of mine recently. It's super thick so whatever I make works up quickly. They have a good range of colors, and they're affordable. But the best thing is the texture! This yarn is so soft and plush even in the skein. When you crochet with it, it creates this fabric that is so loose and pliable, it almost looks like it flows.
Every blanket I've made with this stuff has been gushed over. Most people who don't knit or crochet expect yarn to only feel like the scratchy acrylic you can buy in bulk, so this yarn always makes the blanket feel more luxurious.
If you've seen my other baby blanket patterns, you know I love lining them in fleece. It makes the blankets slightly weighted so it's extra cozy and it helps babies sleep better. For the Felix blanket, I used a boldly patterned fleece to dress up this easy crochet baby blanket.
This is a stroller-sized blanket meant to be taken with you, so although it's smaller than a full-sized baby blanket, it's no less soft and cozy. I made one of these for a customer who wrote back saying how much her little boy loved his and how it made car rides easier to have something like that nearby. The fleece was easy to attach so I'll go over it in the pattern.
The full free pattern is written out below. For those who'd prefer to print the pattern and take it with you for on-the-go and to markup as you go, you can buy the inexpensive printable PDF from my Etsy and Ravelry shops. The PDF is formatted without ads or comments, so it's easy to read.
Materials:
2 skeins of Bernat Blanket yarn* in White, and 1 in black – I actually used 2 strands of worsted weight for the black since I didn't have enough, and it looked perfectly fine.
1 skein each of worsted weight yarn in red and black (for the border)
1 yard of anti-pill fleece
Jumbo tapestry needle
Rotary blade with a skip stitch insert*
*denotes affiliate links
Abbreviations:

Pattern Notes:
Skill level: Beginner
Sizing: 30 inches x 40 inches
Gauge: 2S x 1R per inch
Felix Blanket: Easy Crochet Baby Blanket Pattern
Row 1: With the larger hook and white yarn, chain 46. Turn and SC into the 2nd space from the hook and each space after (45).
Rows 2-4: Chain 3 (count as a DC) and turn. DC in each space after.
Row 5: Chain 2, turn and HDC into each space across.
Row 6: Switch to black yarn and HDC along.
Rows 7-14: Alternate HDC rows in white and black for 10 rows. You should have 5 black stripes.
Switch to white yarn
Rows 15-26: Chain 3 and turn. DC in each space after.
Rows 27-36: Alternate HDC rows in white and black for 10 rows. You should have 5 black stripes.
Switch to white yarn.
Rows 37-39: Chain 3, turn. DC for 3 rows.
Row 40: Chain 1, turn. SC for 1 row. At the end of the row, turn to work into the side and SC around the border of the blanket. Work 2 SC into each DC space and 1 SC into each HDC. Once you've worked gone around the blanket, bind off.
That's the main part of this easy crochet baby blanket done! Now, let's add the fleece lining.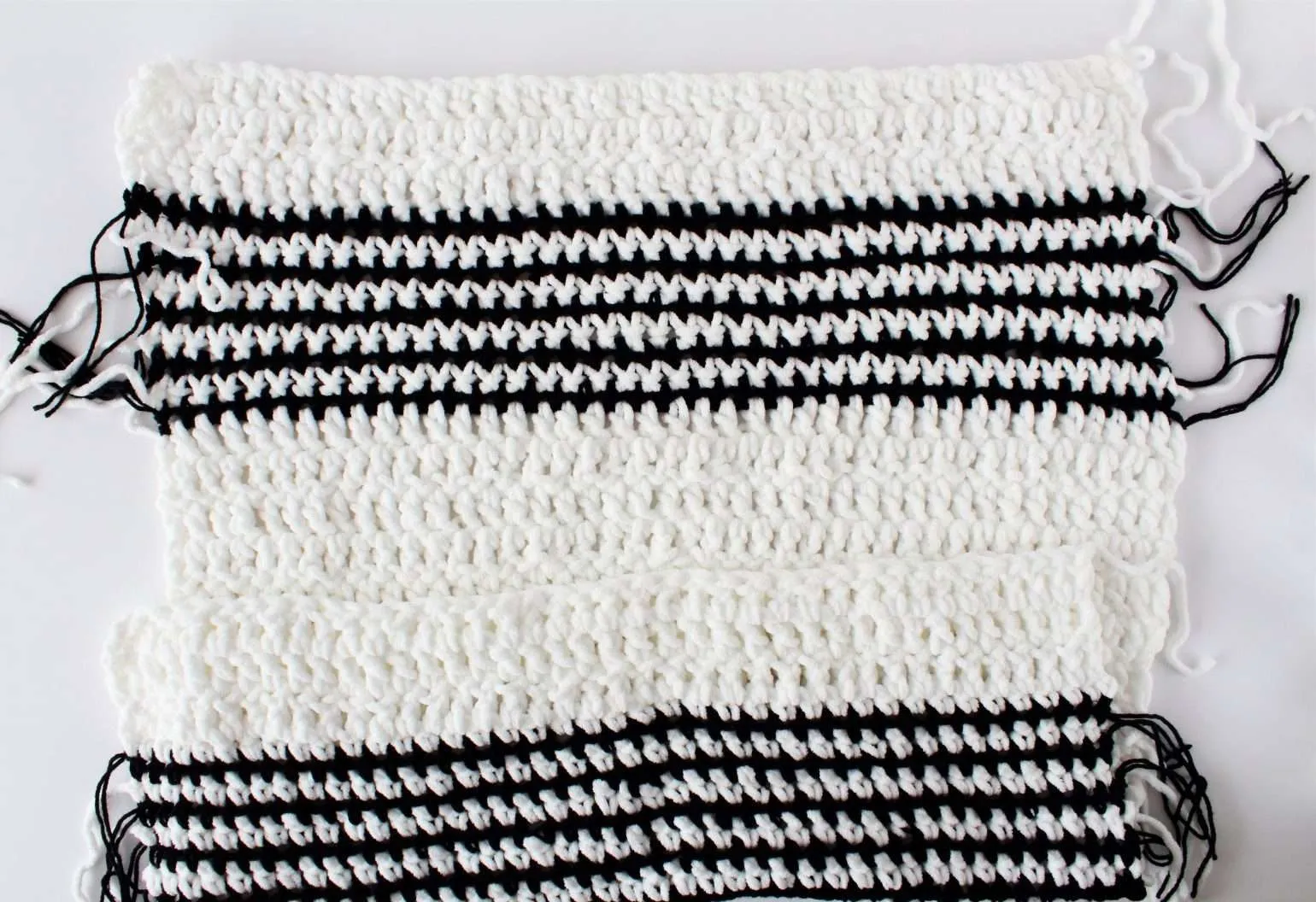 Attaching Fleece Lining
Start by cutting out your fleece to be about 1/4 inch to 1/2 an inch large than your blanket on all sides. I like to lay the fleece out flat and put the blanket on top of it, then just cut around using a nice sharp pair of scissors.
Then, put the blanket aside for now. Fold the edge of fleece in about 1/4 inch and pin the fold down. Place the cutting mat under the edge of the fleece and fit the skip stitch blade into your rotary cutter. I used this set from Fiskars and it had the cutting mat and blade with it. I also got these skip stitch blades separately and they come in a nice case.
Now just press down and follow as straight a line as you can down the edge of the blanket. This fleece pattern had lines I just followed, but you can also use a ruler to help guide you. As you run the blade over the fabric, it's creating holes you can crochet into later. Do this to all sides of the fleece, but don't go over it twice or you'll get too many holes too close together.
Crocheting into the Fleece
Now that you have the holes made, all you have to do is crochet the two pieces together. Line up the corners of the fleece and the blanket and pick a spot near the edge, but not the corner to start. If you start in the corner, there's too much tension there and it might rip, so start on the side somewhere. Using worsted weight black yarn, make a slip knot. Pull the knot through the fleece and the stitch with the 5.00mm crochet hook and chain 1.
SC 2 in each space after, working as evenly as you can. Don't worry about the count since you'll have to fudge the stitches a little to keep an even edge anyways. In the corners, work 3 SC.
And that's it! Slip stitch to the first space to finish the round and you have your fleece attached to the crocheted blanket. I continued with the border and worked 2 rounds of SC in red to match the pattern of the fleece.
Bind off and weave in all the tail ends to finish your easy crochet baby blanket.
I hope you all liked this super easy crochet baby blanket and the tutorial on adding fleece to blankets. There are actually several ways to attach fleece and I have tried them all. This one is my current favorite method, but I also like the others for different looks. Let me know in the comments below if you'd like to see a post all about the different ways to add fleece to a crocheted blanket.
If you liked this pattern, be sure to subscribe to the weekly newsletter! You'll get all my new patterns, posts, and tutorials, delivered right to your inbox every week, and it's completely free. Just use the box below to fill out your name and email and you're good to go!
See you soon 🙂
---
Visit my pattern shops on Ravelry, Craftsy, and Etsy to buy the printable PDFs of all my patterns. They're ad-free, comment-free and your support helps me run The Blue Elephants so I can continue publishing free patterns here.
My material lists sometimes include affiliate links (denoted with a *) for which I earn a small commission at no extra cost to you. I only link to products I personally use, love, and recommend. You can read more about this in my Disclosure.
I worked hard on this pattern, so please be respectful and do not sell or redistribute this pattern as your own. If you sell finished items made using this pattern, credit The Blue Elephants as the designer and link back to the blog post or the Etsy pattern link. For any other questions, read my Terms of Use or contact me.
---