I was thinking about a few different patterns to post today, and although I had some new ones ready to go, I kept coming back to the beanie I made over the summer. It's thick and warm, and I can't get over the looked of the raised ribbing. It was way too hot for it when I released the course in July, but now that it's finally cold and snowy here in Chicago, I'm excited to share the Madeline Beanie!
Plus, it's one of the 12 free patterns in The Beginner's Guide to Crochet (more on that later) so it's designed to be the perfect crochet beanie for beginners.
This is a great crochet beanie for beginners. I used only a few basic stitches and it's worked flat so you don't have to worry about shaping. Best of all, this is a true one size fits all pattern! This beanie has so much stretch when you need it to be larger, AND it shrinks back down when you need it to be smaller, so it really does fit anyone.
When I was making this, I wasn't a huge fan of super bulky yarn. It just felt too big in my hands and my stitches were clumsy. I tried a bunch of other patterns with big yarn, and I realized what the problem was.
I was trying to hold and maneuver the yarn the same way as I do with my worsted weights. But because it's so much thicker, I needed to hold it more loosely and just relax my grip a little. Then the rest was easy and quick!
There's a video tutorial here (same beanie, different color) so you can see how I worked this beanie more loosely than my other patterns.
The video tutorial of this beanie can be found right here. If you've already downloaded the ebook I mentioned before, The Beginner's Guide to Crochet, you know that all 12 of the free patterns in the ebook also come with video tutorials to help you out.
The book is designed to teach beginners who are just starting out, so even if you've never held a crochet hook before, you can learn to make this with the help if the ebook. Plus, the ebook comes with tutorials and instructions on basic crochet stitches, techniques, and helpful resources to get you started.
The full free pattern is written out below. For those who'd prefer to print the pattern and take it with you for on-the-go and to markup as you go, you can buy the inexpensive printable PDF from my Etsy and Ravelry shops. The PDF is formatted without ads or comments, so it's easy to read.
Materials:
Abbreviations:

Pattern Notes:
Skill level: Beginner
Sizing: One size – 10 inches tall x 22 inches circumference (unstretched)
Gauge: 2S x 2 R per inch
Madeline Pattern: Crochet Beanie for Beginners
Row 1: Start with a slip knot and ch 18. Turn, and starting with the 2nd space from the hook, HDC 17 stitches. When you reach the end of the row, do not chain 1.
Row 2: Turn. Slip stitch into each space (17). At the end of the row, chain 1.
Row 3: Ignore the turning chain, and work into the back loops only. Work 17 HDC into the black loops, then turn.
See how that forms the first ribbed section? Now, you're just going to repeat that for a few more rows.
Rows 4-41: Repeat rows 2 & 3 until you have a long rectangle piece. The ribbing pattern should be obvious now, with every other row raised, and it will be slightly slanted. Don't work about that; it'll even out after it's sewn. Feel free to add more rows if you need to make it looser. You should end on an HDC row. Bind off, leaving a long tail to use when sewing it all together.
Use the long tail end and a tapestry needle to join the two short sides together. Pull the seam tight, but not so tight that it pinches in.
With the yarn still attached, turn to work on closing the top of the beanie. Use your needle to pick up loops along the edge and work all the way around the top. Then, pull the tail gently to start bringing the top to close in.
Once the top is almost closed, and be sure not to pull too tightly and pinch the side seam, sew the top of the beanie closed and secure it with a knot on the inside of the beanie. Bind off.
Finishing Touches
To add the pom, use a regular tapestry needle and thinner yarn in the same color. Insert the needle from the inside of the beanie, through the top, and through the center of the pom.
You can use the loop of the pom to secure it for now, but continue sewing the pom in place and be sure to go through the center It will be dense, but it helps secure it without wobbling. Once it's attached, bind off and weave in loose ends.
Optional: To bring the bottom of the chunky ribbed beanie in a little, attach a new piece of the super bulky yarn to the bottom edge of the hat. Work 2 rounds of SC around the bottom and bind off. You can just insert your hook into the spaces between the rows. Weave in the ends and trim the excess yarn to finish your chunky ribbed beanie.
And you're done!
This is one of my favorite crochet beanies for beginners and it was so quick and easy to work up. I don't often work with super bulky or jumbo yarns since I much prefer making toys and accessories with worsted weights. It wasn't difficult once I learned to loosen my grip on the yarn, though.
If you find that you have trouble with thicker yarn too, trying holding two strands of worsted weight yarns together. It'll give you extra thickness, but not so much as a jumbo yarn.

If you like, along with 12 tutorials for basic stitches and techniques, PLUS videos of everything so you can follow along step by step. I've seen so many awesome pictures shared by people who have used the book to learn and it's so gratifying to see how many of you love crocheting now!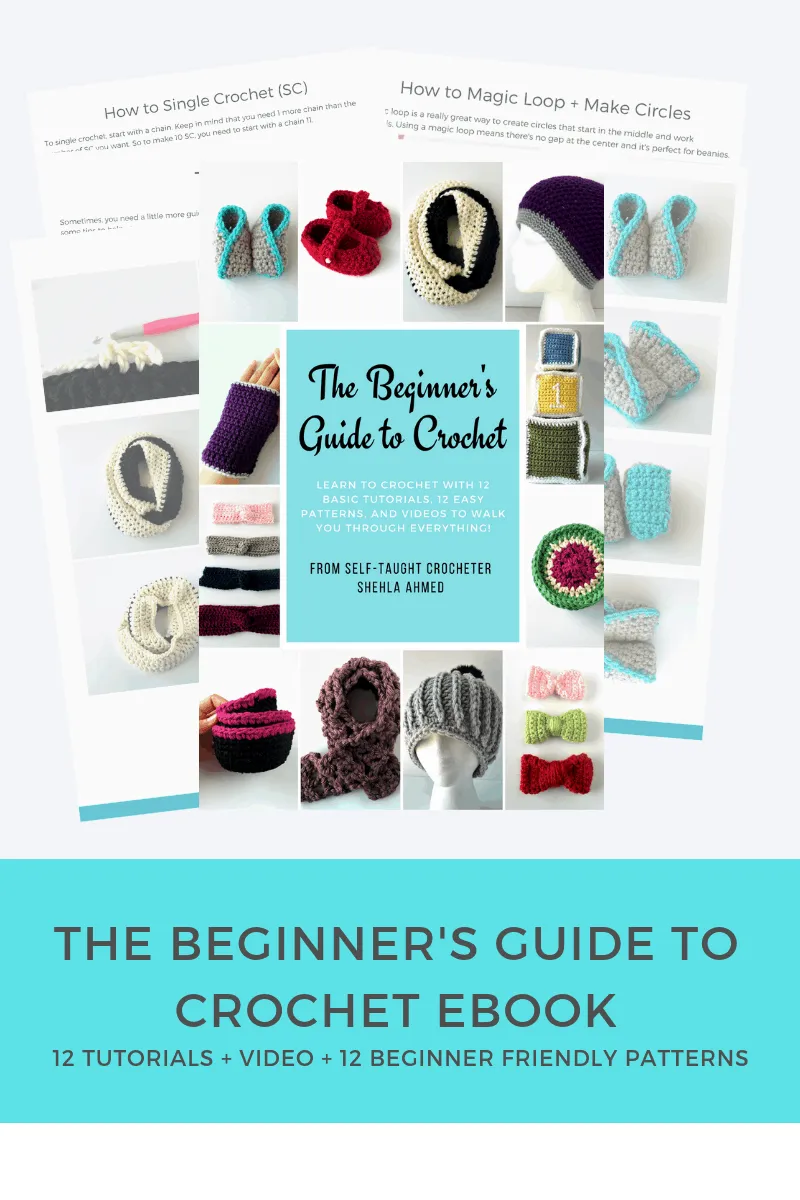 Thanks so much for reading everyone! Let me know in the comments below how long you've been crocheting for or what you love to make the most! For me, it's probably beanies right now, but I also love baby blankets.
See you soon 🙂
---
Visit my pattern shops on Ravelry, Craftsy, and Etsy to buy the printable PDFs of all my patterns. They're ad-free, comment-free and your support helps me run The Blue Elephants so I can continue publishing free patterns here.
My material lists sometimes include affiliate links (denoted with a *) for which I earn a small commission at no extra cost to you. I only link to products I personally use, love, and recommend. You can read more about this in my Disclosure.
I worked hard on this pattern, so please be respectful and do not sell or redistribute this pattern as your own. If you sell finished items made using this pattern, credit The Blue Elephants as the designer and link back to the blog post or the Etsy pattern link. For any other questions, read my Terms of Use or contact me.
---